Former Prime Minister Margaret Thatcher is dead, which doesn't interest me in the slightest, just as her life didn't interest me, but what DOES interest me, is WHO fired the "blast"! Let me explain.
Margaret Thatcher's death was announced yesterday lunchtime in the UK, and the freelance journalist Kevin 'Banjaxer' 'Walter Ego' Mar(r)inan immediately took to twitter to celebrate, but he then went quiet for five hours, so what could he 'possibly' have been doing? It is my guess that he was writing a piece on Thatcher with a 'Morrissey angle'. Mar(r)inan returned to twitter just before 8pm and posted the following article that the Daily Mirror had just published online:
Margaret Thatcher dead: Morrissey blasts former PM as "barbaric" just hours after her death
The musician has been a long-time critic of the former Prime Minister and aired his views in songs like Margaret On The Guillotine
Outspoken Morrissey
tonight blasted Margaret Thatcher as "barbaric" and someone "without an atom of humanity".
The musician has been a long-time critic of
the former Prime Minister
and aired his views in songs like Margaret On The Guillotine.
Tonight, just hours after
her death
, he released a strongly-worded statement slamming the former Tory politician.
The former Smiths singer said: "Thatcher is remembered as The Iron Lady only because she possessed completely negative traits such as persistent stubbornness and a determined refusal to listen to others.
"Every move she made was charged by negativity; she destroyed the British manufacturing industry, she hated the miners, she hated the arts, she hated the Irish Freedom Fighters and allowed them to die, she hated the English poor and did nothing at all to help them, she hated Greenpeace and environmental protectionists, she was the only European political leader who opposed a ban on the Ivory Trade, she had no wit and no warmth and even her own Cabinet booted her out."
Morrissey, whose first Smiths single Hand In Glove was released a month before Baroness Thatcher won her second term of office as Prime Minister in 1983, was highly critical of her role in the Falklands War.
He said: "She gave the order to blow up The Belgrano even though it was outside of the Malvinas Exclusion Zone - and was sailing AWAY from the islands.
"When the young Argentinian boys aboard The Belgrano had suffered a most appalling and unjust death, Thatcher gave the thumbs up sign for the British press. Iron? No. Barbaric? Yes.
"She hated feminists even though it was largely due to the progression of the women's movement that the British people allowed themselves to accept that a Prime Minister could actually be female.
"But because of Thatcher, there will never again be another woman in power in British politics, and rather than opening that particular door for other women, she closed it.
Outspoken Morrissey, who recently cancelled a series of shows due to ill health, went on: "Thatcher will only be fondly remembered by sentimentalists who did not suffer under her leadership, but the majority of British working people have forgotten her already, and the people of Argentina will be celebrating her death.
"As a matter of recorded fact, Thatcher was a terror without an atom of humanity," he added.
Two things immediately grabbed me about the article, firstly that it was credited to Ben Rankin and NOT Kevin Mar(r)inan, which I had expected, and secondly, that I hadn't seen this "strongly-worded statement" anywhere else, not on True To You, Morrissey's facebook page, and not 'even' from his publicist Lauren Papapietro. In fact, Papapietro's first comment on the matter was to re-tweet the Mirror article:
The fact that Papapietro tweeted the Mirror's article, meant that the statement was OBVIOUSLY authentic, and had come from Morrissey, although not according to good old UncleSkinny, who thinks he knows better than Morrissey's own publicist! Can Skinny ever get ANYTHING right? Here is his tweet:
That Mirror article isn't new, it's a mash-up, mostly from the Loaded article. No Moz statement. Journalistic opportunism.
Mar(r)inan obviously took umbrage to Skinny calling the Mirror piece "journalistic opportunism" and posted the following tweet:
Wow... Some people get angry about the strangest things. Usually on another person's behalf.
#
Wrong
But WHY would Banjaxer be so protective over an article that he didn't write, or DID he write it? Straight after he had tweeted the Mirror article, which incidentally he spotted before ANYBODY else, he posted the full Morrissey statement on his blog, a blog which he usually uses to publish articles that HE has written: http://banjaxer.blogspot.co.uk/
So, if Mar(r)inan DID write that statement on behalf of Morrissey, WHY wouldn't he want to be seen to be taking credit for it? Could it be because he 'borrowed' virtually all the content from the 'Loaded' interview, as noticed by Skinny, or could it be because Banjaxer aka Walter Ego CANNOT be seen to be linked to Morrissey, as it would expose him as possibly being involved in MorrisseysWorld? Only last week Our Mozzer told us that he knows nothing about Banjaxer, but we must remember that nearly two years ago, BEFORE MorrisseysWorld was discovered by the masses (if twelve can be counted as masses!), and before FollowingTheMozziah had arrived on the scene to question EVERYTHING, an article was written on the MW blog, which went as follows:
MORRISSEY: Speaking of twitter, what on earth am I going to do with my blog? *the artiste yawns wistfully*
MIKEY: Still not getting much traffic, Morrissey?
MORRISSEY: I've seen more traffic passing through Sale pedestrian precinct.
MIKEY: I went there the other day. The blog I mean, not Sale. You/ve had a few hits. A few thousand actually, Morrissey.
MORRISSEY: Oh that's just Walter Ego.
MIKEY: Walter Ego?
MORRISSEY: Yes, he's one of the so-low trolls. I pay him to write nonsense all over the so-low site and do odd internet-based jobs for me, like repeatedly visiting my blog and posting links around the place.
MIKEY: You pay him?!
MORRISSEY: Nothing excessive. Just £50 a month.
MAM: It's not £50, Steven - it's £47. You reduced it when he fell into a diabetic coma in July and forgot to start a so-low forum thread about the blog. Poor lad. He was in intensive care for weeks.
--------------------------------------------------------------------------------------------------------------------------
Has the fact that Mar(r)inan posted the Thatcher statement on his blog given him away? Has Walter Ego's ego exposed him, just as Gristle Bandage's ego exposed him when he posted that New Statesman article about Richard Dawkins/Abu Hamza whilst he was playing the character of 'BucktoothedBoy'? (See here: http://www.newstatesman.com/religion/2011/04/richard-dawkins-br-god) An ego is a very difficult thing to control.
EGO - WRITING ON THE WALL REGARDING HIS RELATIONSHIP WITH MOZ?
Of course, former MorrisseysWorlder, RosyMires, will be straight out to attack me for being divisive, and maybe I am completely barking up the wrong tree, but if Walter Ego DIDN'T write that statement, then WHO did, and where did the Mirror get the statement from? Maybe Morrissey's publicist is completely wrong and Uncle Skinny is right, perhaps the Mirror HAVE made it all up..... and whilst Mires and Skinny are pondering on everything I've written today, perhaps they can answer this too, WHO IS MORRISSEYSWORLD?
--------------------------------------------------------------------------------------------------------------------
UPDATE - ADDED 4:10 PM UK TIME TUESDAY APRIL 9TH 2013:
Girl Without (GWO) added the following comment to my blog at 2:26 pm: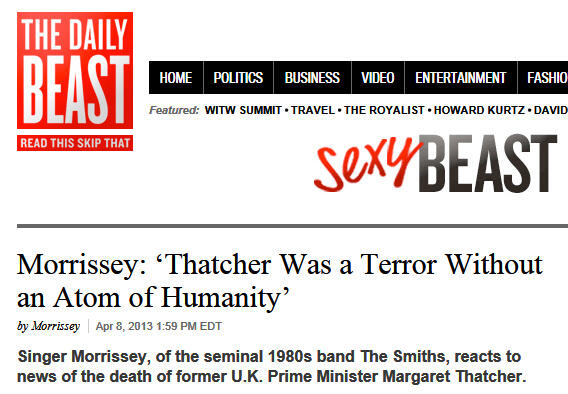 I have since checked on twitter to see what came first, 'The Beast' or 'The Mirror'. It transpires that the Daily Mirror article was posted on twitter WAY BEFORE The Beast article, and Banjaxer was the VERY FIRST PERSON to tweet it on twitter, ahead of the thousands and thousands who have subsequently retweeted the story. Banjaxer also tweeted the link to the FULL STATEMENT on his own blog WAY BEFORE there was any mention on twitter of the Beast article! I still get the feeling that Kevin Mar(r)inan wrote the article on Morrissey's behalf, unless of course, you know different. *Pauses* "Cyril!"