On Thursday night, Morrissey appeared on BBC 1, being interviewed by Victoria Wood about tea. Morrissey appeared relaxed and in good spirits. I was half expecting to see him give an 'O' sign, but he didn't, in fact, there were no signs at all, although he DID raise his eyebrows when Victoria mentioned that she'd just been to 'Tea & Sympathy', the tea shop that I just so happened to use as the setting for my parody interview last October (See here: http://followingthemozziah.blogspot.co.uk/2012/10/day-391-tea-for-two-and-two-for-tea.html). I have NO idea why Morrissey would raise his eyebrows at the mention of this particular New York tea shop!
TEA & SYMPATHY IN NEW YORK - AS MENTIONED BY VICTORIA WOOD TO MORRISSEY
There has been no recent news from Our Mozzer, and I must therefore presume that he is busy either organizing tours or pondering on the thirty questions set to him by the Blue Rose Society.
The cricket season has started pretty much in the same vein as the last one, with the first matches I was due to watch, being rained off! Will this rain EVER stop?
RAIN STOP PLAY
Since the death of The Right Honorable Baroness Lady Margaret 'Milk Snatcher' Thatcher, a social media campaign has gotten under way in Britain, to try and get the song 'Ding Dong! The Witch Is Dead' to Number 1. I, for one, will NOT be downloading it, for two reasons.
Firstly, I believe downloading this song is a pointless exercise, what does it achieve? It is no good the people of Britain moaning that they were unhappy with Thatcher's leadership NOW, they should have shown that they were not prepared to tolerate her when she was in power, and YES, there were riots on the streets, and YES, the IRA tried to bomb her, but NOBODY actually stormed 10 Downing Street and dragged her to Trafalgar Square to string her up, that just isn't the British way!
When Thatcher ruled Britain, Morrissey showed his hatred for her by writing and recording a song called 'Margaret on the Guillotine', a dreamy and quite tender ballad with an unbelievably strong lyric, asking the question, 'When will you die?'
Morrissey, a poet of his generation, was expressing his hatred for Thatcher in the same way that the Sex Pistols showed their hatred for the the monarchy, with 'God Save the Queen', but if the people don't respond to such rally cries, and take NO action, then nothing changes, and although many people bought 'God Save the Queen', agreeing with the sentiment of the song, NOBODY was SO outraged that they actually gathered the masses together, and chased the monarchy out of town. For an uprising to happen, a country would have to be REALLY on it's knees, ie, the masses would have to have nowhere to live and nothing to eat. While the masses remain dry, fed and watered, they WON'T take action because the pain isn't painful enough!
SAFE, WARM LANCASHIRE HOME
The only people to benefit from sales of 'Ding Dong! The Witch is Dead', is Time Warner, who own the rights to the song. By all means, encourage the people of Britain to have parties and celebrate the death of the wicked witch, and dance and sing 'Ding Dong!', just like The Munchkins did in 'The Wizard of Oz', but WHY bother downloading the song and wasting 79p? It doesn't achieve ANYTHING! What the masses should really be doing, is storming Downing Street and insisting on change, but they won't, everybody will continue to moan and groan, and some may even bother to vote at elections (18% turnout at the Manchester Central by-election last November), but although the faces behind the desks change, and even the parties in charge change, the system doesn't, and there in lies the problem! Nothing changes, and buying 'Ding Dong! The Witch Is Dead' will have zero effect on anything.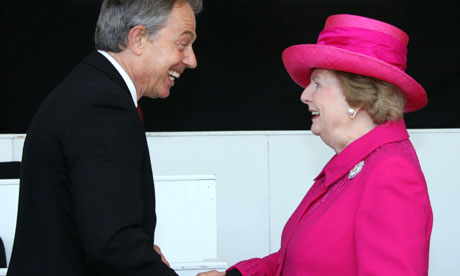 SPOT THE DIFFERENCE - SAME WHORE, DIFFERENT WAR
Of course the second, and more important reason that I won't be downloading 'Ding Dong!', is that my collection of UK Number 1 Singles will finally, finally, come to an end if it claims the top spot. I thought my collection had ended a few weeks ago, when 'Thriftshop' by Macklemore went to Number 1 as a download only, but luckily for me, the demand from the German market once again meant that a CD single was manufactured, and the collection limped on. I STILL have no idea why the Germans are continuing to insist on record companies releasing cds, but I'm glad they are.
The reason that 'Ding Dong! The Witch is Dead' would bring my collection to an end, is because it would be the FIRST 'single' EVER to top the UK 'singles' chart, despite NEVER having been released as a single, it is an album track! How it qualifies as a 'single', when it's NOT a 'single', I really don't know, but the 'Official Charts Company' have said that it qualifies for the singles chart, so there we have it. The song actually only lasts 50 seconds, so it will also be the shortest song to ever top the charts. It isn't even a 'song' in it's own right, it comes from a three song medley in the film, and although the British press have spent all week calling it a Judy Garland song, as all good friends of Dorothy know, she DIDN'T sing the song! Dorothy was totally unaware of who the wicked witch even was, so why would she celebrate her death, it was The Munchkins who sang it! I would guess that the vast majority of those currently downloading 'Ding Dong!' have no real idea who Thatcher was, they are just jumping on a bandwagon.
DOROTHY - DIDN'T CELEBRATE THE WITCHES DEATH
So, if 'Ding Dong!' reaches the top spot, WHO ARE these Muchkin singers who can celebrate their chart success? Well, NOBODY knows! The three singers who sang on the original film recording were NOT in the film, they were session singers who recorded the songs, and then had their voices speeded up to sound munchkinesque. So, not only is the 'singles' chart just about to change forever, and become a 'song' chart, but the 'artist' of the first non single to top the charts is unknown. Many people don't want 'Ding Dong!' to reach the top of the chart, as they see it as being in bad taste, I don't think that it's in bad taste at all, I just don't want it to reach the top so that my collection can keep going, but with these ridiculous chart rules in place, even if 'Ding Dong!' fails to reach the top spot, it is just a matter of time before another album track claims the number 1 position. Ding Dong! The 'singles' chart is dead!
All issues of the chart dying aside, I find it quite interesting that the actual singers of this weeks possible Number, aren't known. The whole idea of WHO owns a song, or WHO has the right to mess with a song, or album, came up this week, when I got into a debate with somebody called Sean Calder (@Tony_LeMesmer) on twitter. I had tweeted to say how much I was enjoying the new 'Kill Uncle' release. Kill Uncle has always been my least favourite Morrissey album, but the re-release, with the new tracks added and the new positioning of the tracks on the album, have, in my opinion, completely transformed it. It is like a new album, and I just can't stop playing it. It is amazing what a few little changes can make. Sean Calder disagrees, saying, "Why is Pashernate Love on it when it wasn't recorded during the album & had a different band on it & producer?" As far as I see it, Morrissey can do whatever he likes with his art, but not according to Sean, who says, "It's not Morrissey's album. Every song on it he co-wrote with Mark Nevin or Alan Winstanley. Did he ask them for their opinions on changing the album? Or adding tracks that weren't recorded during the session & without them?"
MARK 'DAVID CAMERON LOOK-A-LIKE' NEVIN
The answers to Sean's questions are 'of course not', and why SHOULD Morrissey ask their permission? Just like the session singers who were used to voice The Munchkins, Nevin and Winstanley were just there to aid the artist, ie the man whose name is on the record, and who creates the art. Would Van Gogh have needed the permission of the paint manufacturer or the canvas maker before making changes to his art? No, they were merely components of the art. Kill Uncle 2013 is Morrissey's updated Mona Lisa. Yes Morrissey could have added tracks like 'I've Changed My Plea To Guilty', which Sean Calder suggested, but in many ways, that would have made the album too perfect, and it was NEVER a perfect album, so it HAS to maintain some flaws, which thankfully, IT DOES, and I for one, am loving it!
KILL UNCLE 2013 - I'M LOVING IT