On March 2nd this year, Morrissey played an intimate concert for just 1800 people at Hollywood High School, which had sold out in just 12 seconds. The concert was specifically significant to the Blue Rose Society (the underground Morrissey fan club started by none other than Morrissey himself - read the whole of my blog for full details), as Morrissey accepted a BLUE ROSE on stage.
THE SOLD OUT SIGN AT HOLLYWOOD HIGH, BUT IF YOU WANT TO KNOW THE SIGNIFICANCE OF THE BLUE 'OO' S, YOU'LL HAVE TO TRAWL BACK THROUGH THE WHOLE OF MY BLOG, ALTHOUGH READING 'DAY 379' MIGHT BE A USEFUL PLACE TO START IF YOU CAN'T BE BOTHERED WITH THE WHOLE THING (See Here: http://followingthemozziah.blogspot.co.uk/2012/09/i-know-nothing-about-twitter-morrissey.html ) AND HERE'S A CLUE......
A CLUE TO THE SIGNIFICANCE OF THE 'OO' S
As to why Morrissey chose the Hollywood High School concert to accept a BLUE ROSE on stage was anybody's guess at the time, but now we have an answer. It has just been announced that Morrissey's concert at Hollywood High is not only going to be issued on DVD, but it is getting a full cinema release, so therefore, it is glaringly obvious that Morrissey accepted the Blue Rose at Hollywood High because HE KNEW that the concert would be seen by ALL his fans. He is giving all his thousands of admirers throughout the world the opportunity to join the BLUE ROSE SOCIETY, but the question is, will they even realise?
MORRISSEY ACCEPTS THE BLUE ROSE AT HOLLYWOOD HIGH SCHOOL.... WHAT AM I ON ABOUT? HE DIDN'T 'ACCEPT' IT, HE WENT L'OO'KING FOR IT AND THEN LEANED DEEP INTO THE AUDIENCE TO GET IT
It is interesting that Moz took the BLUE ROSE during Alma Matters, the very first song of the night. It is my guess that as soon as he spotted it, he decided to grab it before it got crushed in the Moz Pit, and it was probably a wise decision, because even after one song, the rose was looking limp (See here at 2 mins 40 as Moz reaches to receive the BLUE ROSE from nine year old Devan:
http://www.youtube.com/watch?v=ToWcitbV5bg)
Morrissey placed the BLUE ROSE in his front trouser pocket and then, at the end of Alma Matters, he planted (excuse the pun) it on top of the drum kit, for ALL to see on DVD and on screen in cinemas (See here:
http://www.youtube.com/watch?v=QiuAg9c76_w).
'Morrissey 25: Live', which is a celebration of 25 years of Morrissey's solo career is, according to the website True-To-You.net, to receive a worldwide cinema release in August, so WILL all those fans who missed the excitement of the MorrisseysWorld blog, Morrissey's brilliant tweets, and the formation of the Blue Rose Society FINALLY WAKE UP, or will even this blatant move by Moz STILL go undetected by the fans and media?
PROMOTIONAL POSTER FOR 25:LIVE
An official trailer for 'Morrissey 25: Live has been released on You tube, and even features a close up of nine year old Devan in the audience, holing up a poster which reads 'At Last I am Born.' (See Here: http://www.youtube.com/watch?v=Gp0w1_8f6gQ).
ROSES APLENTY WERE ON DISPLAY AT HOLLYWOOD HIGH..... WHICH SOON THE WORLD WILL SEE
It will be interesting to see if Moz gives any more 'Blue Rose Signs' before the '25:Live' film comes out, and he will certainly have opportunity, because since my last blog entry, The Mozziah has announced that he is going back on the road, albeit a South American road, or 'roads' to be precise, as he is taking the tour to Peru, Chile, Argentina and Brazil. The series of concerts kick off on July 9th at the Jockey Club in Lima, Peru, which regular readers of my blog will remember was the venue where in March 2012, Morrissey made a masonic 'hand on heart' sign during 'There is a Light That Never goes Out', which had been mentioned by Moz himself in the MorrisseysWorld chatroom BEFORE any footage was released on Youtube.
Morrissey's South American tour includes a free 'intimate night' in Chile on July 26th.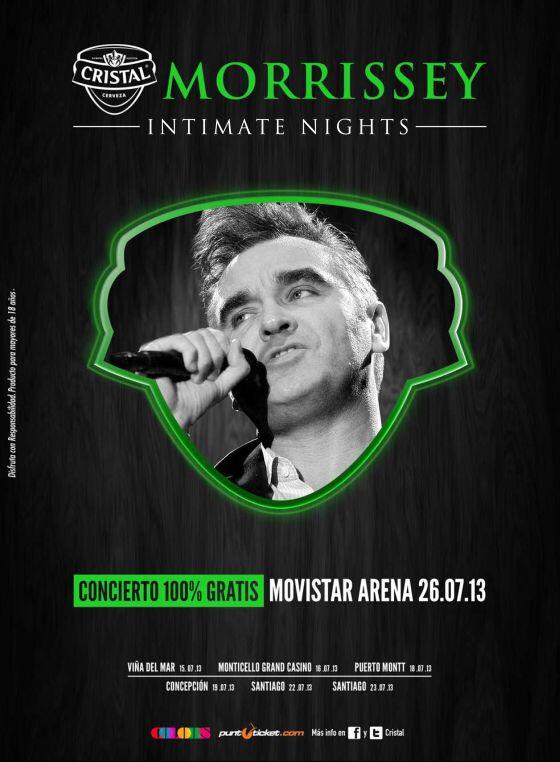 INTIMATE AND FREE
Mrs Ratsback senior has something in common with Moz, ie, she used to charge for intimate nights, but she too now offers them for free!
MRS RATSBACK SENIOR - FREE
So now we wait. There has been no sign of either the MorrisseysWorld blog or the '@MorrisseysWorld' twitter account being used of late, and we no longer even know if Moz still owns '@MW', but in just ELEVEN DAYS TIME, Morrissey is back on stage, and the excitement begins all over again.
Will there be 'signs' on stage? Will there be roses in the audience? Will Morrissey accept roses on stage? Will he wear the BLUE ROSE RING which he was given at Staples in front of 20,000 people? Will we in England get the two concerts later this year that we were promised via twitter?
Questions, questions, questions.... and on the subject of questions, will 'Our Mozzer' EVER answer the interview questions posted by the blue Rose Society members?
Time, as ever..........
Trouble Loves us all.