On August 24th 2013, Morrissey's new film 'Morrissey 25 Live' will hit the cinemas, and the world will see Morrissey take a BLUE ROSE from the audience, but do YOU know the significance of the BLUE ROSE? Here is ALL you need to know:
On May 14 2011, Morrissey placed the following statement official statement on the website True-To-You.net:
Morrisseysworld.blogspot
14 May 2011
Morrissey would like it known that the site known as Morrisseysworld.blogspot is fake. Morrissey has no connection with the site and is therefore not the author of anything written on the site.
The strangest thing about this statement was that NOBODY had ever heard of the MorrisseysWorld blog, so the statement actually brought attention to it. Morrissey NEVER issues statements to deny authorship of such things, so a number of people had their collective interests aroused by this extraordinary denial, and started to keep an eye on the MorriseysWorld blog.
Over the following three months, despite many reservations amongst fans that Morrissey would do such a thing, it became blatantly obvious that Morrissey himself was behind the MorrisseysWorld blog. (Evidence can be read here: http://followingthemozziah.blogspot.co.uk/2012/06/history-of-morrisseysworld.html and further evidence here: http://www.morrisseysworldismoz.blogspot.co.uk/)
On August 22nd 2011, Morrissey asked his fans, via the MorrisseysWorld blog, to take either a single RED ROSE or a single WHITE ROSE to his concerts. Morrissey explained that he wanted roses, in honour of his literary hero, Oscar Wilde, who had a theme of roses running through his work.
On October 9th 2011, the following statement was issued on Morrissey's MorrisseysWorld blog:
"When the blood runs, the white rose becomes a red rose. When the truth settles down, nothing will remain." At the time, nobody had any idea what this meant, but it would later become apparent (Keep reading!)
On November 14th 2011, Morrissey's tour of North America got underway, and a handful of fans who had seen the MorrisseysWorld website took roses to Morrissey concerts.
On November 28th 2011, Morrissey took a RED ROSE from an audience member at the concert in Pomona. The significance of this was HUGE, as it was the first flower of ANY sort that Morrissey had accepted on stage in years and years, and it was further proof that MorrisseysWorld REALLY WAS Morrissey's blogsite.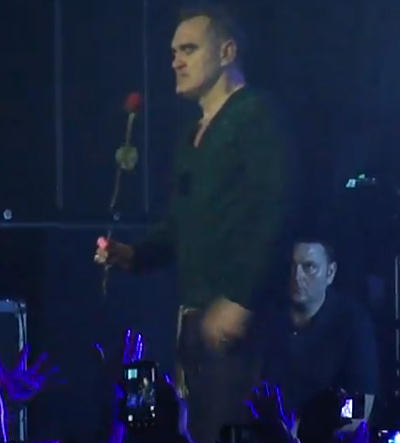 MORRISSEY WITH THE RED ROSE OF POMONA - NOV 2011
Morrissey's tour of North America ended in December, and a tour of South America started at the end of February 2012. By now, Morrissey had formed the 'Blue Rose Society' on his blogsite, and asked fans to also bring BLUE roses to his concerts.
On March 17th 2012, Morrissey accepted a WHITE ROSE on stage in Bogota, Colombia during the song, 'You Have Killed Me'. The rose wasn't thrust at Morrissey, he 'sought it out', but what was REALLY bizarre, was that the rose appeared to be RED due to the lighting, which fulfilled the prediction made on the MW blog that, "When the blood runs (ie You Have Killed Me), the white rose becomes a red rose."
MORRISSEY WITH THE WHITE ROSE OF BOGOTA - MARCH 2012
"THE WHITE ROSE BECOMES A RED ROSE" UNDER THE RED LIGHTING
The video showing Morrissey take the WHITE ROSE in Bogota can be seen here: http://www.youtube.com/watch?v=oVaezmLcyi4).
By this stage, more and more fans started to take roses to Morrissey concerts, but both the MorrisseysWorld blog and the Blue Rose Society, STILL remained relatively unknown to the vast majority of Morrissey fans, and the many of those who HAD heard of MorrisseysWorld, refused to accept that it could possibly be the work of Morrissey, despite OVERWHELMING evidence to the contrary.
On April 10th 2012, Morrissey wrote on the MW blogsite, that he would wear a BLUE ROSE before the end of 2012.
On the morning of July 5th 2012, Morrissey's wikipedia entry was updated, to make reference to both the 'BLUE ROSE SOCIETY' and Oscar Wilde's 'GREEN CARNATION', it read:
"The sign of this secret society is the blue rose; blue roses - as well as their other signs, the red and white rose - have been seen at many Morrissey concerts in 2011-2012 from the US to Colombia. The Blue Rose Society is seen by some as a reference to Oscar Wilde's green carnation-wearing followers."
That VERY evening, Morrissey started the European leg of his tour in Liege Belgium, and walked on stage wearing a GREEN CARNATION. The next day, the wikipedia entry mysteriously disappeared.
MORRISSEY WEARING THE GREEN CARNATION OF LIEGE - JULY 2012
Morrissey continued to accept roses at his concerts in Europe, whilst refusing ALL other flowers, and he even chose to wear a gaudy BLUE ROSE tie when he was presented with the 'Key to the City' of Tel Aviv. See video here: http://www.youtube.com/watch?v=FTxMAsKs1jg
MORRISSEY IN THE BLUE ROSE TIE OF TEL AVIV - JULY 21ST 2012
A BLUE ROSE IN MANCHESTER - JULY 2012
On October 5th 2012, Morrissey started another tour of North America, and on October 10th, at his concert at Radio City Music Hall in New York, Morrissey fulfilled his promise of April 10th, by accepting a BLUE ROSE from a young fan, and WEARING it in his pocket.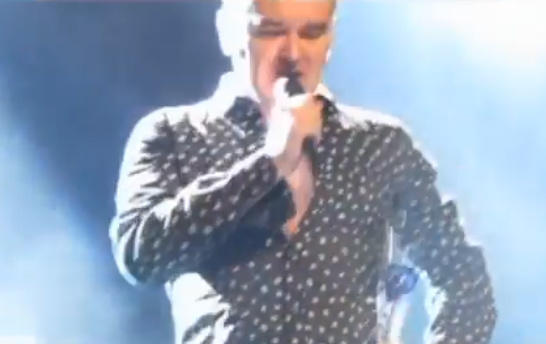 MORRISSEY WITH THE BLUE ROSE OF NEW YORK - OCTOBER 2012
The video of Morrissey taking the Blue Rose can be seen here: http://www.youtube.com/watch?v=c_UB-wKCcN4.
As Morrissey's Blue Rose Society grew, even his tour manager, Donnie Knutson was photographed with a Blue Rose outside the studios of 'The Late Show' in New York.
DONNIE'S BLUE ROSE - JANUARY 2013
At the Morrissey concerts in North America in January and February 2013, more and more roses were taken.
A BLUE ROSE IN BROOKLYN - JANUARY 2013
On February 27th 2013, Morrissey accepted a bunch of Blue Roses at his concert in San Diego, and on March 1st, at his Staples Center concert in LA, Morrissey was presented with a 'Blue Rose Society Ring', which he gladly accepted.
THE BLUE ROSE SOCIETY RING BEING SHOWN TO KRISTEEN YOUNG JUST HOURS BEFORE BEING GIVEN TO MORRISSEY LIVE ON STAGE AT THE STAPLES CENTER
On March 2nd 2013, Morrissey's concert at Hollywood High School was filmed for a special cinema and DVD release called 'Morrissey 25 Live'. Not only did Morrissey start the concert in a shirt covered in blue flowers, but during the very first song of the concert (Alma Matters), with the world watching, he leaned deep into the audience to collect a BLUE ROSE, which he then wore in his pocket - See here: http://www.youtube.com/watch?v=ToWcitbV5bg.
MORRISSEY REACHES FOR THE BLUE ROSE OF HOLLYWOOD HIGH - MARCH 2013
The MorrisseysWorld blogsite has now disappeared, but Morrissey's BLUE ROSE SOCIETY lives on, and when Morrissey next tours, you can join the Blue Rose Society by simply taking either a RED, WHITE or BLUE ROSE to a concert.
Members of the Blue Rose Society can be found on twitter following '@BlueRoseSociety', or use the hashtag
#
BlueRoseSociety .
Because We Must
Trouble Loves Us