On Day 483 (Weds 9th Jan 2013) of this little blog of mine, I wrote toward the end of my blog entry, "Disaster has struck, I can't find my toothbrush. I can't arrive at the Tilles Center tonight and expect Moz to take the Blue Rose from my teeth with my breath smelling of last night's pasta!" That VERY night, I stood open mouthed at the Tilles Center in Greenvale, Long Island, as Morrissey walked onto the stage for his encore, and said these EXACT words, "I've been looking for someone to share my toothbrush with, which is why I came here. All in vain."
ME - OPEN MOUTHED AT TILLES CENTER, LONG ISLAND
Of ALL the 'coincidences' that have occurred on this whole incredible two year journey, and YES, it really HAS been two years since I discovered the MorrisseysWorld blog... well, two years next month if you want to split hairs... where was I? Oh yes! Of ALL the 'coincidences' that have occurred in this whole incredible journey, the 'toothbrush' incident was THE most personal one to me, and although by that stage I had NO DOUBT WHATSOEVER that Morrissey was behind MorrisseysWorld, it shut the door to any chance of it NOT being Moz.
The reason I am writing about the 'toothbrush' incident today, is because this morning, I went onto Youtube to replay the 'toothbrush' clip from Tilles Center, and it has been removed! Here is where it once stood:
http://www.youtube.com/watch?v=fHDR5SPql6Q&feature=youtu.be.
I could have put this disappearance down to being just, 'one of those things', but last week, I discovered that the Youtube clip where Vulgar Angie gave Morrissey the Blue Rose Ring at Staples Center, had ALSO been removed! Here is where it once stood: http://www.youtube.com/watch?v=QqPAfo3u3_Y.
VULGAR ANGIE AND KRISTEEN YOUNG WITH THE 'BLUE ROSE RING'
So, is the disappearance of these video clips just a 'coincidence', or is SOMEBODY having them taken down? Could Morrissey possibly be looking to clear all tracks connecting him to MorrisseysWorld? The MorrisseysWorld blog has gone, and if my blog wasn't here, there would be NO record of all the happenings of the past two years. Could it be that my blog will be the next thing to disappear?
The video clip of Morrissey receiving the first Blue Rose, at Radio City on October 10th last year still remains, and can be seen here: http://www.youtube.com/watch?v=cPqwwA0ZQiQ. After receiving that first blue rose from twelve year old Kyle Douglas, Morrissey wrote on the MorrisseysWorld blog, "What does blue rose mean? You will see." He followed this up by tweeting, "Blue Rose fulfilled BUT what does it all mean? Over to you, Morrissey."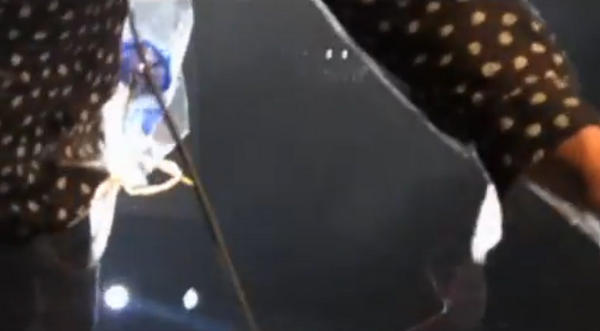 MORRISSEY WEARING THE 'FIRST' BLUE ROSE - BUT WHAT DOES IT MEAN?
Blue Rose has still never been explained, so could it be that the new Morrissey 25:Live film will offer an answer? It should be remembered that the Blue Rose in the US programme (program) Twin Peaks was NEVER explained, so perhaps we shouldn't hold our collective breaths. As far as I see it, Morrissey IS Blue Rose, and the film will serve as nothing more than Morrissey adding to the mystery. Will the masses even notice the Blue Rose in the film, and if they do, will they bother to question it's meaning? I doubt it.
LIL THE DANCER IN TWIN PEAKS WEARING THE BLUE ROSE, THE MEANING OF WHICH WAS NEVER EXPLAINED
Meanwhile, I along with a number of the other members of the 'Deluded Dozen', have publicly declared that we do not believe that '@RealMorrissey' is Our Mozzer. The clincher for me came when '@RealMorrissey' tweeted the following:
Would like to use the medium of Twitter to announce that @moz_girlfriend is the appointed leader of the BRS in the United States. M
GOB quickly pointed out to '@RealMorrissey' that Kyle was President of the Blue Rose Society, an appointment made by none other than Our Mozzer, who even described Kyle as, "the hero of the Blue Rose Society" on the MW blog. '@RealMorrissey' replied to GOB saying, "Not by my appointment." If '@RealMorrissey' is using this statement to say that he ISN'T Our Mozzer, then that is all well and good, but he contradicted this in an earlier tweet, where he said that he IS Morrissey1959, which as everybody knows, IS Our Mozzer!
Morrissey1959 and I, are one. M
If '@RealMorrissey' is trying to make out that he is Morrissey, but ISN'T Our Mozzer, then he seems to be getting himself a little muddled!
The mysteries continue.