As I write this, there is no sign of a new statement on the True To You website, so perhaps I have got Doolally Dolly wrong after all. Maybe she IS real, and her mention of a TTY statement on the third really WAS just a coincidence... but it all seems VERY strange, and why is it that DD (Doolally Dolly) was involved so heavily with MorrisseysWorld in August 2011 and then disappeared for two years, before suddenly reappearing in the Twitterdilly Arms as if she'd never been away? If DD hadn't posted those photos of herself, I wouldn't be questioning myself, but images make somebody REAL, and I just can't explain how a pessoa can become REAL. I am trying to think outside of the box to make sense of this all, but I can't even FIND the box, so thinking outside of it seems a long way off!
Leaving DD to one side, the excitement is growing by the second as to WHAT is going to be in Morrissey's autobiography. He has kept his private life SO secret, that we could be in for an explosion, although many people are predicting that he won't reveal much at all. One of the most anticipated subjects will of course be Johnny Marr, and I have a feeling that Morrissey will really open up on this subject.... or perhaps he won't!
On the subject of Morrissey and Marr , a Morrissey fan by the name of Lauren LoPrete recently published some 'Peanuts' cartoon strips with Smiths lyrics, like this one:
A lawyer's letter was apparently then sent to Tumblr (where LoPrete had posted the strip) alleging copyright infringement on behalf of Johnny Marr. Morrissey on the other hand has posted a statement on TTY stating that he is, "delighted and flattered" by the cartoon strip and wants it to stay. It may of course be that Universal (the publishing company) hadn't bothered asking Marr, and just took it upon themselves to issue the infringement notice, but if Marr DID ask them to issue it, Morrissey's action is a real two fingers up to Marr, and it would look as though Moz was saying, they are MY lyrics, not yours, and I alone will decide how they are used'. Are Morrissey and Marr the John and Paul of this generation, in more ways than one? Maybe next Thursday we'll have further insight into Morrissey's current thoughts towards Marr... or maybe we won't!
The Blue Rose Society will of course be scanning through 'Autobiography' next Thursday, l'OO'king for ANY reference or sign associating Moz with either MorrisseysWorld or the BRS. I somehow doubt there will be anything at all, but you never know, and even if there's not, no doubt one of us will interpret SOMETHING to have meaning!
Tomorrow marks the 1st Anniversary of Blue Rose being fulfilled, when President Kyle handed Morrissey a Blue Rose on stage at Radio City Music Hall in New York. October 10th shall forever be 'Blue Rose Day' and tomorrow the Blue Rose Society will gather in the Twitterdilly Arms to mark the occasion.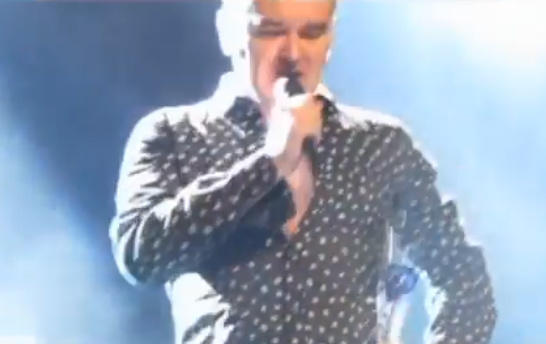 MORRISSEY WEARING KYLE'S BLUE ROSE IN NYC - OCT 10TH 2012
Whether Doolally Dolly turns out to be involved in the whole MorrisseysWorld thing or not, this remarkable story continues to rumble on, with nobody outside of the 'Deluded Dozen' really believing Morrissey to be involved... and we wouldn't want it any other way!
*Goes off singing* Moz writes the songs that make the whole world sing, Moz writes the songs of loathe and special things
Foot note:
Broken returned to leave comment on my blog the other day, and if he's to be believed (and why wouldn't he be), then Our Mozzer could yet one day return: