Well, well, well. As the Blue Rose Society celebrated 'Blue Rose Day' in the Twitterdilly Arms yesterday, who should join in the conversation, but Kristeen Young, who posted the following:
It's great to see Kristeen use the word 'coincidence', which is a word that has been used an awful lot during the whole MorrisseysWorld phenomenon, but what is even more interesting, is that Kristeen was dishing out blue roses to Moz WAY before the Blue Rose Society was founded in 2012, which therefore makes her the founder member.
Kristeen's 100th show with Morrissey was on September 26th 2007, at The Fillmore in San Francisco. Mel Torrent's review of the show on Solow includes the following extract:
Here is a photo of the night, with Kristeen's blue roses clearly shown: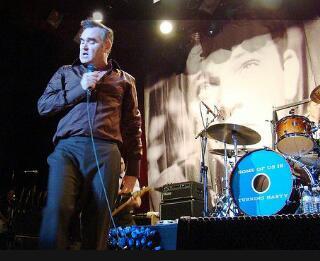 THE FILLMORE SAN FRAN - SEPT 26 2007
The burning question is:
1. Of all the flowers in all the world, WHY did Kristeen choose to give Moz blue roses?
Had Morrissey told her how much he loved the blue rose, or had she taken it upon herself to choose them? Either way, there can now be NO DOUBT, that the BLUE ROSE has some sort of meaning to Morrissey.
October 10th will always be Blue Rose Day, as that is the day Morrissey first WORE a blue rose on stage, but although Kyle Douglas is the 'President' of the BRS, and Vulgar Angie is the 'Vice President', Kristeen Young is the 'FOUNDER' of the Blue Rose Society.
VULGAR ANGIE (VICE PRESIDENT) AND KY (FOUNDER) OF THE BLUE ROSE SOCIETY