It seems to be all go on the Moz front in recent weeks; first we had 'The Book', then the dvd, and now it has been announced that a new single,
Satellite of Love
Live at The Chelsea Ballroom
,
will be released as a download on December 2nd, followed later by both a 12 inch and 7 inch picture disc, which will have additional live tracks.
The new record is once again being released by Parlophone, who have also stated that, "more Morrissey news will be announced soon." Could it be that Morrissey has re-signed to Parlophone, who in July were taken over by Warner Music, or is it still the same as earlier this year (when
The Last of the Famous International Playboys
was released) when Morrissey announced via TTY that, "Parlophone will continue with their Morrissey re-issue campaign"?
The biggest difference is that
Satellite of Love
is a NEW release, and NOT a re-release, so perhaps there really
is
a new deal in the offing, and it has been noted that Morrissey has recently stopped issuing the tag line on TTY of, 'Morrissey remains without a record deal'....Hmm.
But on the flip side to this argument, only last week Boz Boorer announced that, "Morrissey is unable to secure a record deal so we haven't made a record in a few years, despite having an arsenal of new material".
It will be interesting to see how
Satellite of Love
performs in the singles chart, particularly as
Playboys
didn't make it in, but that was a re-release, whereas
Satellite
has never been released before. The re-issues of
Everyday is Like Sunday
and
Glamorous Glue
both made it onto the chart (although not the Top 40), so I am going to predict an entry around Number 50 for
Satellite,
although IF the 12 inch and 7 inch were released at the same time as the download, it would be a lot higher, which therefore makes it appear that Morrissey is NOT bothered about how
Satellite
performs.
GLAMOROUS GLUE - MORRISSEY'S LAST UK CHART HIT (NO.69) IN 2011
Interestingly there is NO cd release this time around, which has become a very common occurrence with single releases from MOST artists. I have NO idea how my collection of Number 1 singles has managed to limp on, as virtually NONE of the songs released as singles has a commercial cds issued anymore. The cd single will be completely dead before long, but the good news is, that the death of the cd single could well be the cue for the further revival of vinyl. This weeks UK Number 1 single,
Look Right Through (
MK Remix)
by Storm Queen has not only been issued with NO commercial cd, but there isn't even a promo cd for the radio stations, but my collection has survived thanks to a limited edition 12 inch.
With previous Morrissey releases, I have always bought both the cd and vinyl. The vinyl would be for 'collection' purposes only, whereas the cd would be used to listen in the car, and to burn onto my mp3 player. With
Satellite of Love,
I will once again purchase both of the vinyl releases for my 'collection', but this time I will also HAVE to purchase the download too, which is something that I don't normally do. The most annoying thing about getting different tracks on the vinyl release, is that you can't then add them to your mp3. This happened with Morrissey's last release, when
People are the Same Everywhere
was released on the vinyl copy of
Playboys,
but WASN'T issued as a download, which meant that fans were unable to actually listen to the song 'on the go'. I would much rather see ALL new tracks released as downloads too.
7 INCH PICTURE DISC OF PLAYBOYS WITH PEOPLE ARE THE SAME EVERYWHERE AS THE B-SIDE (NOT AVAILABLE AS A DOWNLOAD)
The best thing about
Satellite of Love
being released, is that it is a LIVE track. I have recently found that I am listening to LIVE recordings of Morrissey's songs more than studio recordings. My albums of choice in the car at the moment are;
Rank, Beethoven Was Deaf, Live at Earls Court
and
Live at Hollywood Bowl.
There is something very special about live tracks, and I can't understand, why in this day and age, artists don't record ALL of their concerts, and make them available to download! Who WOULDN'T want to download a concert that they had been to, so that they could relive the moment time and time again? The music industry seem to be
very
slow in reacting to what fans want. It must be the easiest thing in the world to do, and with downloads now being the way that virtually ALL music is bought, the concert recordings could be with the fans within days, perhaps even hours!
LIVE AT THE HOLLYWOOD BOWL - ALBUM OF CHOICE
Despite Morrissey being a traditionalist who loves his vinyl, his songs are also in demand to the download generation, with the Official Chart Company announcing last week that
This Charming Man
has SOLD 139,000 downloads, which is a mesmerizing amount. At some stage in the future (when all's well), the download generation will discover the rest of Morrissey's vast back catalogue, and his sales will rocket.
Meanwhile, the current music market is seeing a change in the way that singles from albums are released. In the past, an artist would usually release a 'teaser' single from a forthcoming album, and would then release further singles once the album had been released, but now, as most singles aren't actually records or cds (which offered extra tracks), but are just
single
songs, there is NOTHING to release as a single once an album has been released, as the track has already been bought! It therefore has meant that
singles
need to be released PRIOR to the album release, with Eminem releasing FOUR singles recently BEFORE his
The Marshall Mathers LP 2
was released. THREE of the singles were released in a four week period!
THE MOSTER - THE 4TH SINGLE FROM A 'FORTHCOMING' ALBUM
All this talk of vinyl has made me desperate for a new record player. I haven't owned one since I threw away my dreadful plastic Crosby retro thingy, but I miss not being able to play my vinyl, and if Morrissey isn't going to be issuing his new live releases as downloads, I will need to actually play the new records if I am to hear the songs! I have therefore asked Mrs Ratsback to buy me a new record player for Christmas, but by
new,
I actually mean a reconditioned original Dansette, but of course, being a control freak (or at least liking to make the right choice), I can't leave Mrs TRB to find me a record player, I need to buy it myself (and then act surprised on Christmas day for the kids sake). The question is,
which
model should I buy? I quite like these two:

DANSETTE 'HIFI'

DANSETTE 'A35'
I shall have to make up my mind soon, but whatever record player I buy, I will be able to play these two little beauties that I added to my Number 1 Collection this week:


In the words of the Number 1 written by Edith Lindeman, and recorded by Kitty Kallen, Little Things Mean a Lot, which has just made me remember one of the funniest album cover photos of all time, and makes the
Maladjusted
album cover look like a classic:
And finally Esther, and finally Cyril, Morrissey was last night spotted (minus a neck brace or sling) at the Fonda Theatre in LA, watching Sparks, but who is he talking to in this picture, is it Jesse?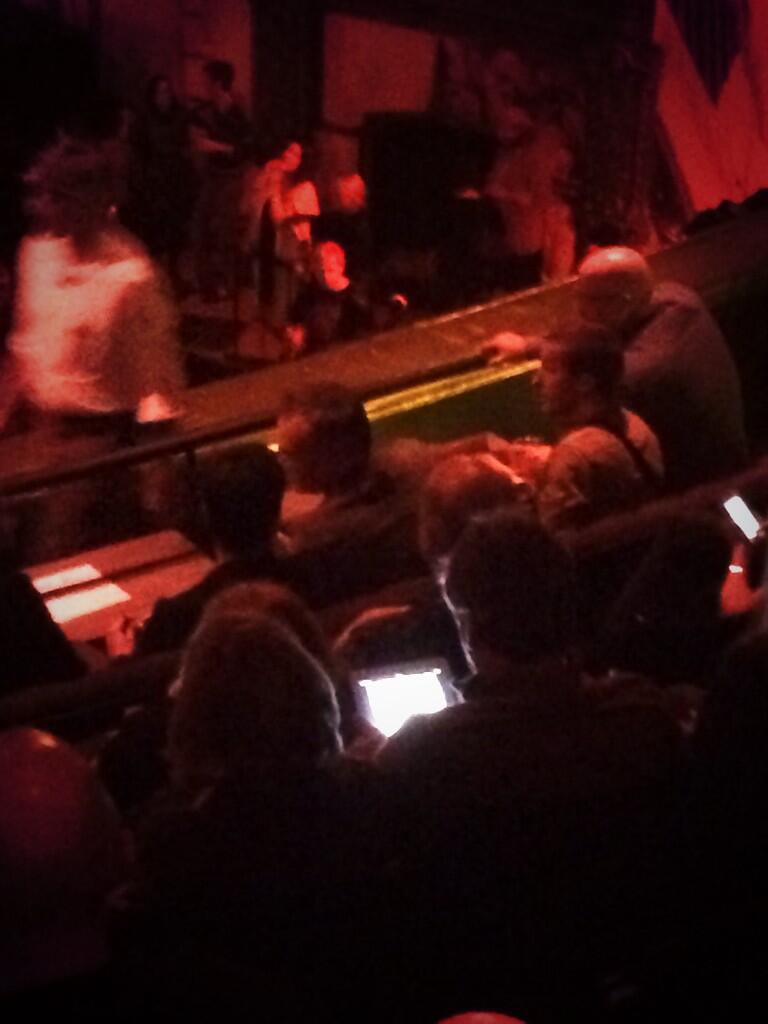 FRONT ROW L TO R: JESSE?, MOZ, DAMON 'KEVIN PHILLIPS' ANACREONTE, DONNIE KNUTSON?
IF it isn't Jesse, perhaps it could be the mysterious Gelato, who was mentioned in
Autobiography,
and has been mentioned again in the comments section of my blog, which I missed seeing until today. Here it is:
FROM ITALY- L TO R: ?, MOZ, GELATO?