The MorrisseysWorld blog has made a swift return, although there is no new content, and no sign of the promised parody about the documentary. It is my guess, that the MW blog has only returned so that people can use it's chat room; as nobody tends to go there if the blog isn't attached to it, and Our Mozzer might be planning a good old fashioned lonely christmas, with just virtual friends/fans to keep him company in his bedsit.
BOZ BOORER DECORATES THE MW BEDSIT, BEFORE BEING ASKED TO LEAVE
Aside from MorrisseysWorld, the grey flannel trousers that Morrissey wore in OslO have caused a storm amongst his fans.
TROUSER STORM
Nobody seems to know WHY Morrissey chose to wear them, but JJazmineMoz has posted this on twitter: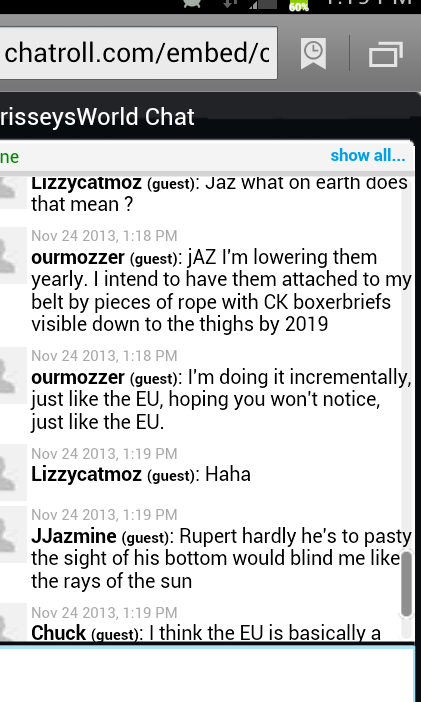 Apparently, the above conversation about baggy trousers took place in the MW chat room on November 24th. Surely just a genuine coincidence, after all, they weren't trousers that hung half way down his backside, they were genuine flared slacks! Surely Moz is just being a trend setter, SURELY!
AVAILABLE FROM ALL GOOD HIGH STREET STORES
Apart from Trousergate, all is quiet in MozWorld, although Doolally Dolly has been on the tweet rampage again. I STILL don't know what to make of her, but most of the other members of the 'Deluded Dozen' have lost interest in her. Despite her tweets being absolute random twaddle, I can't
help but remember that she was one of the first to discover MW, and seemed VERY sane back then, but this screenshot tweet today offers nothing but further confusion. Is that a hidden picture of people in grey trousers, just below the word Britney, near the top?
DOLLY'S SCREEN SHOT
Anyway, I don't want to blog for the sake of blogging, so I will now disappear until something happens. GWO has suggested a pantomime, so perhaps I will write one. How about a Following The Mozziah panto, where strangers meet, looking for The Mozziah, and instead of following a yellow brick road, or a star, they are led by a black cloud. Hmm, I think I'll get started on it.