It wasn't until 2005 that David Bowie confirmed that his 1972 single,
Jean Genie
was a "clumsy pun" on the name Jean Genet, but I have NO doubt that Morrissey had worked it out
way
before 2005. I spent some time yesterday reading about Genet, who it transpires spent periods of his life as a vagabond, petty thief and prostitute. You could say, Genet led the 'low-life', 'walking the(se) streets'.
A YOUNG JEAN GENET - LIVING THE LOW-LIFE IN PARIS
In his mid thirties, Genet sought out and befriended Jean Cocteau, another French writer, who although didn't live such an apparent 'low-life', was a prominent drug user. Cocteau had a twenty five year relationship with another Jean, Jean Marais, the cover star of The Smiths single This Charming Man/Jeane.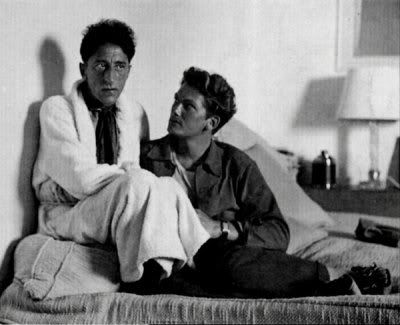 COCTEAU AND MARAIS
The reason I am writing this, is because last night, as I slept in my bed, it suddenly struck me that Jean Genet was the subject matter of the Smiths song Jeane, although in theory, it could also be about Cocteau or Marais, but the line "the low-life has lost it's appeal" made me more inclined to think of Genet. I presume an 'e' was tagged onto Jean to make it look as though the subject was a female.
This morning, I rushed to find my copy of Mozipedia to find out if I was right about Genet being the influence for Jeane, but I discovered that Simon Goddard (the author) had made NO entry whatsoever for Genet, and according to Mozipedia, the song Jeane is about either Linder Sterling or "an obvious by-product of Morrissey's fascination with Shelagh Delaney." Really? I'd be interested in the thoughts of others.
GENET
Yet another MorrisseysWorld article has appeared, this time entitled, 'Announcing the 2014 Tour', although no such tour is actually announced in the article, but I'm sure it means well! The main crux of the new article, is to mention a True-To-You posting from December 3rd, that for some reason has gone pretty unnoticed. Here is the TTY article:
3 December 2013
Graffiti/sketch on the wall at the United concourse at Los Angeles Airport (LAX).
The reason that I didn't report on this TTY article when it was posted, is because it appeared on the day that I published the 'Missing Gems from Autobiography' piece. Solow
did
report the TTY posting, but pretty much brushed over it's relevance, and there were certainly no references by the Solowers to any Blue Roses. My thanks to Fifi, who yesterday posted a video link about the artist, Shizu Saldamando:
http://www.youtube.com/watch?v=srqIYLcUUsk
Also in the latest MW piece are a number of Twin Peaks references, which includes a little bit of Log Lady, who happens to mention the Isle of Wight. Could I be right in what I wrote yesterday? The MW article also states: "When Blue Rose is finally revealed, you will not believe your eyes. It might even change your life." This collage has also been added as the header to the MW site:
THE MORRISSEYSWORLD NEW HOMEPAGE HEADER
All this MW activity, and yet our numbers do not grow. In fact, I can't remember the last time somebody
new
stumbled across this whole phenomenal story and was inquisitive enough to ask questions. Perhaps it isn't an easy thing to stumble across, perhaps the story has moved on too far for it to make sense. Do the Deluded Dozen actually
want
all of Morrissey's fans to discover MW, or would they rather keep it/him to themselves?
Anchors aweigh.