When I first discovered the MorrisseysWorld blog, 828 days ago, I started writing this little blog of mine, as my own personal diary. It wasn't aimed at an audience, and in fact, there
was
no audience, it was just me and my excitement. I woke up one morning to find that the MorrisseysWorld blog had written an article about 'Following The Mozziah', and from that moment on, I DID have an audience, and the audience grew. At one stage, my blog was receiving around 500 hits a day, and many people would leave comment, as the mystery of MorrisseysWorld gripped.
As time passed, my audience dropped away, mainly because the MorrisseysWorld twitter account (which had built up 8,500 followers) closed down, as did the MW blog. Despite MorrisseysWorld disappearing, a dozen or so hardy souls stuck with me as we attempted to keep the MW flame burning.
Periodically, the MorrisseysWorld blog would reappear, and then disappear again. The hardy few, who became known as the 'Deluded Dozen', continued to 'stick in there', and a few more stragglers were picked up along the way as the idea of a Blue Rose Society took hold. When the concerts stopped, interest dwindled in both MorrisseysWorld and my blog, and my audience virtually disappeared.
The ironic thing is, MorrisseysWorld is now BACK, and the story being told is more fascinating than ever. So much is happening that I hardly know where to start today's blog entry, but I am no longer writing for an audience, I am back to writing for myself, and for history; for I do actually believe that what Morrissey is currently sharing with the half a dozen of us who have continued to follow this story on a daily basis, is just as important as the contents of his Autobiography.
Autobiography
is the story of the flesh, MorrisseysWorld is the story of the mind. I like that....
"Autobiography is the story of Morrissey's flesh, MorrisseysWorld is the story of his mind." - The Rat Dec 2013.
'AN ANGEL LEADING A SOUL INTO HELL' - PAINTED IN THE 16TH CENTURY BY AN UNKNOWN ITALIAN ARTIST IN THE STYLE OF BOSCH - POSTED ON MW YESTERDAY
So, shall I start where I left off yesterday, with the story of Jean Cocteau, or shall I write about the latest MorrisseysWorld offerings? Let me start with four quotes, the first being an Oscar Wilde quote that Our Mozzer has posted on the latest MW article, which incidentally is entitled, "Life is not a destination", the second and third come from Astraea aka '@FadingGoldLeaf'(FGL) on twitter yesterday, and the fourth is from the MW blog three days ago. I should add that Astraea IS, in my deluded opinion, Morrissey.
"Man is least himself when he talks in his own person. Give him a mask, and he will tell you the truth." - Oscar Wilde
"Alienation from one's self. The search for the authentic self. Changing personae. Loneliness. Aesthetic of excess. Aesthetic of denial." - FGL/Morrissey(?)
"The line between reality, one's art, and the Self. Is it invisible? No. There is none. They are all one and the same." - FGL/Morrissey(?)
"When Blue Rose is finally revealed, you will not believe your eyes. It might even change your life." - Our Mozzer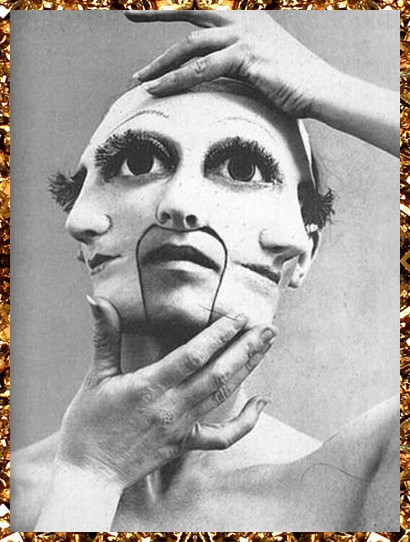 I suppose I should pick up from where I left off yesterday, with Jean Cocteau. I must confess that until two days ago, I knew nothing about Cocteau, and only knew of his name because of Morrissey. I wrote two days ago about a theory I had, that the song
Jeane
had been written by Morrissey about Jean Genet, and from there, a much bigger picture has been revealed. First of all, a link was posted on my blog by 'Thoth', of Cocteau's 'Crucifixion' mural in the Church of Notre Dame de France in Leicester Place (just off Leicester Square) London....
.... and then THIS was posted on my blog yesterday morning:
The similarities between Cocteau and Morrissey are INCREDIBLE, and apart from the drug addiction, Astraea could actually
be
describing Morrissey, in fact, if the lyrics of 'Something is Squeezing my Skull' are to be taken literally, then we have the drugs as well!
For Morrissey fans to truly understand Morrissey's link to Cocteau, this piece by Tracy R. Twyman should be read: http://quintessentialpublications.com/twyman/?page_id=26. Twyman's piece will also help the 'Deluded Dozen' understand why Our Mozzer is interested so much in freemasonary, with the piece about the 'Rosicrucians' (who Wilde was also associated with) being particularly interesting. It is all SO intriguing, and this blog of mine just cannot give justice to the whole phenomenal story.
Two HUGELY intriguing things that Astraea DOESN'T mention above, are: 1) Cocteau's mural was painted in 1959, the year of Morrissey's birth, and 2) Cocteau painted a mysterious letter 'M' on the altar. Now I have NO religious beliefs, I don't believe in phrophets, and I'm not a spiritual person, BUT, Cocteau's Crucifixion has a quite UNBELIEVABLE connection to Morrissey. Of course, most people presume that the 'M' is for 'Mary', but other things ALSO link to Morrissey, including the number '58', which was of course the year Morrissey was conceived. This section from Twyman's piece is interesting:
"(the) letter "M" is mysteriously placed on the altar, directly beneath the scene of the crucifixion. To the left are depicted the dice thrown by the Roman soldiers, who according to the Gospels, cast lots to determine who should get Christ's clothing after he died. The number of dots that are shown on the dice is fifty-eight, a significant number. The skull of Baphomet, which the Templars and later the Priory of Sion are said to have possessed, was referred to cryptically as "Caput 58M." 5+8 = 13, and "M" is the thirteenth letter of the alphabet.
The same statement is being made in Cocteau's mural at Notre Dame. This statement is further reinforced by the fact that the "M" on the altar is directly below a rose that Cocteau has placed on the cross, precisely beneath Christ's feet. Not only does that make it a "rose cross", but the rose is above the initial "M"."
Is that the word 'Rice' written on the foot of the unseen Messiah? Why 'rice'? Was Coctaeu hearing a word in his head? Mor 'rice' ey? I think I'd better stop writing before the delusion goes any further, and anyway, this is out of my comfort zone, as I've said, I don't believe in such things, but one last interesting point, Cocteau signs his piece with three D's... well, it happens a lot 'round here.
(NOTE - THE T_A * IS VANDALISM WHICH HAS NOW BEEN REMOVED)
Right, back to MorrisseysWorld. Two new articles have appeared in the last two days, the most recent being the 'Life is not a destination' piece, in which Our Mozzer has posted a number of pieces of art (including the depiction of hell, which I posted at the top of this page) and a few quotes. The MW site itself has also had a 're-fit', and includes some new pictures, including these:
The other MW article is a hilarious parody piece entitled, "Morrissey lifts the red curtain", which begins with Morrissey taking afternoon tea with Jonathan Ross and Boz Boorer in "an elegant cafe", before heading into a circle of sycamore trees via a lavatory and fire escape. The red curtain enters the story right at the end, but has yet to be lifted (is this a euphemism?) and the story is set to continue!
In other news, following on from my blog entry of the other day, regarding my Jean Genet theory, and the piece about the Blue Rose art by Shizu Salamando, I received these three comments from 'Fifi' (who I
also
believe to be Morrissey):
This was followed up by this:
SHIZU
And finally this:
There are many interesting things to take from Fifi's comments, including that Moz met Shizu in 1998, and that there is a photo of them together. Perhaps Fifi could post a link to it?
My blog also had a visit from Our Mozzer yesterday, and it would seem that he is slightly perturbed that my semi-mesmerizing blog is getting more attention than his:
Morrissey
19 December 2013 12:43
I should remind Our Mozzer that if he hadn't publicized my blog all those months ago, I would still be here, just typing away to myself... about him!
And now, as it is Christmas, and as I have a family, this blog will not be updated for a while, but if ANYBODY
is
still reading it, I would love to hear from you, even if you just say hello, and just acknowledge that you are still 'Following The Mozziah' with me.
Did Cocteau see the coming of The Mozziah, and is this what BLUE ROSE is all about?
*Goes off singing* And if you think peace is a common goal, that goes to show how little you know.
THE STAMFORD ARMS, BOWDON - WHERE PATELVIS IS PLAYING THIS SUNDAY