Forget the quote, "No man is an island", the above quote from Morrissey's parody double has trumped it, and is probably my favourite quote so far, in this whole, wonderful, and quite phenomenal journey.
Our Mozzer posted the above quote on twitter a couple of days ago, to show his frustration that nobody was interacting with him. In years to come, philosophers will be analysing it's meaning, with some professing, *adopts philosophers voice* "What Morrissey was trying to say with this tweet, is that he wasn't just on twitter to provide light for everybody else, but that he needed light too." Others will say, "this tweet is Morrissey saying that he is not a rigid object with no feelings." Personally, I have interpreted the tweet to mean, "I am not prepared to stand here whilst dogs piss on me." Whatever it's meaning, it is a great quote, among many, many other gems that Parody Moz has produced over the past 48 hours of virtually non stop tweeting.
It would appear that the whole Jonathan Ross thing from yesterday has gone COMPLETELY unnoticed, and the MorrisseysWorld phenomenon continues right in front of everybody, with NOBODY seeing! The number of Parody Morrissey's twitter followers has jumped to 316, but will the masses come this time around, or will Moz STILL manage to keep himself under the radar? When I discovered the original MW twitter account in September 2011, there were 334 followers, and here we are 28 months later, back where I came in! It really
is
PHENOMENAL.
God, this journey is exciting.... but exhausting too. Morrissey and his pessoas/friends/characters are SO active at the moment, that I am finding it hard to keep up. Somehow I am trying to work full time in the day, and then spend the evenings at home as a caring, loving, father and husband, but it ain't easy, especially with this bastard blog to write, but it has to be done, this IS history.
We can go months and months with NO activity from Moz, and then BAM (No, not Brooklyn Academy of Music), he's awake virtually 24 hours a day, bombarding us with the sort of entertainment that money just can't buy.
Morrissey's mind must be SO active, and I get the feeling he is even more mentally active when a tour is approaching. It is surely only days before a tour is announced.
My latest theory is that Morrissey is using twitter in the same way that Steve Coogan would use a tv or stage show. Coogan has Alan Partridge, Paul and Pauline Calf, Gareth Cheeseman etc, where as Morrissey, who is every bit a comedy writer in the same way vein as Coogan, has produced characters such as; Parody Moz, an exact replica of the real Morrissey, Broken, a failed medic with a taste for footballers, Greyer Girl, a twice divorced bitchy older woman, and Kate 'Dolly' Ryan, an unhinged woman in her thirties. Morrissey's interactive play is set online, in a place known as The Twitterdilly Arms.
Not only do we have the likes of Kate Ryan, sat in a quiet corner of The Twit Arms; writing her play, and talking to herself, but the beauty of Morrissey's online play, is that
other
characters,
not
created by Morrissey
also
enter the play. Characters such as me, a Morrissey obsessed blogger, living in a bedsit, trying desperately to be Parody Moz's 'best friend', and Marcus, a part time playwright from London, who resorts to pimping himself around Wandsworth Cinewrold, and Sabine, a cycling German housewife living in Coventry, plus Romina, a bored Italian housewife with pigeon English, and MancLad, an airport worker from Manchester, who likes his tipple. It's a fantastic concept, and as Parody Moz tweeted the other day, "I can't believe that nobody has done this before."
And with regards to the WHOLE MorrisseysWorld and Blue Rose phenomenon, here is how Moz himself has summed it up:
"This is too complex for mass-acceptance. Simply luxuriate in the parody/wisdom/poet/c*** dynamic." - Parody Morrissey January 8th 2014
I would dearly love to post all of Morrissey's tweets on this silly little blog of mine, but there are now so many, it would be impossible, but here is a selection of tweets from Parody Moz from a couple of days ago. If the account remains online, I will attempt to find time to copy some more, and post them tomorrow.
Highlights from @MorrisseyParody:
If only one could retweet one's own tweets; but WHO ELSE would try?
Is the
#BlueRoseSociety
back in full flow?
Twitter is back, the blog is back, El Presidente is planning a new video, and @Wossy searched for my tweet among thousands.
THE BLUE ROSE SOCIETY'S EL PRESIDENTE - KYLE FROM LONG ISLAND (WHOSE NEW VIDEO HAS TODAY BEEN POSTED ON THE MORRISSEYSWORLD BLOG, AND CAN BE SEEN HERE: http://www.youtube.com/watch?v=Ud81NXq5kKc)
Being lonely and elegant in your 50s is quite an achievement.
If I donated my blood, I'm quite sure it would be rejected.
I'm O positive, ironically.
"A gentleman is one who never hurts anyone's feelings unintentionally." Wilde
If I start using Instagram and wearing bracelets, employ six male dancers and keep flicking my fringe, might I get a record deal then?
Which of my tweets do you prefer? Wildean wit? Poetic lilt? Needless bitchery? Enigmatic implication? Blog-related facts? Friendly hello?
Is there a collection of people on the planet duller than Union J?
FROM @PapaSonsFilm: We are expressions of the same consciousness, yes. Don't get too excited. It includes Union J.
Are Union J conscious?
UNION J CLOTH - CONSCIOUS? THE ONE ON THE LEFT LOOKS A BIT MOZ LIKE.... ACTUALLY, THE ONE IN THE BLACK JACKET COULD BE MARR! THEY'RE JUST LIKE THE SMITHS!!!
@
PapaSonsFilm
MorrisseysWorld will change your life. You read it here first.
@
TheRatsBack
@
PapaSonsFilm
Shall I reveal who I am now?
@
PapaSonsFilm
@
TheRatsBack
I'm Barbara Windsor.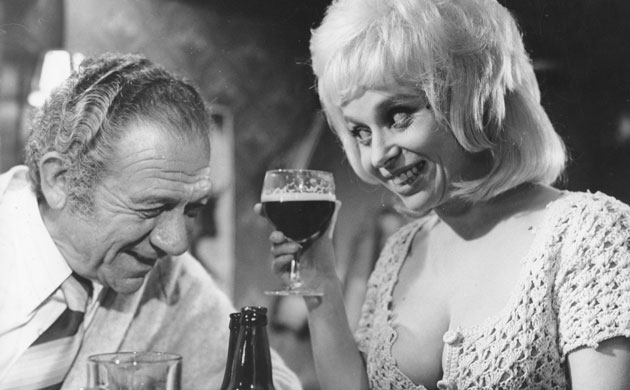 BABS WITH SID
@
boz_boorer
some white grapes please, old son.
FROM ME:
@MorrisseyParody
Why the white grapes?
@TheRatsBack @Boz_Boorer Don't be over-familiar old son. I've excommunicated people for less. #EnigmaticOthernessFactor
FROM ME: How about a new game, where we, your devoted followers, nominate celebs for you to mercilessly lay into? Great boredom cure.
@
TheRatsBack
Poor choice of words old friend. By 'lay into' I presume you meant 'conjure up mesmerizing words of witty reproach for'.
@comradeharps @TheRatsBack @heathercat222 @AIRRAID25
In years to come, people will write about this twitter account and my blog.
Only those of us who shared the journey will understand.
FROM @comradeharps:
@MorrisseyParody
Will Johnny Rogan write it? Mick Middles? Preferably Mark Simpson?
@
comradeharps
@
TheRatsBack
@
heathercat222
@
AIRRAID25
Mark Simpson is the world's oldest adolescent.
ADOLESCENT
Birth is crude, life is crude, death is crude; art is the exception.
FROM @PapaSonsFilm:
@
MorrisseyParody
@
greyergirl
@
TheRatsBack
You're far too wise to be a parody.
@PapaSonsFilm @greyergirl @TheRatsBack This is too complex for mass-acceptance. Simply luxuriate in the parody/wisdom/poet/c*** dynamic.