I believe that Morrissey initially started his MorrisseysWorld website either through boredom or as a bit of fun. It soon became a place where he could show off his talent as a comedy writer, and express his views on certain issues, without the whole world having to see and pass judgement. Morrissey's views on a New World Order and freemasonary for example, are subjects that he may well not want to discuss as 'Real Morrissey', but ironically, as 'Parody Moz', he is able to be the
real
HIM. MorrisseysWorld is Morrissey's safe haven.
I believe that Morrissey has thoroughly enjoyed these past couple of years, spending time in an environment where he has been able to engage with a small group of fans without them passing judgement on everything he says, does, or stands for. It must have been especially refreshing for Morrissey seeing as he has had to suffer years of abuse from not only the media, but also from his own so called fans on the Morrissey Solow website.
During this MorrisseysWorld adventure, Morrissey has also been able to create the Blue Rose Society; a group of people who shared his outlook and views. The inspiration for the BRS came from Oscar Wilde's similar concept, whereby a small group of close friends and supporters wore a green carnation in their button hole to show allegiance to Wilde.
A MODERN DAY SUPPORTER OF WILDE
When the Blue Rose Society was formed, Morrissey asked that we all bring roses (red, white or blue) to his concerts, but unfortunately, although many people thought it was a good idea, most people's actions didn't speak as loud as their words. I remember heading up to Manchester in July 2012 as though it was my calling, but all the others who had been part of our initial little band (with the exception of Marcus Markou) found an excuse NOT to wade down to the mosh pit with their rose in hand. Most were either embarrassed or just didn't care about it in the way I did. I didn't let it bother me, after all, who am I to tell people what to do, and it showed me that there was a difference between 'MorrisseysWorlders' and 'The Blue Rose Society'.
MANCHESTER JULY 2012
I was gutted that I failed to get my luminous blue rose to Moz in Manchester, so gutted, that when a tour was announced in the USA, I headed over to New York, where I eventually managed to get my flashing piece of plastic to Moz (via his tour manager), although I once again failed to get my real blue roses to him at both Long Island and Brooklyn.
FLASHING THE PLASTIC IN MANHATTAN - JAN 2013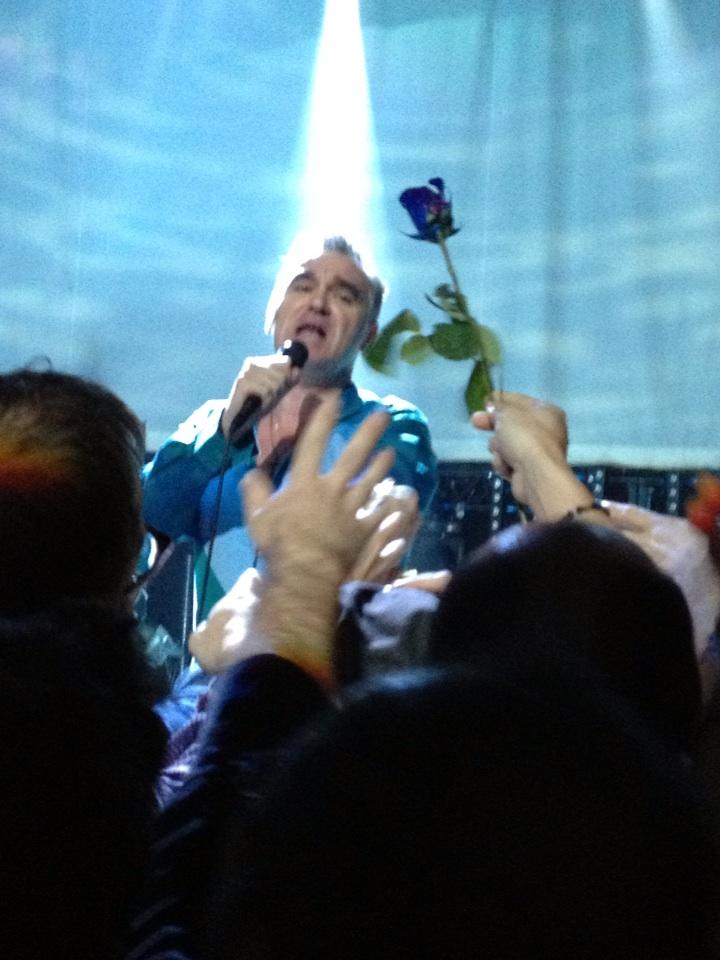 SO CLOSE IN BROOKLYN - JAN 2013
A number of the BRS
have
shared my passion, and have done all they can to get a Blue Rose to Morrissey. President Kyle succeeded in NYC, and Vulgar Angie even managed to pass Moz the Blue Rose Ring in LA. Little Devan managed to get his Blue Rose to Moz during the recording of Morrissey25:Live, for all the world to see. Others such as EARS, Heather and Moz Fiend have traveled miles to try, but as yet without success. There are people out there who really, really love the idea of BRS, but these people aren't necessarily the same people as those who love MorrisseysWorld.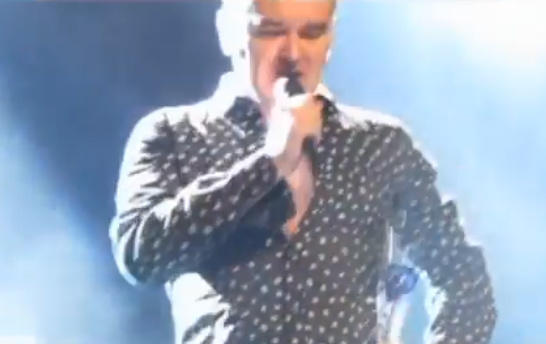 PRESIDENT KYLE'S BLUE ROSE SITS ON THE HIP - NYC 2012
HOLLYWOOD HIGH - MARCH 2013
With MorrisseysWorld now apparently gone, BRS needs to have a meaning. My interpretation has always been that it belongs to Morrissey, and it is his to do as he pleases with it. It can only survive if Morrissey
wants
it to survive, but I would guess that he, like Wilde, would like his society to be full of 'supporters', and NOT people who question his motives, actions and beliefs.
I didn't write about this yesterday, because I hoped that it would go away on it's own, but the reason that Morrissey wanted to bring an end to this whole phenomenal adventure was because people started to take him to task for
his
actions. WHY the hell should Morrissey have to justify anything to anybody? If he doesn't want certain people in his society, then that is up to him. Did people not stop to ask themselves
why
Morrissey would want to pass niceties with anybody who shows signs of homophobia, or mocks suicide? He doesn't have to prove things were said to him, this isn't a court. If he says he witnessed it, then he witnessed it. Why would he make it up? Only two days ago Morrissey was describing how harrowing his youth had been, as he battled with what society perceived was 'normal'. He tweeted that he had been taught that his "desire for love is a blight from the devil", so WHY, 40 years later, should Morrissey have to face a cross examination? The answer is, he doesn't, well certainly not here anyway. "I don't want to be judged, I would sooner be loved, I would sooner be blindly loved."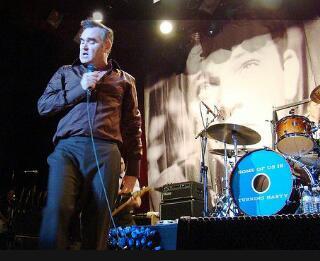 "I am human and I need to be loved."
If Wilde's green carnation represented homosexuality, which many believed it did, then wouldn't it be great if the Blue Rose represented humasexuality, although ultimately, it is up to Morrissey what he sees it representing, it is HIS society. What is more, if those people who are around Morrissey aren't the sort of people he wants around him, whether in the 'real' world or in cyberspace, then why would he put up with them?
.
If Morrissey decides tomorrow that he doesn't want me around, I would accept it and move on. It has been an absolute pleasure to have been able to get this close to a man who to me, is untouchable as a modern day poet. The words he has given through song define my life. I don't care if people think I am a fawning sycophant, I owe Morrissey far more than I could ever afford to pay, and so the
very
least I can do is to offer my support, which I will do, unquestioningly, for as long as it is wanted.
I am sure that many people won't agree with my view, but that is fine, I will lose NO sleep. Whilst MorrisseysWorld is gone, if Morrissey sees FTM as a safe haven, where he can escape the torture of everyday life, then that is what I will provide.
Anybody leaving petty or hurtful comments will simply have them deleted. If you want to take Morrissey to task, Solow is just a click away.
Viva Blue Rose
Rat