I didn't intend to blog today, as I am extremely busy, but if I don't catch up with some of the backlog of things I want to mention, then Monday's blog will be about 232 yards long.
Firstly, here is Heather's excellent response to Fire's Cocteau revelations:
The whole Hand in Glove connection is really exciting, and as Heather has written, it does feel like a BRS song, although I would guess, that to both Morrissey and Marr, it will always remain
their
song, probably alongside There is a Light That Never Goes Out. Here is a reminder of what Fifi wrote about the glove:
The glove is very present in Cocteau's art (see 'La belle et la bete' movie - The glove is a character by itself. It is magical and full of meaning) and Cocteau once said about Radiguet (after he died) that he "fitted heaven like a glove" and "Radiguet was a glove from heaven" or something along those lines, I am sure you can find exact quotes somewhere.
My 'theory' is that 'Hand in Glove' was maybe inspired by this...?
And like I mentioned before, the sleeve reminds me of the Cocteau tapestry at Villa Santo Sospir but it might just be coincidence or plain wrong.
The trilogy ring is also a very exciting association to This Charming Man, but WHO was the 'she' who said, "return the ring"? Was it Francine Weisweiller?
Another Cocteau connection to re-surface (thanks to anon posting it yesterday), is the Morrissey poem entitled Poppycocteau, that was written and released on the flip side of the Smiths song London, which came free with Catalog magazine, although actually it was more of a case of the magazine coming free with the record/poem. The poem is hilarious and reminds me of Kenneth Williams. Fifi has informed me that the poem "was not written in a drunken hour at all." Here is my copy of the poem, which rather surprisingly DOESN'T feature in the Top 100 Smiths rarities, as published today by Record Collector magazine. I suppose, technically, it isn't a Smiths release, well certainly not Poppycocteau at any rate.
Yesterday, I also promised to post the photos that Fire had emailed me from France. I have had to photograph my pc screen, as I am a technophobe, and can't work out how to copy them from the email!
I also wrote yesterday, that I wanted to make mention of a 'retweet' that Fif posted, which was originally posted by Morrissey's new record producer, Joe Chiccarelli. The fact that Joe's tweet of Jan 6th might well have been referring to the fact that he will soon begin working with Morrissey ( starting today?) is one thing, but it is made even
more
interesting by the fact that he says, "Back into the Fire", with Fire being the name that we have recently given to Fifi (aka a Morrissey pessoa). Jigsaw, jigsaw, jigsaw. Here is Joe's coincidental tweet, which on
this
occasion, really IS a coincidence:
2014. Back into the Fire. Except I'm in Nashville and it's 7 degrees!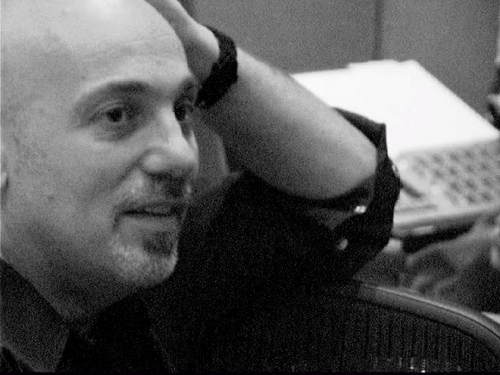 JOE CHICCARELLI
I have asked Fifi WHY she thinks Joe was chosen for the new album, and I am hoping to receive a reply. Fifi has also informed me of
another
Cocteau link in Morrissey's solo work, and I hope to write more on that on Monday. I shall leave you with the clue that Fifi has left me... it's on Your Arsenal.
That's it for today, I shall return on Monday. I should very quickly mention that as of today, FTM has received over 376,000 hits, which I think I am right in believing, is now more than MorrisseysWorld, but seeing as MW is closed for around 11 months a year, that is hardly a surprise. Most of my hits are from me and a spam bot in Russia.
And very finally, Morrissey offered Marcus the opportunity to remain in the Blue Rose Society, and he has politely declined via a video posted to myself and Broken on twitter of 'No, thank you' from Cyrano de Bergerac. Here are Morrissey's other decisions regarding bans following this week's 'Fall Out':
*Goes off singing* My love, wherever you are, whatever you are