The draw for the 2014 European Cup has been made, and the Blue Rose Society have managed to get the tie they'd been hoping for.... The Morrissey Band.
The tie, which hasn't officially been announced yet, and was first predicted by 'Broken Morrissey' (and Fifi) at the weekend, will take place in the summer, and will be played over two legs. Although the venues haven't yet been confirmed, it is believed that the first leg of the tie will be played on Monday July 28th, at the Teatro Antico on the STUNNING Sicilian hillside of Taormina, with the return leg possibly being played on Sunday September 7th, on the equally STUNNING Isle of Wight.
Here is our resident Italian Blue Roser, Romina, with the details of the Italian venue:
@

TheRatsBack
this are concerts in Teatro Antico. Taormina is famous. important gigs all summer! in Taormina there are the best cultural events in the summer. Classic Teathre. classic and modern music, film and tv prize. think it's very big. is the old greek teathre. now i'll control, just a moment.... 4500 seats. it was built for 10000, but with modern standards the capacity is reduced. of course is open air, greek arena. There's a lot of space between stage and seats, it would be possible stay very close to the stage, but it depends by security.
TEATRO ANTICO IN TAORMINA SICILY - PINCH ME MOTHER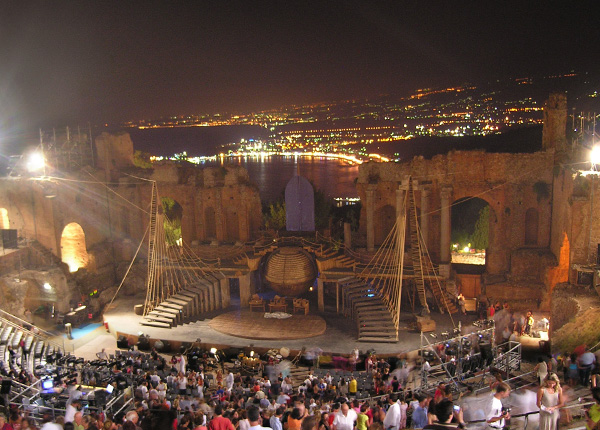 Wiki link: http://en.wikipedia.org/wiki/Ancient_theatre_of_Taormina
WOW! Simply WOW! The main problem for me, if this venue and date is confirmed, is one of logistics, as I HAVE to be in England on Sunday July 27th, for the opening day of the England v India test match at Southampton, but where there is a will....!
The reason I believe the return leg of the tie will be on the Isle of Wight, is because of a Log Lady prediction, but I may of course be wrong. Before the MorrisseysWorld blog closed it's doors, the resident soothsayer, 'Margret 'Log Lady' Lanterman' (formerly of Twin Peaks fame) had told us that Morrissey would play the Isle of Wight this year, and it is possible that Log Lady
may
have repeated this prediction yesterday! Let me explain.
Late yesterday evening, just before last orders, Log Lady made her debut in the Twitterdilly Arms. She strolled in through the saloon doors, log in hand, to announce the following:
My Log will have something to say about this. Do you know my log?
Morrissey is among us. He is here now.
Eggs are white on the outside and usually have one yellow yolk in the center. The egg white consists of two layers with different density.
Two death doors will open gently. You will see them ajar and five musicians are beyond. Morrissey will mention France again.
THE PROFILE PIC ON THE ACCOUNT - WHO THE F**K IS THAT??
I believe that the statement about the egg could relate to the Isle of Wight. Log Lady has said that the egg white has two layers with differing density, well, the Isle of Wight has TWO large festivals, with different capacities. The only headliner act that hasn't yet been announced (to my knowledge), is for the Sunday night of Bestival, on September 7th. Could it be? And if it is, then it should also be remembered that Log Lady ALSO announced on the MW blog, that Johnny Marr and 'old friends' would also be there! Could it be that the 30 year anniversary ISN'T going to go unrecognized after all?
Following Log Lady's announcement, she took a swift sip of Kellie the Crisp's gin, and promptly left the Twitterdilly Arms. Following her departure, Astraea headed to the jukebox, where she found Fifi quietly gazing at the selection cards. Morrissey was indeed among us. A celebratory party broke out in the Twit Arms, with Astraea spinning the discs and holding court. The evening produced this:
TWITTERDILLY ARMS TOP 10 - WITH MOST OF THE SONGS SELECTED BY ASTRAEA (@FadingGoldLeaf)
1. FANTASTIC BIRD - MORRISSEY (RE-ENTRY (LOLS TO SELF AT SPACE JOKE)) https://www.youtube.com/watch?v=HA7Hhs9g4s8
2. LOVE KITTEN - APRIL STEVENS (NEW ENTRY) https://www.youtube.com/watch?v=i4IhTVTZ8XI
3. THESE BOOTS ARE MADE FOR WALKIN' - NANCY SINATRA (NEW ENTRY) https://www.youtube.com/watch?v=SbyAZQ45uww
4. TU VEUX OU TU VEUX PAS - BRIGITTE BARDOT (NEW ENTRY) https://www.youtube.com/watch?v=dQUvWerAww8
5. FEVER - ANNE MARGRET (NEW ENTRY) https://www.youtube.com/watch?v=CzPMrnq_6EE
6. THE MAN WHO SOLD THE WORLD - DAVID BOWIE (NEW ENTRY) https://www.youtube.com/watch?v=6x5OubSeb-U
7. DREAMY LADY - T REX (NEW ENTRY) https://www.youtube.com/watch?v=tIXPfrsi6Qs
8. SO LITTLE TIME - DIANA DORS (RE-ENTRY) https://www.youtube.com/watch?v=Uw95vueZ0iE
9. BABY LOVER - PETULA CLARK (NEW ENTRY) https://www.youtube.com/watch?v=xEya6KCHCuI
10. QUESTIONS IN A WORLD OF BLUE (FROM FIRE WALK WITH ME) - JULEE CRUSE (NEW ENTRY) https://www.youtube.com/watch?v=zCV_kTjuguQ
BUBBLING UNDER:
11. THERE'S A GUY WORKS DOWN THE CHIP SHOP - KIRSTY MACCOLL (NEW ENTRY) https://www.youtube.com/watch?v=vDb2bNHBVSs
Also played in the Twitterdilly Arms was this:
ANDY WARHOL AND CANDY DARLING INTERVIEW (This is fantastic. PLEASE WATCH) https://www.youtube.com/watch?v=t6Y__YzQkog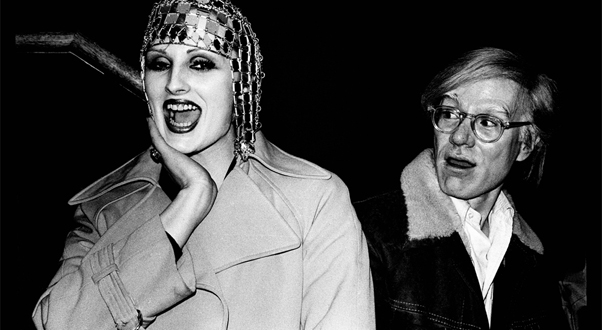 CANDY AND ANDY
So, back to the European tie. How can we expect the two sides to line up? The Morrissey Band team should be pretty straight forward, with the only question mark being over the man at the very back. It is expected that this position will be filled by Matt Waker, who has recently rejoined the MB after a spell away from the game.
With Walker now back in the squad, we are expecting to see the following line up:
1. Matt Walker (Goalkeeper/Drummer)
2. Boz Boorer (Clogging Right Back/Musical Director/Head of Catering/Guitar/Clarinet/Cross Dresser)
3. Gustavo Manzur (Left Back/Keyboards/Translator)
4. Liam Nammock (Holding Midfielder (usually around the neck)/Personal Bodyguard to the Moz/Hard Bastard/Driver/Licensed Thug)
5. Solomon Walker (Centre Back/Bass Guitar/Dumb Waiter/Singer of Backing Vocals on Maladjusted)
6. Jesse Tobias (Centre Back who likes to show flair by pushing forward. A modern day Bobby Moore/Guitars/Looks)
7. Donnie Knutson (Midfielder/Tour Manager/Rider Provider/Rose Supplier)
8. Jay Joannides (Midfielder... likes to get stuck in alongside Nammock/Roadie/Security)
9. Damon 'Kevin Phillips' Anacreonte (Centre Forward...the only genuine footballer in the side/Hairdresser... have you been on your holidays this year?/Encourager)
10. George 'Morrissey' Best (Attack!/Playmaker/Genius/Singer/Defender of the defenseless)
11. Arturo Hernandez (Nifty Winger(?)/Security/Man Mountain)
12. Kristeen Young (Playmaker/Singer/Professional Wailer)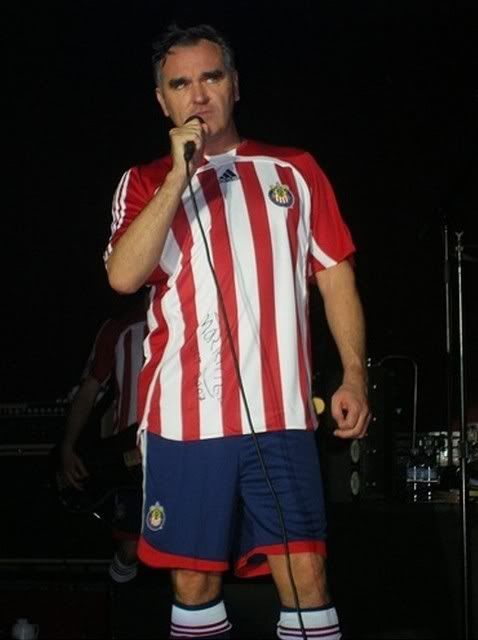 The Blue Rose Society line up will not be so straight forward, as it will depend on availability, and many of the squad will be ruled out on traveling distance. It is highly unlikely that the following will be available; HeatherCat, Vulgar Angie, President Kyle, Father Brian, Clover Dean, Kelly the Crisp or Comrade Harps.
The anticipated line up is as follows:
1. John 'Loughton Lil' Gill
2. Emotional Air raid
3. Big Mick
4. Garry Baldy
5. Midlife Matt (without STS, who will be 8 months pregnant)
6. Romina Ricci
7. MancLad
8. GWO
9. Rosy Mires (On loan)
10. Rat
11. Edge of Industrial Guy
BIG MICK - COACH DRIVER.... ALTHOUGH, HAVING SEEN HIS DRIVING, AND AS THIS IS THE ITALIAN JOB, AND AS SICILY IS HILLY.... PERHAPS NOT!
Our squad looks weak, so if anybody else fancies a game, please leave comment that you are planning to go, and you shall be added to the squad. I am hoping that Marcus Markou will reverse his decision to leave the BRS, as we need his flair. He is the only true artist among us. Yes, Marcus, this is my way of accepting your apology, but I doubt you will be reading it.
What we lack on the field, we can more than make up for with our style on the terraces of the Teatro Antico. We shall dress with style. Here is the kit I wore to Long Island last year, which would of course be too cliche to wear to Italy:
ANY OTHER BUSINESS:
Astraea doesn't just play incredible music in The Twitterdilly Arms, she also posts great pictures on the walls. I often have no clue who they are. For example, I didn't have a clue that these two pictures below were of Catherine Deneuve, and before anybody asks, NO, I haven't ever watched The Hunger.
As I've said all along, I was never a Bowie fan, I'm a Moz fan. There are many of Bowie's songs that I love, but I was too young for him to be 'mine' in 1972, and I have never made a point of watching or listening to all his work. I know I should, and one day I will, but the beauty of life is that it comes in stages, and in the next stage of my life, when my kids have left home, and work isn't so necessary, I shall read and watch many, many things. There shall be no rotting away in my retirement years, I am fully aware there are things I want to discover, and I know where they are hidden.
I have SO much to look forward to. SO many films to watch, SO many songs to discover, and I will be discovering them for the first time, which ALWAYS manages to thrill. There is no need to panic; I don't want to try and consume too much, too quickly, I want to breathe it all in, one song at a time, one movie at a time.... and savour it all. Catherine Deneuve's whole career has just been added to my list. Oh, Heart.
Astraea also posted this Cocteau picture:
It isn't just Astraea that puts up posters in The Arms, Comrade Harps has been slapping some up too. Hre is one he posted the other day of Jean C with actress, Anna Magnani: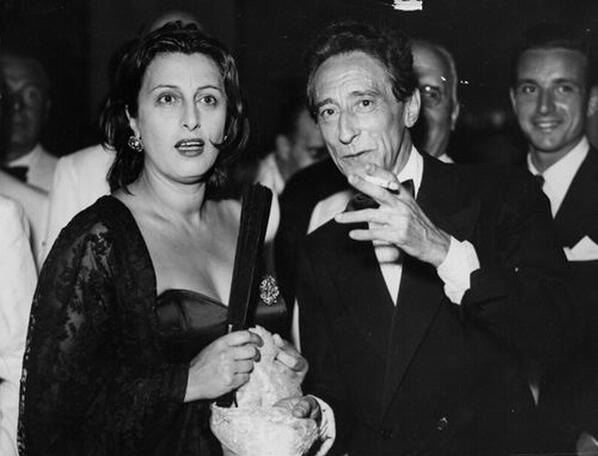 COCTEAU WITH ANNA MAGNANI
.... AND ON THE SET OF LA VOCE UMANA
One of the element members of the BRS, EARS (aka Air or Wind), hasn't posted too many comments lately, so it was lovely to have her post this the other day:
Wise words floating in the wind.
It was also great to receive a comment yesterday from Kellie the Crisp in Australia. The BRS really IS a global family, and as I stated on twitter today, this is no longer MY blog, it is 'Ours'. Here is Kellie's comment:
Stephanie is fairly new to the whole BRS thing, so it was great to receive comment from her yesterday too:
Harrison also left comment:
One of the very original MorrisseysWorlders also took time to leave comment yesterday:
One final lot of comments from yesterday that I feel compelled to post is this one, which unforunately is anonymous, although the reason for the anonymity might be that it was from Moz, and he didn't want to appear conceited, although I'm not sure that being seen as conceited would overly bother him. In fact, I'm not sure that being seen as
anything
would ever bother him!:
Blue Rose member, Father Brian (@MozIsMyShepherd) has drawn my attention to this interesting little story, that he was telling to a few others the other day:
I'm gonna sound crazy but u want a story about back then? On the 2nd prior to the Hollywood high, me and Broken were tweeting about Carly being born, my last tweet was "A new Morrissey fan will be born this weekend." In live25, during November, a baby crying is used and MOZ checks his watch during it. Carly was Born the next Morning - idk?
And on the subject of coincidences, Clover Dean has posted this on her blog, MozzeriansAroundTheWorld.Tumblr.Com:
AN ANONYMOUS SOURCE TELLING ME THIS PHOTO TAKEN OF MORRISSEY IN HOLLYWOOD EXACTLY AT 1750 VINE ST. THIS PHOTO WAS TAKEN WAY BACK IN JULY, IT'S AT THE FOOT OF THE CAPITOL RECORD BUILDING! WAS MORRISSEY TRYING TO GIVE US A HINT ON WHAT WOULD BE HIS SIGNING WITH HARVEST/CAPITOL RECORDS & THE MONTH IT WAS TAKEN, (JULY) NOW THAT A MORRISSEY TOUR IS SCHEDULE FOR ITALY IN JULY 2014?? CAN IT BE TRUE? IS IT TO MUCH OF A COINCIDENCE? WE WILL HAVE TO WAIT & SEE…
THANK YOU TO 'ANONYMOUS'
MORRISSEY AT STEVE COCHRAN PHOTO BY TTY
HTTP://TRUE-TO-YOU.NET/
I should add at this point, that somebody (was it Our Mozzer?) made reference to there being a BLUE ROSE in the reflection of the sunglasses in the above photo. For some reason, I didn't get around to blogging about it at the time (I think I was on my Christmas break), but although I am sure it must just be a reflection of the blue sky in those glasses, it DOES look like a BLUE ROSE in shape. Coincidences, Coincidences, Coincidences. Jigsaw, jigsaw, jigsaw. Baby, baby, baby oooh. (I sometimes make myself laugh too!)
And staying on the subject of coincidences, back to the 'Coincidence Queen', Rosy Mires. Rosy used to post a lot on FTM (until the Houston/IBS/Brand&RossBrady&Hindley thing), but unfortunately, during one of her petulant periods, she went right the way back through my blog and deleted everything she'd ever written, thus deleting herself from this very important piece of history (not that she realises it's importance yet, so the kicking of ones self cannot yet begin). Actually, whilst on this subject, I have been tempted to go back through the blog and delete all of GOB's comments, but my own petulance hasn't yet reached it's maximum level, and if anything, it's on the wane (sic? can't be bothered to google if it's wain, but as the little wavy orange lines have just appeared under the word wain, I am presuming I'm safe.... although I have just glanced up to see the way lines under the words blog and google, so I suppose that doesn't give me 100% assurance!).
Anyway, yesterday, Rosy returned to the comments section of FTM. Here are her highlights:
The relevance of the head being able to come off is irrelevant, for, as we all know, it is Rosy who has gotten this whole thing so incredibly wrong, but at least now one of her comments is now preserved in history.
And just for Rosy, here are my weekly FTM viewing stats. Now, WHERE have all those beautiful French readers been hiding until now?:
*Goes off singing* And I just might die with a smile on my face after all.
And the last word goes to our sponsor: