My black cloud is lifting, and in fact, the despair of losing my whole music collection has been replaced by an excitement of building a new one. One of the many, many positive things to have emerged from this whole MorrisseysWorld experience, is my introduction to music (particularly from the 60s and 70s) that I have never previously listened to. This introduction means that the music library I am now starting to piece together, will be light years away from my collection of the past. There is one artist in particular, whom MANY of my fellow Morrissey fans INSIST I
have
to include in my new collection, and that is David Bowie, but I'm just not sure. Let me explain:
I was born in the mid 1960's and my early years were spent listening to the music my parents listened to.
My dad didn't really seem to have any particular interest in music, but I suppose his teenage years (1949 to 1954) were pre the music revolution, so by the time rock n roll emerged, he was too old to 'get' pop music. My mum was born a couple of years after my dad, but likewise, she wasn't
really
into her music, so I ended up being born slap bang in the middle of the road, with the Carpenters and Cat Stevens for company. I'm sure the only reason that I wasn't run over, is because nobody was moving fast enough.
CARPENTERS - SLOW MOVING.... EXCEPT RICHARD CARPENTER'S NIPPLES!
Top of the Pops changed everything for me, and by 1975, I was spending every penny I had on the latest chart singles. YES I bought both Bye Bye Baby and Give a Little Love by the Bay City Rollers, and YES I bought Oh Boy by Mud, but my favourite song of 1975 was Space Oddity by David Bowie. What I didn't know though (as I
was
only 9), was that David Bowie had actually been around for ages by the time I had found him, and both Aladdin Sane and Ziggy Stardust had long since come and gone. I had been born too late!
So that is where I left David Bowie, in 1975, although I did buy Boys Keep Swingin', Ashes to Ashes, and one or two other singles along the way, but I have NEVER purchased a Bowie album. I have always felt that Bowie just wasn't
mine
, mainly because I had missed him at his peak. I fully understand why Morrissey loves Bowie so much, because Bowie 'shaped' Morrissey, but the real 'shaping' points in
my
life, were firstly hearing What Difference Does it Make, followed by seeing the Smiths perform... sorry, not perform, only seals perform.... er, seeing the Smiths LIVE in 1985.
Anyway, back to Bowie. Is it too late for me to 'get' Bowie?
One thing that I am starting to discover, is that there are many, many similarities with the career's of both Morrissey and Bowie, and it is really interesting to see what they were achieving at similar ages. Looking at their careers this way, it shows that if you run out of ideas/steam (and this seems to happen around the ages of 40 and 50 (crisis points?)), it is probably best to do NOTHING rather than feel you
have
to keep doing
something
. Or am I wrong, and
are
albums such as Never Let Me Down, Tin Machine and Earthling worth having in my collection? From what I have read of them, somehow I doubt it, and perhaps this is my problem with Bowie. If I had lived through the Ziggy times, perhaps I would feel more 'forgiving' for the Tin Machine days, but I look at his whole career, and I just can't see that there is anything to grab me from after 1980! That's 34 years ago!
I may be biased, in fact I'm sure I am, but I honestly believe that Morrissey's total career output is stronger than Bowie's, and therefore, in my eyes, Bowie's work doesn't live up to Morrissey's. Morrissey seems to KNOW when to leave the audience wanting more. In the context of a career, Morrissey seems to understand, possibly better than ANYONE else, when NOT to release an album. As I have stated before, I believe it is absolute bollocks that Morrissey hadn't been able to get a record deal, he just FULLY understood (however frustrating as it may be) that you HAVE to wait if you want EVERY album to be as good, or better, than the previous one. Morrissey quite possibly even learnt this from studying Bowie's mistakes. There I go again. Who am I to call Bowie's album's 'mistakes', after all, they continue to sell well, but
is
each Bowie album better, or as good as the last?
TIN MACHINE II - A NUMBER 23 ALBUM FOR BOWIE IN 1991
Perhaps I am over analysing all this. Perhaps I should just go out and download all of Bowie's albums from the early seventies and leave it at that, after all, I DO like all the early stuff that I know about, but in the meantime, here is the Toe to Toe career achievements of Morrissey and Bowie:
AGE 24 - Bowie has first album chart success with Hunky Dory (Number 3 UK 1971)
- Morrissey has first album chart success with The Smiths (Number 2 UK 1984)
AGE 25 - Bowie releases his Ziggy Stardust album (Number 5 UK 1972), which many people see as his legacy.
- Morrissey releases his Meat is Murder album (Number 1 UK 1985), which makes him one of the most famous advocates of vegetarianism.
AGE 26 - Bowie releases Aladdin Sane album (Number 1 UK 1973) & cover album Pin Ups (No.1 UK 1973)
- Morrissey tours all year with The Smiths. The Queen is Dead album is delayed.
AGE 27 - Bowie releases Diamond Dogs album (Number 1 UK 1974 )
- Morrissey releases The Queen is Dead (Number 2 UK 1986)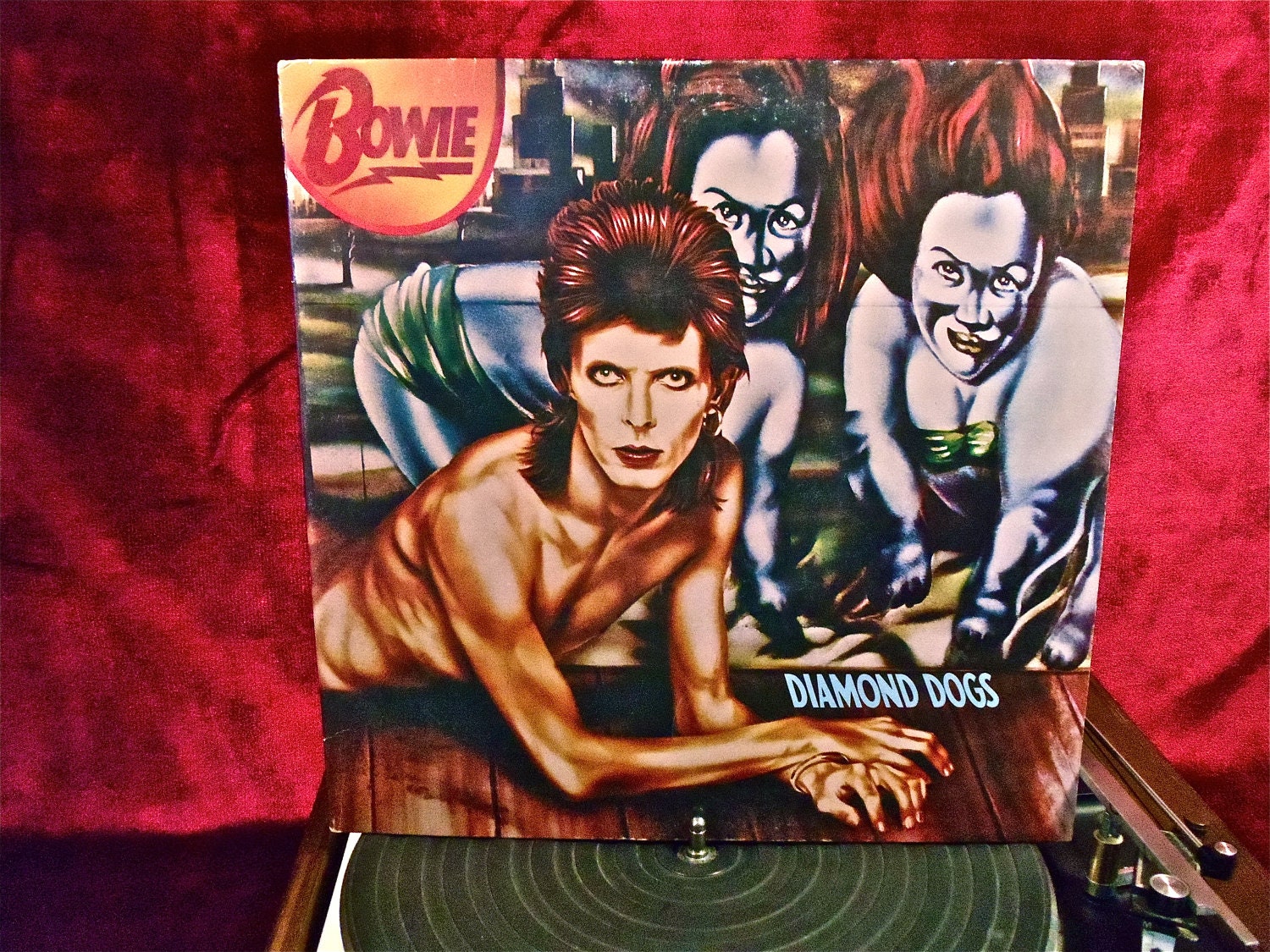 AGE 28 - Bowie releases Young Americans album (Number 2 UK 1975)
- Morrissey releases Strangeways Here We Come (Number 2 UK in 1987, which goes Gold), splits with The Smiths and releases Viva Hate (Number 1 UK 1988)
AGE 29 - Bowie releases Station to Station album (Number 5 UK in 1976)
- The Smiths release live album Rank (Number 2 UK 1988)
AGE 30 - Bowie releases Low album (Number 2 UK 1977) and "Heroes" album (Number 3 UK 1977)
- Morrissey releases a number of singles including The Last of the Famous International Playboys (Number 6 UK 1989)
AGE 31 - Morrissey releases Bona Drag album (Number 9 UK 1990) and Kill Uncle (Number 8 UK 1991)
AGE 32 - Bowie releases Lodger album (Number 4 UK 1979)
- Morrissey tours & duets with a 44 year old Bowie in LA
AGE 32 AND 44 RESPECTIVELY
AGE 33 - Bowie releases Scary Monsters album (Number 1 UK 1980)
- Morrissey releases Your Arsenal album (Number 4 UK 1992)
AGE 34 - Morrissey releases Vauxhall and I album (Number 1 UK 1994)
AGE 36 - Bowie leaves the RCA record label and signs to EMI'. Releases Let's Dance album (Number 1 UK 1983).
- Ironically, Morrissey leaves EMI and joins RCA for the release of the album Southpaw Grammar (Number 4 UK 1995). Morrissey supports Bowie for part of his UK tour.
AGE 37 - Bowie releases Tonight album (Number 1 UK 1984)
AGE 38 - Morrissey releases Maladjusted on the Island record label (Number 8 UK 1997)
AGE 40 - Bowie releases Never Let Me Down album (Number 6 UK 1987)
AGE 42 - Bowie (as Tin Machine) releases Tin Machine (Number 3 UK 1989) The album doesn't sell well, and Bowie and EMI part company.
AGE 44 - Bowie (still as Tin Machine) releases Tin Machine II album on the London record label (Number 23 UK 1991) & duets with a 32 year old Morrissey in LA.
- Morrissey releases You Are The Quarry on the Attack label (Number 2 UK 2004)
AGE 46 - Bowie (no longer as Tin Machine) releases Black Tie White Noise album on Arista label, which includes a cover of Morrissey's I Know It's Gonna Happen Someday (Number 1 UK 1993)
- Morrissey releases Ringleader of the Tormentors (Number 1 UK 2006)
AGE 48 - Bowie releases Outside album back on the RCA label (Number 8 UK 1995)
AGE 49 - Morrissey releases Years of Refusal on the Decca label (Number 3 UK 2009)
AGE 50 - Bowie releases Earthling album (Number 6 UK 1997)
AGE 52 - Bowie releases Hours... album on the Virgin label. The album includes a song written by a competition winner, who then got to sing backing vocals! (Number 5 UK 1999)
AGE 55 - Bowie releases Heathen album on the Columbia label (Number 5 UK 2002)
- Morrissey is set to release a new album for the Harvest label (Number ? UK 2014)
Bowie has released two further albums since 2002, Reality in 2003 (Number 3 UK 2003) and The Next Day (Number 1 UK 2013)
Right then, I suppose I had better get listening to some Bowie..... but somehow, I STILL can't get excited. I think I'll concentrate on Billy Fury first.