Today I shall continue the story of my new friend Kevin Marrinan, but I can't be bothered to write it as another self-therapy session; mainly because A) I go off at too many tangents and B) With the exception of EARS, nobody else seems to appreciate my witty self-therapy sessions, which I find dreadfully disappointing, because I
really
like writing them, but then again, I
would,
wouldn't I, because it is not only 'all about me', but it's
double '
all about me'! So, instead of a not particularly funny self-therapy session, I will just give you Kevin's own words instead, and for a man who is a walking contradiction, he speaks a lot of sense..... at least, I presume he can walk, I can't say I have ever seen his legs..... or any other part of him for that matter.
THERAPY ME: Why have you just called your new friend Kevin a walking contradiction?
ME: What are you doing here? I've just been telling our twelve deluded readers that we weren't going to do one of these sessions today.
THERAPY ME: Yes, I know you did, in fact, it was me wot typed it!
ME: So, f**k off then.
THERAPY ME: Not until you explain about Kevin being a contradiction.
ME: Well, he's a socialist and Man City fan isn't he! The two things are the biggest contradiction EVER. By continuing to support a football team that is the complete opposite of socialism, i.e. NOT "owned or regulated by the community as a whole", Kevin, along with all the other socialist City fans, leave themselves open to ridicule..... and with the door that wide open, I couldn't resist a petty dig.
THERAPY ME: Well, you're a capitalist, and your football team, Portsmouth, is owned by the social community, i.e. the FANS!
ME: Yep, it's a fucked up world, but a least I've had the decency to disown my club.
THERAPY ME:
Eh
? You didn't disown them for going against your capitalist values, you disowned them because they play shit football.
ME: Fair point, and I can't really call myself a capitalist, I can't
stand
the Tories. I suppose I'm just as much a contradiction.
THERAPY ME: I'll tell you what you are, you're a c**t. Now get on with whatever shit it is you've decided to write today, although I don't know why you bother, because A) Nobody reads it, B) You aren't funny, C) Nobody reads it, D) You are full of your own self importance, E) Nobody reads it and F) You are
still
a c**t.
ME: Thank you.
THERAPY ME: You're welcome.
KEVIN'S WORDS...... FROM THE TOILETS OF THE TWITTERDILLY ARMS:
ON THE '@MORRISSEYSMUM' TWITTER ACCOUNT:
"Three people use it, of which I am one. If I get permission, I will gladly name the other two. This whole thing is supposed to be fun, not a way to cause disharmony, especially with devotees of Moz. We are all in the same stinking, sinking ship, the least we can do is enjoy the music together as we slide around the deck.
The log lady incident was nothing to do with me, and I cannot explain it. Perhaps if/when you know the other two names, it might help. I'm not playing word games here, I had no involvement with this, and have never asked."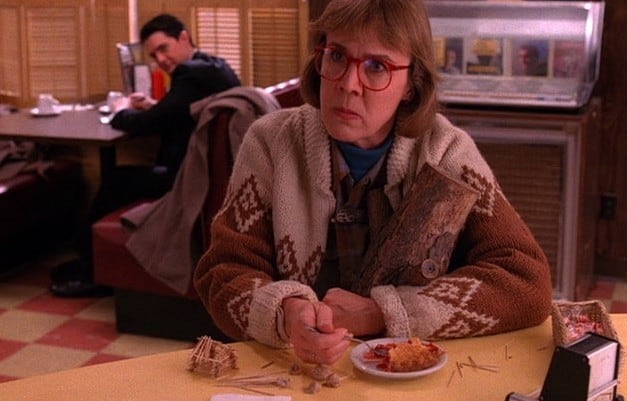 LOG LADY - NOTHING TO DO WITH KEVIN
THE MORRISSEY BAND ISTANBUL WITH SOMEBODY L'OO'KING REMARKABLY LIKE LOG LADY.
ON MORRISSEY'S INVOLVEMENT WITH MORRISSEYSWORLD:
"I believe that, at the very least, Morrissey plays along with the MW... what is it, thing?" He is aware of it and I'm sure he sometimes, in his own way, joins in. The 'evidence' you write of is pretty convincing when read with an open mind, although some of it is far fetched or mistaken. I think the assumption would be reached by any fair minded, unbiased person that Morrissey has a mischievous hand in it somewhere. Having a bit of fun during his many hours alone with only an internet connection for company?... well, it is not beyond the realms to imagine his mischievous streak sometimes comes into play."
MORRISSEY COPIES THE SIGN FROM THE MORRISSEYSWORLD BLOG - "MISCHIEVOUS HAND(S)"?
MORRISSEY WEARS AN 'IMMACULATE CONCEPTION' T-SHIRT TWO DAYS AFTER MORRISSEYSWORLD TWEETED IT - "HAVING A BIT OF FUN"?
MORE 'OO' SIGNS - "PLAYS ALONG"?
A BIZARRE BLUE ROSE(?) TIE IN TEL AVIV - "EVIDENCE"?
REACHING FOR A BLUE ROSE AT HOLLYWOOD HIGH - "AWARE OF IT"
ON KEVIN'S INVOLVEMENT WITH MORRISSEYSWORLD:
All I can say, and will say, because it is the truth, is that I have never knowingly had any connection with MW or whoever runs it. Moz, as you know has family member(s) and others who might have the time and motivation, I don't know.
ON NOT BEING ONE OF THE DELUDED DOZEN/ BLUE ROSE SOCIETY:
"During my brief glimpses at this whole palaver, I find there's a certain amount of disharmony amongst some of those interested enough in Moz to be following the MW saga. For this reason I have tended to keep my distance, but it would be dishonest of me to say I have not kept at least one eye on unfolding events. The drawing of battle lines is one of the reasons I don't get more involved."
ON SOLO:
"I know Moz's position re Solo, and I understand it, but I am not him and therefore I do not allow his feelings to overshadow my own on any subject. I truly regret that the site that sustained me and many more in the 'years of wilderness', is now so full of negativity. Perhaps this is the cost of free speech, I don't know or really want to care. As for my personal friendship with one of the Solo mods, Peter McSkinny, I have always found him to be an interesting, intelligent and positive person. He is a bloke I met in Dublin for five minutes, in Kerry for a while longer, and in England a couple of times. I found him to be smart and funny and enjoyed his company. If I get the opportunity, I look forward to meeting him again.
"INTERESTING, INTELLIGENT, POSITIVE, SMART AND FUNNY"
ON THE ORIGINAL 'THATCHER DEATH' PRESS RELEASE THAT WAS CREDITED TO MOZ BUT BELIEVED BY SOME (INCLUDING ME) TO HAVE BEEN WRITTEN BY KEVIN:
You don't really imagine such a man would EVER need ANYONE'S help to write ANYTHING? Least of all that of a semi-literate, school drop-out from Wythenshawe who's only real success was as an unsuccessful musician a hundred and four years ago? Come on, that really is stretching credibility, but flattering, so thanks.


FIELD BY SILENT FIELD - RECORDED A HUNDRED AND FOUR YEARS AGO


PLAY YOUR PART - THE SILENT PARTY


ON MORRISSEY:

"I am of the opinion he hopes for, but rarely receives, just a few basics from those close to him. And if you think about it, it's nothing more than he, or we, deserve. Loyalty. Support. Forgiveness. Understanding. Loyalty and perhaps a bit more loyalty thrown in. Personally, I don't think this always means agreeing with him, because that kind of agreement is surely of little value. For me, Moz's music is everything."

SUMMARY:

"Morrissey unites us, and for me, that means a whole lot more than any internet to-ing and fro-ing about who thinks what or who said what online. Whoever is right or wrong about details of MW, I think we have one overwhelming common bond, Moz. This should be enough to unite us."