Despite Morrissey's numerous run-ins with the NME, he
must
have awoken this morning with a little spring in his step, after all, it wasn't the smelly old writers/editors of the NME that have just voted him as the Number 1 Godlike Genius, it was the
readers
aka, the music buying public, aka the fans, aka the people who really matter. In fact, forget the spring in his step, Morrissey will be 'chuffed to buggery', 'Over the moon', 'pleased as punch'..... I'm struggling for the right words..... Hmm, let me put it in journalist's terms, 'Heaven knows, Morrissey won't be miserable now.' That's better!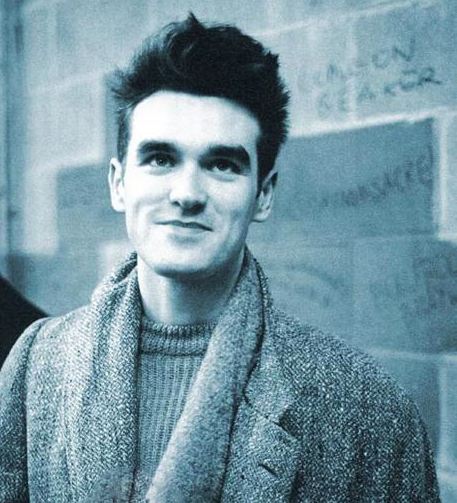 MORRISSEY - HAPPY IN THE HAZE OF A GODLIKE HOUR (IS THAT A CODED WALL BEHIND?)
I think that I am right in believing, that the NME Godlike Genius Award is usually decided by the editors, so for the readers to have chosen Morrissey above Bowie, York, Dylan, McCartney etc is HUGE. It is a phenomenal achievement, and proves that I am writing about the right person. 2013 was a pretty shit year for Moz (except for him having
me
watch him in New York, oh, and his book selling a few copies), but 2014 is starting to look as though it will be better than any other, EVER.
There is a new Number 1 LP coming out, there is a US tour, hopefully a UK tour, and Moz remains free to come and go on twitter without being harassed, because thanks to his own godlike genius, he created a parody character of himself, which nobody believes to be him. The PUBLIC Morrissey is bigger than ever, whilst the PRIVATE Morrissey who frequents the Twitterdilly Arms, is smaller than Little Jimmy Scott.
LITTLE JIMMY SCOTT
In fact, Morrissey's current pessoa's of choice, Fifi and Astraea (who are pretty much like twins), are hardly attracting any interest at all. Fifi has just 50 followers, and with the MorrisseysWorld blog now gone, I just don't see that
anything
could happen to change the current status. However much we Blue Rosers have shouted and screamed that Morrissey is on twitter, NOBODY ever believes us. I'm not actually sure what could possibly change the situation. It would be really interesting to see if anything would change if Moz wore a Justin Bieber shirt on stage, but I don't think it would. I actually don't think anything would change if Moz wore a Blue Rose. Goddamn it, he could even sing 'Trouble Loves Me' now, without Rosy Mires believing that Moz is really behind MorrisseysWorld.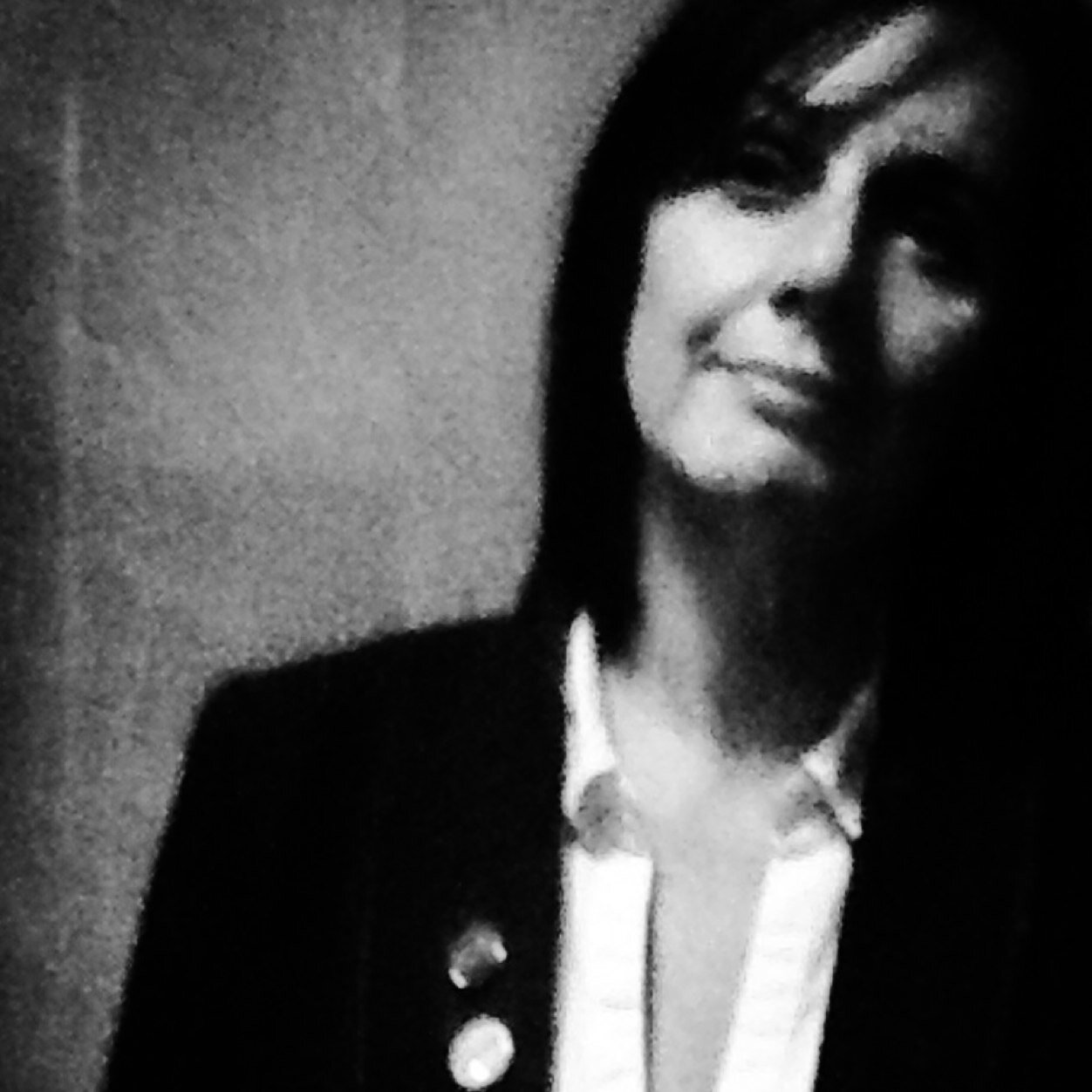 FORMER BLUE ROSE MEMBER ROSY MIRES - WILL NEVER BELIEVE
And on the subject of Rosy Mires, she has informed me that her and another former BRS member, Still.I.Cling, will be attending the Moz concert in Flint, but they WON'T be taking BLUE ROSES, they plan to take BLUE WATERMELON! Still.I.Cling has even posted a picture.
WHY?
I just don't get it. Perhaps Moz will cancel Flint again.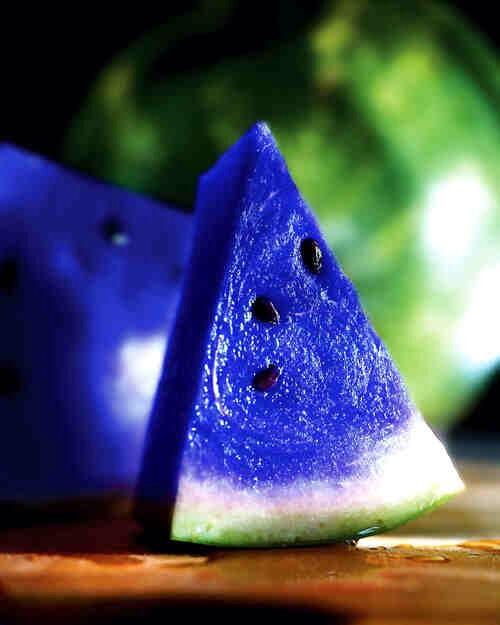 STILL.I.CLING'S BLUE WATERMELON - WHY?
One Morrissey pessoa that
does
attract a bit of interest, is 'MorrisseysMum', who has recently changed her user name to MWPINOYB, which is of course a reference to MORRISSEY'S WORLD PEACE IS NONE OF YOUR BUSINESS..... actually, before I move on to write about Mum, I must quickly mention that, as would be expected, the internet is awash with references to Morrissey's new album title, but after my little blog article yesterday, FTM finds itself on Page 4 of google's searches, if you type in Morrissey World Peace is None of Your Business. My little blog comes ahead of LouderThanWar.Com, RollingStone.de, Rock.RapGenius.Com and
even
AfghanistanSun.Com. I've hit the big time.
Back to Mum.
On March 6th, Mum posted a Youtube clip of 'Frozen Britain' by James (which has resulted in it reaching Number 47 in our chart - see below), which I thought might be reference to Moz touring Britain this winter, but it appears that Mum may have tweeted it because Larry Gott of James inadvertently announced live on the radio, that Moz was to headline the Summer in the City festival in Manchester this July. Mum later tweeted, "So much fuss. In vain." followed by "TTY. TTY. TTY. Got it?", which presumably means, 'ignore all rumours, it is only true if it's on True to You.' There has thus far been NO TTY statement.
The following day, Mum issued this tweet:
As if having
@

rustyrockets
hanging around wasn't bad enough. Thinking of Barbara today. Mums are special.
That
surely
has to mean that Rustle Brand is currently with Moz in France, doesn't it?
TOGETHER IN FRANÇAIS?
On March 8th, the old Mancunian freelance hack, Kevin 'Banjaxer' Marrinan, tweeted a link to the Abraham-Hicks article that I wrote about yesterday, in connection with WORLD PEACE IS NONE OF YOUR BUSINESS, and Mum responded to it, tweeting, "And another pathway slips the sunlight. What does this mean?
Mam made another brief visit to twitter on Sunday, jumping to the defence of Johnny Marr. Johnny had tweeted that he had just got a Theremin (I think it must be a guitar!) and that he was learning all the old Smiths riffs on it. In response to JM's tweet, '@mark_meadows' tweeted, "You should never have left Johnny. As annoying as he was, he is now 10 times more famous." Mark Meadows didn't say who the "
he
" was, but Johnny replied to Meadows by tweeting, "Ignorant and confident. A dangerous combination." Unfortunately for Johnny, the 'ignorant' tweet was interpreted by another tweeter called '@AhmedKhogalix' to mean that JM was calling Morrissey 'ignorant and confident'. JM quickly responded to Ahmed by tweeting, "Wrong. Marr on Twitter Twit not Morrissey. How negative do people want to get? Stirring it as always." It was at this point that Mum joined in, tweeting to Johnny:
Johnny didn't reply to Mum, but I am presuming that it is
another
in joke between Morrissey and Marr. We all know that Marr is keen on his togger (its an old Northern slang term for football), but has Johnny ever publicly announced his love for
Rocket Lollies
? Answers on a postcard please.
Mum was back again yesterday, responding to this tweeted photo by Banjaxer:
TIM BOOTH OF JAMES WITH MORRISSEY
Mum tweeted:
@

banjaxer
Ah yes, the 'missing hand' picture.
Mum then followed the tweet up with: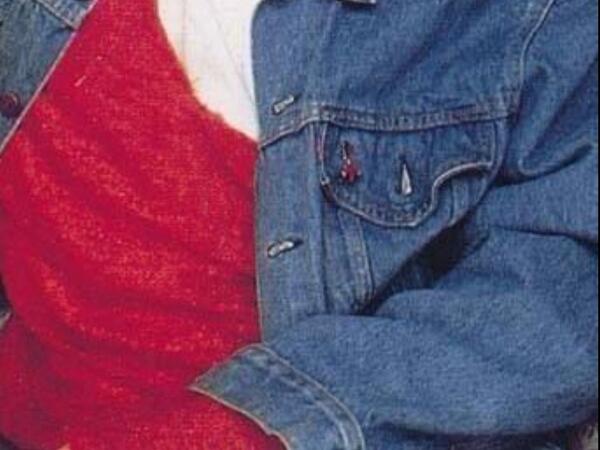 YOU'VE GOT TO HAND IT TO MOZ, HE'S A FUNNY BLOKE!
That will do for today. I don't know whether it is worth me continuing to try and convince Rosy Mires and Still.I.Cling, to are they a lost cause? It would be a shame for them to miss the opportunity of taking a BLUE ROSE for Moz. One person who WILL take Moz a BLUE ROSE, is Moz Fiend, who has posted this picture of her ticket for the concert in Atlantic City: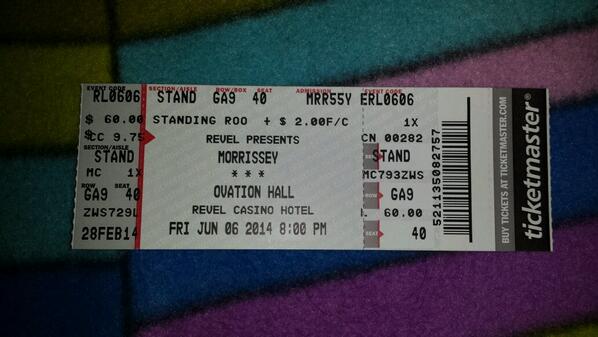 I am SO jealous of all those going to see The Moz, but I just cannot go to the US for this tour, I am a responsible parent, and it is a very important exam year. I just have to hope that the 'Frozen Britain' DOES mean a winter tour of the UK. Time, as ever.
TWITTERDILLY ARMS TOP 50 - THE TOP 10 WAS BROADCAST TODAY, IN THE TWITTERDILLY ARMS BY FLUFF RAT (@UPTHEPIER) TO AN AUDIENCE THAT INCLUDED; WILLOW, HEATHER, ROMINA, BUNNY GAL AND GWO)
1. MOI JE JOUE - BRIGITTE BARDOT (NEW ENTRY): https://www.youtube.com/watch?v=n5wtZ_Spjm4&feature=youtu.be
THE PERFECT BOTTOM
2. MESSAGE PERSONNEL - FRANCOISE HARDY (NEW ENTRY): https://www.youtube.com/watch?v=1h3zy113Nqg
FRANÇOISE HARDY - STILL STUNNING
3. SUEDEHEAD (LIVE IN WOLVERHAMPTON 1988) - MORRISSEY (NEW ENTRY): https://www.youtube.com/watch?v=0BdzY2y9O-o
4. I'M A MAN (ON MIDNIGHT SPECIAL 1973) - JOBRIATH (UP 22): https://www.youtube.com/watch?v=aVTGcQX1Mi4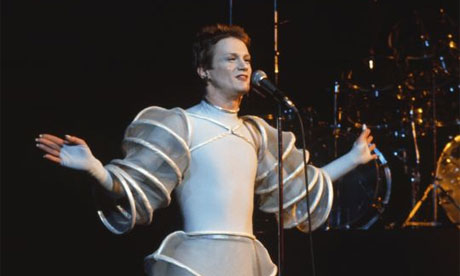 5. CHEZ LES YE-YE - SERGE GAINSBOURG (NEW ENTRY): https://www.youtube.com/watch?v=2a2rrdti8XM
6. DOWN IN MEXICO - THE COASTERS (NEW ENTRY): https://www.youtube.com/watch?v=M1I5TROqpkE
7. TROUBLE LOVES ME (RADIO SESSION) - MORRISSEY (RE-ENTRY): https://www.youtube.com/watch?v=rzQxCvVYNks&feature=youtu.be
8. NEW TOWN VELOCITY - JOHNNY MARR (NEW ENTRY): https://www.youtube.com/watch?v=SXEc9WZ1bkY
9. HE KNOWS I'D LOVE TO SEE HIM - MORRISSEY (NEW ENTRY): https://www.youtube.com/watch?v=aamTIyhGr90
10. THAT MAKES IT! - JAYNE MANSFIELD (NEW ENTRY): https://www.youtube.com/watch?v=0CRj_MIT_EM
11. TU ES VENU MON AMOUR - BRIGITTE BARDOT (NEW ENTRY): https://www.youtube.com/watch?v=Rv-UIf0pdH0
12. LOST - MORRISSEY (RE-ENTRY): https://www.youtube.com/watch?v=wxNJi40nuF4
13. PORT OF AMSTERDAM - DAVID BOWIE (NEW ENTRY) https://www.youtube.com/watch?v=4uPZIG5BHD4
14. DANS LE PORT D'AMERSTAM - JACQUES BREL (NEW ENTRY): https://www.youtube.com/watch?v=2U06PicY2C4
15. SISTER I'M A POET (LIVE IN WOLVERHAMPTON 1988) - MORRISSEY (NEW ENTRY): https://www.youtube.com/watch?v=_kqWEwQ1MTM
16. LITTLE DREAMER - JOBRIATH (NEW ENTRY): https://www.youtube.com/watch?v=HYtjM9BjbBE&feature=youtu.be
17. COME TO ME - BJORK (NEW ENTRY): https://www.youtube.com/watch?v=4x-l0sRO_ls
18. INITIALS BB - SERGE GAINSBOURG (NEW ENTRY): https://www.youtube.com/watch?v=VPOYtC1n5bE
19. SISTER RAY - THE VELVET UNDERGROUND (NEW ENTRY): https://www.youtube.com/watch?v=7d69mDT11yI
20. MORNING - BECK (NEW ENTRY): https://www.youtube.com/watch?v=GZo8_IV0IGQ
21. COMMENT TE DIRE ADIEU - FRANCOISE HARDY (NEW ENTRY): https://www.youtube.com/watch?v=2w9nskz9n64
22. JE SUIS VENU TE DIRE QUE JE M'EN VAIS - SERGE GAINSBOURG (NEW ENTRY): https://www.youtube.com/watch?v=lw2hCK3zfZI
23. LUCKY LISP - MORRISSEY (NO CHANGE): https://www.youtube.com/watch?v=_r72WJqc6ho
24. REEL AROUND THE FOUNTAIN (LIVE IN DERBY '83) - THE SMITHS (RE-ENTRY): https://www.youtube.com/watch?v=dfvGbgUnsdA
25. SHIMMY, SHIMMY KO-KO-BOP - LITTLE ANTHONY AND THE IMPERIALS (NEW ENTRY): https://www.youtube.com/watch?v=FHb3Jz19WpM
26. JE SUIS VENU TE DIRE QUE JE M'EN VIAS - COEUR DE PIRATE (NEW ENTRY): https://www.youtube.com/watch?v=Fhk46drbIyY
27. VOILA - FRANCOISE HARDY (NEW ENTRY): https://www.youtube.com/watch?v=OFKXj_mzhao
28. SO LITTLE TIME - DIANA DORS (RE-ENTRY): https://www.youtube.com/watch?v=Uw95vueZ0iE&feature=youtu.be
29. IT'S TOO LATE - DIANA DORS (RE-ENTRY): https://www.youtube.com/watch?v=r1gBSU6NXxU&feature=youtu.be
30. ROLLER COASTER BLUES - DIANA DORS (NEW ENTRY): https://www.youtube.com/watch?v=dJZhrAIDOhI&feature=youtu.be
31. ADIEU - COEUR DE PIRATE (NEW ENTRY): https://www.youtube.com/watch?v=TgM885vDr74
32. HEY MAMA! - MAMIE VAN DOREN (NEW ENTRY): https://www.youtube.com/watch?v=OX3mWEBWnsw
33. THE QUEEN IS DEAD/THERE IS A LIGHT/PANIC (EP) - THE SMITHS (NEW ENTRY): https://www.youtube.com/watch?v=YS3UMjNUqFM&feature=youtu.be
34. TOMORROW - MORRISSEY (RE-ENTRY): https://www.youtube.com/watch?v=vDdQcfz6pbo&feature=youtu.be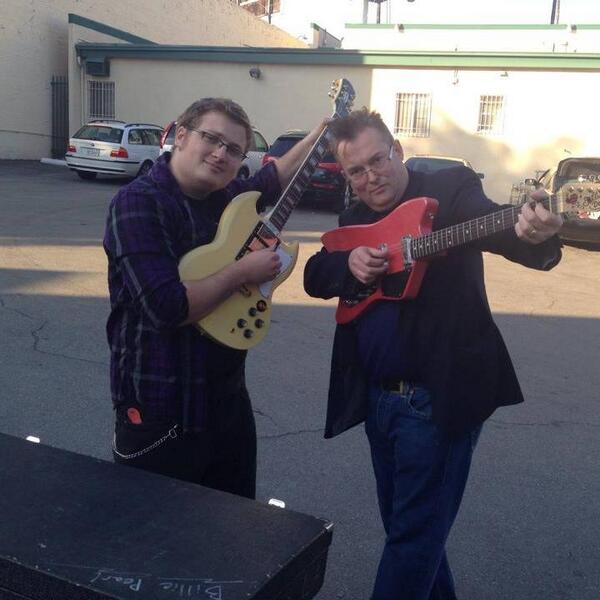 35. YOU HAVE KILLED ME (LIVE ON LONG ISLAND 2013) - MORRISSEY (RE-ENTRY): https://www.youtube.com/watch?v=-Q3u5gE0UWM
36. WHEN DID YOU LEAVE HEAVEN - LITTLE JIMMY SCOTT (NEW ENTRY): https://www.youtube.com/watch?v=UCZZs4smt34
37. STILL ILL (CH 4 2006) - MORRISSEY (NEW ENTRY): http://www.youtube.com/watch?v=-ePMJ3y6RWI&feature=youtu.be
38. ASK - THE SMITHS (RE-ENTRY): https://www.youtube.com/watch?v=zoo9Vu1a9bU
39. ARMY OF ME - BJORK (NEW ENTRY): https://www.youtube.com/watch?v=w_9sRuZXpZc
40. JACK THE RIPPER (LIVE IN MANCHESTER 2005) - MORRISSEY (RE-ENTRY): https://www.youtube.com/watch?v=JXeNur-9wwc&feature=youtu.be
41. AS LONG AS YOU HOLD ME - KIRST MACCOLL (NEW ENTRY): https://www.youtube.com/watch?v=aWjldQrC2YI
42. SUMMER IN THE CITY - THE LOVIN' SPOONFUL (NEW ENTRY): https://www.youtube.com/watch?v=U5bUmx-hk-c
43. HEIR APPARENT - MORRISSEY (NEW ENTRY): https://www.youtube.com/watch?v=QBgaKFunBo4&feature=youtu.be
44. UPSTARTS - JOHNNY MARR (NEW ENTRY): https://www.youtube.com/watch?v=LLOlo2zYqt8&feature=youtu.be
45. LONG SHOT KICK DE BUCKET - PIONEERS (NEW ENTRY): https://www.youtube.com/watch?v=nyeG5Vp5j00
46. THEME FROM SHAFT - ISAAC HAYES (NEW ENTRY): https://www.youtube.com/watch?v=pFlsufZj9Fg
47. FROZEN BRITAIN - JAMES (NEW ENTRY): https://www.youtube.com/watch?v=_VuQAebwG84&feature=youtu.be
48. WHERE HAVE ALL THE FLOWERS GONE - MARLENE DIETRICH (NEW ENTRY): https://www.youtube.com/watch?v=yQ5n6EMgPq0
49. TAMPICO TWIST - LOS BEATNIKS (NEW ENTRY): https://www.youtube.com/watch?v=LDY0JjbRrE8
50. SAN FRANSISCO - SCOTT MACKENZIE (NEW ENTRY): https://www.youtube.com/watch?v=mJ_WG3d3GL8