My blog entry of Day 908 has made it's way onto Page 1 of a google search using the phrase of Morrissey's new album title, 'WORLD PEACE IS NONE OF YOUR BUSINESS'. This is all well and good, except for the fact that anybody stumbling across my blog for the very first time, will not be able to make head nor tail of my entry of Day 907, as it was merely a carry-on of the other 900+ days of my blog. I have therefore decided that it would be far more useful for anybody searching Morrissey's new album title, to find THIS page instead, because I am about to give a resumé of MORRISSEYSWORLD and the BLUE ROSE SOCIETY.
If you have bothered to read the blurb at the top of my blog page, you will see that I have been writing this blog for two and a half years, ever since I discovered that MORRISSEY was on the internet, writing
his
blog, called MorrisseysWorld....... hold on, did I just write that Morrissey writes a blog?
MORRISSEY?
Rock God Morrissey? I know what you're thinking..... Morrissey would NEVER write a blog..... well he
does,
or at least, he
did,
but it is currently off line. It comes and goes, depending on his mood.
I think you'd better sit down.... oh, you are..... well, prepare yourself to be knocked over with a feather, because despite it being 'common knowledge' that Morrissey doesn't even use the internet, he really
DOES
have a blog, he is even
on twitter, and has
formed his own secret society called the BLUE ROSE SOCIETY; which is in homage to Oscar Wilde's 'Green Carnation'. Forget gladiolas, the ONLY type of flower that Morrissey has accepted on stage in the past THREE YEARS, are ROSES. There is even a BLUE ROSE SOCIETY RING, which has passed around BRS members over the years, and is currently with..... Morrissey! He took possession of it ON STAGE at his concert at the Staples Center in LA on March 1st 2013.
Still think all this is too unbelievable to be true? Well let me start at the very beginning....... actually, fu*k it, why should I? If you are
that
interested, then you can start ploughing your way through my blog. Everything you need to know is here, you just need to open your eyes, and L'OO'K, but before you start, let me just leave you with this..... Hidden within the title of Morrissey's new album title, WORLD PEACE IS NONE OF YOUR BUSINESS, are the words..... BLUE ROSE. You can also find the words OSCAR WILDE. Far fetched? Hmmm.
I will now leave you some pictures to help you on your way:
MORRISSEY ACCEPTS A WHITE ROSE IN BOGOTA - MARCH 17TH 2012
A MEMBER OF THE BLUE ROSE SOCIETY WITH BLUE ROSES AT THE SAN DIEGO CONCERT - MAY 22ND 2012
MORRISSEY WEARS A GREEN CARNATION IN LIEGE - JULY 5TH 2012
MORRISSEY RECEIVES THE 'KEY TO THE CITY' OF TEL AVIV WEARING A BLUE ROSE TIE - JULY 21ST 2012
A BLUE ROSE DOESN'T QUITE REACH MORRISSEY IN MANCHESTER - JULY 28TH 2012
MORRISSEY ACCEPTS RED ROSES IN BOSTON -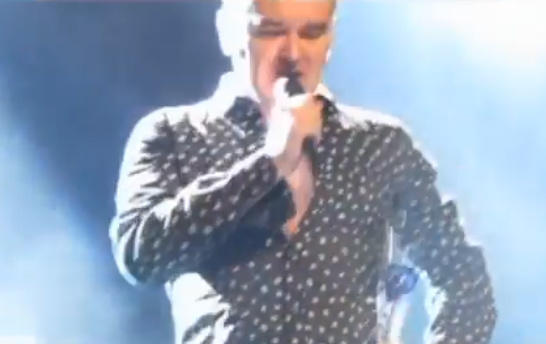 MORRISSEY ACCEPTS A BLUE ROSE - OCTOBER 10TH 2012
MORRISSEY'S TOUR MANAGER DONNIE KNUTSON WITH A BLUE ROSE - JANUARY 8TH 2013
A BLUE ROSE NEARLY REACHES MORRISSEY IN BROOKLYN - JAN 11TH 2013
MORRISSEY MOVES IN TO ACCEPT BLUE ROSES IN SAN DIEGO - FEBRUARY 27TH 2013
KRISTEEN YOUNG ADMIRES THE BLUE ROSE RING
MORRISSEY REACHES TO RECEIVE A BLUE ROSE AT HOLLYWOOD HIGH SCHOOL (AS SEEN ON FILM AND DVD ENTITLED, MORRISSEY 25:LIVE)........
........ AND PLACES IT IN HIS RIGHT TROUSER POCKET
MORRISSEY LEANS TO TOUCH THE ROSES THAT HE HAD REQUESTED FOR HIS BOOK SIGNING IN GOTHENBURG - OCTOBER 17TH 2103
MORRISSEY ON STAGE AT THE NOBEL PEACE CEREMONY IN OSLO, WEARING A BRACELET OF WHITE ROSES - DECEMBER 11TH 2013
MORRISSEY WANTS ROSES AT HIS CONCERTS; EITHER RED, WHITE OR BLUE. IF YOU ARE GOING TO ONE OF HIS UPCOMING CONCERTS, THEN PLEASE TAKE HIM A ROSE, AND JOIN THE BLUE ROSE SOCIETY. YOU CAN FIND US ON TWITTER @BLUEROSESOCIETY, AND REMEMBER THIS:
WORLD PEACE IS NONE OF YOUR BUSINESS.