Last Tuesday, I wrote that my friendship with Morrissey had survived the fact that I had admitted to liking Wham!, but since then, our relationship has rapidly nose-dived, to the extent that I seem to have driven him away from the Twitterdilly Arms, and out of my email in-box. First of all, things didn't seem too bad, with Fifi light heartedly suggesting that I take up writing 'Following The Whammiah' or going into 'Wham! Rehab', but then she disappeared from the Twit Arms, and I have heard nothing since. I have emailed, in an attempt to keep our friendship alive, but thus far there has been no reply. The windscreen wipers of my car await the postcard, confirming that it is all over.
ME IN MY CAR, AWAITING THE POSTCARD
It could of course be that Morrissey has decided to take a break from the Twit Arms, and who could blame him? Twitterdilly is a very addictive place, and if you aren't disciplined, it can take over your life. If Morrissey
has
decided to take a break, I will follow suit, as I too could do with rediscovering the outside world. I wonder if anything has changed in the past two and a half years, since I discovered MorrisseysWorld? I wonder if Rustle Brand has led a revolution to overturn the British government and Monarchy yet? *Pokes head out of window* Nope, it would seem not! Rustle had 3.2 million twitter followers when I first discovered MW, he now has 7.63 MILLION! Ridiculous as it may sound, Rustle
could
one day have enough support to create a revolution, the only question is, does he
really
want one, or is it all just hot air? Brand may not have the vision and desire of Wolfie Smith, but Wolfie didn't have twitter.... or a beard!
CITIZEN SMITH - NO TWITTER OR BEARD
Unless MorrisseysWorld suddenly reappears, or Fifi skips into the Twit Arms, or something else happens that warrants my return, this will be my last blog entry for a while, and my bar tab in the twit Arms will also be settled. Morrissey's, 'World Peace is None of Your Business' tour starts in six weeks (I presume that's what the tour will be called), so I shall return then. In the meantime, I will make sure I am TOTALLY cured of my Wham! habit.
If Morrissey IS having a break away from twitter, then
WHO
is behind the '@MorrisseysMum' account, because that is still active? I know, I know, it's an old story, and I seem to be the ONLY person who thinks that Morrissey is behind it, so maybe now is the time for me to finally admit I am wrong, and admit that the account is run by Kevin 'Banjaxer/Walter Ego' Marrinan. I have to trust that others KNOW what they are talking about, and long-time MorrisseysWorlder, 'GirlWithout', INSISTS that Marrinan is behind the account. Rosy Mires has also informed me that Marrinan TOLD her he runs the account, and even Uncle Skinny promotes the Mum account on Solow, so I
HAVE
to accept it
can't
be Morrissey. The only reason that I initially thought the account was owned by Morrissey, was because he promoted it from the MW blog, but perhaps he was just taunting Marrinan?
MARRINAN - TAUNTED?
I have always presumed that Marrinan was involved with MW, but as time has gone on, I don't really believe that
anybody
else could have been involved, it was probably ALL the work of Morrissey. There are however a couple of other things that
do
link Marrinan to Morrissey and MorrisseysWorld. Firstly, in a very early parody piece on MW, Our Mozzer stated that Walter Ego was employed by him to post things on the internet, and secondly, Our Mozzer announced that Banjaxer would be in charge whilst he was away. Hold on.... other things are coming back to me now. It was Morrisseys Mum who, on October 9th 2011, warned us all to keep an eye out for a woman carrying wood, and then the very next day,
LOG LADY
appeared for the first time on the MW blog! THEY ARE LINKED! THEY ARE LINKED! THEY ARE LINKED! AND I WILL KEEP ON SHOUTING IT UNTIL EVERYBODY AGREES WITH ME.......
..... or
perhaps
Marrinan runs the Mum site,
for
Morrissey? But hold on, Morrissey informed us all on a number of occasions that Marrinan was just somebody who had interviewed him once, and who had written to MorrisseysWorld, pretending to be Morrissey's lawyer, asking him to close the blog. Oh,
what
to believe,
what
to believe? Actually, who cares? This is my last blog for six weeks, so there is no point me getting worked up about it. The only reason I have really bothered mentioning the Mum account, is because it has recently posted
these
photos: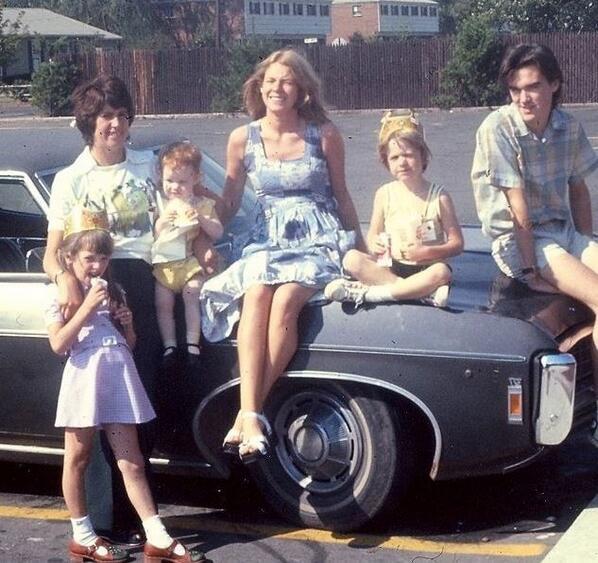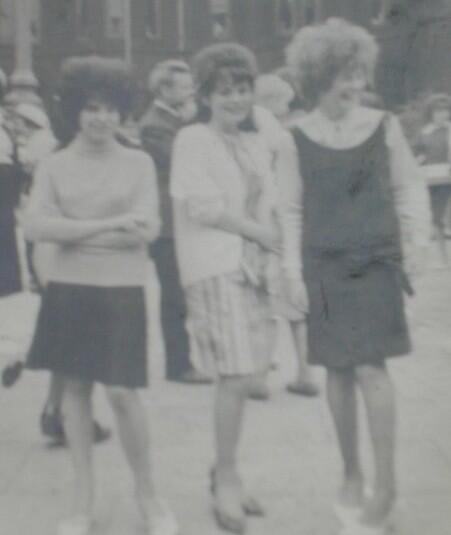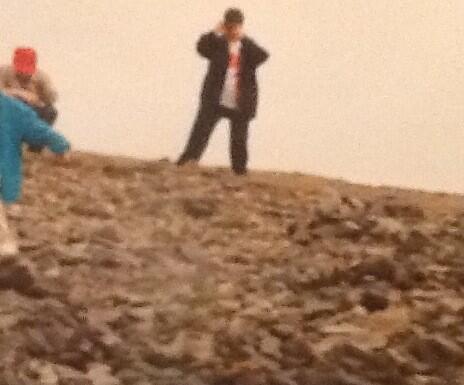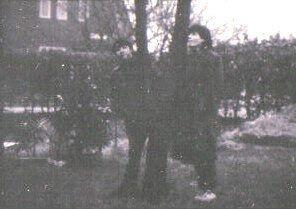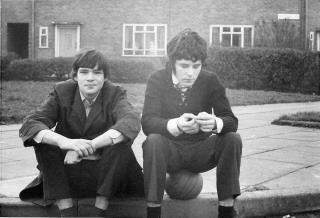 The photo at the top is obviously of Morrissey with Aunt Mary and her family, in the USA in the mid 70s, but I have NO idea who the other photos are of. If the Mum account
IS
run by Morrissey, then WHY would he be posting old family photos, whilst he is currently on holiday in France? And if it
IS
run by Banjaxer, then
where
is he getting the photos from? STOP ASKING YOURSELF QUESTIONS, YOU WROTE IN YOUR LAST PARAGRAPH THAT YOU DIDN'T CARE! AND STOP SHOUTING. Aghhhhhhh, the voices in my head. I am going mad, and it is ALL Morrissey's fault. I MUST get back to the real world.
My last blog entry (before this one), was the parody piece written exclusively for Following The Mozziah by Our Mozzer. I left it up as the front page for seven days, but only a dozen or so (genuine) people left comment, so it proves that there really are very few people still following this whole story. Moz stopped writing his blog because he said it was too much work for too little reward, but perhaps MorrisseysWorld was like
any
underground art movement, and if it had received mass public acceptance, it wouldn't have been as special. In years to come, MorrisseysWorld may well be accepted as something that was quite groundbreaking. Our little corner of twitter, the Twitterdilly Arms, may even be seen as being a modern day version of Warhols
Factory.
EDIE SEDGWICK, ANDY WARHOL AND OTHER MEMBERS OF THE FACTORY
Morrissey is a modern day Andy Warhol. Morrissey is a modern day Jean Cocteau. Morrissey is a modern day Oscar Wilde. Morrissey is a modern day Fernando Pessoa. Morrissey is not just a singer, he is an artist, just as Wilde, Pessoa, Cocteau and Warhol were artists. Morrissey has written an autobiography. Morrissey is writing a novel. Morrissey has written a self aware parody blog. Morrissey has made a film. Morrissey writes a diary.... well, I presume he still does. Now, if I could
just
persuade Morrissey to come and paint the walls of my house.
THE LIVING ROOM OF VILLA SANTO SOSPIR IN FRANCE - PAINTED BY COCTEAU. THE WALLS OF MY HOUSE ARE WHITE, AND THEY AWAIT MORRISSEY.
Of the comments that
were
left on my last blog entry, Girlwithout instructed me how to embed a video into a blog, so I was able to add the Justin Bieber deposition into the parody piece. It also means I am able to add videos to the chart. Bieber has been a topic of conversation from the very early days of MorrisseysWorld, and Our Mozzer's most recent parody piece reminded us of the hilarious review of Never Say Never, which was
allegedly
written by B Boorer. I added a link to the review on the parody piece, but it is worth seeing it in full, so here it is:
---
3 out of 10 people found the following review useful:
An inspiring tale of success against all the odds
Author:
bboorer
from Isle of Man, England
3 August 2011
I'm not one for crying but I have to admit I cried my eyes out during this movie. Justin Bieber reveals himself to be a thoroughly likable guy with a good nose for a pop song. I thought it was amazing how he continued fighting against everything that came his way to achieve his goal of success as an artist. I cried profusively in the final scenes.

Watching this heart-rendering movie made me re-evaluate my own life-goals and career. As someone who dreamed of being the next Buddy Holly as a kid I can't help but think I lost my insperation somewhere along the long and dusty road. Doing what I do now is OK but it's just not what I signed up for. As Justin says, "never give up on you're dreams." The man is a true inspiration for all and this movie proves what a decent all-round lad he is and what a superb role model for youngsters. This movie has it all - twists and turns, interal and external demons and a story of success and redemption.

I recommend highly. Best movie I've seen since 'Terminator' with Arnie back in the day.
BOZ BOORER - MOVED TO TEARS
What makes the review even funnier, is that 3 out of 10 people found it 'useful'. Oh, happy days. I had to check to see if the band were actually on the Isle of Man on August 3rd 2011, and they were! Whilst doing my research, I stumbled across this hilarious review of the Isle of Man concert:
'Up the Irons' is of course *tuts at self for using an 'of course'* the phrase used by West ham fans. Could it have been written by Rustle? Could it have been written by Moz pretending to be an anonymous Rustle? Perhaps it
really
was written by an Iron Maiden fan, but the more I have read of Morrissey's parody writing, the more I seem to stumble across that I think bears his hallmark. I wonder if his diaries will ever reveal the truth? If they do, then Morrissey fans will be trawling the internet for years, looking for all his gems. As well as being Cocteau, Pessoa, Wilde and Warhol, Morrissey is also Peter Cook.
PETER COOK.... MAKING BOWIE AND DUDLEY LAUGH
Anyway, back to Bieber. On Day 863 of my blog thing, I compared Bieber to James Dean, and now, Bieber has started comparing himself to James Dean! Is Bieber reading my blog? Here is a photo that Bieber has posted on the net:
And the original:
As I have nothing to report about Morrissey, it is time to bring my blog entry to an end, but first, let me share this picture, which I stumbled across today. It is of Lady Gaga in Rio, in November 2012, and she is holding a BLUE ROSE:
I am guessing that Gaga was given the rose by a fan, but it really is time for Morrissey to claim the BLUE ROSE as
HIS
symbol. This coming tour is crucial, the BLUE ROSE SOCIETY
has
to grow..... unless of course *tuts to self again* it is destined to stay as an underground movement. The question is, whether underground or not,
WILL
Morrissey wear the rose?
Before I sign off, I must send apologies to a donkey. In my blog entry of last Monday, I posted this picture, with the caption 'DONKEYS!' It has been pointed out to me that the beautiful animal on the left, is of course *tuts again* a pony. It is Tony the Pony. I shall call the donkey Bowie:
NOT DONKEYS! WELL, ONE IS.
And finally Cyril, and finally Esther, the brand new Twitterdilly Arms chart was counted down today, by Fluff Rat (@UpthePier), but the Youtube video for our Number 1,
Pearl of a Girl
by Kristeen Young, has been removed. Fluff asked her why, and got this response:
@

UpThePier
Because it WASN'T my video. It's NOT the video for Pearl. It was assembled by a disgruntled fired "editor".
@

UpThePier
The video for Pearl won't be finished until late April
@

KRISTEENYOUNG
Ouch! If it's any consolation, I loved it, especially the use of the 'C***' book, and the song is just..... JUST!
#

Excited
It is a phenomenal song, and rightly deserves to be at Number 1 in our chart. I wonder why the editor got fired, and it is bizarre that some of the video remains (including Kristeen reading a book called Cunt.... I wonder if that will get past the MTV censors?). Perhaps somebody could leave comment (anonymously will be fine) to tell us WHAT happened with the video editor? Perhaps Romina knows? Romina knows MANY things, including the fact that Linder Sterling is apparently a Scorpio, which means her 60th birthday must be in late October/November. HOW does Romina know these things?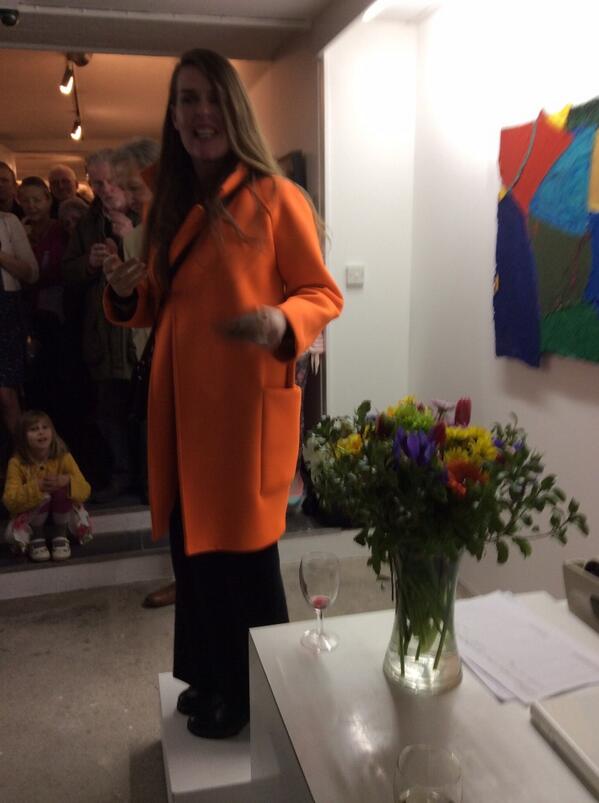 LINDER STERLING - AT LAST WEEK'S OPENING OF THE PENWITH GALLERY SPRING SHOW..... WITH EMPTY RED WINE GLASS. LINDER WILL BE 60 IN OCTOBER/NOVEMBER, AND IS CURRENTLY AT NUMBER 3 IN THE TWITTERDILLY CHART.
TWITTERDILLY ARMS TOP 10 - BROADCAST TO THE TWITTERDILLY ARMS TODAY AT 12.45 BY FLUFF, TO AN AUDIENCE THAT INCLUDED: HEATHER, WILLOW, BUNNY, TRACEY BROWN, CLOVER DEAN, ROMINA, MANC LAD, KELLY THE CRISP, GIRL WITHOUT, EARS AND THE CURRENT OWNER OF THE @MORRISSEYSWORLD ACCOUNT.
1. PEARL OF A GIRL - KRISTEEN YOUNG (NEW ENTRY): https://www.youtube.com/watch?v=8sC-cRvZZpw&feature=youtu.be (PLEASE NOTE, THE VIDEO HAS NOW BEEN REMOVED BY KRISTEEN, SO HERE IS THE INTRO: https://www.youtube.com/watch?v=45-a2QOSGxw&list=UULl6HOfRcdOaUf-bNqhobrw)
FROM THE FORTHCOMING LP, 'THE KNIFE SHIFT':
NUMBER 1
2. WILLIAM, IT WAS REALLY NOTHING (TOTP) - THE SMITHS (RE-ENTRY): https://www.youtube.com/watch?v=4nUlA4_xz8Y
3. NUE AU SOLEIL - LUDUS (NEW ENTRY): https://www.youtube.com/watch?v=E1HaSPmYUao
4. TROUBLE LOVES ME (LIVE AT BENICASSIM 2006) - MORRISSEY (RE-ENTRY): https://www.youtube.com/watch?v=G7n2BBKc0iQ
5. LET ME KISS YOU (LIVE IN ISTANBUL) - MORRISSEY (RE-ENTRY): https://www.youtube.com/watch?v=zfMpKVXHSo8
6. NO ONE CAN HOLD A CANDLE TO YOU (LIVE IN MANCHESTER) - MORRISSEY (NEW ENTRY): https://www.youtube.com/watch?v=EubHj2Ol9eM
7. I LIKE YOU - MORRISSEY (RE-ENTRY): https://www.youtube.com/watch?v=Dz8VezofZLA
8. THERE IS A LIGHT THAT NEVER GOES OUT (LIVE AT THE HOLLYWOOD BOWL) - MORRISSEY (RE-ENTRY):http://www.youtube.com/watch?v=wQ3GxsTaGE0&app=desktop
9. THE WIDTH OF A CIRCLE - DAVID BOWIE (NEW ENTRY): https://www.youtube.com/watch?v=s2L4hL2IvUk
10. QUEL MAY Y A-T-IL À ÇA? - FRANÇOISE HARDY (NEW ENTRY): https://www.youtube.com/watch?v=gsSJdv2zd28
BRIGITTE BARDOT - NOT FEATURED IN THIS WEEK'S CHART!