The debate rumbles on regarding the design for a new Blue Rose Society t-shirt, and it doesn't look as though any of the candidates can get ahead in the polls. We could end up with a hung t-shirt..... as opposed to a worn one!
My current preference is for the picture of Cocteau drawing the rose at the Notre Dame church in London, with a speech bubble saying "
MORRISSEY
? SACRÉ BLEU!"
The reason that I particularly like this idea, is because it features Cocteau (tick), and it features a blue rose (tick), although what makes this idea subtle, is that the rose in the photo is still in it's uncoloured state, which therefore doesn't make it obvious that it has anything to do with the Blue Rose Society. I also like that with this picture, it is a work in progress, symbolising that the Blue Rose, and the Blue Rose Society, is incomplete; it is a work in progress.
When Cocteau drew his picture at the Notre Dame church in London (in 1959, the year of Morrissey's birth), he would light a candle each morning, and would speak to Mother Mary, perhaps asking for guidance for his drawing. By using the caption "
MORRISSEY
? SACRÉ BLEU!", it is as though Cocteau has just been told by Mary that the rose is for Morrissey, and Cocteau is showing his utter dismay and surprise, "
MORRISSEY
?" he asks, "you mean all this hard work is for
MORRISSEY?",
and then Cocteau continues to display his astonishment by saying "SACRÉ BLEU!", which is not only a French term of astonishment, but it also translates as "sacred blue", which is perfect for us, just perfect. The fact that Cocteau's drawing is in a Catholic church adds to the perfection of this idea. It is
ALL
perfect, and although modesty would normally prevent me from stating this..... I am a genius, well, a genius in the rat world, at least!
I am unable to post a picture of my idea, because I am useless with computers and design, but here is one that Jjaz made earlier, with a different caption. A white shirt would look better then grey.
I have nothing else to add today, except to share this tweet from Nancy Sinatra: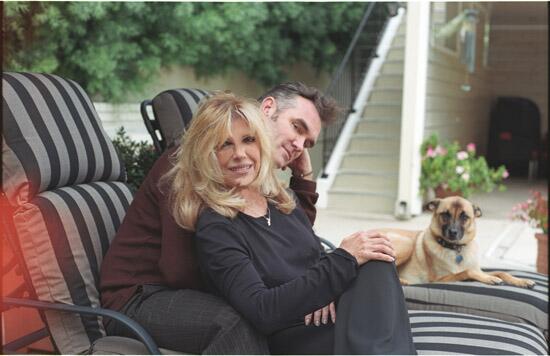 Last week, Astraea was playing Nancy Sinatra songs in the Twitterdilly Arms, but Astraea is NOT Morrissey, it was a coincidence. EVERYTHING is a coincidence.
*Goes off singing* But then, you open your eyes........ 'OO'