A couple of weeks ago, the Twitterdilly Arms was being described by some of the regulars as a modern day equivalent of either
Max's Kansas City
or Andy Warhol's
Factory
of the 1960s, but with Morrissey currently not frequenting The Arms, it feels more like a British Leyland factory of the 1970s! I somehow managed to put together a chart yesterday, but with Morrissey away, most of the regulars have disappeared, and the ones that are still propping up the bar of 'The World's Number 1 Morrissey Themed Internet Pub', seem more interested in discussing kittens and penguins than playing the jukebox or discussing Morrissey. This is not what I signed up for.
THE EMPTY TWITTERDILLY ARMS
As we all wait patiently for Morrissey's new tour, and for the release of 'World Peace is None of Your Business', I have been thinking about what sort of songs might be on the new LP. I have decided that my favourite 'type' of Moz song are the songs where he sings about himself, i.e, the 'I' and 'Me' songs, which is not to say I don't like Morrissey's 'story' songs such as 'Little Man, What Now?' and 'National Front Disco', it's just that the 'I' songs are the ones that
really
seem to mean the most.
It would be impossible to say what my favourite Morrissey album is, because it depends on a mood, but if push came to shove, and I could keep just
ONE
Moz/Smiths album, it would probably be 'You Are the Quarry'.... the deluxe version, obviously!
DELUXE EDITION..... MORE SONGS!
Interestingly, on Quarry, there are LOTS of 'I' songs; 'I Have Forgiven Jesus', 'I'm Not Sorry', 'How Can Anybody Possibly Know How I Feel?', 'I Like You', and 'You Know I Couldn't Last'. Add to this the songs that have the word 'I' in the lyrics, 'America Is Not the World', 'Irish Blood, English Heart', 'Come Back to Camden', 'The World is Full of Crashing Bores' and 'Let Me Kiss You', and it shows just why I like this album so much. The fact that the two other tracks on the LP, 'First of the Gang to Die and All the Lazy Dykes', are two of Morrissey's greatest 'story' songs, really
does
make this the greatest album of all time..... for today, at least!
As I think of my favourite Morrissey songs off the top of my head, there are SO many of them that are 'I'/'Me' songs; 'Last Night I Dreamt That Somebody Loved Me', 'I've Change My Plea to Guilty', 'Trouble Loves Me', 'I Know It's Gonna Happen Sometime', '(I'm) The End of the Family Line', 'Now My Heart is Full', 'Dear God Please Help Me', 'You Have Killed Me', 'Something is Squeezing My Skull', 'I'm OK by Myself', 'I Started Something I Couldn't Finish', 'I Won't Share You', 'I Know It's Over', 'I Want the One I Can't Have', 'Well I Wonder'...... there are HUNDREDS of them! The question is,
will
'World Peace is None of Your Business' have any 'I'/'Me' songs?
MALCOLM 'LITTLE MAN, WHAT NOW?' MCFEE
There are NO Morrissey records available for this year's Record Store Day, but there are two products available, a Morrissey tea towel, and a Morrissey/Marr Unhappy Birthday card!
TEA TOWEL AVAILABLE FROM 10TH APRIL AT RECORDSTORE.CO.UK £9.99
A BIRTHDAY CARD FROM MORRISSEY & MARR £3.99
I really do have nothing else to write about today. With the Twit Arms so quiet, I have taken the opportunity to AT LAST started listening to the music of Patti Smith, and OH MY GOD,
WHY
have I never bothered listening to her before? WHAT A VOICE! WHAT A WRITER! Somebody really should shoot me, I have wasted
SO
much of my life listening to mainstream crap. I have today discovered a couple more Youtube videos of Patti Smith playing last week at the Grand Palias in Paris. It is particularly worth watching the video of 'William Blake', not only for the song, but to hear Patti speak about Blake, and she talks about the struggle of the artist, relating Blake's story to Robert Mapplethorpe. The other thing to note, is that Patti Smith's voice is still INCREDIBLY strong. I LOVE PATTI SMITHHHHHHHHHHH.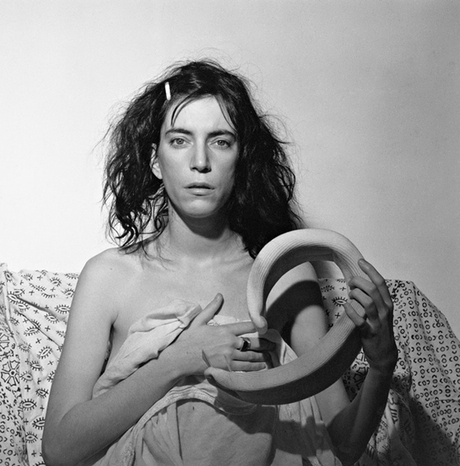 PATTI BY ROBERT
And finally, Romina has posed a question, "Will Morrissey play Venice?" Well, perhaps those Alain Delon photos set Romina's mind wandering. There is STILL no news on UK/Europe concerts.... although Mum/Oscar Wilde's Mum has tweeted this:
Castlefield. If we must.
It looks as though the Castlefield concert in July
could
be happening after all!
And finally, finally, for no reason other than somebody posted it in The Arms......Jean:
*Goes off singing* Voice voices mesmerise, voices voices beckoning sea.