Morrissey Parody is BACK (as opposed to Parody Morrissey, who is somebody completely different), Broken is BACK (as opposed to BrokenMorrissey, who is somebody completely different, although when I say
completely
, I only mean in characteristic, as it is quite possible that the same person is behind
both
the 'Broken' characters, but 'BrokenMorrissey' is the
actual
Morrissey, whereas 'Broken' is a caustic, bitter, argumentative c**t (and that's just his good points!), and what is more, it is very important that you don't get the two Broken's mixed up, or you could find yourself in a 'Marcus Situation', but that's another story..... Where was I? Oh yes, I was trying to start today's blog piece by writing a dynamic headline, which was intended to read, 'Parody Moz is BACK, Broken is BACK, Fifi is BACK, and Morrissey remains in France writing his BOOK', but I have managed to get myself so waylaid with all the explaining of who's who, that I am now stuck inside a set of brackets! How did that happen? To make this opening sentence grammatically correct, I now need to get out of these brackets, and continue with the original headline, which means finishing the sentence with 'Fifi is BACK, and Morrissey remains in France writing his BOOK', but by the time I do that, you will have already read it twice! Oh well, here goes....), Fifi IS BACK, and Morrissey remains in France writing his BOOK!
First things first, Parody Moz is BACK, not only in the Twitterdilly Arms, but also on
MY
blog. It is a shame that the MorrisseysWorld blog hasn't returned, but who am I to complain when I am getting exclusive parody pieces for FollowingTheMozziah. For anybody who may have thought that
I
wrote the parody piece that I posted on Saturday, I am deeply flattered, but my writing is nowhere near the standard of Our Mozzer's. If you want to see the original, he posted the draft in the comments section of Day 251 of this blog. You can read the draft for yourselves if you wish. Day 251 is May 22nd 2012:
http://followingthemozziah.blogspot.co.uk/2012/05/following-mozziah-day-251-tuesday-may.html
As I write this, Parody Moz's twitter account has disappeared once again, but luckily I took a copy of most of his words before he closed the account, so I am able to bring you his highlights. It would appear that he strolled into the Twit Arms 'late last night', his first appearance in the pub since February 25th. Here are the words of the Mozziah:
"I am still right there, where I never was. Stardom."
"The purpose of life is to realise there isn't one. The purpose of death is to realise purpose is overrated."
"Tony Blair, world peace is none of your business, as I once tweeted."
"The bed was stiff with regret, Your hands were colder than lust, My name is a knife, It cuts deep into your soul, Like hydraulic acid, Like absolutely nothing."
"Beyond Death lies a promise, Beyond death lies hope, Beyond death lies envy and freedom, Beyond death I am, Like a parasite, Eating still."
OUR MOZZER TWIT HIGHLIGHTS CONTINUED:
"@PiersMorgan I suppose it's difficult to remain pretentious now that your show's been axed."
"@PiersMorgan Piers without his political show is like Madonna without a face - less than nothing."
"As horrific as Madonna's face is, it is hers and she's proud of it."
"Piers was too ambitious for England and too smug for America. I suppose there's always Wales."
Re the Parody piece written for FTM: "I shall post part III soon."
"@JustinBieber What does one have to do for a man with facial tattoos in return for a $2 million car?"
JB AND HIS BUGATTI VEYRON 16.4 GRAND SPORT - GIVEN TO HIM THIS WEEK AS A PRESENT BY A MAN CALLED BIRDMAN - A CAR TO DIE FOR, OR A CAR TO DIE IN?
HIGHLIGHTS CONTINUED:
"Life is nothing but a respite from death."
"I'm as pure as the driven slush."
"My novel will be ready for mid 2015. The next album early 2016. We're plotting a global takeover of pop culture."
"@KristeenYoung Fancy seeing me here. Kristeen, did you know that life is that bridge between death and art?"
'@KristeenYoung Childhood is spent wishing for adulthood. Adulthood is spent wishing to be a child. In old age one wishes one had wished less." (NB: This tweet is a repeat! Ed)
"I'm walking the plank too willingly. I'm climbing the tower block without question. I'm lingering for too long on a suspension bridge."
"Yet no one lives more than I."
"Death is more inspiring than any religion. Soon you will be dust. Doesn't it focus the mind?"
"Madonna and McDonalds have much in common: they both offer cheap meat, as tasteless as it is bland; both are hugely profitable; both are based in the US but invaded England in the 80s; both mistakenly believe they are fashionable; both are exclusively see by idiots; and both of them allow men to pop in and use the conveniences overnight."
The mention of the novel would tend to suggest that Mozzer has spent the past four or five weeks writing, and as Fifi yesterday left a comment on my blog entry of Friday, with a link to a French TV guide, it would appear that Moz is
still
in France, which I have to admit, comes as no surprise to me because A) My blog hits from France remain quite high (although nowhere near as high as when Boz & Co were in France.... Hmm) B) Moz told me in an email a number of weeks ago that he was going to be staying on in France and C).... there is NO C!
Here is Fifi's comment: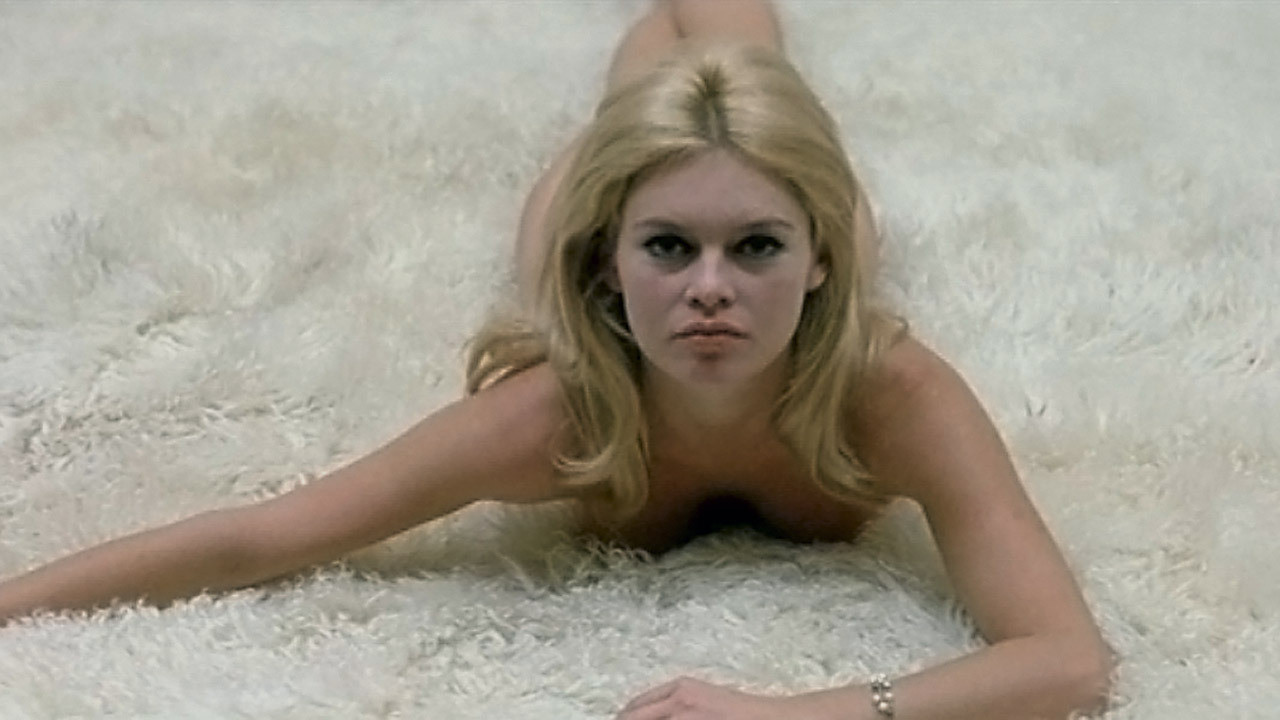 BRIGITTE IN LE MEPRIS AKA CONTEMPT
AND ANOTHER FROM LE MEPRIS
LE MOZZIE
I have now posted THREE shirtless pictures of Morrissey on today's blog, as instructed by Fifi, who left this comment yesterday:
And just incase three lots of Moz 'manflesh' isn't enough, here is another, although
surely
this picture has had some airbrushing/touching up?
Anyway, back to the return of Parody Moz. Not only did he mention his novel, it is MORE than exciting to read that Morrissey's next album will be released in early 2016, and of course, when it IS released in 2016, NOBODY will remember that Parody Moz mentioned it first, and even if they
DO
remember, they will say it is yet ANOTHER coincidence.
Parody Moz also made quite a few references to death last night, which was probably sparked by the death of Leee Black Childers, the infamous 60s & 70s Rock n Roll photographer, or who knows, maybe Our Mozzer was moved by yesterday's death of Peaches Geldof? Either way, death was on his mind..... but then again, it often is!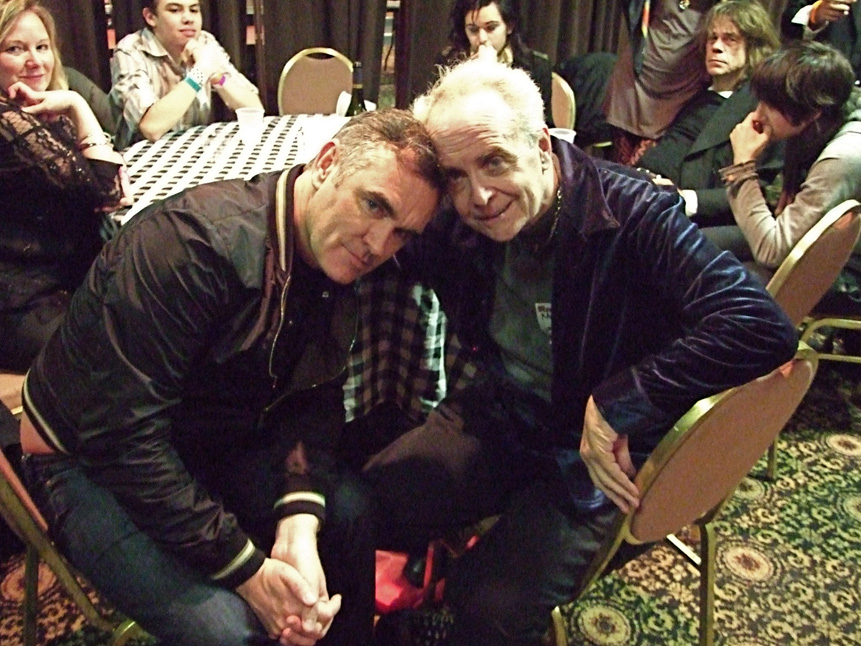 MORRISSEY WITH LEEE BLACK CHILDERS
Another VERY interesting tweet of note from Parody Moz yesterday, was the confirmation that the new album title WORLD PEACE IS NONE OF YOUR BUSINESS, was inspired by a tweet from Our Mozzer, aimed at Tony Blair, and therefore DIDN'T come from Abraham-Hicks, as was initially thought by some. Let me repeat that, Morrissey's new album title is a direct quote from MorrisseysWorld! You couldn't make this up.
And what was this tweet all about?: "The bed was stiff with regret, Your hands were colder than lust, My name is a knife, It cuts deep into your soul, Like hydraulic acid, Like absolutely nothing. Beyond Death lies a promise, Beyond death lies hope, Beyond death lies envy and freedom, Beyond death I am, Like a parasite, Eating still."
Is it from the novel?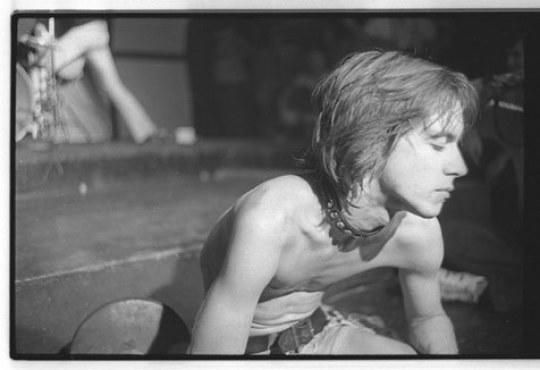 IGGY BY CHILDERS
Broken has yet to return to the Twitterdilly Arms, but he did make a return to FTM 'late last night' *coughs* to leave these comments regarding MorrisseysWorld and the latest parody piece. Notice how Broken starts off being nice to me, and within two minuted is calling me a c***!:
So that's it. Our Mozzer, Broken and Fifi have all put in an appearance, but was it a one off, or are they back? Will Part III of the parody piece appear soon..... or EVER?
There was no Twitterdilly Chart produced today, mainly because there was very little music played in the Arms over the past seven days, but Astraea has made an appearance this afternoon, and has been playing some Timi Yuro, Lesley Gore, Wanda Jackson and The Smiths, so we should be ok for a chart next week.
And finally, our old friend Rosy Mires has tweeted to say that she is currently on Jury service. Bearing in mind that Rosy has seen ALL the evidence of MorrisseysWorld, and has NOT been able to deduce that Morrissey is involved, then god only knows what she will make of whatever evidence is put in front of her in a court case. It is a parody story in the waiting. Just picture the scene; the defendant's DNA is all over the weapon, he was witnessed committing the crime, but when he issues not one, but four denials, it's enough for Rosy, and she sets about on her campaign to convince the other eleven that the Brighton Basher is completely innocent.
Foot Note: The web address WorldPeaceIsNoneOfYourBusiness.Com was registered on March 7th. Is Moz building a website?
Another Foot Note: Universal are still sending out emails as if they are from Morrissey, regarding Record Store Day. I received one to say that
So little time
by Diana Dors is being released. And on the subject of records, Boz Boorer's record shop, Vinyl Boutique, is opening this Sunday. I wonder if he's have any of his wine on sale too?...... if the wine still belongs to him!