Now
WHO
would have thought it? Despite all the talk of a new dot com website, and against all the odds, the MorrisseysWorld blog has returned, with the first new material since January 9th!
The new article, which was posted at 1.18pm today UK time (5.18am LA time), is entitled:
"MW returns... with the first part of the long-forgotten BRS interview... and a few old gems... and ... nobody notices. C***s."
It's a catchy and embracing title. I had, of course, noticed the return of the MW blog, and tweeted yesterday evening to alert others..... but there
aren't
any others... well, hardly any. Willow tweeted back to say that she would take a look, but as I type this, over an hour since the latest MW article was posted,
NOBODY
, with the exception of myself and Heather have left comment.
NOBODY!
There actually isn't an article as such to go with the title, although
this
has been added under the heading:
Time, as ever, will-
POSTED BY MORRISSEY AT 05:18
The "long-forgotten BRS interview that is mentioned in the heading, has indeed been added to the MW site, although it is hidden away, and dated Tuesday 17 December 2013. I can only guess that it was originally intended that the interview would be published back in December, but for some reason, it didn't happen. The original interview questions were posted on FollowingTheMozziah on 5 April 2013, so MW is quite right when he says it is a "long-forgotten BRS interview", but it's
still
exciting..... at least for the few of us who are left to
get
excited! Here is a link to the original 30 questions:
http://followingthemozziah.blogspot.co.uk/2013/04/day-569-thirty-questions-for-our-mozzer.html
And here is the article from the MW blog, which answers the first 9 questions:
TUESDAY, 17 DECEMBER 2013
The Forgotten Blue Rose Society Interview
Q1: From
Climmy Worseapple
Sometimes, when I cry, I sit with a mirror before me and imagine that I am my own nonexistent disillusioned long-term partner, looking with scorn at my puffy, leaking face - immune to the rotting diseases of affection and empathy for "myself" thanks to a tough course of painful injections and some hard-earned antibodies. Your recent release of 'Last of the Famous International Playboys', did not make it into the Top 100 in the UK, did this disappoint you?
PLAYBOYS - DIDN'T MAKE THE TOP 100
Morrissey
: Now that I'm about as relevant as a bar of soap at a heavy metal gathering, it came as little surprise that my single failed to chart. The noise generation want immediate, unimaginative melody, words attuned to the repulsive cannabis-fuelled orgy that passes for pop culture these days, and electronic sounds. I gave them... well, I gave them exactly that - and it still failed!
Q2: From
girlwithout
Question from me for Our Mozzer. When he met you at a recent Hollywood party, Gristle Bandage commented that you were like Bette Davis and Garbo, sat in a corner uniquely like someone from another era. How do you feel about this comparison and is there some other Hollywood star that you would have preferred to be compared to?
Morrissey
: I recently saw an interview in which Justin Bieber was described as a hybrid of Elvis Presley and James Dean by a fawning Australian dimwit-journalist; Bieber smugly agreed. I developed a week-long tension headache and seventeen new grey hairs.
Similarly my mystique could never be compared to that of Garbo. I would compare myself to Julie Goodyear, or, at a push, Larry Grayson.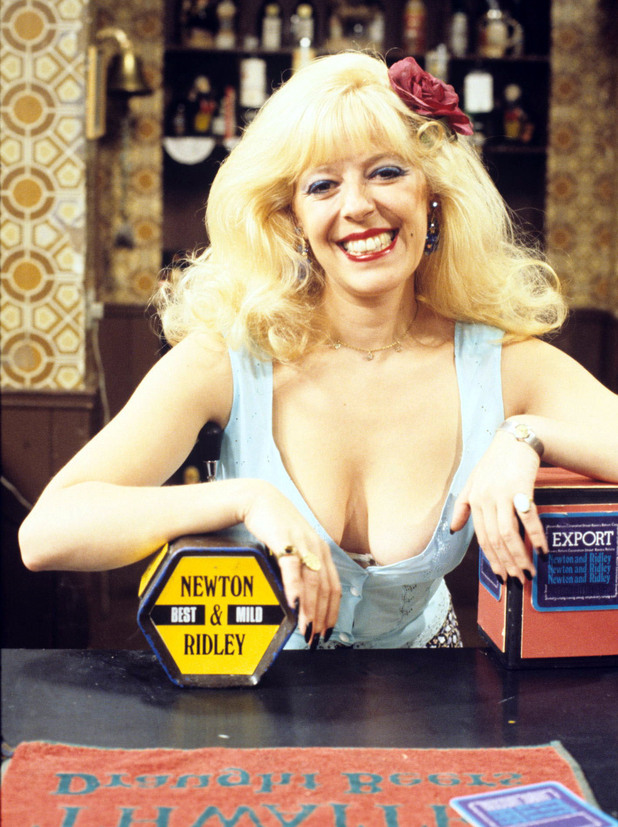 JULIE GOODYEAR - WITH THE MYSTIQUE OF MOZ
Q3: From
Chuck Norrissey
Ok here comes my question. Don't be disappointed. Dear Our Mozzer, was there anything about this whole journey that surprised you, that came unexpected - concerning your followers/fans and/or media? Was it a mudslide, or did it all develop and unfold according to your plans?
Morrissey
: I fully expected to have three million followers by Christmas 2011. I expected the Sun's gossip column to be scratching its head over the authorship of the twitter account. But, no. Looking back, I made the mistake of being too interesting. The British media would have been fascinated had I tweeted about what I'd eaten for breakfast and which fly on the wall I was watching, or pretending to.
Joey Ess-icks is the first polished product of the reality TV culture - he is more vacuous, in fact, than reality TV - and therefore he's utterly marketable in the present climate. These days less is more. The less you know, the more interesting the media will consider you to be, as they fire endless banal questions in your direction: anyone of intelligence would be rightly offended, and would soon get bored or cause trouble. The chief virtue of the modern 'celebrity' is an extremely high threshold for taking offence.
As far as the British media is concerned, the less you've achieved, the more deserving you are of your fame. Artists, on the other hand, are dragged backwards through hedges by their underpants, subjected to brutal character assassination and welcomed back briefly into the fold, only so as to begin the whole process again. It's very Freudian.
JOEY ESS-ICKS - POLISHED
Q4: From
Uncle Halfwit
This is ridiculous, you are just a "dickhead pulling a scam." You are just "some wanker who hatched a plan to make a film about internet gullibility", with the subject, "Morrissey fans." How long do you possibly think you can get away with pretending to be Morrissey before you are caught out? Tops P.
Morrissey
: Morrissey has spent the past two decades pretending to be Morrissey. I haven't pretended to be Morrissey for a single moment.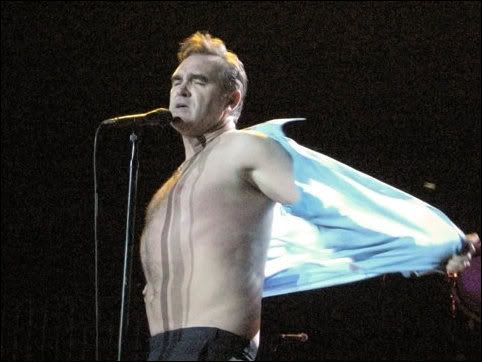 MORRISSEY - PRETENDING TO BE MORRISSEY
Q5: From
Mme de Staël
What is your favourite cover version of one of your songs? And is there any song of another artist(e) that you think would be worthwhile covering?
Tatu. Many - but I don't want to do karaoke. There are cheaper and more interesting ways to humiliate oneself in public - sex, for example.
TATU - FAVOURITE COVER
Q6: From
Lizzycatmoz
My question for Morrissey AKA Our Mozzer is, and I consider this to be ' personal' however not ' personal life.' Having been extremely ill and on IV drips for 5 weeks, I'm sure the
experience changed you, but what I'd really like to know, but am afraid to ask, so am relying on that b**tard Rat to completely change and 'sex up' my question a bit, is: You have used lots of homoerotic imagery in your art over the years, and yet I have found you quite flirty, do you bat for both sides?
BATTING IN BOTH CREASES?
Morrissey
: I don't bat at all. And on the odd occasion I've tried, the balls always seem to catch me off-guard.
Q7: From
TRB
I'm sorry about Lizzy's deeply personal question, I did warn them not to, but they just ignored me. Let's cut to the chase and get down to the nitty gritty, do you have a fold away sofa bed in your bedsit, or a proper bed that takes the place of a couch?
Morrissey
: That question is too dreary to contemplate.
Q8: On Behalf Of
Marcus 'The Greek' Marcou
I saw it as my calling to travel to Manchester with a Blue Rose, but I couldn't get it to you. I have recently released my debut feature film, 'Papadopolous and Sons', would you do me the honour of watching it and letting me know what you think?
MARCUS MARKOU WITH HIS BLUE ROSE IN MANCHESTER
Morrissey
: I thought the film showed potential. Unfortunately it wasn't quite my cup of tea. However I did enjoy A/S/L very much. If you do create a MorrisseysWorld production, I expect an invitation to the premier, a goodie bag and three shop warm Co-Op pain-au-raisin.
Q9: From
Vulgar1mkela
I was so honored that you took the blue rose ring from me in Moz Angeles but what happened to it after I gave it to you and have you any plans for it?
ANGELA 'VULGAR' REYES WITH KRISTEEN YOUNG AND THE BLUE ROSE RING
The ring remains on my bedside cabinet. I use it to cast spells on carnivores, war-mongers and knighted pop singers.
to be continued
POSTED BY MORRISSEY AT 20:00
I shall now work my way through the rest of the old postings of MW. Happy days.
In other news, the buzz continues as to what the new album songs might be about. Comrade Harps immediately thought of the NYD's
Lonely Planet Boy
when he saw the title
Earth Is the Loneliest Planet:
It has also been noted that
Kick the Bride Down the Aisle
is likely to have come from the Reparata song
Shoes
, which is an old favourite of both Morrissey and Marr:
A recent Marr interview mentioned Shoes, so could Kick the Bride be a Morrissey Pong?:
http://www.thestranger.com/seattle/trying-to-talk-to-johnny-marr-about-shoes/Content?oid=16455731
Smiler With (a) knife
was an unmade film by Orson Welles, and the book it would have been based on has a character called Strangeways. Heather Cat has mentioned that Smiler, Kick and Mountjoy (if the song is about the prison), could all have loose Strangeways references. Heather also remembered Astraea recently mentioning Strangeways. The buzz continues.
And finally, it would appear that Clover Dean was wrong about Liam being in LA with Moz, he's in Camden, with Boz!
VINYL BOUTIQUE IS NOW OPEN FOR BUSINESS - COME BACK TO CAMDEN.