The Twitterdilly Arms has been buzzing today, not just because Jonathan Simpson, the Mayor of Camden popped in for some tea, but because 'Clover Dean'(@MozzeriansATW) announced that she had just met Moz in the Cat & Fiddle, the infamous British theme pub in LA.
MORRISSEY AND JESSE AT THE CAT & FIDDLE YESTERDAY - PHOTO BY @DANMOZ
A month ago the Twitterdilly Arms was like the Moulin Rouge, full of show girls and shimmying, as Morrissey's 'Fifi pessoa' joined us whilst Morrissey was in France, but now, with Morrissey in LA, I will be picturing the Twit Arms to be like the Cat & Fiddle.
THE TWITTERDILLY ARMS AFTER IT'S RECENT MAKE OVER, INCLUDING FOUNTAIN TO REEL AROUND
Clover Dean's excitement at meeting Moz for the first time was almost tangible, and she could barely stand as she propped up the bar of the Twit Arms. Others shared in Clover's excitement, and the realisation that
NEXT WEEK
Morrissey will
at last
be back on stage, had the Blue Rose Society regulars streaming into the 'World's Number 1 Online Morrissey Theme Pub' by the second. They included; Willow, Heather, Bunny Gal, Vulgar Angie, Kellie the Crisp, GWO, Old Willoughby and Jack Shet, as well as myself and The Mayor of Camden, who probably hasn't yet realised what all this is about!
The Twit Arms has been pretty quiet in recent weeks, but by this time next week, the 'World's Number 1 Online Morrissey Theme Pub' will be at fever pitch. As I pointed out to those in The Arms, it is almost like the build up to a World Cup. Let the chanting begin, "MORR-EE-SAY, MORR-EE-SAY, MORR-EE-SAY".
The excited chatter among the BRS soon led to discussion about Blue Rose Society t-shirts. The days of people being too embarrassed to take roses to Morrissey concerts are long gone, and things look set to be
VERY
different on this coming tour. It surely won't be long before EVERY concert venue is awash with roses. The likes of Vulgar Angie want to make t-shirts to give to Moz, and there is no reason that Morrissey won't
wear
a BRS t-shirt if we get the design right, but it will have to be subtle. The original BRS t-shirts designed by Father Brian were a simple statement saying 'BLUEROSE SOCIETY', but ultimately Morrissey can't be seen to wear one of these, his involvement
MUSTN'T
be revealed.
KYLE - THE PRESIDENT OF THE BRS WITH HIS T-SHIRT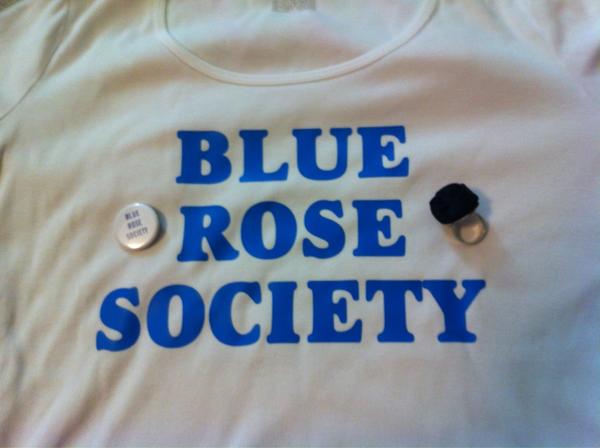 HEATHER'S T, WITH BADGE AND THE BRS RING (WHICH IS NOW IN A BEDSIDE CABINET, IN EITHER LONDON, LA, ROME OR GT YARMOUTH)
Some really good ideas have been thrown around, but we need to put it to the vote, so I am now asking for comments from the BRS members, so that Angie can get a shirt made, to give to Morrissey at one of the concerts in LA. It's a shame we haven't got Linder Sterling as a member of the BRS, she would be the ideal person to design us some shirts. Even better still, we could do with Boz 'Guru of the Grape' Boorer to help us, as only last week he came up with some new shirts for his record shop in Camden, Vinyl Boutique.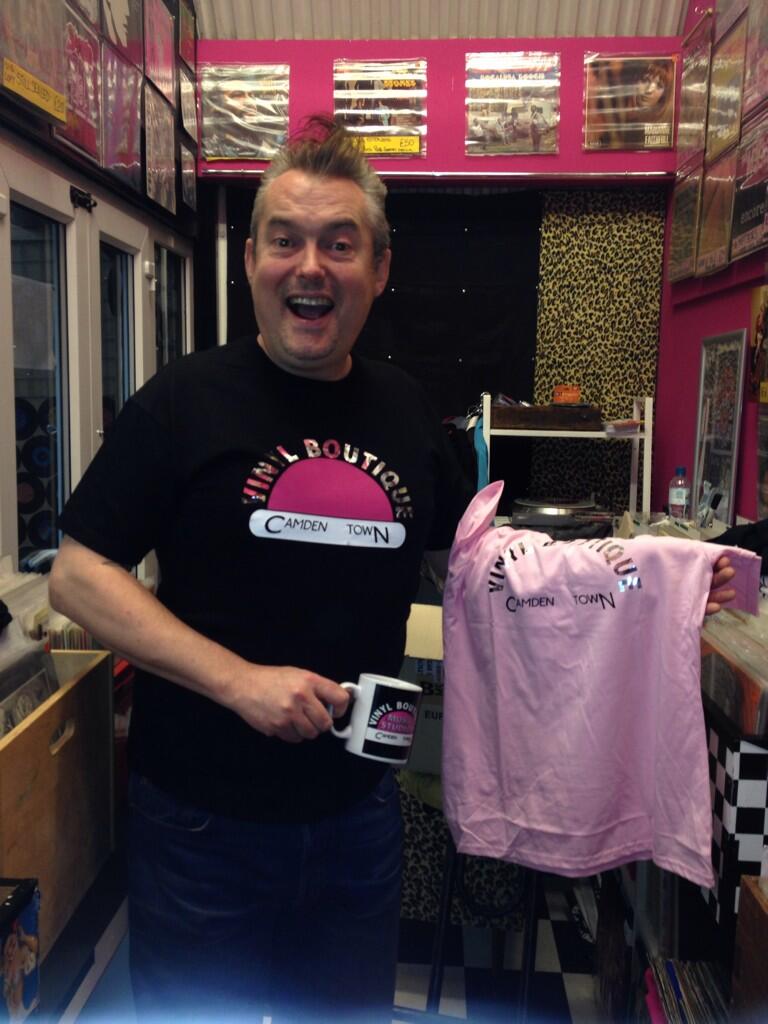 ENTREPRENEUR/BREWER/PART TIME MUSICIAN/T-SHIRT DESIGNER, BB
Here are some of the ideas. Please vote for your favourite in the comments section, or post your own idea:
1. A picture of Jean Cocteau with a speech bubble saying "Who are the Blue Rose Society?"
2. A picture of Jean Cocteau with a speech bubble saying "Qui Sont La Société Rose Bleue" (Is this the correct way of writing it? It would be a little embarrassing to get it wrong!)
QUI SONT LA SOCIETE ROSE BLEUE?
3. A picture of Cocteau's 'Blue Man' from the Tapestry for Judith and Holopherne with a blue rose added as a tattoo on his shoulder and the slogan "You Don't Want to Believe" tattooed underneath the rose.
4. As above but with the slogan "The sun shines out of our behinds".
5. As above but with the slogan "Blue Rose Society"
THE BLUE MAN (LEFT), WHO THE BRS KNOW TO BE THE INSPIRATION BEHIND THE 'HAND IN GLOVE' PICTURE COVER
6. A picture of Cocteau's Blue Rose from the Church of Notre Dame in Leicester Place, London (with a slogan?)
JEAN COCTEAU'S BLUE ROSE IN THE CHURCH OF NOTRE DAME IN LONDON
And finally for today, Boz Boorer has set off for LA, and the MorrisseysWorld blog has been closed..... AGAIN, which I guess means that FTM once again become the umbilical cord.
*Goes off chanting* MORR-EE-SAY, MORR-EE-SAY, MORR-EE-SAY