In 2011, a mysterious website called
MorrisseysWorld
formed the BLUE ROSE SOCIETY, in honour of Morrissey's literary hero, Oscar Wilde, who had a theme of roses running through his work.
In the 1890's, Oscar Wilde had his own society, the
GREEN CARNATION
, and Wilde and his followers would often be seen wearing green carnations in their lapels. Much speculation was made regarding the meaning of GREEN CARNATION, but Wilde himself
never
publicly explained it's significance.
Morrissey's Blue Rose Society, is a modern day equivalent to Oscar's Green Carnation. Blue roses, just like green carnations, are an unnatural flower, and they are often portrayed in literature as a symbol of unrequited love.
Word has started to spread about the Blue Rose Society, and more and more people have been seen with RED, WHITE and BLUE ROSES at Morrissey concerts. Some people have even presented Morrissey with their roses.
MORRISSEY WITH THE WHITE ROSE IN BOGOTA
On May 2nd 2012, an Oscar Wilde backdrop appeared at Morrissey's concerts, asking, "WHO IS MORRISSEY?" Was this a coincidence, or was Morrissey acknowledging the Blue Rose Society?
A MORRISSEY FAN WITH BLUE ROSES AT THE SAN DIEGO CONCERT - MAY 22ND 2012
On July 5th 2012,
Morrissey's wikipedia entry
was updated, to make reference to both the BLUE ROSE SOCIETY and GREEN CARNATION, it read:
"The sign of this secret society is the blue rose; blue roses - as well as their other signs, the red and white rose - have been seen at many Morrissey concerts in 2011-2012 from the US to Colombia. The Blue Rose Society is seen by some as a reference to Oscar Wilde's green carnation-wearing followers."
That VERY evening, Morrissey appeared on stage in Liege, Belgium, wearing a GREEN CARNATION. The next day, the wikipedia entry mysteriously disappeared. Members of the BLUE ROSE SOCIETY saw this as absolute proof that Morrissey was either behind the BLUE ROSE SOCIETY, or at the very least, he supported it.

Morrissey can be seen coming on stage wearing the GREEN CARNATION in Liege in this video footage:


MORRISSEY WEARS A GREEN CARNATION IN LIEGE - JULY 2012
MORRISSEY WITH RED ROSES - BOSTON OCTOBER 2012
On October 10th 2012, Brian, a keen follower of the MorrisseysWorld website, took his eleven year old son, Kyle to Morrissey's concert at Radio City Music Hall in New York. Brian and Kyle positioned themselves on the front row, and Kyle leapt onto the stage at the encore, in an attempt to present Morrissey with a BLUE ROSE. Morrissey couldn't reach it, but made a special journey back to Kyle, to take the rose, which he then WORE for the whole of the encore. This was the FIRST BLUE ROSE that Morrissey had ever accepted on stage. See here:


KYLE LEAVES HOME WITH HIS BLUE ROSE...........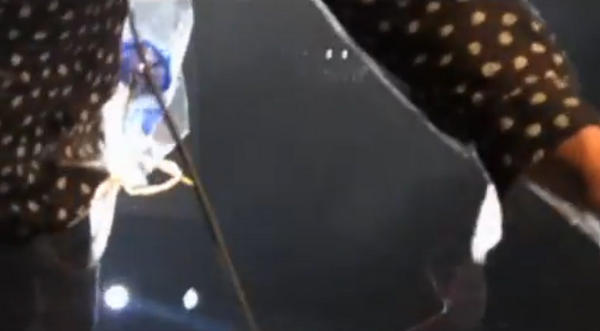 .....AND MORRISSEY PLACES IT IN HIS POCKET....................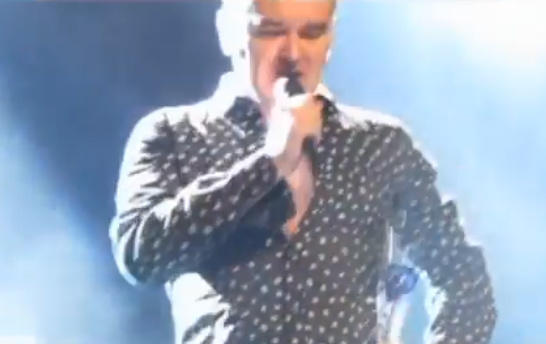 .........WHERE IT REMAINED FOR THE WHOLE ENCORE IN NEW YORK
On January 8th 2013, another BLUE ROSE SOCIETY member, TRB, asked Morrissey's tour manager Donnie Knutson if he could get him into the SOLD OUT David Letterman tv show, but Knutson said, "No." TRB asked Knutson to give a BLUE ROSE to Morrissey to see if the situation could be changed. Half an hour later, TRB and his two companions were ushered in to see Morrissey via the stage door, again proving that Morrissey loves the BLUE ROSE SOCIETY.
MORRISSEY'S TOUR MANAGER DONNIE KNUTSON WITH THE BLUE ROSE THAT MYSTERIOUSLY GOT A BLUE ROSE MEMBER INTO A SOLD OUT TV SHOW
MORRISSEY MOVES IN TO ACCEPT BLUE ROSES IN SAN DIEGO 2013
The BLUE ROSE SOCIETY has a BLUE ROSE RING which is passed from member to member at Morrissey concerts. It was first passed over in Manchester in July 2012, and having travelled to Edinburgh, it then made it's way to New York and eventually ended up on the West Coast of America with 'Vulgar Angie'.
On February 27th 2013, Morrissey's long time support act,
Kristeen Young
, was photographed with Angie and the ring.
ANGIE AND KRISTEEN WITH THE BLUE ROSE RING


Coincidentally, Kristeen Young had presented Morrissey with 100 BLUE ROSES IN 2007: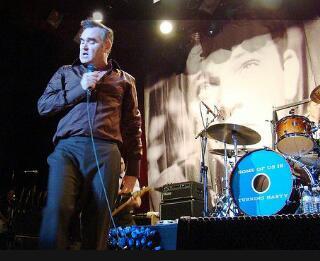 MORRISSEY WITH BLUE ROSES IN SAN FRAN IN 2007 - PRESENTED TO HIM BY KRISTEEN YOUNG
On March 1st 2013, 'Vulgar Angie' was handed the mic at Morrissey's concert at the Staples Center in Los Angeles and she made a speech about the Blue Rose Society. Angie also asked Morrissey to accept the BRS ring, which he did.
On March 2nd 2013 at the concert in Hollywood High School, Morrissey leant deep into the crowd to accept a BLUE ROSE from a young Morrissey fan called Devan. This is shown clearly in the film and dvd, Morrissey 25:Live. Morrissey not only wore the BLUE ROSE in his pocket for the whole of the first song, Alma Matters, but he also placed it on top of the drum, where it remained for the whole concert.
MORRISSEY REACHES TO RECEIVE A BLUE ROSE AT HOLLYWOOD HIGH SCHOOL - AS SEEN ON FILM AND DVD HERE:


THE BLUE ROSE IN MORRISSEY'S RIGHT TROUSER POCKET
On October 17th 2013 Morrissey
launched his Autobiography in a book shop in Gothenburg, Sweden
. Placed in front of Morrissey's table were.... a vase of RED ROSES, which Morrissey made a point of touching.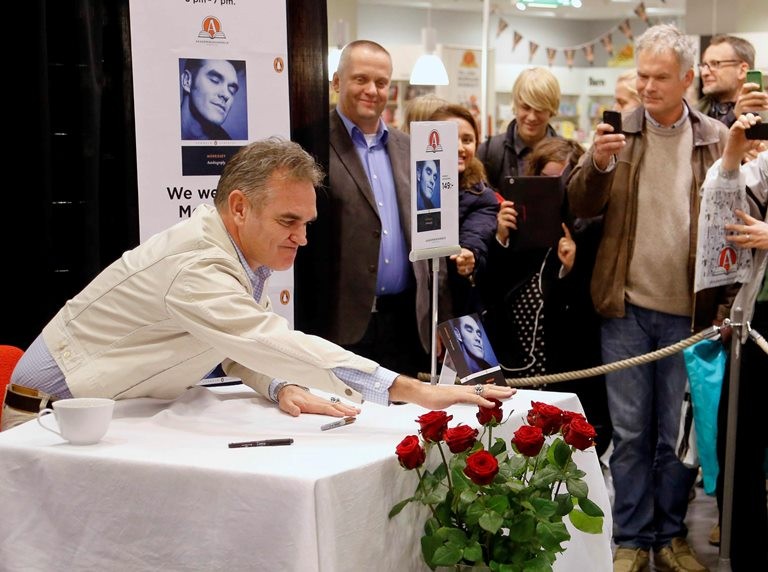 MORRISSEY LEANS TO TOUCH THE ROSES IN GOTHENBURG
On December 11th 2013, Morrissey returned to the stage after a nine month break, and sang three songs at the Nobel Peace Prize Concert in Oslo, where he subtly wore... a bracelet of WHITE ROSES.
MORRISSEY RETURNS TO THE STAGE AND WEARS A BRACELET OF WHITE ROSES
It has become very evident that Morrissey loves roses, and is FULLY supportive of the
BLUE ROSE SOCIETY
. Morrissey has even started wearing shirts on stage with roses on:
A ROSE SHIRT - WORN AT MORRISSEY'S BIRTHDAY SHOW IN SAN DIEGO IN MAY 2012
Morrissey
even
wore a gaudy BLUE ROSE tie when he
accepted the 'Key to the City of Tel Aviv'
in July 2012.
MORRISSEY SHOWS HIS SUPPORT FOR THE BLUE ROSE SOCIETY WITH A GAUDY BLUE ROSE TIE
A dozen deluded fans believe that Morrissey himself may have started the
BLUE ROSE SOCIETY
, just as it was Oscar Wilde who formed the GREEN CARNATION SOCIETY, but even if Morrissey
didn't
actually form the BRS, he is
certainly
aware of it, and
OBVIOUSLY
likes the idea, hence the reason he ONLY receives ROSES on stage.
In May 2014, Morrissey will embark on a new tour. More people than ever are expected to take roses. Will Morrissey wear one?
Morrissey's new album is to be called
World Peace is None of Your Business,
which has the words BLUE ROSE hidden within the title. The story continues.
*STOP PRESS* UPDATE MAY 9TH 2014 - MORRISSEY RECEIVED AND WORE YET ANOTHER BLUE ROSE IN SANTA ANA LAST NIGHT:
http://instagram.com/p/nxIfNzCPvN/
TTTTT
MORRISSEY WEARING HIS BLUE ROSE IN SANTA ANA - MAY 9TH 2014
A BLUE ROSE IN MANCHESTER - JULY 2012
A BLUE ROSE IN BROOKLYN - JAN 2013