OUR MOZZER HAS RETURNED! *Waves palm leaves, blue roses and any other foliage that happens to be laying around*
It was May 16th when The Mozziah, aka
@MorrisseyParody, walked away from The Twitterdilly Arms
. We all presumed at the time, that we had lost him for good, and that he was instead going to start wearing the suit of @itsmorrissey. The last minute change of mind (or heart) saw @itsmorrissey disappear in a puff of smoke and mirrors and yesterday, Our Mozzer strolled back into The Twit Arms dressed once again as @MorrisseyParody, as though nothing had ever happened. The visit occurred at about 8pm UK time (3pm Florida time).
Our Mozzer's first tweet was a retweet of my birthday wish from the 22nd:
Happy Birthday Parody Moz...s*d the other bloke; you're the one I love! All day party in The Twit Arms to celebrate
@

MorrisseyParody
's day.
I wasn't actually in The Arms when Our Mozzer returned yesterday, so I was unable to welcome him back in person, but @Bunnygal833, @heathercat222 and @papasonsfilm welcomed him home.... and it
IS
his home! He didn't stay long, but here are his highlights:
"Beautiful people don't know they're beautiful. Ugly people know it only too well."
"The savage prey upon weakness and the gentle eliminate it."
"At last - I am no longer a top 80 pop artist." (I have to admit, this one made me laugh out loud. Morrissey should take comfort in knowing that he is
still
a top 83 pop artist.... although technically, as Istanbul didn't chart...)
Before he left, Marcus (@papasonsfilm) asked Our Mozzer if he was looking forward to the World Cup, to which Mozzer replied:
"From the Morrissey parody to the parody of an English football team - good luck."
"I'd rather watch the class of Munich."
THE CLASS OF MUNICH - MAN UTD 1958
I wonder if any of the British tabloids will use the headline 'World Cup is None of Your Business' when England get knocked out? I doubt it!
Both Our Mozzer and Astraea appeared again in The Arms in the early hours of this morning. Astraea tweeted this video footage of Sacha Distel's
Les Moustaches
at 1am St Pete's time:
At 2am, Astraea posted, "Oh, and last but not least. Mick Jagger tweeting Harry Styles? Not ironic."
Astraea then added, "Someone pass me the paracetamol please. And two bottles of red wine on the side."
Astraea's final tweet was a Youtube clip of Brigitte Bardot being interview in the 60s:
Our Mozzer also posted at 2am; a retweet of a post by @TheRatsTalisman, which read, "The @Morrisseyparody has sent a sign." HAS HE? WHAT IS IT?
Our Mozzer then appeared again at 4am to thank @Jazissey on Broken's behalf for her "wonderful charms", and to invite her to meet Broken again, later today, in the MorrisseysWorld chat room. I guess the invitation is open to all to meet Broken in his cupboard:
http://chatroll.com/morrisseysworld-chat
. Broken also left a message for Jazissey on my blog entry of yesterday. Jazissey had posted to say, "I don't know who BrummieBoy is (on Solow) but I think he's a genius and is definitely into pesos. I can almost swear he sounds like a character straight out of the chat. Must be my imagination." to which Broken replied, "I miss you." I haven't paid much attention to BrummieBoy on Solow, because I really can't be bothered to trawl through all the crap on that site, but a number of the BRS are convinced that BB is Moz.
And whilst I am on the subject of Solow, Comrade harps yesterday posted a link which showed a Solower called
Skylarker finally asking what The Blue Rose/MorrisseysWorld is about?
Skylarker obviously has never bothered looking for himself/herself before, and
even now
, rather than look for
actual
evidence about MW/BRS, she/he has just asked for somebody to tell him/her. Here is the intellectual responses that he/she received:
marred: "It's another in a long line of "crocks of shit". Sorry I don't have any more info than that at this point." GENIUS!
Viva Hate: "From what I gather from their posts, a "blue rose" is homosexual slang for what normal people might call a "prolapsed anus". People afflicted with a protruding, overfucked asshole formed a secret society based entirely on Blogspot called The Blue Rose Society where they discuss passing encoded correspondence back and forth with a semi-popular English singer named Morrissey (one name, like Cher) in the form of dyed flowers." GENIUS!
Vanitas M. Berrymore: "Asking about Blue Rose on solo is like expecting to get valuable information about Muslims on islamburninhell.com." TRUE!
Mozza220559: "It's a supposed old Wildean throw back where he used to have a carnation on or something and people who liked him also wore this carnation in subtle support of him. Blue Rose mongs try to re-create that thinking if Moz sees one of the audience wearing a blue rose they're somehow cosmically linked and on Moz's favourite list. Basically it's a load of deluded saddo fans who wear blue roses who think they have the inside track. I'm sure a BRG (blue rose goon) will reply to this with some passive aggressive smug retort saying "The blue rose society know" or something equally as lame." GENIUS!
mcrickson: "I would hazard a guess that members are sub-grouped under the charters of the Brown Starfish Cooperative." GENIUS!
CrystalGeezer just posted a picture, presumably of herself:
CRYSTAL GEEZER
I think it is safe to say, the Solowers will NEVER understand about the Blue Rose.
Our Mozzer's final tweet at 4am this morning (St Pete's time) was this:
"Did you know it's actually better to fade away than burn out."
I have spent this morning watching Youtube clips from the concerts in Memphis and Nashville. It was rather interesting to discover that in Nashville on Wednesday, Morrissey sang the Tammy Wynette song,
'Til I Get It Right
during the pause in
Speedway
. It would have been more interesting to discover that he had sung Johnny Cash's
Ring of Fire
, but it was not to be.
Youtube footage has also started to appear from last night's
concert in St Pete's
. Moz and the boys have taken to bowing to each other before each concert begins, just as martial arts fighters bow to each other before a bout. The Speedway pause once again has a song in it, but I have no idea what song it is. Answers on a postcard please.
HAND IN GLOVE & SPEEDWAY:
THROWING PARIS:
THE MAHAFFEY THEATRE ST PETERSBURG FLORIDA - MAY 30 2014
SETLIST:
1.
Hand in Glove
2. Speedway
3. Ganglord
4.
Certain People I Know
5.
I'm Throwing My Arms Around Paris
6.
The Bullfighter Dies
7. World Peace Is None of Your Business
8. Yes, I Am Blind
9.
Trouble Loves Me
10. One Day Goodbye Will Be Farewell
11. Life Is a Pigsty
12. Istanbul
13. To Give (The Reason I Live)
14. I Know It's Gonna Happen Someday
15. Earth Is the Loneliest Planet
16. Meat Is Murder
Encore:
17. First of the gang to die
MOZ IN ST PETE'S
The band wore t-shirts bearing the word 'SMUT'. A word once used a lot on MorrisseysWorld. Just a coincidence.
THE SMUT BAND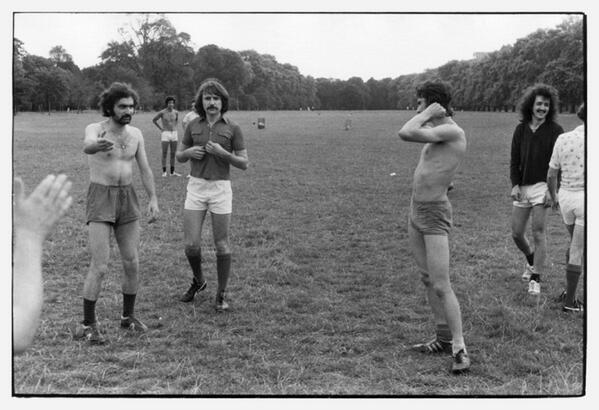 MOZ AND THE BOYS HAVING A KICK ABOUT PRE-SHOW
I have nothing more to add today, so I shall add nothing more. Tonight is the last concert for a few days. It is in the rather grand looking Knight Concert Hall in Miami. It is SOLD OUT. "Fade away" my arse!