Another heavy downpour of good old fashioned English rain on Friday night, put an end to me watching any cricket over the weekend, which meant I was able to catch up on all the recent concert footage from LA. It is most disappointing that there is
still
NO Youtube footage of Morrissey singing
Trouble Loves Me in Santa Ana whilst wearing a BLUE ROSE
, but the fact that it happened is all that matters. There is also no Youtube footage of Morrissey actually
receiving the rose from Devan during Yes, I am Blind
, but again, it
happened
.
Luckily, some more Youtube footage has emerged of Trouble Loves Me being sung at the LA Sports Arena on Saturday. God, I love that song:
I still haven't gotten around to watching Mrs Shufflewick live at The Black Cap, but I have a feeling that Morrissey has chosen to bring Mrs Shufflewick to our attention to highlight The Black Cap, and NOT Mrs S.
The Black Cap is a notorious gay pub in Camden
, and I wonder if it is the image that Moz has of The Twitterdilly Arms?
THE BLACK CAP - CAMDEN
I wonder if they spank people with wet plimsolls in The Black Cap, because a lot of that seems to go on in The Arms. Willow got very excited yesterday when the image was released of the new Morrissey single, with Moz wearing plimsolls. For months, Willow and Fifi have been going on about wet plimsolls, and I have had
no
idea why, so yesterday I decided to ask Willow. She tutted, before informing me "wet plimsoll" is a famous Morrissey quote from 1987. Well how was I supposed to know?! "Whoever says The Smiths have split shall be severely spanked by me with a wet plimsoll."
Fifi made a very brief appearance in The Arms yesterday, but I couldn't hang around to chat. She was very complementary toward me though, saying, "Lovely, Rat, so lovely. YOU ****&&$*****@@@@*!" At least I
think
it was a compliment! Fifi also added, "I wasn't here for Rat anyway. Only for my little charmers." Fifi has
always
called the BRS girls her little charmers, which is why Hand in Glove is a BRS song; along with the fact that it was the BRS who revealed that HIG is a Jean Cocteau related song..... well, Fifi revealed it, but she IS a member of the BRS, or at the very least a "Blue Rose Society enthusiast". It says so on her twitter profile. Fifi has also started using the picture that I first published on FTM as her new profile pic. It suits her:
MADEMOISELLE FIFI (NOTE - TO RETRIEVE THIS PHOTO FROM MY BLOG, I CARRIED OUT A GOOGLE IMAGE SEARCH OF 'FOLLOWING MOZZIAH FIFI'. IT'S INTRIGUING WHAT OTHER PICTURES CAME UP. THE STORY OF FTM IN PICTURES)
And whilst on the subject of the man who split The Smiths, Johnny Marr has today tweeted to say that he will be playing the Wedgewood Rooms in Portsmouth on August 2nd. The last time JM played at this excellent venue, he allegedly
"blew the roof off"
, so I have decided to go and check him out live. I have at times been a little scathing about Johnny's abilities as a singer, and received a hard rap across the knuckles from Morrissey for criticising him, but there is no doubting Johnny's ability as a guitarist, so I will go and see for myself what he is like. I shall buy a ticket for Fifi. Can you imagine if she came with me? Why not? I'll ask her. A night out with a rat, in the glamorous city of Portsmouth. Perhaps Fifi could wear her plimsolls.
JOHNNY MARR PLAYING THE WEDGEWOOD ROOMS
Incidentally, I can't make it to the Kingsbury Hall in Salt Lake City this coming Friday to watch Morrissey live in concert, so instead, I am going to the Wedgewood Rooms in Portsmouth City, to watch The Smyths. I don't suppose there is much difference, and as The Smyths are going to be playing the whole of Hatful of Hollow, at least I will get to see and hear What Difference Does It Make, which the good people of Utah DEFINITELY won't!
I would dearly
LOVE
to be in the USA watching Morrissey with other members of the BRS, but my eldest son has started his GCSES this week, so as a responsible parent, I am remaining in the UK, and will just have to be satisfied with watching a pretend Morrissey with Big Mick! Big Mick always gets a bit touchy feely when he's had a few jars, so there is that to look forward to as well. Who said romance was dead?
THE SMYTHS - I HAVE NO IDEA WHO IS SUPPOSED TO BE WHO
Can you imagine having the job title of 'Mike Joyce Impersonator'? Come to think of it, can you imagine having the job title of 'Mike Joyce'? I'll probably get rap across the knuckles for having a pop at Joyce now! Perhaps not.
Whilst I am writing this blog entry, I keep checking Youtube to see if any more clips have surfaced. You would think that with all those people using their phones to film, EVERY song from EVERY concert would find it's way onto Youtube, but that doesn't seem to be the case. It is probably just as well, or my humiliation of Gt Yarmouth in 2009 would be there for all the world to see.
I still can't believe the setlist that is on this tour. I desperately hope that Trouble Loves Me stays. I thought from what Fifi had said, that it wouldn't be sung again after Santa Ana, but I get the feeling that Moz is really enjoying singing it. It's almost as though this is the 'Unofficial Blue Rose Tour'. Bear with me whilst I just watch Trouble again:
Saturday night at the LA Sports Arena was apparently a rough place to be, with even battle hardened war horses like Vulgar Angie and Jazissey finding it hard going, but I can't believe that it was any different to Manchester in 2012, where we literally could not move an inch for the whole concert..... although I did manage to find just enough room to blow up my inflatable red rose! Oh, happy days. Dear Moz, COME BACK TO THE UK..... PLEASE!
By all accounts, Tom Jones was on top form on Saturday night, with
It's Not Unusual
being a highlight for many people. Both
Louis Theroux
and
Kimberly Kane
attended the concert on Saturday, although I am presuming not together, and I am also presuming neither of them were there in a professional capacity. It would be great to have Theroux investigate the secrets of MorrisseysWorld, but of course he will be blissfully unaware. They are ALL blissfully unaware. It has been
announced
over the weekend that a new biopic is to be made later this year about Morrissey's pre-Smiths life in Manchester. It is provisionally called Steven. Perhaps Kimberly Kane has been asked to play Moz! It is not known at this stage if Morrissey has given his backing to the project.
I will move on from the Californian concerts now, but I had to laugh when I saw a clip of Moz singing Asleep on Saturday night. At 2 mins 40, you can see that Moz is lost in the emotion of the song, where as Boz is picking something off his fingers. You've got to love musicians.
Does Johnny Marr sing Asleep, and if so, does he lose himself in the lyric, or does he concentrate on playing the guitar? I've never really understood how anybody can do both. If you are singing a song, and truly meaning what you sing, then how can you possibly think about what notes to play? Mind you, what would I know, I can't do either! I am actually looking forward to seeing JM, and I will definitely attend open minded, but I just
cannot
believe that listening to Marr and his band singing/playing Smiths songs, can be anywhere near as good as hearing Morrissey and
his
band singing/playing Smiths songs. It just
can't
be, but Johnny IS a fantastic guitar player, and so is Boz Boorer.
THE MORRISSEY BAND - SATURDAY NIGHT IN LA
The comments being left on the
MorrisseysWorld blog
have all but dried up. There are now 48 out of a target of 1000. Any thought that the masses would come running to the MW blog once Morrissey had sung Trouble Loves Me were misguided. Any thoughts that the masses would come running once Morrissey had sung Trouble whilst wearing a BLUE ROSE were further misguided. Any thoughts that the masses would come running once Morrissey had sung Trouble whilst sporting a blue shirt revealing a sweat shaped heart were even further further misguided. The masses ain't coming. We remain a secret. Not through choice, but a secret no less. Despite me writing about MorrisseysWorld for the past 971 days, the masses don't even know that MW or the BRS exist. Quite a few hardcore Morrissey fans know we exist, but they will NEVER believe that Morrissey is involved, and have no interest in being convinced otherwise. Dickie Felton is a prime example, he just isn't interested.
I have no idea why any fan of Morrissey, who is prepared to fly half way around the world to see him sing, would have NO interest in interacting with him on twitter. Rosy Mires once said that she would eat her hat if Morrissey ever sung Trouble Loves Me, but even through he has now sung it three times in a row, and whilst wearing a BLUE ROSE, Rosy STILL won't accept what is right in front of her eyes, and she has followed the whole phenomenal story from the start. These people just don't want to believe the truth. To quote Jack Nicholson, they can't handle the truth. Personally, I believe it is a fear. Morrissey is their untouchable God, and to talk to him, would be to make him mortal, and they don't want their God to be mortal. They want him up on his Mount, preaching through word of song, and NOTHING more.
MORRISSEY - ISSUED A CODE BLUE
True-To-You
have now announced that WORLD PEACE IS NONE OF YOUR BUSINESS will be released as a digital download tomorrow. It would appear that the release has been brought forward by a day, which would suggest that Morrissey wants to maximise sales to get a better chart position, although thinking about it, that
can't
be the case, or otherwise a physical version would have been released at the same time.
I wrote last week that WPINOYB could be Number 1 on Morrissey's birthday, but the reality is, there isn't a cat in hells chance of the single even charting. These days, unless Capitol FM play your song, or unless you have collaborated with Will.I.Am, or David Guetta, or Calvin Harris, or Rihanna, you haven't got a chance of having a hit. I also believe that a number of Morrissey's fans won't actually bother purchasing the song at this stage, and instead will wait for the whole LP, or for the physical version of the song. Many fans will have downloaded the live version of WPINOYB from Youtube, and will be content to listen to that (and other concert versions) until July.
Morrissey released Satellite of Love as just a download initially, and I think I am right in thinking that it only reached the chart (Number 124) once the physical version came out. Maybe I am completely wrong, and WPINOYB will sail into the Top 40, but I really doubt it. The song is far superior to anything currently in the chart, but then again, bearing in mind the lyrics, it would be quite apt for it NOT to chart. If the masses aren't being told to buy it, they won't buy it. I wonder how many people have seen the WPINOYB posters that are going up in major cities all over the world, and have bothered to investigate what they relate to? *Goes off to google 'World Peace is None of Your Business Poster'* It would appear that NOBODY has written anything about the poster campaign. WHAT is
wrong
with people? Has nobody got an inquisitive mind anymore? No wonder MorrisseysWorld wasn't discovered!
Although I don't believe WPINOYB will make the Top 40, it might be a different story for the release of Istanbul next week,
IF
Morrissey doesn't sing it this week. The fact that the song has NEVER been heard
might
be enough to get people parting with 99p out of curiosity. Time, as ever, will tell. I should of course make it clear that I still fully expect Steve Barnett to get WPINOYB to Number 1 in the album chart.
That will do for today. I must make mention that the mysterious B.M.V. left a comment last week to say that the stage back drop of Amanda and her cousin Amy is NOT the work of Diane Arbus, but from Mary Ellen Mark. Another stage back drop has also been identified by Erica Calil. It's a black and white photo by Danny Fitzgerald called 'Johnny, New York, 1962.":
JOHNNY, NEW YORK, 1962 BY DANNY FITZGERALD
Not to be outdone, GWO has identified the original artwork of the new sword wielding Morrissey poster: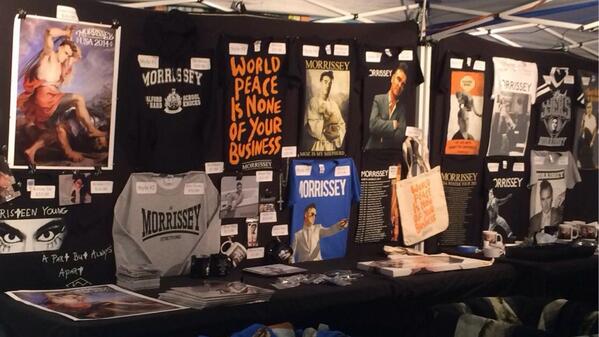 (SWORD WIELDING MOZ - TOP LEFT)
It is David Slaying Goliath by Rubens: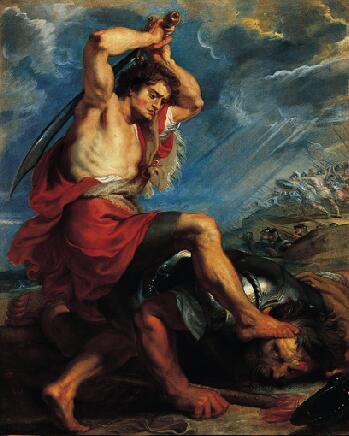 Personally, I think it's about time Brigitte made it onto a Moz back drop or t-shirt.
BB IS NONE OF YOUR BUSINESS - POSTER APPEARED ON THE WALLS OF THE TWIT ARMS AT THE WEEKEND
*Goes off singing* Each time you vote, you support the process, each time you vote, you support the process, each time you vote, you support the process...... all men have secrets and here is mine......
STOP PRESS: The WORLD PEACE IS NONE OF YOUR BUSINESS album has
appeared on i tunes with extra tracks listed
. Expected release date is July 11th. The tracks are: Scandinavia, One of Our Own, Drag the River, Forgive Someone, Julie in the Weeds and Art-Hounds. HAPPY DAYS!!!!