Hmmm, where do I start? Do I start with the fact that Morrissey's new single and promo video are OUT, or do I start with something far more personal to our small little community? Easy.
At last, at last, at last..... Youtube footage has emerged of Morrissey receiving the BLUE ROSE in Santa Ana, and not only does he
receive
the rose, he seems to
serenade
it, before proudly placing it in his top pocket to display to the world. How much
MORE
blatant could Morrissey make it? MORRISSEY SUPPORTS THE BLUE ROSE SOCIETY..... but the world can't see.
Even more important than the footage of Morrissey
receiving
the rose during Yes, I Am Blind, is the footage of him
WEARING
his BLUE ROSE during Trouble Loves Me; the anthem song of the BRS. This truly
IS
a special moment for the Blue Rose Society. To the masses it means nothing, to
US
it means
EVERYTHING
. Thanks to mozboy76 for posting on Youtube:
Trouble Loves Me has also been posted on Youtube by our very own, Vulgar Angie. How apt that our Vice President captured the moment:
Angie also recorded and posted I Know It's Gonna Happen Someday, another BRS song, made extra special by having Moz sing it wearing his BLUE ROSE:
Right then, now I can move onto World Peace Is None Of Your Business. I lay in bed last night watching concert videos, and then at midnight, I just couldn't get World Peace Is None Of Your Business out of my head...... so I downloaded it....... and have continued to play it on repeat ever since.
This morning, I discovered that a promo video had also been added to i tunes. The video stars Moz sitting at a piano wearing a tux, reciting (not singing) the words to WPINOYB. Nancy Sinatra enters the room and gives Morrissey a brief case containing white flowers (lilies?) and the written words of WPINOYB. It has been noted by a number of the BRS members, that the video is very surreal and 'Lynch Like'. Perhaps it is Morrissey's version of the Black Lodge from Twin Peaks. A surreal dream, with a sinister looking Nancy giving the maestro a message that he has to pass on to the people of the world. The maestro looks surprised as he opens the brief case.
WHAT
can the lilies mean? I can't help but wonder what would have happened today if that video had appeared with Moz wearing a BLUE ROSE...... actually, probably NOTHING!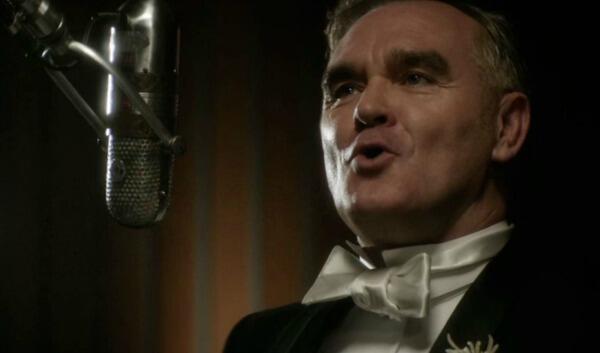 MORRISSEY - FROM THE PROMO VIDEO OF WPINOYB
The song itself is just gripping. It is a really strong political message, with Morrissey singing from the point of view of an unknown world leader, mocking the masses for continuing to do what they are told to do, without ever questioning why. As we in the BRS know, both Bollock Obama and Tony Bliar have been named by Our Mozzer as the possible world leader in question, but it could be
any
of them. As Morrissey wrote in his
TTY statement last November
, "I believe that the most powerful vote you can give is No vote; for the days of Prime Ministers have gone, and it's time for a form of change that is far more meaningful than simply switching blue to red." And of course Moz is right, whilst people continue to vote, the system CANNOT change, it is only when NOBODY votes, that a change HAS to come about.
Broken has also informed us that WPINOYB is Morrissey's anti NWO song. There are of course parallels with the whole MorrisseysWorld phenomenon. Nobody believed that MW was Morrissey because there was no Government minister available to tell them to believe! Even Morrissey wasn't there to tell them to believe..... so they didn't believe!
And on the subject of the
MorrisseysWorld blog
, the last entry now has 51 comments, so just 949 to go until we get another article! 51 is also the chart position that WPINOYB is currently at in the UK ITunes chart (time now 1 pm). It was at No.93 at 10 am this morning, so it's on the climb. Maybe I was wrong yesterday, when I said it wouldn't make the chart. Janice Long gave it it's first play last night on Radio 2, but will any other radio station play it? Surely the lyrics would care them. I expect Janice has already been told not to play it again.
The excitement surrounding the release of WPINOYB was electric in The Twitterdilly Arms yesterday, and even Mademoiselle Fifi took the time to pop into The Arms very briefly, to give us a link to iTunes in New Zealand, (where the single was released first) and instructed us to "listen".... so we did!
Mademoiselle Fifi also responded to my question as to whether or not I should buy her a ticket to accompany me to watch Johnny Marr in Portsmouth in August. She said, "No purchase necessary for me, either I get in for free or will be denied entry. It's a gamble." She also added, "Have you suddenly been upgraded to my + 1?" before then adding, "I'll think about it. And I will obviously dress up." I informed M.Fifi that I
too
would dress up, in pink, and that if we are denied access we could always go and have a drink in the Lady Hamilton. M.Fifi replied, "The style might work for the gig but it won't go down too well at Lady Hamilton's."
"I'll think about it"! I am already starting to picture me and Moz watching Johnny Marr from the back of the Wedgewood Rooms. It could happen. No, it couldn't happen! It could! No, it couldn't!...... sorry, I just went in to one of my self help therapy moments. Perhaps this is
my
surreal Black Lodge moment. Mind you, I think the Black Lodge is bigger than the Wedgewood Rooms.
Before leaving The Arms, Mademoiselle Fifi spoke to Willow regarding the new single, saying, "I knew you'd enjoy a bit of tambourine" and also told Heather and GWO, "Enjoy the new single tomorrow, the other songs will be released soon enough", which suggests that the rumour is true about Istanbul and Earth Is The Loneliest Planet being released within the next few weeks.
Erica Calil has pulled off another great find, discovering an article regarding the
photo of the wall with WORLD PEACE IS NONE OF YOUR BUSINESS written on it
. Unfortunately the article is written in Spanish.... or is it Portuguese? It's foreign!
There is so much more that I could write about today, but I just have no time. I have another cricket match to watch, and I am also working.
The Vice President of the Blue Rose Society, Vulgar Angie, has tweeted to say that Blue_Rose_Society is now on Instagram. I have NO idea what Instagram is, or how it works, but we are on it!
And finally for today, GWO has asked me to point out that in the recently released
Peter Blake Royal Albert Hall mural
, of the 400+ stars who appear in the montage, it is Morrissey that Blake chose to put right in the very centre of the FRONT ROW..... which is exactly where he belongs.
Tonight, Morrissey returns to the stage in El Paso Texas, at the beautiful looking Plaza Theatre. Will Trouble remain? Will there be any BLUE ROSES in Texas? Time, as ever.......
PLAZA THEATRE TEXAS
THE TWITTERDILLY ARMS TOP 10 (ALL SONGS ARE NEW ENTRIES)
1. TROUBLE LOVES ME (LIVE IN CALIFORNIA 2014) - MORRISSEY: https://www.youtube.com/watch?v=j-LmvAUAJYU + https://www.youtube.com/watch?v=gmvZvitpZ_U&feature=youtu.be
SAN JOSE MAY 7
SANTA ANA MAY 8
2. I KNOW IT'S GONNA HAPPEN SOMEDAY (LIVE IN CALIFORNIA 2014) - MORRISSEY: https://www.youtube.com/watch?v=CZiWpXRPTt4 + https://www.youtube.com/watch?v=QXS7ce8v5qs&list=UUvKic3sCNUy08kteJjZdfMg
SAN JOSE
3. LIFE IS A PIGSTY (LIVE IN SAN JOSE 2014) - MORRISSEY: https://www.youtube.com/watch?v=8iqKTINYqWo
4. WORLD PEACE IS NONE OF YOUR BUSINESS (LIVE IN SAN JOSE 2014) - MORRISSEY: https://www.youtube.com/watch?v=PDsF-6-b0dg
5. EARTH IS THE LONELIEST PLANET (LIVE IN SAN JOSE 2014) - MORRISSEY: https://www.youtube.com/watch?v=O2jHl2LTFYg
6. YES, I AM BLIND/THE BULLFIGHTER DIES (LIVE IN SAN JOSE 2014) (DOUBLE 'A' SIDE) - MORRISSEY: https://www.youtube.com/watch?v=ex1TY9jGY7A
7. HAND IN GLOVE (LIVE IN SANATA ANA 2014.... MERCI) - MORRISSEY: https://www.youtube.com/watch?v=QuME7CXmDpA&feature=youtu.be
8. ASLEEP/ONE DAY GOODBYE WILL BE FAREWELL (LIVE IN SANTA ANA 2014 WEARING HIS BLUE ROSE & SIGNING DEVAN'S SHIRT ON STAGE) (DOUBLE 'A' SIDE) - MORRISSEY: https://www.youtube.com/watch?v=RY95z_Ih_uk
9. EVERYDAY IS LIKE SUNDAY (LIVE IN SANTA ANA 2014 WEARING HIS BLUE ROSE) - MORRISSEY: https://www.youtube.com/watch?v=yF--r0aZbnQ
10. FIRST OF THE GANG TO DIE (LIVE IN SANTA ANA 2014 WEARING HIS BLUE ROSE) - MORRISSEY: https://www.youtube.com/watch?v=hqMxGBRzaYI&feature=youtu.be