06:40 am:
My timeline is empty, except there is this; a video of
Morrissey walking off mid song
. WHAT happened in El Paso to cause it to happen? I shall update during the day.
UPDATE 07:40 am:
Absolutely NO information is coming through from El Paso, except for an
instagram clip showing Moz leaving the building
. Somebody called 'B' has left a comment saying that the show was stopped because the security in the front row were being violent towards the fans, but as to whether this
was
the case or not, who knows. So whilst we wait for events to unfold, I will report on something
far
more important than an abandoned Morrissey concert, Our Mozzer's visit yesterday to The Twitterdilly Arms. After all, this blog
was
created for Our Mozzer and NOT Morrissey.
I was unable to join in with the conversation, but I was able to peek in through the window, so here are the highlights:
"a disenchanted taste, I'm still running round. Finally I wear a blue rose, sing "Trouble Loves Me" and all the while with Bruce Lee making an MW sign behind me... But nobody notices. It's like I hardly even exist. Yes you all love Nancy and Morrissey, but with NO idea to what I'm referring. Only a small group understand the reference. One day you will regret ignoring me. Or perhaps on reflection you might be glad. I named my new song after a tweet, sang live with a blue rose and did a Twin Peaks style video... But you know... I'm not Morrissey. Boy George is perhaps the only person who fully understands. And he can remember when I pledged to sing Trouble with a blue rose. Perhaps you can show him? Or perhaps Boy George already knew."
MORRISSEY WEARING HIS BLUE ROSE & SINGING TROUBLE LOVES ME IN SANTA ANA, WITH BRUCE LEE BEHIND GIVING THE 'V' SIGN OF
MORRISSEYSWORLD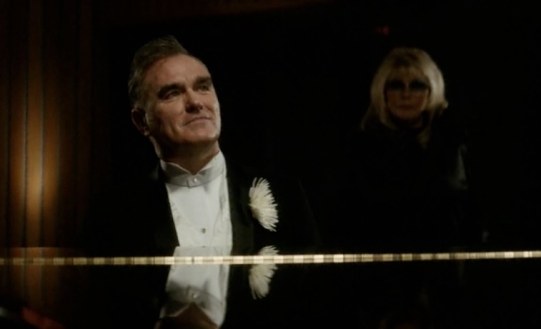 MORRISSEY AND NANCY SINATRA IN THE MORRISSEYSWORLD/TWIN PEAKS STYLE VIDEO OF WORLD PEACE IS NONE OF YOUR BUSINESS
Boy George replied to @MorrisseyParody saying, "I can't say I do. I do, however, live in hope! :)"
"@BoyGeorge Hope is wasted on the living."
"@BoyGeorge Just as life is wasted on the living."In reply to @PapaSonsFilm who had tweeted to say that "a few of us did notice"..... "Yes... fifty one to be precise." (Ed - this is a reference to the number of people who had left comment on the latest MW blog article, although it should be noted that this number has shot up to 57 comments today..... although it should also be noted that of those 57 comments, there are only 23 different people writing them, and three or four of those could well be Morrissey pesssoas, or 'members of the MW team', i.e. Broken, Poetic Morrissey and Con Morrissey Theorist.
"Success is nine parts effort and one part effortless."
"All great poetry is one word away from an Elton John lyric."
"Joey Essex is what happens when luck usurps talent and confidence usurps charm."
"@TheRatsBack Will they never believe? Will they never, ever believe us." (I did slip in a quick reply at this stage to say "Never, ever, ever, ever", which Our Mozzer retweeted.)
"@Heathercat222 Heather, despair is the only emotion with indulging."
"@Jazzissey @smashingblouse7 @TheRatsBack @heathercat222 Tweet me, oh oh tweet me.... tweet me if you think that you love the BlueRose."
Retweet of @Eddie_did_it, who had retweeted this: "Johnny Marr's singing career is what happens when confidence exceeds talent and talent exceeds shame."
"@Eddie_did_it Thanks for retweeting me... few do."
"The Arms is alive with the sound of music. And tonight's Twitterdilly Arms floor filler is... Art-Hounds."
@edgeindustphoto tweeted, "FIRST ON FLOOR!!!!!!"
"@edgeindustphoto Loyalty."
"My sense of style left me when I realised who I was."
"The nights have stolen much more from me than the days ever gave."
"Loneliness upon loneliness upon emptiness."
"A bed which screams soundlessly deep in my skull. A name which whispers longingly far, far away. He knifed me in the back. Yes, I'm dead."
"Today's tear is tomorrow's fluoridated tea."
@Rough_seas2 tweeted, "We want you to have a good time tonight. Anything we can do?"
"@Roughseas2 Perhaps exchange your ticket for a Barry Manilow show?"
Right, I had better get dressed and go to work. I have lots more to report from Our Mozzer's visit to The Arms yesterday, and hopefully news will soon start to filter through from El Paso, so tune back in later for more from the internet's Number 1 rodent Moz blogger, TRB. *Gone*
ALYSSA SADGIRL AT EL PASO.... SADGIRL IS ALYSSA'S INSTAGRAM USER NAME, NOT MY DESCRIPTION OF HER
UPDATE 10:28 am:
Still not much news from El Paso, although Dickie Felton's tour partner @whoiseuan has cleared up what all the shenanigans was about. Here is his whole twitter feed from El Paso:
7pm (local time, 2am UK) "Almost no one queing(sic) in El Paso for Moz tonight- I'm 2nd in line. Cushy barrier spot for me. El Paso is one of the weirdest places I've ever been but I've got a good feeling about this venue."
2am (9am UK) "I was trying to get on stage and was getting manhandled by security. He (Moz) shook my hand and said "I'm sorry and left. Morrissey stopped tonight's gig because his security were getting rough with me & possibly one other fan. He shook my hand and apologised. I tried to get on stage. I didn't get near him at first but Moz thought they were hurting me & stopped then shook my hand. I tried to get on stage. The security wrestled with my head and neck a bit. Moz didn't like it and stopped. I'm fine. "
2.45am (9.45am UK) "I really didn't mean to ruin anyone's night. From what I can tell Moz just didn't like the look of it and stopped to apologise. I have a little neck soreness but nothing I won't shake off. I'm at El Paso airport and flying back to LA. The trip moves on. I was being persistent, I was in a neck hold at one point. They didn't hit me, just wrestling me away."
2.51am (9.51am UK) "Er, in other news I have some pretty good photos of Morrissey, the venue and the unique crowd from tonight. It was a very good show."
3.07am (10.07am UK) Here's Morrissey starting Asleep tonight, the 2nd to last encore. Love the backdrop."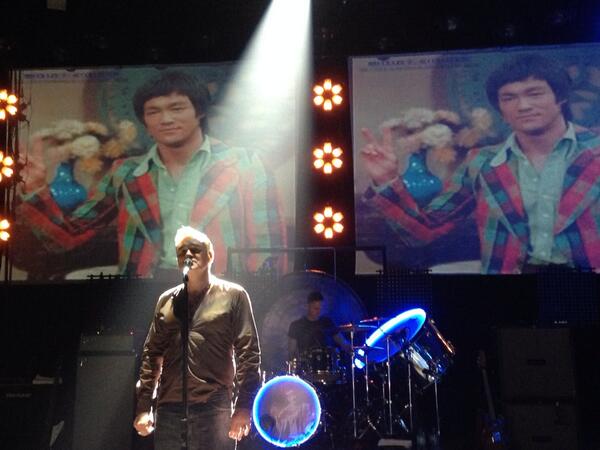 MORRISSEY AT EL PASO - PHOTO BY @WHOISEUAN
So, it would appear that it was all a bit of a storm in a tea-cup, and nothing that you wouldn't expect at any Morrissey concert. What Euan has got dreadfully mixed up is that it was NOT Morrissey's security roughing him up, that was the venue security. There is a BIG difference. Having said that, having watched the video of the incident, I had to chuckle at Liam hauling that guy off around the neck, because he is one of the people who had a go at me in New York for bringing roses. That guy (Anthony?) jumps on stage a lot, and if you jump on The Mozzer's stage, you have to be prepared for the defensive midfield pairing of Nammock and Joannides..... they
DON'T
take prisoners; although if they
did
take prisoners, then they would hand the prisoners to be looked after by the slightly psychotic prison warder, Knutson! It's a lose lose situation.
NAMMOCK & KNUTSON
It is rather ironic that Euan has mentioned liking the backdrop. Euan, old son, the backdrop is a MorrisseysWorld sign! OPEN YOUR EYES AND WAKE UP TO WHAT YOU ARE MISSING. If only Euan, Dickie, and the rest of their group had realised that the Blue Rose Society and MorrisseysWorld is the work of Morrissey, then this tour could have been so,
so
much more fulfilling for them, but like all the others, they had their chance, but chose NOT to believe.
I will return later with more from Our Mozzer's visit to The Twit Arms, and hopefully some more news from El Paso. I will also give news on how World Peace Is None Of Your Business is currently fairing in the UK iTunes chart.
UPDATE 11:00 am:
So, as we await news from El Paso, here are some more of the highlight's from Our Mozzer's visit to The Twitterdilly Arms yesterday:
"@edgeindusphoto The day is just a night, without the hope of blind longing."
"@MOZISMYSHEPHERD Don't forget - BlueRoseSociety will never die."
"The beautiful take what they want and ugly take what they need."
"If Prince Charles isn't the most unintelligent man in England, he's certainly the dimmest in Wales. Hashtag David Cameron." (Ed- The reason I have written hashtag & not actually used one is because I can't work out how to use the hashtag on my new laptop! It is shown on the same button as 3 & £. Can anybody help?)
'If you eat animals, you are eating my friends."
In reply to Heather saying, "You could sing Trouble while wearing a Bieber shirt, blue rose, & a sign saying, 'I am MW' and still they wouldn't believe", "@Heathercat222 This is a good idea. A lyric change perhaps?"
In reply to @Jazissey asking, "Are you back from the Black Lodge yet?", "@Jazissey I'm trapped there.... with R&J, Justin Bieber and Pharrell on repeat ad infinitum." Interestingly, Johnny Marr has recently collaborated with Pharrrell on the Spiderman 3 movie theme. HOW have Morrissey and Marr managed to go in such opposite directions? HOW?
"I don't do understatement. As you probably realised in 1983."
"My wit is as blunt as a spoon in your eye... you must be so wise to pass me by."
"Have you ever slept all day and remembered what it is to be truly alone, truly desperate, truly alive?"
"There will be no Stone Roses style Smiths reunion. Unless Ian Brown fancies filling in for me and 'keeping it real' once again?"
"The Stone Roses are the only British band whose musical performance is actually enhanced when the football hooligans begin singing along."
"I am beautiful, like all discarded humans."
In response to @Jhu19 asking Moz to come to Mexico, "England first, or..."
And on the subject of England, @MorrisseysMum yesterday tweeted to say, "Sans UK." Does this mean there will be NO UK tour?
I must leave once again, but will return later with MUCH MORE from Our Mozzer, and hopefully a setlist from El Paso. I have even stooped to looking at Solow, but the tumbleweed is blowing over there. Somebody has mentioned that it was the same setlist as Saturday, but with Girl Least Likely To replacing To Give. Back later.
UPDATE 1:50 pm:
How coincidental that earlier today I wrote about Our Mozzer using hashtags, and now a poster has appeared in London advertising WORLD PEACE IS NONE OF YOUR BUSINESS, but unlike previous posters, a hashtag has been added: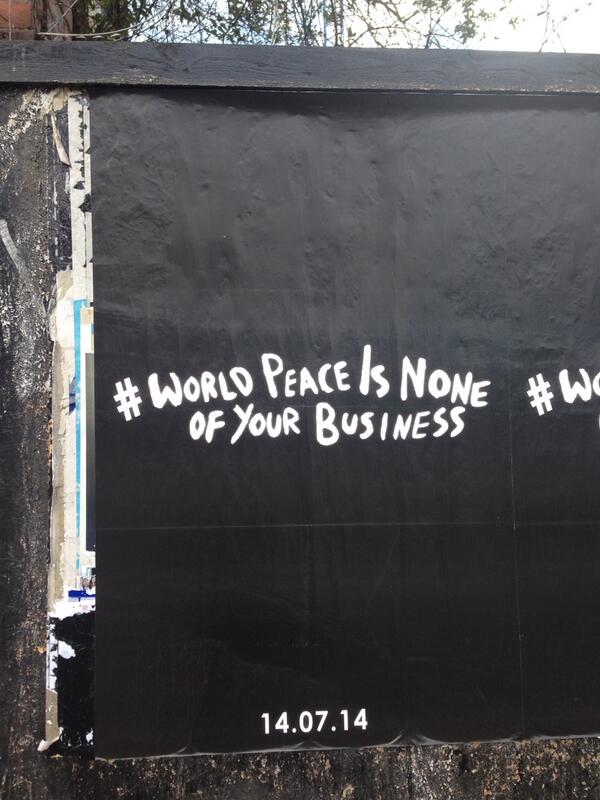 Rather amusingly, the guy who posted the above picture on twitter, @ColinGPaterson, commented to a friend that, "I suspect he (Morrissey) might know nothing about it." Colin, old son, I think we can safely assume that Morrissey knows EVERYTHING about it!
SET LIST:
1.
HAND IN GLOVE
2.
EVERYDAY IS LIKE SUNDAY
3.
GANGLORD
4. I'M THROWING MY ARMS AROUND PARIS
5.
SPEEDWAY
6. WORLD PEACE IS NONE OF YOUR BUSINESS
7. THAT'S HOW PEOPLE GROW UP
8. EARTH IS THE LONELIEST PLANET
9. LIFE IS A PIGSTY
10. THE BULLFIGHTER DIES
11. GIRL LEAST LIKELY TO
12. I HAVE FORGIVEN JESUS
13. YES, I AM BLIND
14. MEAT IS MURDER
15. TROUBLE LOVES ME
16. I KNOW IT'S GONNA HAPPEN SOMEDAY
17.
THE NATIONAL FRONT DISCO
ENCORE
18. ASLEEP
19. ONE DAY GOODBYE WILL BE FAREWELL
Right then, I'm off again for now, but will be back soon with more from Our Mozzer. I will sign off for now by mentioning that WPINOYB is currently sitting at Number 44 in the UK iTunes chart, having entered yesterday morning at 93, before peaking at 37. The pre-order album is currently at No.23, having peaked at 21.
And whilst there is no footage yet from El Paso, some more footage has emerged from Saturday's concert in LA, including the superb The Bullfighter Dies. This song is currently my favourite of the three new ones that we have heard:
UPDATE 2:35 pm:
Here is the first footage from Texas, showing Asleep, One Day Goodby Will Be Farewell, and the early finish:
UPDATE 3:05 pm:
Resident BRS Detective, Erica Calil, has been kind enough to translate the
Brazilian magazine article
that I wrote about yesterday, with regard to the WPINOYB wall. Here is what Erica has to say, "The picture was taken at La Fabrique Studios by the producer Tiago Abrahão. Tiago was advised to keep it secret until Morrissey had disclosed the cover of WPINOYB."
And on the subject of WPINOYB, the new website that I wrote about a few weeks ago has gone LIVE.
WorldPeaceIsNoneOfYourBusiness.Com
seems to be offering the new LP, signed books, Box Sets, Fanified Posters and all sorts of other goodies, but as it isn't available in the UK, I can't be totally sure!
There is however, NO news on the new website
MorrisseysWorld.Com
, which still links into TTY. Has there been a massive backtrack on this idea, or is Moz waiting until EVERYBODY knows about the BRS before launching it as the official take over of Solow? The ONLY reason that
any
decent Morrissey fan would go to Solow, is to get a setlist, and to read comments from fellow fans, but a new site offering the same thing in a friendly environment would
easily
kill Solow. The majority of people who continue to use Solow are
NOT
fans, they are critics. They seem to only get pleasure out of having a go at Morrissey, so
WHY
bother?
WHY
?
The main Solow moderator, Uncle Skinny, posted this yesterday about the new single, "I find it plodding, one-dimensional, and uninspiring. Not a quantum leap in quality." This man hasn't had
anything
positive to write about Morrissey in years, so
WHY
does he hang around?
WHY
doesn't he just look in a mirror and say, "do you know what Peter old son, I don't actually like Morrissey's songs anymore, so I'll do something else with my life rather than keep visiting a website every day just to keep telling everybody I don't like him anymore"?

WORLD PEACE IS NONE OF YOUR BUSINESS - "PLODDING, ONE-DIMENSIONAL, AND UNINSPIRING" - UNCLE SKINNY SOLOW
Anyway, enough about Solow, although a number of BRS members have been drawn back to Solow by a commentator on there called Brummie Boy, who some are suggesting might be Moz. I barely have the time to write this blog, follow the tour, and write about Our Mozzer, let alone trawl Solow for possible Morrissey pessoa's, so I will have to take their word for it regarding Brummie Boy. If anybody wants to post any of his words on here, then please do.
And on the subject of Our Mozzer (@MorrisseyParody), I shall now continue with the highlights of his twitter visit yesterday. He entered The Twitterdilly Arms at around 1pm Texas time, and stayed for about an hour. Here are some more of his highlights:
"All this effort and still.... the world won't listen."
Actually, sorry, I need a break. Back later.
UPDATE 5:35 pm:
In response to @JamesArthur23 tweeting, "the support you show me everyday is amazing", "@JamesArthur23 That's not actually the correct use of everyday, James, as I once learned to my cost."
"I may look like a slightly irked 1970s geography teacher, but at least I don't look like Ed Miliband."
In response to @PapaSonsFilm tweeting, "You may look like a slightly irked 1970s Geography teacher but at least your (sic) our slightly irked 1970s Geography teacher", "Your Islington aesthetic needs a dose of Southpaw."
"Who will you be voting for in the Euro 'elections?' UKIP I hope?"
In response to @MadAlix14 saying, "I thought we weren't voting", "You may vote in the EU elections, because it's not a proper election: it's a fact. UKIP's sole purpose is to highlight this."
In response to @Heathercat222 saying, "Because all candidates are puppets of the same corrupt system", "@Heathercat222 Correct. They represent the elite. They represent your own marginalisation. UKIP, for all their faults, do not. The people are shouting, "yes!" to UKIP and the establishment are waving their finger: "No, no! Most British people are told how to vote by their favourite newspaper."
UKIP LEADER NIGEL FARAGE - GETS OUR MOZZER'S VOTE
"@stracy1675 The British way of life: work all week; go into a coma all weekend; drink in between comas."
"@LouiseMensch I'm glad you left parliament. Your hypocrisy is much more useful outside of Westminster."
"Louise Mensch is every Daily Mail headline, all rolled into one. She is beyond parody."
"Vote Tory and... get the same old rubbish."
"@Bunnygal833 The US is a one party state, and both parties hate humanity."
"The Tories want to take your wealth and give it to bankers. Labour want to borrow, so you owe the bankers still more. When will you realise that banks simply invent money and counterfeiting is theft?"
"NOTHING could be worse than New Labour under Ed Miliband."
"Those with nothing to say and no style in saying it are the Kings of Twitter. Hashtag katyperryjustinbieberbarackobama."
In response to @MozzeriansATW saying, "I just love you", "You don't know me."
Our Mozzer retweeted @PapaSons Film's tweet that said, "You are too strict. Let Fifi run your blog."
"I'll delete the blog unless it reaches 1000 within a week." (Ed- It's currently had just 62 comments, and I posted the last two!)
"I would be perfectly happy to work with Joyce again. It's just that a drum machine offers so much more charm and better conversation. Had Joyce not whined for a million in court, he might have earned much more from The Smiths in 2014. Joyce will have to live with that decision. He lost much more than he'll ever earn."
"Thank you to Matt, Solomon, Jesse, Boz and Gus-bravo."
THE MORRISSEY BAND - NO DRUM MACHINE NEEDED HERE
In response to @OscillateWilder asking, "Why do you favour Boz so much?" "Boz is the only guitarist I know equally at home in drag or feeding one grapes."
In response to the same person asking, "Boz vs. Marr?" "Both are magnificent. Until they try to sing."
"Did you expect roses in the briefcase? It is a joke. Twin Peaks style."
That will do for today, although I have LOADS more to report from Our Mozzer's trip to The Arms. I shall continue with it tomorrow. Let's also hope we get more information from the concert in Albuquerque tonight, then we did from El Paso. The people of El Paso must have been too cool to film. Will we EVER get to know the setlist?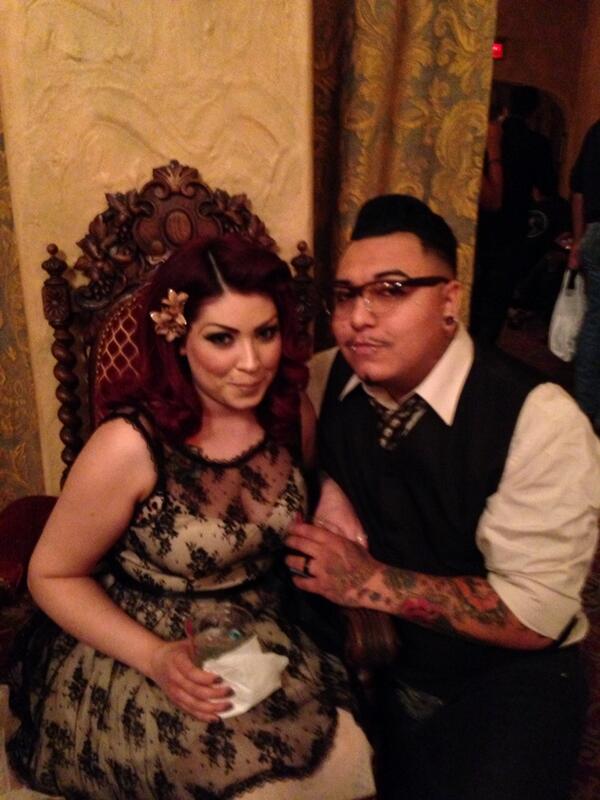 MORRISSEY FANS IN EL PASO - PHOTO BY @WHOISEUAN
STOP PRESS: Mademoiselle Fifi has just popped into The Arms, perhaps she can post the setlist. Now
THAT
would be a first.
*Heads off to The Arms singing* Arty in The Arms, Pissed off in El Paso.