MorrisseysWorld has GONE, with Parody Moz (@MorrisseyParody) announcing in 'The Arms' this morning, "If Morrissey wants me to return to Twitter, he knows what he has to do. Rat will report it on his blog."
The MorrisseysWorld blog had already closed yesterday evening, and the twitter account followed suit straight after the above tweet was posted at 7.15 am (4.14 am Utah time) this morning.
Also this morning, I deleted EVERY entry from this blog of mine; or at least I have put every entry away in a dark cupboard, and like Our Mozzer, I will
only
bring them back if Morrissey asks me to. MorrisseysWorld is dead, and FollowingTheMozziah has lost it's memory.
DEAD
Since re-opening it's doors two days ago, 'Official Morrissey' (@itsmorrissey) has posted five tweets, with the latest three from yesterday being as follows:
"Albuquerque, thank you. Salt Lake City, you're up next. We will see you tomorrow night."
"Have you seen the album + autograph book bundle? It won't be available for long.
https://store.universalmusic.com/morrissey/
"
"Are you joining us on tour?
worldpeaceisnoneofyourbusiness.com
"
MORRISSEY ON STAGE IN ALBUQUERQUE
I am sincerely hoping that the closure of MorrisseysWorld will be the cue for Morrissey to start tweeting from the @itsmorrissey twitter account, because at the moment, all we are getting from 'Official Morrissey' is corporate tweets. There was initial excitement two days ago, when it was announced by
Pitchfork that Morrissey was tweeting from the @itsmorrissey account himself
, but that excitement has subsided with these latest tweets; although the follower numbers haven't, they have now risen to 248,000.
With all the evidence from MW and FTM now gone, the decks are clear for Morrissey to start tweeting from the @itsmorrissey account in the style that we have been used to for the past three years, i.e, as HIMSELF.... whoever
himself
actually is! If Morrissey
does
start to tweet, it surely won't be long until somebody somewhere starts to put two and two together, and works out that MorrisseysWorld
must
have been Morrissey after all. Oh the irony, if all those non believers start trying to convince everybody that MW
was
Morrissey after all. There will be no evidence to support their claim. It will also dawn on people that if MW was Moz, then he must be behind the BRS too, but again, there will be no evidence to support their claims. I am salivating at the very thought.
MORRISSEY WEARING HIS BLUE ROSE IN SANTA ANA
I will continue to write my blog in the same style as I always have, and our little band of outsiders will be able to share our observations and thoughts, but I shall probably delete each entry after 24 hours, including this one. Nobody will be able to prove anything, it will all be speculation.
MEMBERS OF THE BRS DANCING IN THE ARMS (L TO R) TRB, WILLOW AND LOUGHTON LIL
If Morrissey
doesn't
start tweeting with @itsmorrissey, then FTM will
probably
close. I started writing this blog to chart the phenomenal story of MorrisseysWorld, not to start a new Morrissey fan site. Hopefully MorrisseysWorld.Com will open soon and offer an alternative to the hatred and vile of Solow. I have enjoyed posting Youtube clips from concerts, but ultimately people can find these for themselves, they don't need me to share them. I will continue to write
only
if something emerges from a concert that is either MW or Blue Rose Society related, and that could very well start tonight, as the BRS Vice President, Vulgar Angie attempts to hand Morrissey a BLUE ROSE on stage at the rather grand looking Kingsbury Hall in Salt Lake City in Utah.
KINGSBURY HALL, SALT LAKE CITY UTAH
Before I sign off for today, here are the highlights from Parody Morrissey's visits to The Arms over the past 24 hours. There were a number of visits, and quite a lot of dialogue, so I will only share some of his words:
The Twitter Highlights of @MorrisseyParody 15th May 2014:
"My new album is my finest album."
In response to Vulgar Angie asking if he was in Utah yet: "I'm in a bedsit with a mobile connection; he, on the other hand, might well be."
In response to Rosy Mires mocking us: "FollowingTheMozziah: a blog devoted to proving that I'm Moz (when I'm not) and TRM isn't Moz (when he is). Genius. Why can't they just get it into their heads that I'm some bloke with a hairy back?" (Ed- I don't follow @RosyMires, so I have no idea what she has tweeted, but I am presuming that she believes that Morrissey has posted the tweets on the @itsmorrissey account. Well she would, wouldn't she, it has a blue tick!)
"@itsmorrissey Don't be half-hearted Morrissey. Either give your heart to twitter, or don't tweet."
"@itsmorrissey Announce the UK bits and pieces!"
"Laura Palmer, we love you."
"Twin Peaks is none of your business."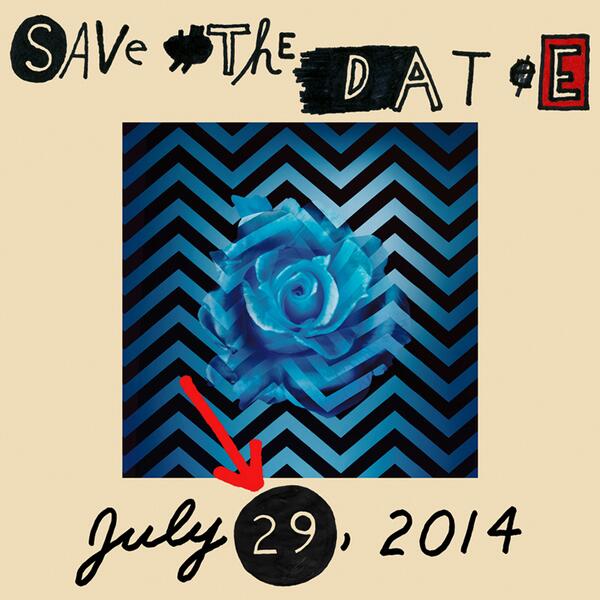 PICTURE FROM @DAVID_LYNCH TWITTER PAGE. POSTED YESTERDAY
"Vote for Britain, not for Scottish independence."
"Never apologise. Never defend yourself. Never be spiteful, cruel or untoward."
"The blog is dead forever unless Mozzer gives us the sign of life."
The Twitter Highlights of @MorrisseyParody 16th May 2014:
"Good morning is not a term I know. I say "hello.""
TRB: "@MorrisseyParody For FUCK'S sake delete this account and get yourself tweeting as @itsmorrissey. The masses need this."
In response: "@TheRatsBack Ask @itsmorrissey to give me his account, and I shall. I could tear up the Twitter script in 7 short days."
"Single named after a tweet. Log Lady predicted he'd be on twitter in 2014. Novel - tick. Nobody notices."
"The fake Morrissey is quite real, while the genuine Morrissey appears rather synthetic. British irony?"
"The heart is heavy with imaginary sin and quite real integrity."
"It's a miracle that I haven't run out of wit. Three years in and somehow I'm still finding new ways to demean myself in a public spectacle."
"I've contributed more wit than Wilde and something Twitter has never seen before: intelligence. Yet... I sink without trace."
"Perhaps @itsmorrissey and I should swap accounts?"
'It's a strange world, a lonely planet, a sphere of utter contempt."
"I just can't help it... cheesy wotsits."
"I turned my back on fame in 1990. Since then I've sought to make music and succeed in my field while studiously avoiding 'fame.' Fame is for pop stars and popular writers, not for artists. The irony of fame is that the truly famous are those great people we remember who shunned the media. Artistic integrity minus fame = mystique. The more one seeks fame, the more one will be remembered for one's trivial life and not for one's meaningful art. My life is only a show. It is nothing more. I don't live. I exist. Music is my life, and singing is my blood."
"And then... he was gone. Soon you will only remember me as a vague dream."
"And now.... farewell"
"My life is a show with no encore. Goodbye"
And then he was gone. There is one other tweet that I should mention:
"You will all be rather surprised later this week."
And here was a word of encouragement for Morrissey from @whoiseuan, the young lad who Morrissey came to the rescue of in El Paso, when the security were strangling him:
Fuck off Moz parody account and your delusional pathetic cult, you won't be missed. Don't give a fuck if any of you are offended
Before I sign off for today, BRS member, GWO left this comment on yesterday's blog, regarding the
spoken Morrissey video
: "The video for "World Peace Is None Of Your Business" is the first in a series of spoken-word performances directed by Natalie Johns and filmed at the legendary Capitol Studios. The short film features a cameo by Nancy Sinatra and is streaming at iTunes." FIRST IN A SERIES OF SPOKEN-WORD PERFORMANCES. How many of us had read that press release and not picked up on that? Well done GWO.
And finally, Mademoiselle Fifi has also left us. All eyes on @itsmorrissey.
Goes off singing *I take the cue from certain people I know, I use the cue and then I hand it on to you