*Comes in singing* It's really laughable, a-ha ha ha ha ha, a-ha ha ha ha, a-ha aha ha, oh o o, a ha ha ha ha
The following statement was published yesterday on True-To-You.net:
16 May 2014
I would like to stress that I do not have either a Twitter or a Facebook account. I gather that a Twitter account has been opened in my name - as 'It's Morrissey' - but it is NOT Morrissey. I do not know who has opened this recent Twitter account, but please be aware that it is bogus. That's, of course, if you should remotely care.
Untwitterably yours,
MORRISSEY
Salt Lake City
15 May 2014.
Can one actually laugh one's head off? Is it physically possible? I do hope not..... I'm scared. The above statement, as Loughton Lil pointed out in the comments section of yesterday's blog entry, is
pure
parody. The funniest part of the statement is the fact that Morrissey has called the twitter account "It's Morrissey', as though he has no idea that twitter accounts can't have apostrophes in them. I just can't stop smiling to myself, you
REALLY,
REALLY
couldn't make this up.
The other part of the statement that had me spitting my morning tea as I read it, is the part that says, "but it is NOT Morrissey." It is of course grammatically incorrect, it should read, "but it
is
'Not Morrissey', with 'Not Morrissey' being the name that Morrissey has been using to tweet for the past three years! The three other funny parts to the statement are, "I gather", which suggests that Morrissey has only found out about this bogus account through a third party, "I do not know who has opened this recent Twitter account, but please be aware that it is bogus", and "Untwitterably yours." A-ha ha ha ha ha, a-ha ha ha ha, a-ha aha ha, oh o o, a ha ha ha ha.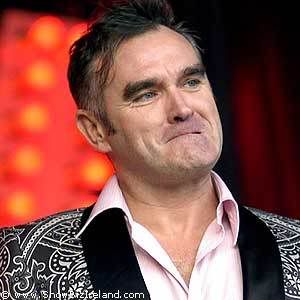 "YOU BOY, WIPE THAT SMIRK OFF YOUR FACE"
'Not Morrissey' (aka Our Mozzer & Parody Moz) had suggested to us the other day in The Arms, that he would write a parody piece about this new twitter account, and you can just picture the scene of Boz Boorer informing Moz that
somebody
has opened a twitter account in his name. I guess the only reason Moz
hasn't
written us the new parody piece, is because I have closed down all my old blog pages, so he has nowhere to post it. He can't email it to me, because the Morrissey who occasionally emails me is The
Real
Morrissey, and NOT '
Not
Morrissey', so emailing it would be an admission by Moz that he
is
'Not Moz', which he will NEVER do! Are you still with me?
The TTY statement has caused all sorts of eruptions, and it has also brought a halt to the rapid rise of new followers to the @itsmorrissey account. They have stalled at 248,000.
The question that everybody
should
be asking is,
"HOW
can Morrissey possibly not know anything about this account? Is he suggesting that the record label people have opened the account without his permission? Is he suggesting that the 'rep' who issued the statement to the media saying that it really
is
Moz tweeting, is lying? Or, is Morrissey suggesting that the account has been hacked?
If Morrissey
is
suggesting that the account has been hacked, or indeed being used by somebody within the record label without his permission, then it paves the way for 'Parody Moz' to start tweeting, which would bring Our Mozzer to the masses. Follower numbers would soar as Our Mozzer lays into celebs, self deprecates, and spouts his Mozzean wit. It wouldn't of course last for very long, because the impostor will have to be stopped, but while it is going on, surely
some
of those 248,000 people will ask the same sort of questions that the 'Deluded Dozen' asked, and
surely
a journalist
somewhere
in the world, will write that they don't believe the TTY denial, and that they believe it
IS
Morrissey tweeting? This story could be huge. It's genius, f******* genius. But will it happen?
Yesterday's TTY statement is also reminiscent of the TTY statement of 2011, when Parody Moz arrived on the twitter scene:
Statement
14 September 2011
Tuesday September 13
Morrissey would like to stress that he has absolutely no affiliation with the site called Morrisseysworld, and that the views expressed on Morrisseysworld blog and Twitter page are not Morrissey's views, and do not come from Morrissey. Morrissey has no connection with this site. Please beware.
Morrissey would also like to stress that he has no association with the Warner release called 'The Smiths Complete'. This project has taken place without any consultation to Morrissey, and without any approach to Morrissey from either Warner, Rhino, or Johnny Marr. Therefore, Morrissey has no knowledge of the remixes, and has had no input in the project.
Morrissey would like to thank all of the people who have - so quickly - bought tickets for his November and December US tour, which he looks forward to very much.
The point of the TTY statement in 2011 was two fold; 1) to promote the MorrisseysWorld twitter account, and 2) to promote 'The Smiths Complete'. Advertising in reverse.
This latest TTY statement could be seen as an advert for the new twitter account, but of course the denial will mean that
most
people don't see it as an advert, they will accept what they are being told, and accept that any further tweets from @itsmorrissey aren't the words of Morrissey. But what is stronger, the official blue tick of twitter that tells us that it
IS
Morrissey, or a denial by the
real
Morrissey? There could be a further twist, with Morrissey issuing a statement to the media that he did NOT make the statement on TTY fanzine, and that it was made without his knowledge. Oh the excitement of it all, but again I ask, will any of it actually happen? Time, as ever....
I only got to read the TTY statement this morning, because I went out last night to watch a Smiths tribute band called The Smyths; but I knew there had been a statement made, because the parody Morrissey form The Smyths told the audience about the statement! I was therefore informed about a fake Moz twitter account by a fake singing Moz. It becomes more surreal by the second.
In other news, a concert took place last night in Utah, with the Blue Rose Society Vice President, Vulgar Angie attempting to give a blue rose and BRS t-shirt to Moz, but it would appear from initial reports that she was unsuccessful this time. Never mind, it can't happen
every
time or it wouldn't be so mysterious.
The only Youtube clip to have surfaced so far is of Everyday is Like Sunday, and as ever, Moz and the band were on top form. Morrissey's voice is sounding stronger than ever before.
As I listened to The Smyths last night, I was reminded once again that the vast majority of Morrissey's greatest songs are his solo songs, and with the power of the new songs that we have heard, it would appear that Morrissey is at his peak.
I will sign off for today with this Youtube clip that turned up yesterday of Earth is the Loneliest Planet, from last Saturday's concert at the LA Sports Arena. The Hand That Rocks the Cradle was a great song in 1984, but in 2014, Earth is TLP is
the
song to listen to: