I had no intention of writing today, as I have an all day cricket match to go and watch, but there are a few things that MUST be mentioned today:
1. The Thrill
2. The Bore
3. The Denver Fall
4. Istanbul, Someday & Light
1. The Thrill
Yesterday morning I was absolutely thrilled to receive an
exclusive parody piece written by Morrissey for my blog
. Over a two hour period, a whole series of postings were made in the comments section of Day 966, and it turned out to be one of Morrissey's funniest works yet. I added some pictures and published the exclusive at 3.30pm. It is incredibly disappointing that to date, the piece has received just 280 hits, and 26 comments; of which only 13 of the comments are in relation to the actual parody! I advertised on twitter that MORRISSEY had written an exclusive parody piece, but as I don't even have 100 followers, NOBODY saw, and NOBODY came. One day, one day, one day.
2. The Bore
The latest Morrissey concert took place last night at the Rococo Theatre in Lincoln Nebraska. As usual, I have had to resort to visiting the Solow place to get information, because there is STILL no alternative.... Come on MorrisseysWorld.Com, the world needs you. it would appear that somebody in Lincoln made the HUGE mistake of interrupting Moz mid story, and the even BIGGER mistake of shouting "boring". It transpires that the "boring" may have been in reference to the long drive from Denver to Lincoln, but Morrissey certainly didn't see it that way, and not only refused to sing Everyday is Like Sunday, but also cut the show short, and apparently didn't speak to the audience again. This is obviously all hearsay, as I wasn't in Lincoln last night, but here is a write up from a Solower called dewdrop, along with a video clip of Everyday is like Sunday:
Setlist:
Hand In Glove
All You Need is Me
I'm Throwing My Arms Around Paris
Ganglord
Speedway
Everyday Is Like Sunday*
World Peace Is None of Your Business
I Have Forgiven Jesus
Life Is a Pigsty
The Bullfighter Dies
Yes, I Am Blind
Meat Is Murder
Trouble Loves Me
Earth is the Loneliest Planet
I Know It's Gonna Happen Someday
First off, here's the deal on tonight's controversy: After Speedway, Morrissey addressed the audience by beginning "On our drive today from Denver to Lincoln..." when an audience member yelled "It's boring!" to which Morrissey, at this point in a playful mode, responded with, "I'm sorry, I'm boring?" Then he started again "On our drive today from Denver to Lincoln..." when, you guessed it, some OTHER genius in the audience yelled, "It's boring!" To which Morrissey replied with something like, "You know what, never mind." He then turned his back to the crowd as Everyday Is Like Sunday began. When the time for the first verse began, and the entire audience was singing it, Morrissey refused to sing. He motioned to the crowd to continue and even then said, "You do it... I'm too boring."
The show was off to a rip-roaring start with Morrissey's voice sounding as good as I've ever heard it. Yes. I'm not sure if the day off helped or some vocal coaching after last year's ailments, or what...all I know is that Morrissey's voice is even better than we all know it is. The energy was amazing, the band was tight, Mozzer was on a roll before the audience interruptions began...and sadly, that's when ALL the wind was taken out of the sail of this concert. Not one time for the rest of the set did he say another word into the microphone. Thankfully, he was a professional and continued to give each song his vocal best...for which I was grateful because his voice sounded great. But, he spent more time with his back to the audience for the remainder of the show than he did facing it. No more handshakes. Nothing playful with the band. He clearly felt seriously disrespected.
Background on this part of the country: EVERYONE who lives in Nebraska has grown up with this line in their repertoire: "I love going to Colorado, but the drive from here to Denver is SO BORING!" I'm not kidding when I say everyone says and/or thinks that. It's one of our colloquialisms. Unfortunately, there is NO WAY a dude from Manchester, England could be aware of this. So when these guys were yelling "It's boring" they were trying to finish Mozzer's sentence "On our drive from Denver to Lincoln today...IT WAS BORING." What Moz interpreted...and why wouldn't he?...was "This little story you're trying to tell is boring." I'm assuming he was going to go with the "On our drive from Denver to Lincoln today it was sad to see so many cows in so many feedlots," etc., given a similar post from his show the other night. But we'll never know, now.
Fully annoyed, Moz cut Everyday Is Like Sunday short...just stopped it before the grand finale. Inbetween songs you could sense the crowd was getting worried about the whole "boring" exchange and people began yelling, "The DRIVE is boring, NOT you, Morrissey!" But he wasn't listening, and it was never resolved.
As I Know It's Gonna Happen Someday was beginning, Morrissey walked to the back left corner of the stage and said something in the ear of the stage manager. I was hoping that it was, "This is our last one before the encore." But alas, it was "This is our last one OF THE NIGHT." As ...Someday ended, Morrissey left the stage, the lads finished the music and walked off, and the dreaded opera music began as the house lights kicked on and the tour crew ran onstage and started unplugging everything. A very hopeful crowd stuck around for 15 minutes cheering and screaming for Morrissey, but the folks who had been to Morrissey concerts in the past knew good and well that it was over.
My take on the exchange is this: Morrissey has earned the right to expect respect from an audience when he's trying to say something to them. Period. The drunk assholes who thought they were being funny by screaming out "It's boring" are the ones to blame for tonight's amazing-then-turned-dud show. Morrissey played the remainder of his 15-song pre-encore set as he did the prior two shows, but, and rightly so, he chose not to come out for an encore. Encores are rewards for fans who were awesome during a concert.
There are going to be "Morrissey is a diva" stories all over the place on this one, and I believe that storyline is unfounded.
Tidbits, in no particular order:
*Meat Is Murder was incredible. I believe this band's rendition--on THIS tour--is better than The Smiths'. The video is powerful and just fine.
*The Rococo Theater is an old, downtown opera-house-style theater that has the beautiful, ornate decor. The problem with it, however, and I'd be curious to find out if this also roiled Morrissey a bit, is that the back-half of the floor section is full of permanently built-in restaurant-style tables and chairs and restaurant-style booths and tables. It's my understanding when this venue was remodeled in recent years they added this permanent seating because they wanted to host wedding and business receptions. 90% of the people, I'm told, who had reserved seats at these tables sat for the entire show. It's not like they were being disrespectful or not "into it," but rather the configuration just didn't allow for it. So between the stage and this "sitting" area you had the typical "orchestra floor" area for the standing crowd. But from my seat (first row, center of the balcony) the orchestra standing area looked half full. From the stage you would have seen a decent standing crowd, then a space in the floor, and then half a room seated in tables and booths. The entire balcony stood for the whole show, and it was about 3/5 full. Not an ideal venue, in my opinion. (Reminded me of the debacle in 2007 in Atlanta when Morrissey played an outdoor venue with permanent eating tables filling the area where normally you'd stand--that was later blamed on his manager not researching the venue better.)
*Seen Kristeen Young open 4 times now. The first 3 I'd describe as terrible. This time: Great. The difference? She added a bass player and drummer so now the songs have some much-needed dynamic rhythm support. She looked and sounded quite amazing, really. It was a nice surprise and left me asking the question: Who in pop music right now can claim to be a BETTER singer than her?
*They release some sort of perfume/cologne scent before Morrissey comes out. It was subtle, but it was wonderful. Might be easier to detect in the balcony versus the floor, but there's no doubt something was emitted for effect.
*There will be little changes to the setlist as there is a highly coordinated light show that now is synced with every song. Lights going on/off on specific downbeats of specific songs, etc. Of the live shows in which I've seen Morrissey, this is BY FAR the most coordinated, comprehensive "show."
*The new songs are amazing live.
*People have been critical of the show not having enough "rockers" or that the back-half of the setlist loses momentum. I completely disagree. If you're there to see/hear Morrissey...this is a GREAT setlist. Plus, the band (Boz?) have changed up the normal arrangements of the regulars so they sound quite fresh.
*Was honored (and then a little disappointed in the outcome!) to have my 14 and 13-year old daughters with me, attending their first concert. Their reactions when Moz took the stage were Top 5 moments for me. In the end, these concerts are amazing when one considers, as my 13-year-old put it, "I can't believe I'm in the same room as Morrissey singing Life Is a Pigsty with him."
#teamMorrissey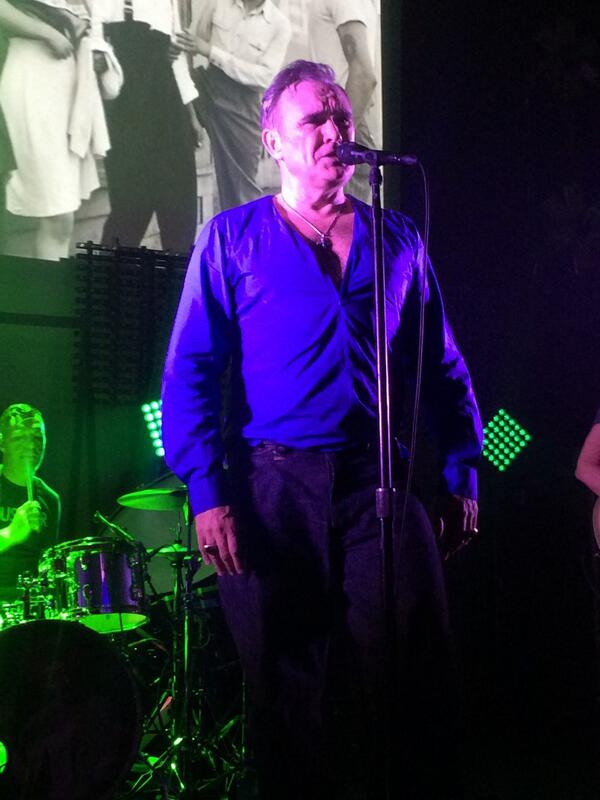 MORRISSEY - LINCOLN
EVERYDAY IS LIKE SUNDAY:
The only other video to emerge from last night is this superb rendition of
I HAVE FORGIVEN JESUS
, which I once read somebody describe as "probably one of the best songs ever written by anybody ever!":
3. The Denver Fall
Morrissey took a tumble during the encore in Denver on Saturday night, but he bounced back up, saying, "We're tough. I can take it":
I listened to the whole audio of the Denver concert whilst laying in the bath on Sunday evening, and it was one of the best. Morrissey seemed in excellent spirits, and opened the evening by announcing, "If yore lOOking for Trouble, you've come to the right place", and after singing Trouble later on in the evening, Moz signed off with a "merci", which some of the Blue Rose Society members have taken as a nod to the BRS, because Trouble is our theme tune and..... we are ALL French; well, at least our resident Can-Can girl, Fifi is! Every song sung in Denver was a belter:
BLIND:
SUNDAY:
MEAT:
ASLEEP:
4. Istanbul, Someday and Light
Three new videos have emerged, including the new spoken word video for Istanbul, which once again, is
VERY
David Lynch, and the mysterious V.M.B has left this comment on yesterday's FTM blog entry: "It must be noted that the persistent clicking of the record player which has finished a record at the end of the Istanbul promo is coincidentally a hint to Twin Peaks. Over on twitter, the director of the said promo, Natalie Johns (@DigForFire), has told @EricaCalil, "We shot it in Frank's old studio but it's not him on the gramophone - that's an old record I found by Henry Burr." I have sent a tweet to Natalie asking if Morrissey had told her he wanted a "Twin Peaks feel". I wonder if she will reply to me?
The new Istanbul single has also been released, and it is a very moving song about a brown eyed boy whose mother dies during childbirth, and whose father is too young to look after him, so the boy lives as a prostitute on the streets of Istanbul. The story is told from the point of the father who wants to find his son, but by the time he does find him, he is laying in a coffin. It's a sad but beautiful song. Will it reach higher than Number 83 in the UK chart? Who cares? Who cares? Who cares?
Another video to appear on Youtube yesterday, is a new PETA cartoon, which has I Know It's Gonna Happen Someday playing, and shows the story of how chicks and chickens are killed. The aim is to get people to turn vegan. Some of us have to stop eating the chicken before we think about the egg. It's an addiction, and a hard habit to break, but one day, one day, one day. :
And I shall leave today with Miley Cyrus, who last night sang There is a light that never goes out. Miley has quoted Smiths songs before, so is obviously a fan. How long before Justin Bieber discovers Moz? One day, one day, one day.