The sun is shining, and today I will be playing in my first cricket match of the season, so this will be another quicky.
AGENDA
1. Concert
2. Istanbul
3. The Twitterdilly Arms
1. Concert
There is very little information filtering through from the Morrissey concert at Liberty Hall in Lawrence Kansas last night, although according to reports, Morrissey tossed his shirt into the crowd for the first time on this tour. Could it be that Morrissey responded to all the requests of the female members of the Blue Rose Society? Frink Moz has returned.
Morrissey allegedly opened the evening by saying, "You can do anything you want to me, but don't send me back to Lincoln Nebraska". This comment led
that woman
to tweet, "Sigh. Sad for the Moz fans there. Roman justice. One or two misinterpreted, probably well-intended, badly-timed shout-outs. Whole audience punished. Sad." Uncle Scummy would be proud of her, and would have been further impressed by another tweet which read, "After Lincoln, worried. People of Flint best get word-perfect on all songs and only shout out the words "I love you Moz".
HOW
do Morrissey fans manage to turn so bitter towards him?
HOW?
And
WHY?
It would appear that Lawrence received Lincoln's encore, as Morrissey opened the show with One Day Goodbye Will Be Farewell. You have to smile. If the setlist from Setlist.Com is correct, it looks like I Know it's Gonna Happen Someday was dropped from the set yesterday, but there was a welcome return for National Front Disco, although as there is no Youtube footage of ANY song, I suppose it is irrelevant to me if it was played or not!
One Day Goodbye Will Be Farewell
Speedway
Ganglord
I'm Throwing My Arms Around Paris
Earth Is the Loneliest Planet
Everyday Is Like Sunday
The Bullfighter Dies
Hand In Glove
The Youngest Was The Most Loved
Life Is A Pigsty
Trouble Loves Me
World Peace Is None Of Your Business
Yes, I Am Blind
Meat Is Murder
The National Front Disco
Encore:
Asleep
First Of The Gang To Die
MORRISSEY IN LAWRENCE KANSAS
2. Istanbul
The new Istanbul single is now available for the whole world to buy, and despite having had NO promotion whatsoever, it is currently sitting at Number 63 in the UK I tunes chart. Morrissey hasn't yet played the song live, and hasn't even mentioned on TTY that it is available to download. I wrote last week that it would be interesting to see if Istanbul fairs better in the chart than WPINOYB, seeing as NOBODY has had the chance to download it for free, although I have noticed this morning that 'TheAmbitiousOutsider' has loaded the song onto Youtube, which means that a number of people will no doubt download it for free, thus effecting it's chart position. The music industry has got a long way to go to stop piracy.
Natalie Johns (@DigForFire) has responded to my question about the spoken word videos having a Twin Peaks feel. Here is her reply: "We wanted to do something different. It was Morrissey's idea to read his lyrics, I created the stories and mood around them. There was no mention of a twin peaks mood. I did however want a more surreal tome to the films. I like the reference though! I can't remember the name of the Burr track - it was in a collection of very old records I found with the gramophone."
3. The Twitterdilly Arms
I have run out of time. I shall have to write about yesterday's visit to The Arms by Fifi, Astraea and the new pessoa, '@TheRatsTalisman' tomorrow.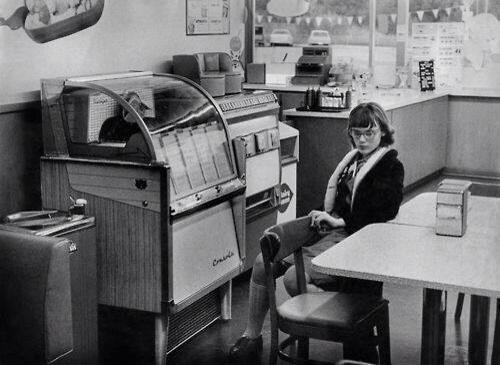 LOG LADY (IN HER YOUNGER DAYS) LISTENING TO THE JUKEBOX IN THE TWIT ARMS