My twitter timeline is full of birthday wishes for Morrissey, who turns 55 today, but I didn't start writing my blog for Morrissey, I started writing it for the genius who is behind MorrisseysWorld, and although he is probably too modest to mention it, I am guessing that today is
his
birthday too, so to the hairy-backed bedsit dweller, if you happen to be reading this, "HAPPY BIRTHDAY YOU OLD ****!" And what better present to give a hairy-backed loner in a bedsit, than a song about blow-up dolls.... In Every Dream Home a Heartache:
Interestingly enough, it was brought to my attention yesterday; whilst reading concert comments on Solow... but don't tell anybody, that one of Morrissey's pre-concert videos is The Seven Deadly Finns by Brian Eno. I was not familiar with this song from 1974, but having now listened to it, I have discovered that it is a song about.... FRENCH GIRLS! This has to be a Morrissey nod to Mademoiselle Fifi, Astaea, and the Twitterdilly Arms, it just
has
to be!: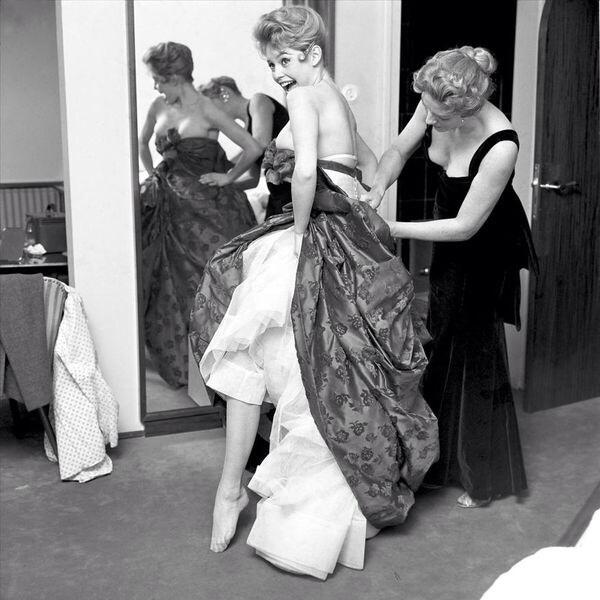 BB - A FRENCH GIRL WITH ROSES ON HER DRESS
Right then, birthday wishes have been sent, so I shall now turn my thoughts to MorrisseysWorld and Morrissey's World?
The MorrisseysWorld blog remains closed, and there has been no sign of @MorrisseyParody in The Arms. We shall have to see if he pops in for a birthday drink! The website MorrisseysWorld.Com is still linking straight to TTY, so
still
nobody knows if this website and associated twitter account is anything to do with MorrisseysWorld or Morrissey's World... or NEITHER! Is it going to be a parody account, i.e. MorrisseysWorld but on a more professional scale, or is it going to be a Morrissey backed site to replace TTY, or perhaps it is going to be a fan site to replace Solow? Nobody knows.... well,
SOMEBODY
knows, but as yet there is still NOTHING! I was hoping that the website might have sprung into life on Morrissey's birthday, but that hasn't happened.
So, with MorrisseysWorld remaining quiet, what about Morrissey's World? There was no concert last night, and still no Youtube footage has emerged from the Liberty Hall concert in Lawrence, but that is hardly surprising bearing in mind that ALL videoing/photographing equipment was banned.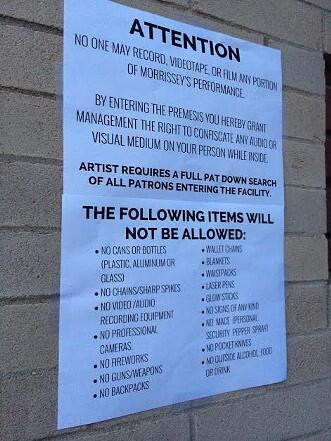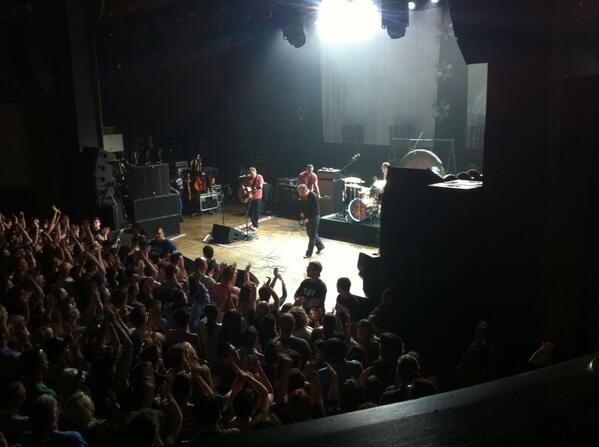 The only footage I have seen at all from Lawrence, is an Instagram clip of
First of the Gang to Die
and a brief piece of Ganglord on Youtube:
And whilst on the subject of Ganglord, a clip of it being sung in El Paso on May 13 has at last found it's way onto Youtube, along with a number of other songs from that concert, including Girl Least Likely To, which hasn't been sung at any other concert on this tour. Morrissey opens Ganglord with a couple of "God help me"'s:
GANGLORD:
SPEEDWAY (INCLUDING A SORT OF BARKING NOISE DURING THE PAUSE!):
GIRL LEAST LIKELY TO:
GLOVE:
SUNDAY:
Yesterday I wrote that Natalie Johns had tweeted me to say that Twin Peaks had not been mentioned by Morrissey during their discussions for the spoken word videos, but what I forgot to mention was that according to Natalie, four were shot in total, and there is a "great surprise in the final one." Presumably the final one will be for Earth is the Loneliest Planet. We like surprises around here.
I also wrote yesterday that there has been a new visitor to The Twitterdilly Arms, in the shape of @TheRatsTalisman. I presumed that Talisman was another Moz pessoa, only because as soon as Talisman had come and gone, Mademoiselle Fifi and Astraea both turned up, but I am now wondering if that was just a coincidence; after all, coincidences happen a lot around here. I note form my twitter timeline that Talisman, Fifi and Astraea appeared in The Arms again yesterday.
Talisman arrived in The Arms on Tuesday, asking Parody Moz to give a sign to ME! I have no idea what sort of sign my Talisman is asking for, but we shall have to see if his request is granted. Talisman also came bearing a gift; a new t-shirt design, which combines the Twin Peaks blue rose, with the wording given to us by Fifi.... or was it Parody Moz... or Astraea? I genuinely lose track of who says what around here! Here is Tali's design:
THE PERFECT BLUE ROSE SOCIETY SHIRT, COMBINING TWIN PEAKS WITH MORRISSEYSWORLD
I am hoping that either @MadAlix14 or @Heathercat222 will get the shirt made, and get it to Moz. Tali suggested another idea, "Perhaps an LP with a "Blue Rose" on the cover may get Moz's attention. Then offer the rose. 1 good LP sized print inside a plastic dust cover with the LP may do the trick. I am thinking getting Moz's attention and interest is most of the battle. Then he may accept."
On Talisman's second visit to The Arms, he brought with him these rather amusing photos:
Talisman also offered these words, "I ask @MorrisseyParody to grant @TheRatsBack a sign." He also added, "Decisions. Should I wear a red suit to the shows and wear a mask like in Twin Peaks, or just roll with a tee shirt and my leopard print pants." Actually, as I re-read through these tweets, I have changed my mind, I DON'T think Talisman is a pessoa after all. A certain person would NEVER write tee shirt, and he also posted a photo of him holding a tarot card. Those fingers are all wrong, as are the
dreadful
wooden rails behind!:
Fifi's visits have been fairly brief. On Tuesday she criticised my French, instructing me to "Give up"!
Astraea on the other hand was more annoyed at @BestOscarWilde, asking, "@BestOscarWilde WHY is this on my TL from you "Ever got drunk and texted mom fantasies about GF?"?! You are perhaps Wilde's Worst Nightmare."
I guess that the person behind the @BestOscarAccount has let their own personality get in the way of the part they are supposedly playing. This also happened last Friday, at the Smyths concert I went to watch at the Wedgewood Rooms. During the set, the guy playing the part of a '1983-1987 Morrissey', decided to call UKIP "scum". Not only were UKIP not in existence between 1983-1987; thus leaving his comment out of context in the role he was playing, but also, both TRM and Parody Moz have shown support for UKIP, which means the Smyths singer has not done his homework very well.
Morrissey told Loaded magazine in an
interview last year
, "I nearly voted UKIP. I like Nigel Farage a great deal. His views are quite logical - especially where Europe is concerned." Parody Moz echoed Morrissey's views
last week
, stating "Who will you be voting for in the Euro 'elections?' UKIP I hope?"
Apart from the Smyths lead singer not playing his role very well, I had an enjoyable evening, with the highlight being What Difference Does it Make. Will Moz EVER sing it again? The next time I will be visiting the Wedgewood Rooms, is in August, to watch Johnny Marr. I was hoping that Mademoiselle Fifi would be accompanying me, but she has blown me out. Perhaps she has a Can-Can lesson on that day. I will be going to watch Johnny Marr with an open mind, but sometimes I do think he is trying just a little bit too hard to be cool. The other day on twitter, JM was asked by @AChubbySquirrel "out of all the bands you've been in, which one was your favourite?" Johnny relied, "My new one and Modest Mouse." Hmm.
Astraea's other contributions in The Arms have been mainly music related, with her, as always, playing the best songs on the jukebox:
When I went to bed last night, Morrissey's touching new single, Istanbul, was sitting at Number 106 in the I tunes chart. This morning, it has disappeared from sight, so I think it is safe to say that it won't be troubling the chart on Sunday. There has still been NO promotion whatsoever for it, NO live plays of it, NO physical release, NO reminder through TTY that it is available to download, and the record company have
still
not removed the song from Youtube, so the world and it's wife are able to download it for free..... if the world and it's wife happen to want it!
Tonight, the birthday boy will be singing in Dallas Texas. There have been NO blue roses at the last few concerts, and I don't know of any BRS members going to watch in Dallas, so there will no doubt be NO blue rose there either. WHERE is the next blue rose coming from?
BLUE ROSE CAKE BY WILLOW, BIT WHERE IS THE NEXT ROSE COMING FROM?
The Twitterdilly Arms is open for an all day private function..... Parody Morrissey's birthday! Actually, it ISN'T private, it is very much PUBLIC, but I doubt many will come. Will Parody Moz even come? Today is also Euro Election Day in the UK, and although I never vote, I might just pop into the polling station on my way to the Twit Arms, and cast a vote for Moz..... for UKIP. I doubt anybody else will give him their vote for his birthday..... OR buy his latest single for that matter!
Goodnight.
11:12 STOP PRESS: Radio 2 have just played Morrissey's spoken word version of Istanbul..... but DIDN'T play the actual song! ****s!