Appearing on twitter with a big corporate tick of approval as '@itsmorrissey', was NEVER going to be for Morrissey, but it really is extraordinary that he has been able to use twitter on an almost daily basis for the past three years, without either his fans or the media noticing that he is doing it.
It was on September 14 2011 that Morrissey first announced, in his own subtle way, that he had joined twitter
, but despite me writing about it EVERY DAY (EVERYDAY?) since, and despite my blog having had 493,554 hits, Morrissey
still
manages to come and go on twitter completely unseen. He is right there, in full view of the whole world, and yet he somehow manages to remain hidden.
The current pseudonym/pessoa that Morrissey is using, popped into The Twitterdilly Arms yesterday evening, and once again mixed freely with the 'Dreary Deluded Dozen'. Morrissey actually has the grand total of 52 followers on twitter, although the 'DDD' are the ones who interact with him, and KNOW who it is they are following. Actually, before I go on any further, as this whole phenomenal story will one day be uncovered, I shall take this opportunity to list the 'Dreary Deluded Dozen' and the rest of the 'Deck of 52' who are currently following Morrissey on twitter. One day, these few will be able to say, "I was there".:
1. @OdysseyNumber5 (Harrison. DDD & BRS member)
2. @Bunnygal833 (Nicole. DDD & BRS member)
3. @caterita2008 (Romina. BRS member)
4. @loughtonlil (JG. DDD & BRS member)
5. @heathercat222 (Heather. DDD & BRS member)
6. @RFerenzi (Roberto. Observer. Not a member of the BRS. )
7. @smashingblouse7 (Willow. DDD & BRS member)
8. @AIRRAID25 (EARS. DDD & BRS member)
9. @LizzyCatMoz (Lizzy. DDD & BRS member)
10. @Rough_seas2 (Netty. Unknown what she thinks but presumed a BRS member)
11. @Starlight_Bliss (Jen Coates. No idea who this is)
12. @TheRatsBack (Rat. DDD & BRS member)
13. @southkirk (Kirky. BRS observer)
14. @MOZISMYSHEPHERD (Brian. DDD & BRS member)
15. @Jazissey (Jjazmine. DDD & BRS member)
16. @mancldmozfan (Woodhouse Park. DDD & BRS member)
17. @FadingGoldLeaf (Astraea. Goddess)
18. @Its_Mike (Mike. No idea who this is)
19. @tabootlb (Tracey Brown. Observer)
20. @stracey1675 (Stephanie. Observer)
21. @Menippus (Kevin Stoba. Intellectual)
22. @nothingtoclever (Robert Couture. No idea who this is)
23. @YunaraGunarso (Yunara Gunarso. DDD & BRS member)
24. @MozzeriansATW (Rosy Clover Dean. DDD & BRS member)
25. @girlwithout (GWO. DDD & BRS member)
26. @GorillePere (Gorille Pere. No idea who this is)
27. @IngeKersten1980 (Inge Kersten. No idea who this is)
28. @Piccolo_Sings (Nikki Marie. No idea who this is)
29. @rzulka (Rzulka. Observer)
30. @Fancys123 (Fancy. A grandmother (Hmm) & BRS member)
31. @ChloRS (Chloë. No idea who this is)
32. @MadAlix14 (Max. DDD & BRS member)
33. @BlueRoseSociety (!)
34. @willbh94 (Will Hemsley. No idea who this is)
35. @kie123star (Kieran. No idea who this is)
36. @NastyAmes (Anastasia Ames. BRS member)
37. @TheeOtherBill (Jack Shet. Secret BRS member)
38. @Bubo_The_Owl (Styro Drone. No idea who this is)
39. @beabastitabs (Caroline. No idea who this is)
40. @edgeindustphoto (George. DDD & BRS member)
41. @Oystein_David (Oystein D Johansen. No idea who this is)
42. @Denisc1962Denis (Denis Carroll. No idea who this is)
43. @MeIsSorry (Mysterious BRS member)
44. @GirlOnBike1102 (Sabine Maltby. Former BRS member currently serving a lifetime ban)
45. @NotRightMadster (Maddy Madster. No idea who this is)
46. @comradeharps (comrade harps. DDD & BRS member)
47. @geniussteals (Robert Neville. No idea who this is)
48. @MOZKIDKYLE (President of the BRS)
49. @TheRatsTalisman (Talisman. Believed pessoa of Jack Shet)
50. @_Awake13_ (Aaron Reyes. No idea who this is)
51. @mecaniqueorange (Orange. Believed pessoa of Jack Shet) - *Amended (An individual)
52. @shopliftersmag (A Smiths fanzine)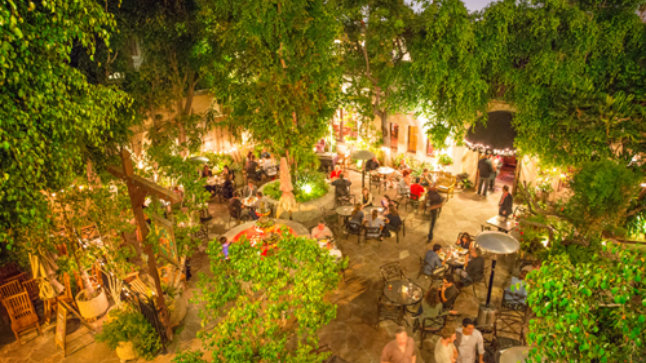 THE TWITTERDILLY ARMS
Yesterday's visit to The Twitterdilly Arms by Morrissey was fairly brief. I was accused of making up the tantrum that I mentioned yesterday, and there was also this rather amusing quote, "I never cause trouble, I don't have tantrums and I hate drama." Morrissey left The Arms with a song, Ring of Fire by Johnny Cash:
This choice of song had me immediately speculating that Morrissey might be planning to either WEAR the BRS ring on stage in Memphis, or perhaps even
sing
Ring of Fire as a tribute to Fifi (the BRS element of fire) and the BRS. Early indications are that
neither
of my speculations came to fruition in Memphis last night, although as there is NO Youtube footage whatsoever of last night's show, who
knows
? It has been reported that security was particularly tough, with NO filming allowed, so I guess we will never find out if the ring was worn.
STOP PRESS: A certain somebody has just dragged me into the toilets of the Twit Arms, and informed me that, "Ryman was a former house of the Grand Ole Opry, hence the Johnny Cash song at Grand Ole Opry. And 'ring of fire' because I am fire. You got confused with the ring but it wasn't meant to confuse you. Or anyone." So, NO RING, but does this latest message mean that it is TONIGHT that Morrissey will sing Ring of Fire in Nashville? Have I been a day too early with my speculation? No, of course not, it was just a song being played on an internet jukebox, nothing more, nothing less. I sometimes get carried away.
The set list for yesterday's show has been posted on the internet, and I am very happy to see that Pigsty has returned, although as there is no footage of it, I guess it's actually irrelevant to me or my life if it's on the set list or not!
ORPHEUM THEATRE MEMPHIS - MAY 27
1.
Hand In Glove
2. Speedway
3. Ganglord
4. One Day Goodbye Will Be Farewell
5. I'm Throwing My Arms Around Paris
6. I Have Forgiven Jesus
7.
World Peace Is None Of Your Business
8. Istanbul*
9.
Everyday Is Like Sunday
10.
Trouble Loves Me
11. The Bullfighter Dies
12.
Life Is A Pigsty
13. Certain People I Know
14.
Yes, I Am Blind
15. Earth Is The Loneliest Planet
16. Meat Is Murder
Encore:
17.
Asleep
18. First Of The Gang To Die
A) I am thinking of changing the name of our twitter pub from The Twitterdilly Arms to either The Wrong Arms or The Troubled Arms
PHOTO BY JAY JOANNIDES
It would appear that the shirt toss returned last night in Memphis (see above), but the only other thing of relevance that I have read, is a tweet by @NoelGallagher (and NO, it's not
that
Noel Gallagher), who wrote, "@BlueRoseSociety Morrissey noticed a few of the roses I threw at the stage!!!!"
It would appear that the message about roses continues to reach people, and tonight in Nashville, our very own Heather will have the chance,
AT LAST,
to spread the message visually... and hopefully get
her
BLUE ROSE to Moz at the same time. We wish her the very best of luck, and if Moz were to sing the line, "and when you look at me, you actually see me", I think Heather would pass out... so it's just as well it isn't on the current set list!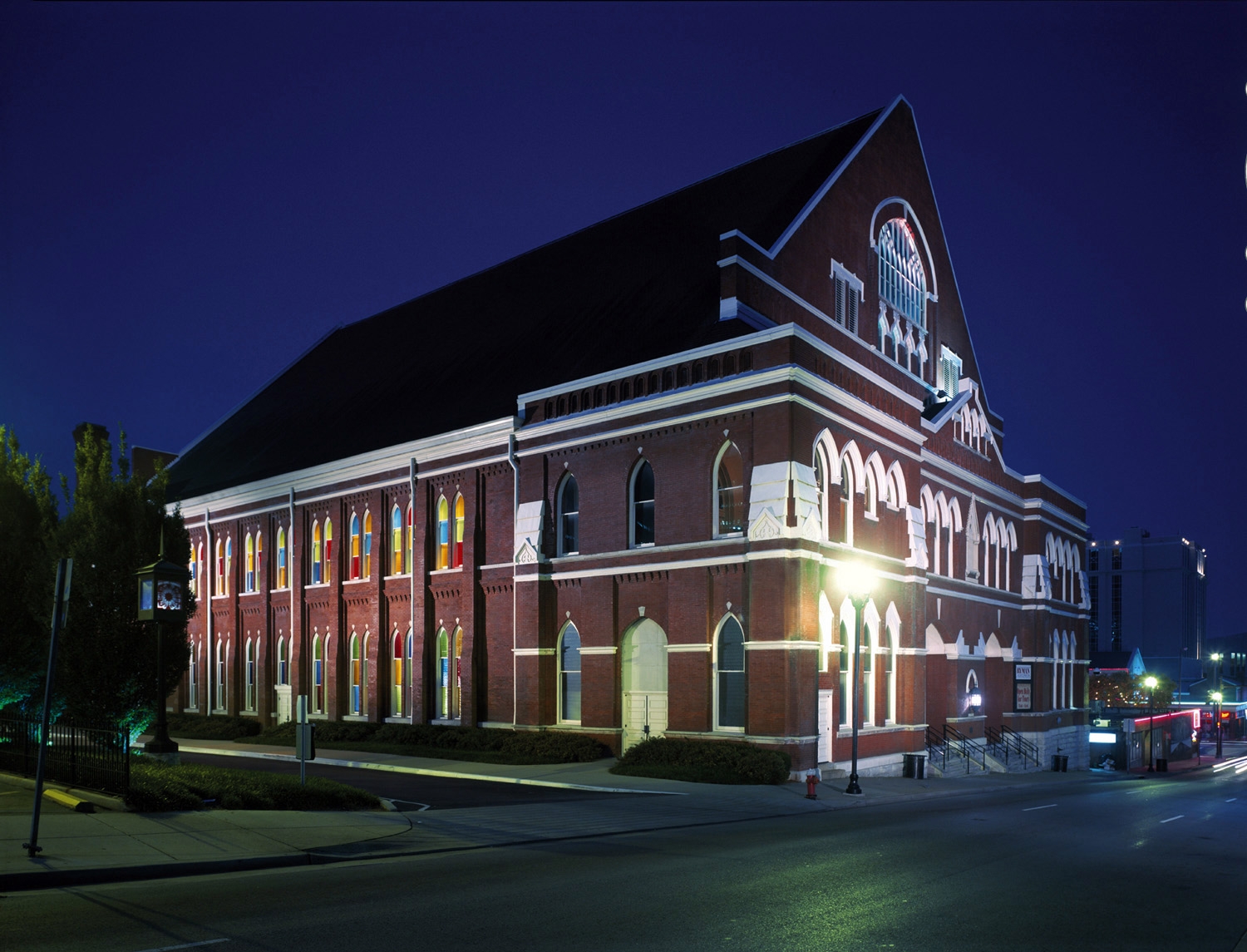 RYMAN AUDITORIUM NASHVILLE - THE FORMER HOME OF THE GRAND OLE OPRY
I have nothing else to add today, other than to say that Joey Barton has alleged that Morrissey asked him to wear a World Peace is None of Your Business t-shirt on Question Time tomorrow, but Joey not only refused, he decided to tell the newspapers! Oh Joey!
FROM TODAY'S METRO - EXCERT ABOUT MOZ BELOW: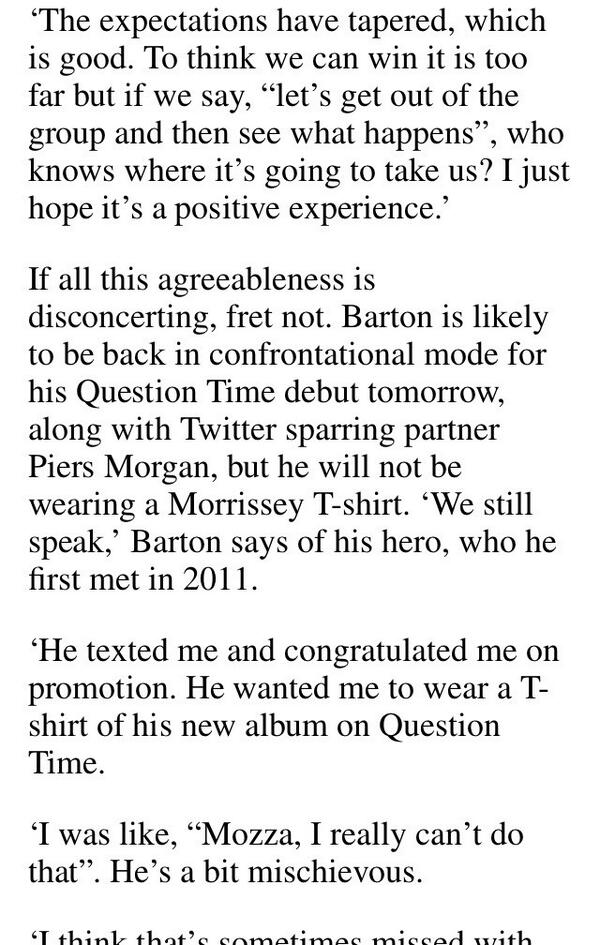 *Goes off singing* And when you look at me, you actually see me...