Posted by BRS member Heathercat:
WHAT A CONCERT! I don't know how it's possible for Morrissey to keep surpassing himself, but he continues to do it. Tonight was electrifying, emotional, intense, and magical. The setlist is already on Solow so I won't bother to list it here, but the highlights for me were: Trouble (of course); followed directly by Pigsty, which was mind-blowing; Istanbul sounded incredible live; and Asleep was breathtaking. My rose was ignored but I had no expectations otherwise. At least it can be seen in photos and videos, since I was lucky enough to get a spot close to the stage. All in all, it was a very special night and I'm so thankful I was able to go. Time for sleep - I'll certainly have sweet dreams tonight...
Posted by heathercat to
Following The Mozziah
at 29 May 2014 06:52
MORRISSEY AT THE RYMAN
THE RYMAN AUDITORIUM, NASHVILLE TENNESSEE MAY 28 2014
SET LIST
3. Ganglord
5. World Peace Is None of Your Business
7. Certain People I Know
8. Let Me Kiss You
9. Trouble Loves Me
10. Life Is a Pigsty
12. Istanbul
13. Yes, I Am Blind
14. Earth Is the Loneliest Planet
15. Meat Is Murder
16. The National Front Disco
Encore:
MORRISSEY AT THE RYMAN - MAYA ANGELOU (WHO DIED YESTERDAY) AS THE BACKDROP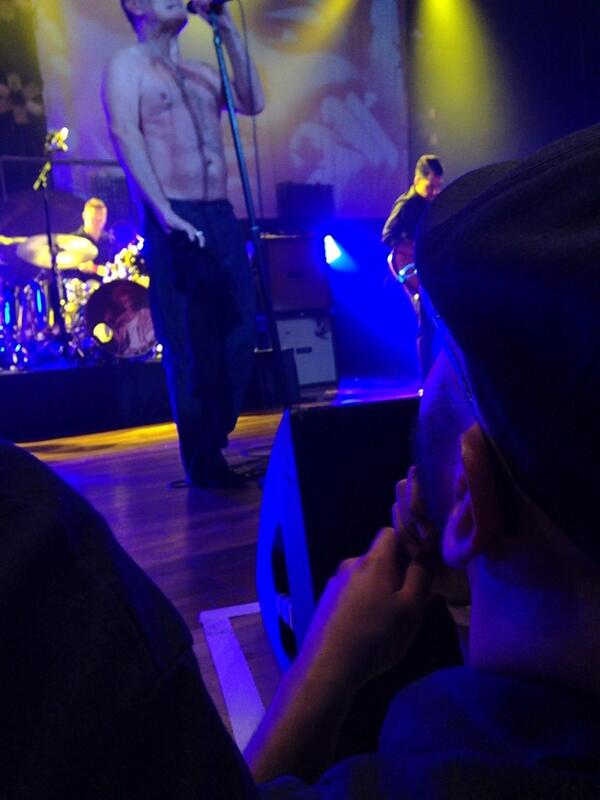 AND IT'S OFF! - PHOTO BY HEATHERCAT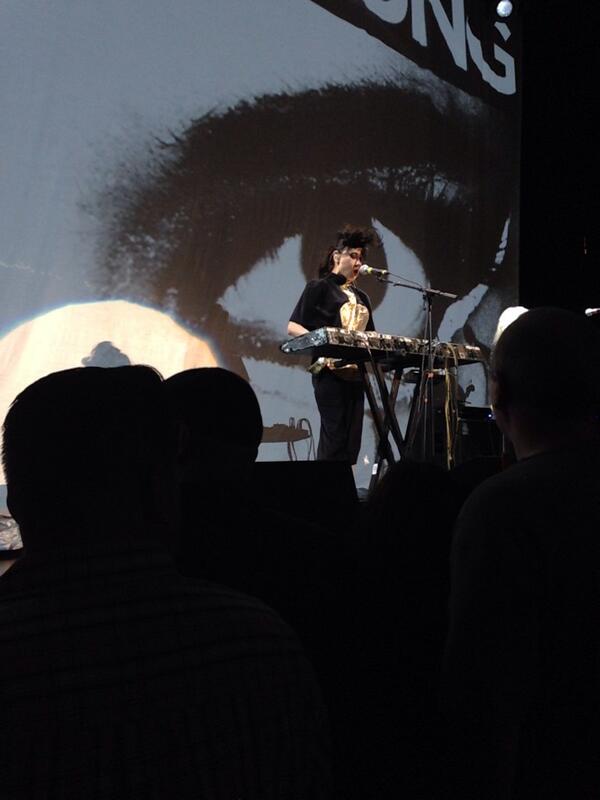 KRISTEEN YOUNG AT THE RYMAN - PHOTO BY HEATHERCAT
It would appear that last night's concert once again saw Morrissey in top form. I can't believe that Heathercat didn't mention that Let Me Kiss you returned to the set; I guess she was still overwhelmed by it all when she wrote her little piece, but I am presuming that this is where the shirt toss came in.
Last night's show gave Heather the chance, at last, to take a blue rose for Moz. She managed to get to the
front of the stage and offer her rose to Morrissey, but as is oft the case, the rose was ignored
, and Heather now joins the likes of myself, EARS and Vulgar Angie, who have ALL had their roses ignored by The Mozziah. As Heather stated though, "I had no expectations otherwise."
Our Mozzer once told us, "I am not a whore", so despite him wanting blue roses at the concerts, he will only accept and wear one
very
occasionally. In fact, ever since the Blue Rose Society was first mentioned by the
MorrisseysWorld blog on February 24 2012
, Morrissey has accepted and worn a blue rose on only
three
occasions:
1. From the BRS President, Kyle at Radio City Hall in NYC (October 10 2012):
2. From a nine year old, Devan at Hollywood High in LA (March 2 2013):
3. From Devan again at Santa Ana in LA (May 8 2014):
The question is,
when
will Morrissey next accept and wear a blue rose? Is he waiting for Kyle on the east coast leg of this tour, or is Morrissey only accepting
one
blue rose a year? Maybe Moz is now waiting for a blue rose t-shirt instead? If Morrissey
isn't
accepting and wearing blue roses, then what is the objective of the BRS? Personally, I think that BRS members should
wear
their blue roses to concerts, just as Wilde's followers wore their green carnation, and should then offer their rose to Moz either at an opportune moment during the concert, or during the last song of the main set. If it is refused, then we should all throw our roses onto the stage as Morrissey emerges for the encore.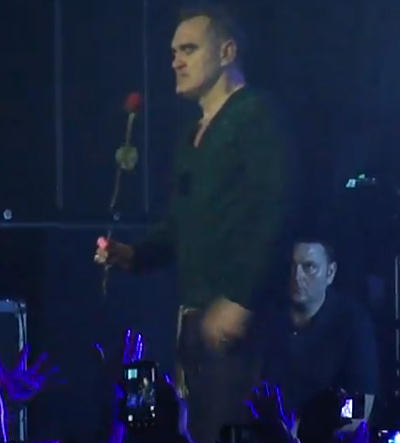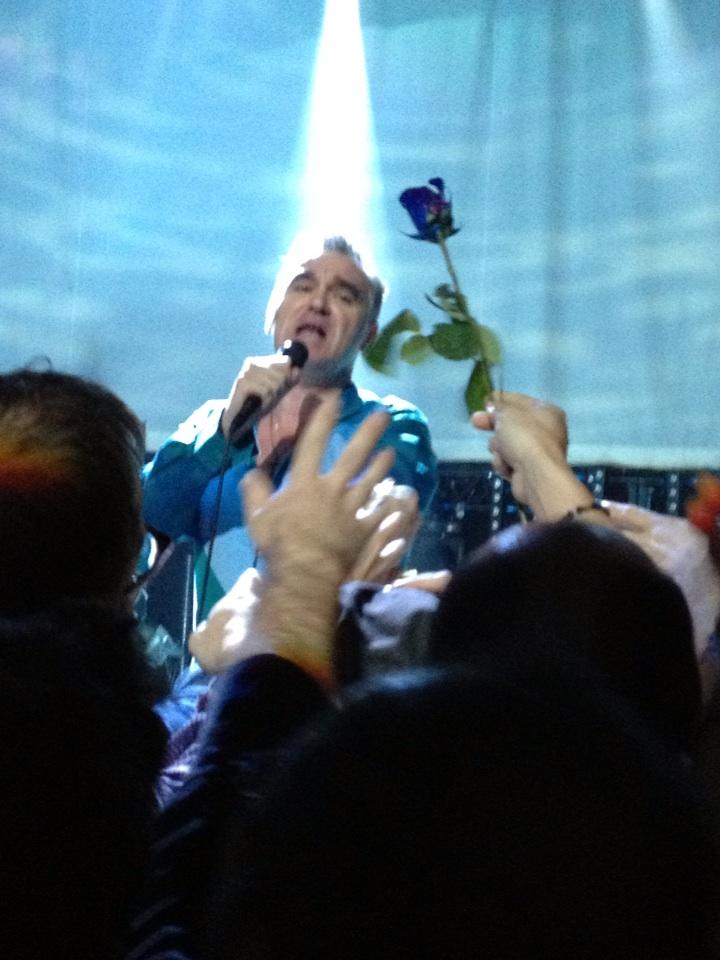 THE T-SHIRT THAT JACK SHET WILL ATTEMPT TO PASS TO MOZ IN ATLANTIC CITY ON JUNE 6 (BUT IN BLACK!)
I have nothing else to write about today. The original MorrisseysWorld blog remains closed, as does the Parody Moz twitter account. The new MorrisseysWorld has not tweeted since April 14, when it announced, "Our new unofficial website, for and by Mozophiles, is temporarily redirecting to TTY". How long does temporary last?
The only sign of pessoa's yesterday in The Twitterdilly Arms, were Fifi in the toilets, and Astraea behind the jukebox. Astraea played a video of Elvis singing I'm Left, You're Right, She's Gone from 1955. The song was one of the original 5 singles that Elvis recorded for the Sun record label in Memphis. I once owned all 5 of those Sun singles, but over the years I have sold them, although I do still have That's All Right, which I shall keep forever.
Morrissey now heads to Florida, where tomorrow night he will sing for a sold out audience in the rather splendid looking Mahaffey theatre in St Petersburg.... but will the message of the rose reach any of those attending?
MAHAFFEY THEATRE ST PETERSBURG FLORIDA