I have had a weekend away from the internet, but luckily I have missed very little from MorrisseysWorld. The only sign of Our Mozzer was this comment posted on my blog in the early hours of Saturday Morning:
Menippus is cordially invited to submit material for the forthcoming article. The concerts bans and ejections committee will be meeting at his home in Runcorn. Therefore OM requests Menippus submits a couple of paragraphs setting the scene and some typically surreal and idiosyncratic dialogue for Menippus making reference to current candidates to be banned, ejected and re-banned (namely THAT MAN, Willow, Edge, GOB, Lizzy or others). The dialogue can be addressed to OM, Boz Boorer, Mikey Bracewell, Broken or Mam.
This should be submitted by Menippus to Morrissey1959@hotmail.co.uk and will be considered for inclusion in the piece. The deadline is Monday.
'R'
Posted by Morrissey to
Following The Mozziah
at 28 June 2014 04:46
It would appear that Menippus was given this prestigious invitation on the back of this surreal piece of poetry that he posted on FTM on Friday evening:
We are Kleftiko
Unfit to go
Paper bags full of flesh and cheese
Tekenu prisoners of grease, unease, disease and knees
We wanna munch canapes atop the tallest trees
(Well, only they know how it feels)
We are Oxford coma
Regurgitating Homer
From an artificial stoma
With an artificial puckered rim;
We masturbate with phantom limbs,
And punctuation is penetration
We are testicular torsion
Clinical distortion
Untwisted and unbroken
Counting truths unspoken
We are ugly and yeah, all right, we care
Three minds collide and make nine
In the shade of Anonymity
Three by three
In the "plural of plurality"
Lie down, hush, don't be down
I swear down
It's only me
It's only the proneness of proclivity
Posted by Menippus to
Following The Mozziah
at 27 June 2014 18:52
KEVIN 'MENIPPUS' STOBA.... OR AT LEAST THE PICTURE ON HIS TWITTER ACCOUNT
I have always presumed that Menippus is a Morrissey pessoa, but maybe I am wrong. Marcus Markou once told me that he had posted a copy of Papadopoulos & Sons to Menippus, so maybe he is real!
There has been no sign of Our Mozzer in The Twitterdilly Arms, but it would appear from my timeline, that Broken popped in on each of the past three days, including the early hours of this morning. Here are his highlights:
In response to @Number10gov tweeting, "PM: For the first time all my 27 fellow Heads of Govt have agreed explicitly they need to address Britain's concerns about EU": "@Number10govt What a load of tosh. We both know it's a federal superstate and it won't change. Only window-dressing might change."
"David Cameron is the British window dresser in chief - for his role is dressing the window to sell the EU to plebeian taxpayer."
It has to be said, it is most refreshing when Broken breaks away from his never ending Bieber obsession to discuss other subjects, such as politics; but it didn't last....
"@sorcha69 Nothing compares to Justin. I don't mind posting shirtless footballers if you think it might improve my image."
"The key topics of my twitter are: Bieber's body; fringe right wing politics; MorrisseysWorld/FTM; and.. rem, that's it! Hash tag Importantstuffonly"
One of the main reasons that
so
,
so
many people have fallen away from the phenomenal MorrisseysWorld story, is because of Broken. He has either upset people to such an extent that they just don't want anything more to do with MW, or they have left because they don't believe for one minute that Morrissey could
possibly
have any
association with somebody who posts pictures of Justin Bieber on twitter. What those who have left seem to have forgotten, is that Broken is just a pessoa.
Broken was probably thrown into the mix to test and challenge people. Walking away from MW just because you don't like Broken is the equivalent of not watching M*A*S*H on TV because you don't like the character Corporal Klinger.
Highlight's continued:
"If posting bieber's abs makes people fuck off, then good fucking riddance to them."
It is also an interesting to note that so many people are offended by Broken posting semi-naked pictures of JB, and yet nobody was offended by the homo-erotic imagery that Morrissey used on the early Smiths covers. Is it really so strange to think that Morrissey might be interested in semi-naked pictures of men?
Highlight's continued:
In response to me tweeting, "Dear @AlexisPetridis Do hurry up with your review of Morrissey's WorldPeaceIsNoneOfYourBusiness. A nation of cottage cheese lovers awaits.": "Petridis has already written it. He's just left some spaces for the song titles and alternative 'witticisms'. 'The Bullfighter Dies' finds Jesse Tobias and Morrissey rewriting 80s super hit 'Lambada,' only without the tune. His summing up: "This is a good album. The only trouble is, good doesn't cut it when you're that unpleasant."
There is still no sign of a Petridis review of WPINOYB; perhaps he just can't bring himself to write one. Whatever he writes is completely irrelevant anyway. I think Broken is setting his heights high if he thinks that Petridis would ever use the word "good" to describe a Morrissey LP.
Highlight's Continued:
"Is JB trying to look dense and lopsided on his recent selfies OR has he suffered an hypoxic brain injury after am OD? Christ knows."
"Who'd have thought one could devote half a twitter feed to pics of a characterless brat with no good songs?"
SEE! Broken doesn't really like Bieber, he's just a frinkster!
Continued:
To Tony Visconti: "@Tonuspomus Tony, it's me, Broken. Nice to meet you again. Dom you think you'll ever work with Morrissey again? Do ya blame him for KY thing?" (Ed - TV didn't reply!)
"Moz shirtless is offputting. Men over 35 shouldn't remove their shirts - it only breaks the spell. The more clothes Moz has the better he looks. Biebs on the other hand -"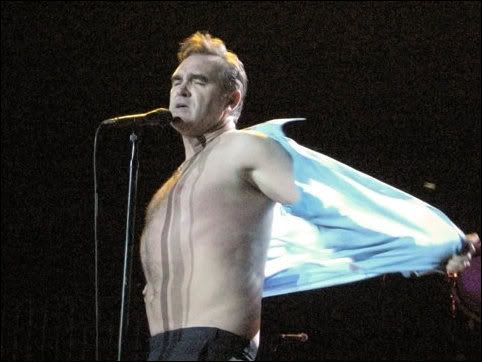 "OFFPUTTING"
"OM emailed me to say he's received Menippus input and the parody piece will be with you in due course. It might be farewell. Menippus provided an expansive introduction to the piece rather than free-floating dialogue for his parody self. OM actually wanted him to send segments of isolated dialogue by Menippus addressed to random characters which the story would be built. There's still time for him to submit some random surrealist nuggets."
I am very much looking forward to the new parody piece, but as I never understand a word that Menippus writes, this parody might be beyond me.
That is all from MorrisseysWorld for today, but away from MW, Johnny Marr has given an interview to the NME, and despite him being their 'Godlike Genius 2013', he wasn't impressed with them asking if he had heard Morrissey's new album, replying, "(pause) Did you hear that? That question was the sound of the bar lowering". I feel a little sorry for the NME interviewer, because the people will always want to know what Morrissey & Marr think of each other's music, and if you don't ask, you'll never know. As Morrissey pointed out to me after I wrote my infamous blog entry of Day 898, nobody has ever asked him what he thought of The Messenger. Solow have posted an article about Marr's interview, and one of the people leaving comment is Brummie Boy, who some people believe may be a Morrissey pessoa. As I have written before, I have no idea if BB is a pessoa, and as he isn't a part of MW, I am not about to start ploughing through his offerings on Solow, but his comments on the Marr interview do make quite interesting reading:
http://www.morrissey-solo.com/content/1905-Johnny-Marr-asked-about-Morrissey-s-new-album-in-NME-(June-14-2014)?page=2#comments
Yesterday, Ed Sheeran's 'X' made it to No.1 on the UK album chart, as predicted. Two weeks today, WPINOYB will be released, so hopefully 'X' will have fizzled away by then, and Morrissey will be back at the top.
LA BILLBOARD - PHOTO BY CLOVER DEAN
And now we await that new 'Bans Committee' parody.