together
yesterday, and once again they proceeded to spend their time drooling over pictures of Justin Bieber.
ASTRAEA AND BROKEN
It should be remembered that the name
Broken
derives from the name BrokenMorrissey. Now, I am no psychologist, but it is my belief that Morrissey invented the Broken pessoa to use when his life is literally,
broken
. It is surely more than just a coincidence that just as Morrissey has a massive fall out with his longtime friend Kristeen Young,
Broken
appears back on the scene, and one of Broken's characteristics is to be destructive.
Morrissey must be really hurting from his fallout with Kristeen, but one way to deal with situations like these, is to ignore them, and concentrate on the mundane. Morrissey, as Broken, has turned to Bieber, whilst Kristeen Young has taken to Twitter to talk about t-shirts. What is
really
sad about this whole situation, is that it needn't have come about, and I'm sure that both parties realise that, but sometimes there is just no way of making everything right. Words get said that can't be unsaid. It was just 19 short days ago that Morrissey stood on a stage in Beaumont, praising Kristeen to the hilt:
I have no idea who is driving the Broken and Astraea vehicles at the moment, but I would guess that Morrissey is either behind both, or perhaps his personal wafter, Damon Anacreonte, is currently using the Astraea account. Perhaps it was Damon who was driving the Broken account whilst Morrissey was on stage in Boston.
MORRISSEY AND HIS PERSONAL WAFTER
It is currently very hard for me to write my blog, not knowing if the characters I am writing about have any actual bearing on the MW story, but I have to trust my gut feeling, and my gut feeling is telling me that Broken
is
Morrissey. With this in mind, here are his twitter highlights (minus anything Bieber related) from yesterday:
"MW is over. Long live FTM!"
"@TheRatsBack INTERSTING BLOG TODAY. IT REMINDS ME OF... SPAM."
I don't recall what 'SPAM' was. I think it was a MorrisseysWorld parody article, but can somebody please jog my memory.
"Just think if Our Mozzer had had a blue tick, Ed Miliband would know(sic) beknown(sic) as EDID and the twitter account would be as famous as Gaga's."
The fact that mistakes were made with the words 'now' and 'be known' in the above sentence,
does
make me question if this
really
is Morrissey! Morrissey very rarely makes such mistakes. Oh the confusion of it all.
"How arbitrary fame is, and how incomprehensible."
In response to @LouiseMensch having a go at @HarrietHarman: "@LoiseMensch @HarrietHarman Harman isn't a feminist, She's a politically correct anti-male sexist and sexism apologist."
Louise Mensch is somebody that Our Mozzer regularly tweets, so the above tweet now makes me think that Broken IS definitely Morrissey.... but the sentence contains a capital 'S' in the middle of it, so it can't be! Aghhhhhh!
"Morrissey has a mild chest infection and a complication of acid reflux: persuades the world he's dying. Now he has a cold and cancels a tour. Morrissey get a grip! The ridiculous self-important melodrama is starting to get on all our nerves. What next? Sleeping in an oxygen tent?"
"Morrissey's latest songs sound boring to me, but I might be wrong. Great words, great singing, rubbish song writing. Oops"
Broken signed off by tweeting with his favourite BRS member, @Jazissey:
"@Jazissey It's my last visit for a while to twitter. Morrissey's hypochondrias is out of control. He could take some lemsip, do his day job (touring) and get on with it all - like most of us do when we have a cold. Just a thought."
I am hoping that Broken's mention of it being his last visit means that Morrissey will soon feel un-broken again. @Mancladmozfan has tweeted this morning to say that Morrissey has landed back in Britain, so hopefully he will be able to put recent events behind him, and concentrate on arranging a UK tour before the new LP is released.
In other news, Boy George has started following a number of members of the BRS. Is he following our story? I have no idea if he wore a blue rose on stage for Morrissey last night, but would guess not.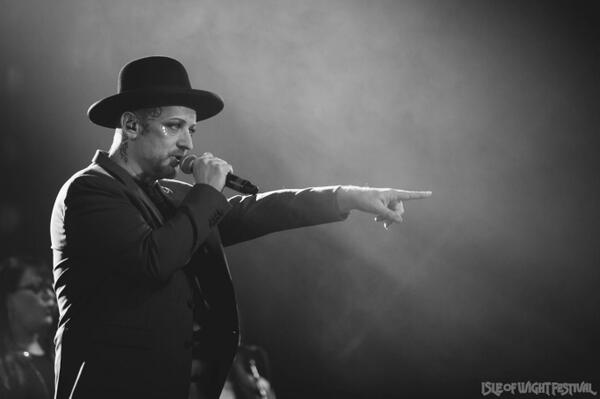 BOY GEORGE AT THE ISLE OF WIGHT FESTIVAL
So, if Broken has left us, what now?