I have an extremely busy day today, so there is no time for my waffle, I shall get straight down to business. Yesterday afternoon, whilst I was away at cricket, Our Mozzer returned to The Twitterdilly Arms. Here are his highlight's:
"A lot of people are slinging mud at me because one of my dear friends is having a breakdown. It is so sad to witness such unnatural hatred for a brilliant poet and elegant friend."
"Who else says what I say on twitter? Who else churns up your mind? Yet I'm judged because seven people don't like my friend. Ignorance."
"Now subject to critical comments, spite and hatred from those I've entertained for years without recompense. Because they don't like broken!"
"Broken probably was in the wrong. But why should I be vilified due to his actions?"
"Such is life. Do you see it yet? Do you finally understand?"
OM does have a very valid point here. The likes of Willow, Edge, Mad Alix, Roberto Ferdense, Southkirk et al, all seem to have abandoned the BRS and MorrisseysWorld because of the actions of Broken, and yet they are all punishing Parody Moz, even though Parody Moz has stated many, many times that he is
not
Broken. It is quite bizarre behaviour. The fact that both Parody Moz and Broken are both
CHARACTERS
, also seems to have completely bypassed people's rationale. If I were to meet Steve Coogan at the opening a Summer Fair in Great Yarmouth; whilst he was in attendance as the character Alan Partridge, would I ask him about his road trip to Italy with Rob Brydon? No, because I would distinguish that he is at the said fair as Partridge, and
NOT
Coogan. Partridge would look at me as if I were a complete idiot. Parody Moz and Broken are
NOT
Morrissey, they are characters, and for one character to be punished for the behaviour of another is, as I have said, bizarre.
ALAN PARTRIDGE - NOT STEVE COOGAN
Highlight's Continued:
In response to @vulgar1mkela tweeting "I love Broken, he is such a joy in MW. Forget those 7, let's just move away from their hate": "Thank you Angela. As ever your words exude compassion and common sense - not that there's anything common about that."
"Will the truth one day be known?"
In response to @RFerdenzi (Roberto Dense) asking, "Are you tweeting from hospital?": "Go away. Thank you."
In response to @southkirk tweeting "Moz is in hospital? What gives? More rumour?": "I'm not in hospital. I can't speak for Morrissey."
Rumours have been rife lately that Morrissey is currently in hospital. The rumours seem to have been started by Sir Cliff Richard, who announced it at his concert last Saturday. As if Sir Cliff would have any idea of Morrissey's whereabouts. The fact that Cliff has a knighthood, and sang Summer Holiday during the rain at Wimbledon, means that he is an instant authority on everything. Sir Cliff is just like a blue twitter tick, although in fairness to the tick, it is far more recognisable in America than Sir Cliff!
SIR CLIFF - NOT AS RECOGNISABLE IN THE USA AS THE TWITTER TICK
It would appear that the likes of Roberto Dense and Southkirk will believe
anything
they are ever told; just as long as the person doing the telling has a smidgeon of authority. Without the authority, they just won't accept it. People are the same everywhere.
In the meantime, MancLad has posted on FTM to say that Morrissey is NOT in hospital. The only problem is, Manc Lad has neither a knighthood or a blue tick, so nobody will believe him.
I
believe him, because Manc Lad, just like me, is a t*** aspiring to be a c***, and us aspiring c***'s are sometimes right.
Highlight's Continued:
"There are some people with ludicrous expectations. They're looking to Rat for seriousness, me for reliability, and Broken for compassion."
"You just don't look to Harold Shipman for his end of life care, nor do you look to Morrissey for sentimentality."
"Nor do you look towards Sabine Maltby for decency or EARS when a cruel, calculating decision must be made."
"Believe it or not, we all have innumerable bad points. It's just that some of us have no good points."
In response to @AlexDavidWest tweeting "I'm running out of people I like/can tolerate": "I ran out of people in 1989. Now it's just a case of how quickly the list of those I can tolerate run out of patience with me."
"All the wisdom in the world in a cat. All the love in the world inside a dog. All the inhumanity in the world inside a person."
"Earth is the loneliest planet."
"Love is that thing people do when they give up on their dreams. Love comforts you as you do nothing with your life."
In response to @stillill72 tweeting "@MorrisseyParidy the dairy industry is the meat industry. Go vegan and improve yourself more!": "Sod off. Tea without milk is like life without music." @stillill72 then tweeted "soya milk!" to which OM replied "Soya milk? That's like life with the music of Katy Perry. I'm full fat - rich, creamy and complementary."
"The beauty of words lies in their unexpected diversions through unexpected places: loneliness, urban decay and, of course, depression."
"Did you know? MorrisseysWorld is a thing of genius."
"I urge all those who are still in the BlueRoseSociety or who follow me to show support for Rat by leaving a comment followingthemozziah.blogspot.com"
Despite Our Mozzer's call for support, my blog entry of yesterday received just ONE message of support, and that came from EARS. The only other people to leave comment under their own names were Sarah Munro, who thanked Our Mozzer for returning, and Manc Lad, who called me a "first class t***!" All the other comments were just anonymous abuse. The band of outsiders is dwindling fast.
Highlight's Continued:
"Chocolate, loneliness and my music taken together will prevent all future wars. Hash tag FutureWhenAllsWell"
In response to @Nigella_Lawson tweeting about chocolate cheesecake: "Stop killing animals and perhaps we'd show more of an interest."
In response to a tweet picture of gay footballer Anton Hysen: "@antonhysenoffic I respect your sexuality and endorse it. But why the tattoo?" Anton Hysen replied, "@MorrisseyParody because I wanted to", to which OM responded, "I understand that you wanted to - why would you get a tattoo if you didn't actually want one. But WHY did you want one? I'm not asking to be rude, vulgar or insincere. I don't understand why the tattoo has become a gay crucifix. Must all gay men have tattoos, and if so - why?" Hysen replied, "I think its sexy to have it on the neck & I've always wanted one... thumb up smiley face." At this point, a tweeter called @pinkinourlives tweeted to OM, "You should take a tattoo if you want one and it's not a gay thing but a personal thing. Live and let live." To this, OM replied, "Utter nonsense. You don't just do things like take tattoos 'because you want one.' Don't glorify irrational . Simply following the prevailing trends is something for the herd. I like to do things for a reason. It's called thinking. It's called living. Only in 2014 could it be constructed as intolerant to ask WHY! Is intelligence really criminal these days? As a humasexual, attracted to adult human beings, am I not allowed to ask WHY the tattoo is so beloved?"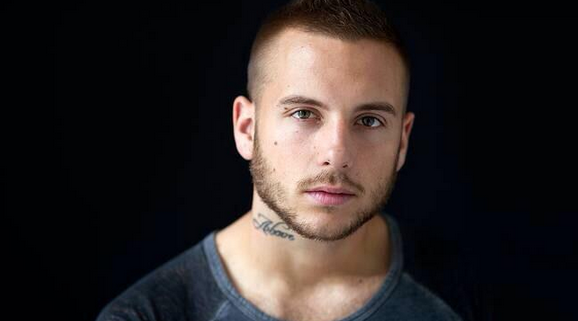 ANTON HYSEN WITH HIS "GAY CRUCIFIX"
Highlight's Continued:
"Sing your life - many others do, why don't you?
"The Twitterdilly Arms has never been so quiet. I'll have a G&T. Well, it's the only drink we serve."
"@Mancladmozfan Manc Lad knows the meaning of loyalty. Through thick and thin he remains true to MW. The next tour will be known as the Woodhouse Tour."
In response to @BarackObama tweeting, "Parents who work full time should earn enough to pay the bills": "What an aspiration; the reason they don't is because of your federal reserve bailout, your inflation and your Obama care. You are a greying fraud - a pair of teeth with nothing else whatsoever."
"Ignored and rejected by my fans and now even by those fans dedicated to embracing me in the face of such opprobrium. TheBlueRoseSociety." (Ed - And
YES
, I
did
have to look up the meaning of opprobrium!)
"This twitter account turns irony into more than an art form: it's a way of life."
In response to @PapaSonsFilm tweeting, "@MorrisseyParody We embrace you in the face of so much irony": "We will turn the corner. BRS is going worldwide." Papa then asked, "Are you going to franchise BRS? As franchisees, will we get our own BRS vans and territory to cover? It's a money maker": "No it will return with tremendous style, accessible to members of good standing only. MW will be a private event."
And just before leaving the Twit Arms, Our Mozzer retweeted a tweet from @FadingGold Leaf which read: "Jelena went to the zoo this weekend. So romantic. I think they must really love animals."
That's all from me for today, but before my comments section once again gets filled with the same old anonymous comments saying that I am either the person behind MorrisseysWorld, or I am only writing FTM to grace favours from Morrissey, I would like to admit to both. I am a fraud, and I am doing this for my own entertainment. I also am clinging to the hope that Morrissey will like what I am doing, and we will become friends. There is now no reason for any anonymous comments. The game is over, I've admitted EVERYTHING. Thank you and goodnight.
TWITTERDILLY ARMS TOP 10
1.
THE BULLFIGHTER DIES
- MORRISSEY (NEW ENTRY): https://www.youtube.com/watch?v=oV_U9qBSj_I
2.
ISTANBUL
- MORRISSEY (UP 3): https://www.youtube.com/watch?v=YWn5iqSdJUs
3.
WORLD PEACE IS NONE OF YOUR BUSINESS
- MORRISSEY (UP 4): https://www.youtube.com/watch?v=bq-uOIJKEm0
4.
KICK THE BRIDE DOWN THE AISLE (LIVE IN BOSTON)
- MORRISSEY (NO CHANGE): https://www.youtube.com/watch?v=-DtmRyYipdc
5.
EARTH IS THE LONELIEST PLANET
(LIVE IN SAN JOSE) - MORRISSEY (RE-ENTRY): https://www.youtube.com/watch?v=UHDNICm9MVg
6.
FEMME FATALE
- NICO (RE-ENTRY): https://www.youtube.com/watch?v=rmNCcHvCqXw
7.
MAKE ME AN ISLAND
- JOE DOLAN (NEW ENTRY): https://www.youtube.com/watch?v=drkVazS8yUI
8.
IN MY TIME OF SORROW
- MARIANNE FAITHFULL (RE-ENTRY): https://www.youtube.com/watch?v=p6T4GZ7xNVk
9.
VOILA
- FRANÇOISE HARDY (RE-ENTRY): https://www.youtube.com/watch?v=cqegv4qoEdo
10.
STUCK ON YOU (LIVE IN GERMANY 1978)
- WAYNE COUNTRY & THE ELECTRIC CHAIRS (NEW ENTRY): https://www.youtube.com/watch?v=FNyUVlZ_amE
11.
BE MY WIFE
- DAVID BOWIE (RE-ENTRY): https://www.youtube.com/watch?v=kB7skYEv_EM
12.
TEENAGE DREAM
- T REX (RE-ENTRY): https://www.youtube.com/watch?v=awbnP4g5HuE