After my blog of yesterday, both Willow and George Edge left comments to say that they will NOT be returning to the BRS. This whole phenomenal MorrisseysWorld story has just been too much for some people, and although both Willow and George Edge
do
believe that Morrissey is behind MW, they didn't like what they saw. It just goes to show that the old adage is right; "you should never meet your heroes", and in this modern age of social media, the saying no longer applies to just a physical meeting. Willow's parting shot regarding Morrissey was, "I understand that pain, anger & depression make you lash out, but to indulge him & let him carry on - how does this help him? It's not a substitute for therapy." Can anybody
really
see Morrissey having therapy? Would history want genius's like Morrissey having
therapy
? Isn't having such a complex mind the thing that makes individuals like Morrissey so interesting?
George Edge parted with the words, "Even if it was Moz, he cannot get away in hurting other people who already hurt from life. I do not hurt people in my real life when I am hurting." If that last sentence is the truth; and I have no reason to doubt that it is, then George is either the most compassionate man in the world, or he hasn't felt
real
hurt. His actions towards a broken Morrissey last week would suggest the former is
not
true, which leaves the latter. George is a lucky man.
And on the subject of never meeting your heroes, I wonder if Morrissey ever regrets having gotten so close to
his
hero, David Bowie. Initially it must have been a wonderful experience for Moz to meet Bowie, and then of course, he went on to not only befriend him, but to tour with him and have one of his songs recorded by him; but did the subsequent fall-out taint it all? In hindsight, would Morrissey have preferred his image of Bowie to be the one from 1972?
And on the subject of Bowie, here is what Our Mozzer had to say about him yesterday evening in The Twitterdilly Arms:
"Imagine how it would have ruined my life had Bowie in 1971 owned a twitter account. It was only the intrigue and inaccessibility that made Bowie fascinating. Reading his mundane thoughts on twitter would end his career."
OM seemed in a somewhat melancholy/dour mood last night, and when he left The Arms, he once again closed his account.
Here are OM's highlights:
"Every day is silent and grey."
"Piers Morgan is a corporate psychopath. He's the kind of guy who has many secrets. It must be difficult for Piers now as an unemployable TV bod, drinking himself into a stupor over 'the old days'."
"At times one wonders why one bothers at all with TWITTER."
"Despite Wildean wit and my share of pretty memo nets, I still have almost no followers who care."
"Genius is often ignored during its lifetime, and ignorance is lauded."
In response to @AIRRAID25's tweet saying, "@MorrisseyParody We may lack in numbers but hopefully we make up for it in spirit": "I receive almost no tweets. Do you remember when we tweeted all day? It is clear to me that this journey is almost over."
At this point, a new visitor to The Twitterdilly Arms called Elouise (@Avirtuousvamp) chipped in with, "Or a new journey begins?", which OM retweeted. I have no idea who Elouise is, or how she(?) found us, but none the less she is here.
In response to @Heathercat222 tweeting, "But some of us do still care and hope the journey isn't over yet": "Is fruitless giving myself to such an unappreciative bunch. You true followers remain, of course, but you're small in number."
"Nobody truly understands. I am entirely alone."
In response to my tweet saying, "@MorrisseyParody Good evening. I really liked your twit piece on tattoos. I have never been close to having one, have you?": "Not since a songwriting night in a Camden pub with Boz and Lyn ended in a fight, all of us armed with blue ball point pens. Lyn created an impressionist tattoo entitled 'Sherry' on Boz's throat. I narrowly avoided an inking. Hash tag LynandSherrydontmix"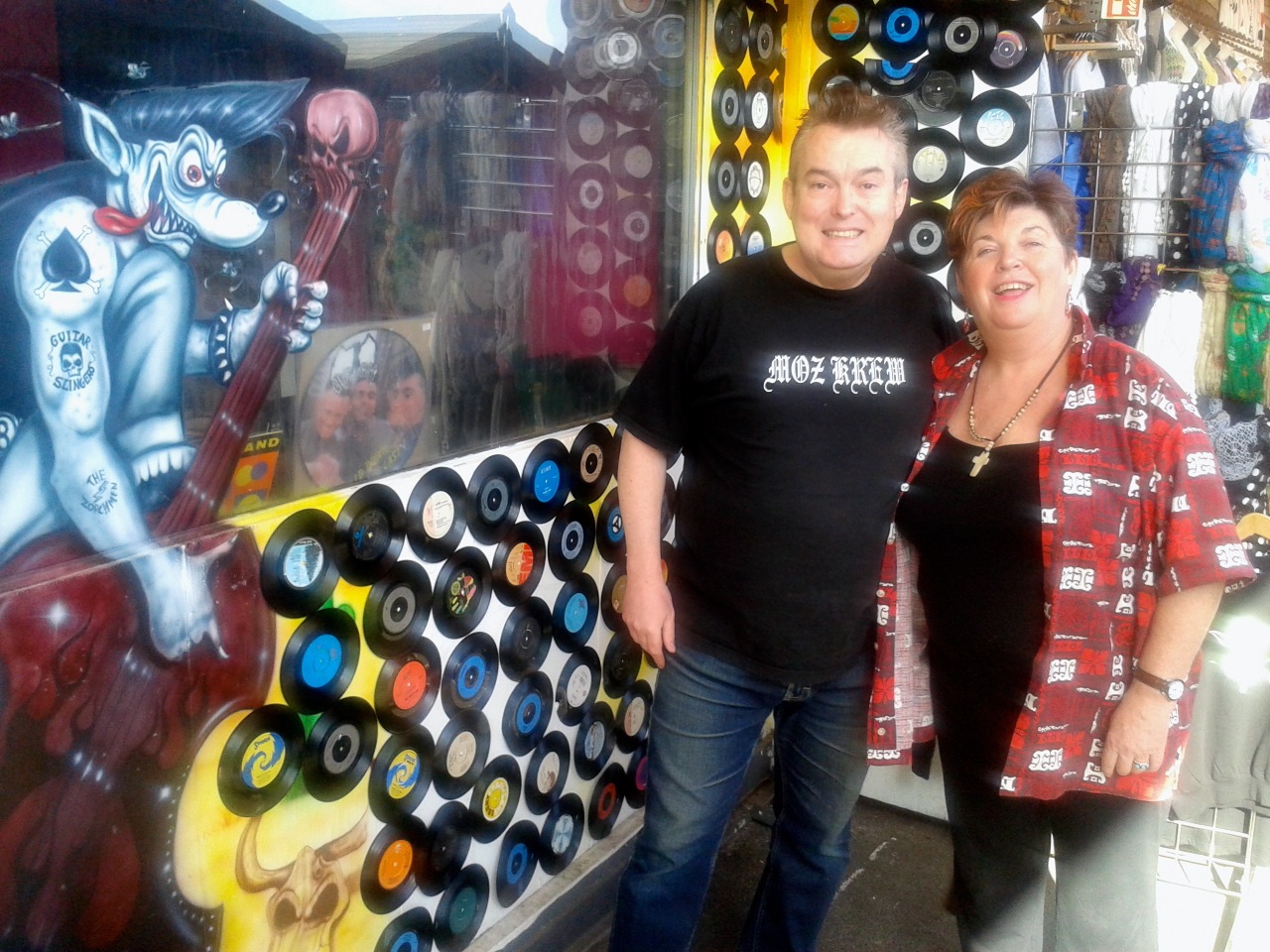 BOZ & LYN 'SHERRY' BOORER
In response to @Jazissey asking, "@MorrisseyPaordy how ya feeling?": "Life is for living and death is for avoiding."
At this point in the evening, OM started retweeting a few tweets from @RadioTimes! (Please note, the exclamation mark was added by me, it isn't part of the Radio Times twitter name.) One such retweet was regarding actor Daniel Radcliffe appearing on the South Bank Show, telling Melvyn Bragg that he finds it hard watching himself in early Harry Potter films: "RadioTimes Daniel Radcliffe gets rich being crass in a kids' film; then pretends he resents selling his soul for money over a Nobu lunch."
In response to @RadioTimes tweeting that the programme Splash! was not going to have a third series: "@RadioTimes Broken's favourite program." (Ed - The real Morrissey would NEVER write program!)
In response to a photo posted by @RadioTimes of Camilla Parker-Bowles: "@RadioTimes The woman in the awful cream and beige dress looks like the usherette at my local ODEON."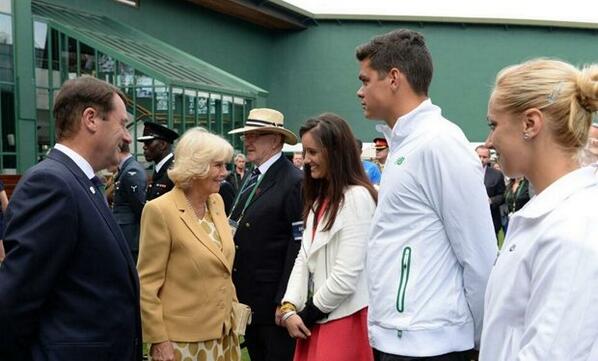 ODIOUS USHERETTE
In response to my tweet saying, "@MorrisseyParody If Kenneth Williams were alive and on twitter, he too would be following and retweeting @RadioTimes. Life is good.": "Broken is somewhere between James Dean, Charles Hawtrey and Oscar Wilde."
In response to @Jazissey tweeting, "One day to watch all the Carry on films": "I used to watch them. I no longer find the motivation."
"Carry On films are suitable only for passing the time on rainy afternoons in northern England."
"Is there a place more loveless and cruel than Manchester?"
"Once you move to the south, you have friends and the sun instead-"
"@CodySimpson You are a very boring young man. You might wide to try fashioning your own personality."
In response to @geniussteals asking, "@MorrisseyParody can you be late to the party?": "Never turn up late to a party when it's much more fashionable not to go at all."
"I don't follow Andy Murray or Eamon Holmes. Why? Because it's essential have some standards, however low."
In response to me asking, "@MorrisseyParody Are you excited for the release of the new LP, or have recent events left you devoid of such an emotion?", OM replied something along the lines that 'Yes', he was excited, but was concerned about the financial side and the critics. I can't give the exact quote, as I forgot to copy it! He followed it up by tweeting, "I would imagine @alexispetridis is likely to give his opinion, wanted or not."
And on the subject of World Peace Is None Of Your Business, Detective GWO dragged me into the filthy toilets of the Twit Arms yesterday, to inform me that whilst I have been preoccupied with all the BRS fallouts, the window of the Universal building in London has been taken over by WPINOYB:
GWO has confirmed that it is NOT the actual bike from La Fabrique studios, and it is also NOT the real Morrissey..... although it would be funny if it transpired that it actually WAS the real Moz!
Before leaving The Arms, Morrissey asked us, "If you could ask me only one question above all others with no topics censored, what would it be? I'll answer the top question." The question he chose to answer came from @AIRRAID25, who asked, "What is your most treasured memory?" It was back to Morrissey's hero for the answer:
"My most treasured memory is seeing David Bowie on stage for the first time. He was superhuman, and I was barely even human. I am lost in him."
And then he was gone.
With OM's threat of blocking all those who follow the fake BRS account of @Nonheilsler; Southkirk, Yuna and GOB have all abandoned it, but LizzyCat, Romina, Willow, Edge, Roberto Dense, Harrison, Mad Alix and Clover Dean remain. I would imagine that Clover Dean is there by mistake, and something got lost in translation, but the others have fallen out of love with MorrisseysWorld, and they need a substitute. They aren't the first, and I very much doubt that they will be the last.... especially if Broken remains on the scene.
And on the subject of Broken, he and I have been propping up the bar of The Arms this afternoon, and we have been chewing the cud. Here are some of Broken's highlights from today:
"@Banjaxer You pretty much define 'loser.' Yet you're a part of MorrisseysWorld and, rumour has it, you'll be in the next piece."
"Boz seems to be almost as integral to MW as Our Mozzer. Mikey's role is underrated. Another key figure without whom it would all lack an edge is Broken. His presence casts a dark shadow, even nastier than OM."
"MW could have been 'the new Dad's Army'."
"@KRISTEENYOUNG supported your stance actually. Why should you be forced to toe the line on 'viral illness' by the narcissist-in-chief? Imagine cancelling an entire tour because you have a bit of a sniffle!"
Broken is right about one thing, he certainly adds an edge.
*Goes off singing*......