There is one good thing to have come out of all the people abandoning the BRS; my empty Twitter timeline. I no longer have to trawl through endless drivel to find the relevant tweets regarding MorrisseysWorld, although more often than not, if Morrissey has been on twitter whilst I sleep, the account is usually gone by the morning, and I am left not knowing what was said.
I awoke this morning to find that Our Mozzer had made a visit to The Twitterdilly Arms at around midnight last night. He had Broken with him.
It was a short visit, but here are OM's highlights:
"A late night tour of the prison..."
In response to @sorcha69 tweeting, "@MorrisseyParody the way you described seeing bowie is how i feel when i'm lost and listen to u or fake u either way it soothes": "Time drifts by like pouring Manchester rain in a storm. Then suddenly - a car hits you."
In response to @Broken1andonly tweeting, "@sorcha69 @MorrisseyParody Our Mozzer is our hero. Despite the betrayal of a small number, he remains our idol": "Your affection for that pathetic R n B singer is despicable."
"Justin Bieber's one great achievement was fitting into the zeitgeist without dumbing down. That is not a compliment. Hash tag KnowsNothing"
BROKEN'S LATEST TWITTER PROFILE PICTURE. OUR MOZZER IS
NOT
A FAN!
In response to @Broken1andonly tweeting, "@MorrisseyParody Good evening squire. Your album is mesmerizing!": "My album is getting good reviews in the music press. Which is not a good sign."
The good album reviews that OM was referring to, included those in
Rolling Stone
,
Uncut
,
Q
and
Mojo
. I particularly enjoyed Victoria Segal's review in Q, although I don't necessarily agree with her when she states that it is a "relief" to see "Morrissey looking beyond the confines of his own skull." As I have previously written, I
LOVE
Morrissey's songs about himself, but he I do agree with Segal that Moz is an excellent story teller.
Unlike many reviewers, Segal goes into detail regarding the individual songs on the album, and writes:
"the oppressively romantic Kiss Me A Lot sounds like it was written for somebody else altogether, perhaps a doomed '60's starlet, or maybe a young Gene Pitney. Staircase At The University, brilliantly fusing The Boy With The Thorn In His Side with Reader Meet Author, archly dictates the morbid story of a student forced to conform. Mountjoy's sombre strum explores the Dublin prison where Republican writer Brendan Behan did time and Smiler With Knife has a Gauloises-smoking theatricality.... an erotic surrender that seems close to murder, or self annihilation. Full of jarring raptures and sudden haunting delicacy, it demands greasepaint, a proscenium arch, a stage-front stool for the singer. Meanwhile, Oboe Concerto starts with a sample from '50's "dame comedian" Rex Jameson: "And he spoke with his voice while he talked with his mouth" - a suggestion the following song is not ventriloquism. "The older generation have tried, sighed and died which pushes me to their place in the queue," Morrissey sings, beautifully before the song ends with a husky, almost valedictory mantra: "Round round the rhythm of life goes round." That might be true, but it's hard to think who could take his place in turn. He might not want to be a man or trust humans, but he remains an endlessly fascinating and complex living creature. A pop star, perhaps. The story of his life.****"
Victoria Segal, we salute you.
The fact that Oboe Concerto contains a sample from Rex Jameson, explains the use of the Mrs Shufflewick imagery on the last tour: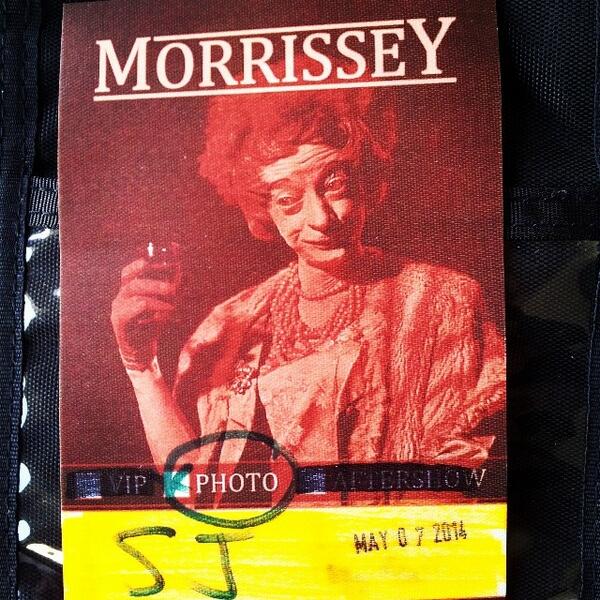 I just cannot
wait
to get my hands on WPINOYB; which hopefully will be next week as the record company have promised that a promo copy is on the way. I would dearly
love
Our Mozzer to write a 'WPINOYB Review of the Reviewers', just as he did for the
reviewers of Autobiography
. Perhaps OM is waiting for Alexis Petridis to write his review first; although we all know what Petridis's review will be like before he's even
written
it. I am even tempted to write the review for Petridis as a parody.... but I just don't have the time at present.
PETRIDIS - HIS REVIEW OF WPINOYB COULD BE WRITTEN BEFORE A SONG IS EVEN HEARD
There was no more from Our Mozzer yesterday, but here are the rest of Broken's offerings:
"Mad in Madrid. Lonely in Barcelona. Hooray, Morrissey's tour is cancelled. Nobody cries-hies-hies because we all want Moz to dry. Hash tag tour2014"
"I've heard the new album now - and it's bloody good. In his top 5 solo or smiths. Hash tag shocker Hash tag welldonemoz"
"Who'd have thunk Jesse Tobias could help craft such a lush album?"
"@KristeenYoung Will you ever re-enter MorrisseysWorld? Shall we feature you on a new parody piece? Did you secretly suspect M was behind it?"
In response to me tweeting, "@KristeenYoung Come on KY, spill the beans": "@KristeenYoung KY is an apt name for Kristeen @TheRatsBack. Spends a lot of time up Moz's bum. Always embarrassing to be seen w her in public"
"Haha I just paid her back for her lewd comments about M's sexual prowess!"
"My soul is broken. That's why I'm sad."
"Jimmy Savile is trending on twitter, but it's actually misspelled as Jimmy Saville. Hash tag Irony"
I am quite shocked that Broken made such a lewd comment about KY, but then again, I guess Moz was shocked when
Kristeen made such a lewd comment on stage about him
.
That is all for today. I was going to mention a website article that has mentioned MorrisseysWorld, but the article, which is written by somebody called Helen Bach (@HelenRockNYC), is SO badly researched that I have sent her off to read FTM from the very beginning. Bach thinks that
I
am the author of MorrisseysWorld! Why are these journalists so lazy? And
WHY
are the only things ever written about MorrisseysWorld negative things?
*Goes off singing* Yes, I am blind, no, I can't see the good things, just the bad things...