It is probably just as well that Morrissey didn't start tweeting 'officially' as @itsmorrissey, because I am sure that there would have been times when he would have tweeted things that he may have regretted..... actually, I don't think Morrissey
does
regret, but if official Moz had tweeted what parody Moz tweeted yesterday, then there would surely have been repercussions. Here is what Our Mozzer tweeted:
"My latest singles simply disappeared. Thank you Harvest."
Of course, what Our Mozzer tweeted is perfectly true, Harvest have been utterly USLESS in their promotion, and both WPINOYB and Istanbul have come and gone without trace. This week will see the release of Earth is the Loneliest Planet, and I think we can all guess what will happen chart wise; bugger all!
George Edge aka @edgeindustphoto replied to Our Mozzer's tweet about Harvest by tweeting, "I could have promoted them better", to which Our Mozzer replied, "@edgeindustphoto By
mentioning them on your blog
, you probably did - by virtue of the fact SOMEBODY saw it."
It would appear to be a case of the 'same old, same old' for Moz; yet
another
record company who is failing to promote him properly. What
exactly
do these record companies
do
? It must be heartbreaking for Morrissey to sign with yet another label who just let him down, and he is no doubt asking himself "
What
will happen to the new LP?"
The good news is, I believe that the new LP will look after itself, which is just as well given Harvest's lack of interest. WPINOYB is being released on July 14th, the day after the World Cup finishes. There are no other BIG albums being released in the same week as WPINOYB and both Kasabian and Ed Sheeran's June releases should have peaked by the time World Peace comes out, so unless Kasabian or Ed Sheershit manage to produce a work of art, Morrissey
should
reach Number 1 on July 20th. So the only question is, will Morrissey be playing a UK concert seven weeks today, on the 20th July, because I want to be there to see his face as he announces he is back at Number 1 for the first time in 8 years.
MORRISSEY - HEINEKEN MUSIC HALL APRIL 10 2006
- THE LAST TIME MOZ WAS ABLE TO WALK OUT ON STAGE AND ANNOUNCE HE HAD JUST REACHED NO.1
Our Mozzer has popped into The Twitterdilly Arms a couple of times in the past 24 hours, but unfortunately I don't have the time to report all of his tweets, so I shall just report on yesterday's, and shall post today's tweets tomorrow; which include an exchange with Boy George :
In response to @stellaperrett posting a picture of Joey Essex's book called 'Being Reem' and tweeting, "@JoeyEssex_ love this book, you are so inspirational! can't stop residing it!", Our Mozzer tweeted: "@stellaperrett @JoeyEssex_ Since the word 'Reem' actually has no known meaning, it is quite an apt title, however existentially distressing."
In response to @Intl_Playboy tweeting a picture of a 'Morrissey-Free Workplace', Our Mozzer tweeted: "@Intl_Playboy This could be a wonderful idea for my next tour."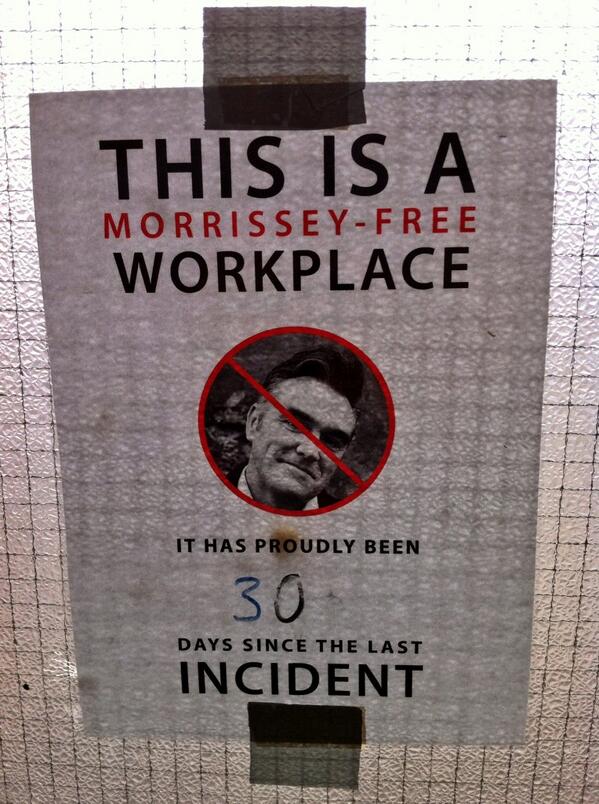 In response to @FadingGoldLeaf tweeting "@MorrisseyParody is the best parody account Twitter ever saw", Our Mozzer tweeted: "@FadingGoldLeaf The parody is so close to reality, at times one can't tell whether I'm parodying him or he is parodying me." (This tweet is made even more funny by the fact that it is in response to @FadingGoldLeaf! Surreal.)
In response to @MancLadMozFan asking for a South American tour, "Brazil or Argentina?" (Could this be a clue?)
"What makes us human is our very inhumanity."
"Perfection is unachievable in art. Great art is wonderfully imperfect. Bad art is imperfectly wonderful."
"Who else churns out wit like cottage cheese?
In response to a tweet from @Menippus tweeting, "@MorrisseyParody You're not even supposed to sit with a laptop on your LAP. And most of my "Followers" don't even know where I am", "@Menippus Popular song gave me life and stole from me the concept of living." (Feeding himself lines? Surreal!)
There has been very little youtube footage posted from last night's concert in Miami, but I have found a review, and the odd snippet:
Miami review:
http://www.miami.com/review-morrissey-shows-his-talents-remain-fine-form-sold-out-concert-arsht-center-article
KNIGHT CONCERT HALL (ARSHT) MIAMI - MAY 31 2014
SETLIST:
1.
HOW SOON?
2. KILLED ME
3. CERTAIN PEEPS
4.
GLOVE
5.
PARIS
6. GANGLORD
7.
JESUS
8. PEACE
9.
TROUBLE
10. ISTANBUL
11.
GIVE
12.
BULLFIGHTER
13.
PIGSTY
PIGSTY
14. BLIND
15. MURDER
16.
SPEEDWAY
ENCORE:
17.
ASLEEP
18.
GANG
And now we have to wait until Wednesday for another concert, although luckily, Sky Arts are tonight showing 25:Live on the telly. I also have a feeling in my water's that we may be hearing other news before then. It's
just
a feeling.