Our Mozzer made a brief return to The Twitterdilly Arms yesterday evening (late afternoon on the East Coast of America), and among the topics he discussed were; Panic, Pammy, the British government, MW documentary, and sex with Boy George! There was also a first for the Twit Arms, the announcement of a concert cancellation whilst Morrissey was sat in our pub.
THE TWIT ARMS YESTERDAY L TO R: BOY GEORGE (SWOONING), MARCUS (LOOKING SMUG) & MANC LAD (LOOKING SIMPLE) LISTENING TO OUR MOZZER AS HE HOLDS COURT
I am guessing that when Our Mozzer entered the Twit Arms, he
knew
that
the announcement of the cancelled concert
wouldn't be far behind him, as his opening gambit was, "I'm back for a limited time only". Sure enough, approximately half an hour later, as word filtered through that tonight's concert in Atlanta was off, Our Mozzer slipped quietly away. Here are the highlight's of that half hour:
In response to this question from @RickIndeed, "@MorrisseyParody what do you make of
the theory that "Panic" is about Saville?
Not entirely convinced but not entirely unconvinced either...":
"@RickIndeed Panic was not about Saville. Panic, like most of my songs, was about more than one thing; pop critique; anti-radio; Thatcherism."
"@Jazissey I should add that Broken's favourite tweeter is Jazissey; he maintains her page is essential."
"@BoyGeorge Boy George is the only person who can tell the world. But will he?
Boy, I didn't really consider you unbearable
. You were overbearing and quite frequently bare, but never unbearable. Surely you wouldn't be YOU without the emotional nakedness, quaint voice and savage turn of wit?"
"Boy George will tell the world again quite soon."
@Mancladmozfan tweeted, "@BoyGeorge @MorrisseyParody Can you imagine boy and moz singing together, wow would that set tongues wagging", to which George replied, "I often slip a little Morrisseyness into my work! Have you ever heard 'Fat Cat?'", to which Morrissey replied:
"@BoyGeorge @mancladmozfan Has ANYONE ever heard 'Fat Cat?'" (I'll be honest, I had never heard it!)
"@BoyGeorge I wouldn't dream of asking you if you'd heard 'Papa Jack.' What? You have?"
In response to @BoyGeorge tweeting, "@MorrisseyParody In a world bereft of Morrissey we must cling on to what we have! Lol!":
"@BoyGeorge Contact me via Harvest and something can be worked out. Not a duet, but something", to which George replied, "@MorrisseyParody Ha! What sex?"
"The more sex you have the less it means. In the end you may as well have been Morrissey as @BoyGeorge (Ed - I do so like the old favourites!)
"Boy George knows. He just does. But it's utterly without proof. So this Twitter malady lingers on."
"Pamela Anderson is an underrated thinker; just happens to look marvellous in red bikini."
PAMELA ANDERSON - "AN UNDERRATED THINKER" - MORRISSEY
"Ineptitude is the one saving grace of the British government; without it, they would be positively dangerous."
"Wildean wit, ravishing poetry, dry social commentary, self-deprecating humour and sincere warmth disguised as misanthropy. Who am I? And no - I'm not Richard Madeley."
DISGUISED MISANTHROPIST
"Will you ever forget this time we spent together on Twitter? Will anyone believe you?"
At this point, we were joined in The Twit Arms by Kristeen Young. I told KY that it had been a pleasant surprise to find her vocals on Earth is the Loneliest Planet, and I also asked her where she had recorded her vocal, as I knew that she hadn't been out to France; or at least, I was pretty sure I knew! Here is Kristeen's reply:
@

TheRatsBack
In New York. I'm on another song too.....Kick the Bride Down the Aisle.
AN EXCLUSIVE FOR FOLLOWING THE MOZZIAH! It is fantastic news that KY features on another Morrissey track. WHEN, OH
WHEN
WILL WE GET A MOZ/KRISTEEN DUET?
Our Mozzer's Highlight's Continued:
"@KristeenYoung @TheRatsBack Kristeen, do join me in the Black Lodge. Bring a sponge and a rusty spanner, won't you?"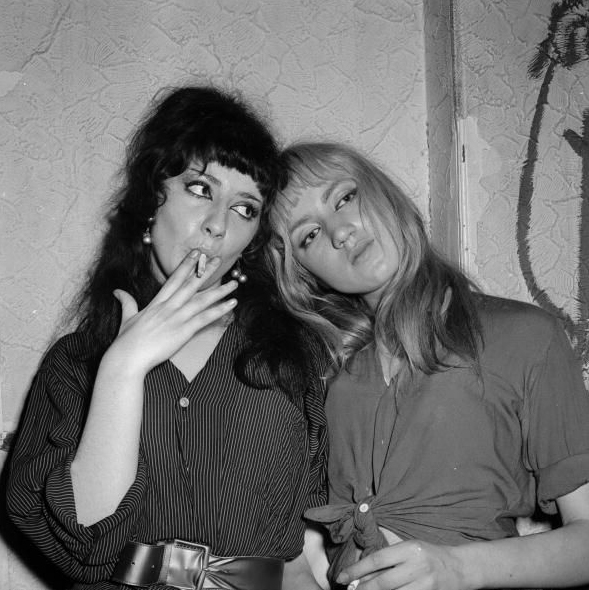 KY & BUNNYGAL IN THE ARMS
"Pain reminds us not to try so hard next time."
"The new album will surprise a few people - mainly those who have congenital deafness."
In response to @PapaSonsFilm tweeting, "@BoyGeorge @MorrisseyParody The greatest story told on Twitter. Missed by all but a very privileged few, recorded by @TheRatsBack's blog":
"@PapaSonsFilm How is the (MorrisseysWorld) documentary coming along?"
Marcus Markou (aka @PapaSonsFilm) replied: "@MorrisseyParody No one believes me. Everyone is now certain of my insanity" and added, "I am knee deep in Papa the musical. Started today. Proper interest. Doing book for it. Fancy doing a number?", to which @MorrisseyParody replied:
"@PapaSonsFilm No thanks." I pointed out that the MW documentary would have been the making of Marcus, and that it was an opportunity missed. Moz replied:
"@TheRatsBack @PapaSonsFilm Most opportunities are missed in life. Marcus could do something genuinely ground-breaking, instead he's playing it safe. Had I allowed Mike Joyce to write the lyrics, I might still be living in a council house."
"@PapaSonsFilm You were given the story."
A MAN WHO PROBABLY LIVES IN A COUNCIL HOUSE, PRETENDING TO BE MORRISSEY, OUTSIDE MORRISSEY'S OLD COUNCIL HOUSE.... SURREAL
"Alcohol makes us forget the sad times. After a while we drink to forget the happy times. Finally we drink because alcohol is all we remember."
"I walked alone along the pier at 4.22 am, The sea was louder than I remembered, You pretty face dead in the clouds, Raining into my heart."
"A boat rocked and my eyelids hurt, But why did you do that thing? Why did you swallow those pills? I have no words, Instead just the rain."
In response to @LizzyCatMoz asking, "Are you enjoying the tour? I imagine the travelling must be tiring.":
"@LizzyCatMoz I prefer being tired. A tired mind is an empty mind. Anything is better than thinking." It is interesting to note that Morrissey didn't mention having a virus, which the media have reported is the reason for tonight's cancellation.... but then again, @morrisseyParody isn't
really
Morrissey, it's just a parody!
And then he was gone.
We now have to wait until Friday for another concert, and I just hope that some Youtube footage emerges from Atlantic City or Boston on Saturday, otherwise the Twitterdilly Chart on Tuesday will have nothing in it! With Astraea having also left closed her twitter account, there is just NO music being played in The Arms, although away from The Arms, I am listening to Earth is the Loneliest Planet on repeat; it is my favourite Morrissey song EVER... for this week at least! Yesterday evening, EITLP sat at Number 37 in the UK I tunes chart, but will it make it into this Sunday's chart? I doubt it; still Harvest sleep, and Harvest's Managing Director of Digital Dithering, Bich Biro continues to spend her time promoting LA politician Bobby Slither instead of Morrissey. You couldn't make this up!
MORRISSEY CONTEMPLATES JUMPING OFF THE CAPITOL TOWER, WHILST PAMELA ANDERSON WATCHES ON.... AND THEN DECIDES TO GO LOOKING FOR A HARVEST REP INSTEAD......
...... BUT CANNOT FIND ONE
That will do for today. @mecaniqueorange posted this on twitter yesterday, which gives the tossing away of the red rose in Pomona a whole new meaning. Was it a reference to The Nightingale and the Rose?:
"From the archives: Morrissey "accepts" a red rose and throws it away
https://www.youtube.com/watch?v=_Of2DJ5sCZ0
#

TheNightingaleAndTheRose
And apparently Morrissey has been staying in the same Miami hotel as the England football team, allegedly spending some time with Leighton Baines, whose friend then subsequently posted a picture of Baines at Glastonbury in 2011, where he had gone to see Moz.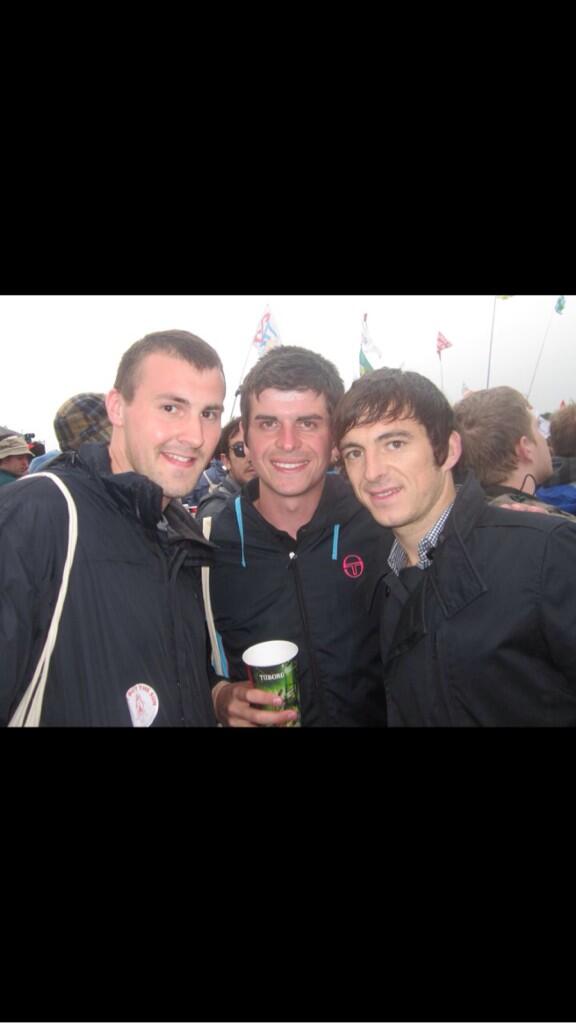 LEIGHTON BAINES (FAR LEFT) - WATCHING MOZ AT GLASTONBURY 2011
LEIGHTON BAINES PLAYING FOR ENGLAND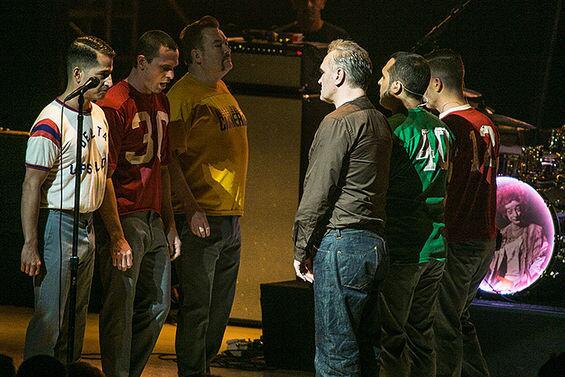 THE MORRISSEY BAND LAST WEEK - PREPARING FOR BATTLE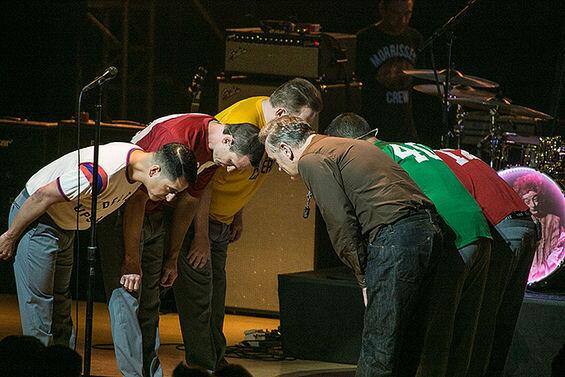 BOW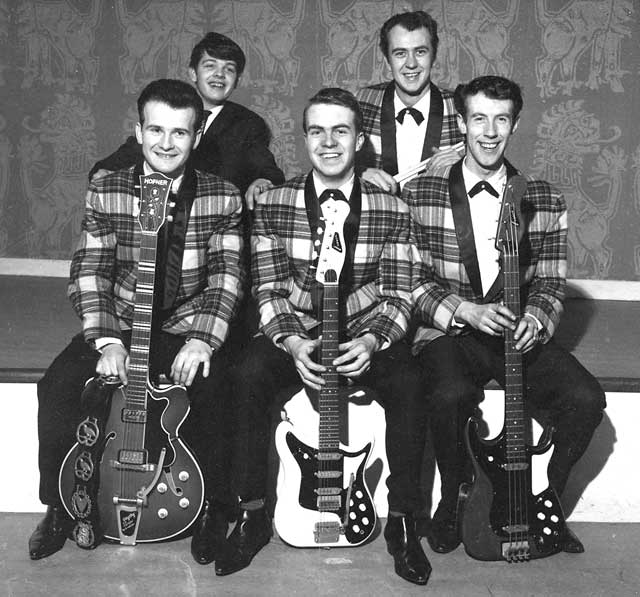 THE MORRISSEY BAND RELAX OFF STAGE