All is quiet in MorrisseysWorld and The Twitterdilly Arms. There is no sign of the new 'Bans Committee' parody piece, and Broken has gone to ground. Is it all over?
It would appear that World Peace is None of Your Business was leaked onto the internet late last night, and people are getting very excited about it. There really does seem to be a buzz about this new LP, and I have NO doubts that it will be Number 1 on July 20th. Broken obviously doesn't share my optimism, because when I asked him on Tuesday where Morrissey was, he replied, "@TheRatsBack He'll surface when the album flops." There will be NO flopping!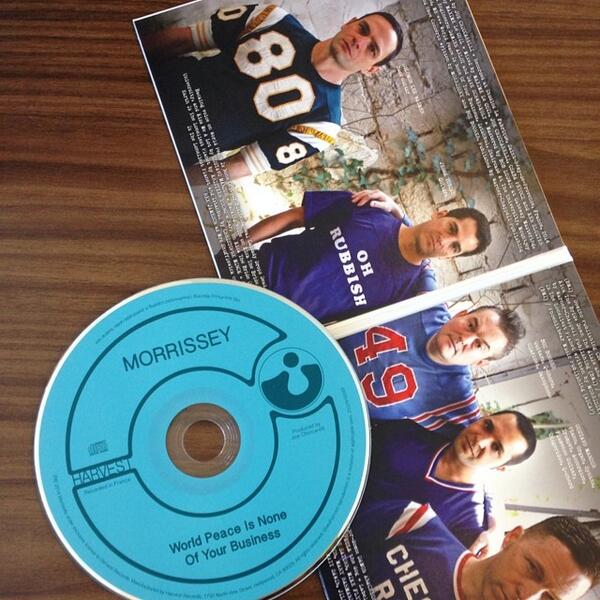 PHOTO CURTESY OF @ERICACALIL
It is such a shame that Morrissey won't be on tour whilst the album is Number 1. A tour of the UK/Europe
WAS
due to be happening this summer, but it collapsed when the big fallout with Kristeen Young occurred last month. The reason I know there was due to be a tour, is because Fifi told me!
Regular readers of FTM may remember that on Day 977 (May 18) I wrote, "Fifi also pulled me into the toilets of The Arms, and whispered a sweet nothing in my ear. The sweet nothing made me smile, but I cannot say any more until the sweet nothing becomes a sweet something." I also wrote on Day 986 (May 27), "will Independence day EVER come? It can't come soon enough! *coughs*"
My mention of Independence day and a cough were because the tour was supposed to start on July 4.... Yep, if things had been different, I could have been watching Morrissey tomorrow! The chances are that I would have been joined by a number of BRS members, all of us with blue roses in hand. Of course, instead of this happening, I have spent the past month watching a broken Morrissey prop up the bar of the Twit Arms, whilst being kicked by unsupportive 'former' BRS members. Life is a pigsty.
According to Fifi, the tour was apparently due to run through to August 10th, and presumably would have incorporated the rumoured
Castlefield concert on July 12th
and the
concert in Sicily on July 28th
. What a crying shame.
This will be my last blog entry for a while as I am going away, and will have no internet access. If the new MW parody is posted on FTM today, then I shall post it before I go. Maybe OM will bring back the MorrisseysWorld blog instead.
I shall sign off with words given to me by Fifi on June 5th, in the filthy toilets of The Twitterdilly Arms. The words were given just before
Kristeen Young announced that she would no longer be Morrissey's opening act
. I had asked Fifi to give me a clue as to where Morrissey would be playing on the UK leg of the tour:
"Life, life, fatal life. I cannot give you a clue because, as of today, I am not even sure what the answer to your question is. Nothing is ever set in stone and as you are well aware, things can always change. Even the opening act."
I dearly hope that when World Peace gets to Number 1, Morrissey will no longer feel broken, and will return to his one true home.... the stage.
Goodbye.