Today, I had intended to republish an article that first appeared on the MorrisseysWorld blog entitled 'Morrissey-related Art'; which a number of the BRS members had commented bore similarities to the new Morrissey song, Smiler With Knife. Unfortunately, I am unable to publish the piece from MorrisseysWorld because of this comment left yesterday:
Message from Our Mozzer: the Leonid story must not be republished.
Warm regards
Broken
Posted by Broken to
Following The Mozziah
at 14 July 2014 21:16
I have been censored! Now
WHY
would a fake Morrissey censor me? Come to think of it,
WHY
did a fake Morrissey go mad at me when I wrote on Day 898 that I thought he had criticised Johnny Marr? And
WHY
has this fake Morrissey torn me off a strip on a number of other occasions too? Is he taking his fake Morrissey role too far, or could it possibly be that this 'fake' Morrissey isn't quite so fake after all? "More bullshit!", cries Uncle Skinny. "Liar!" screams Jack Shet..... but there has to be a reason for me being censored by a fake, after all, if this is all bullshit, then what does it matter what I write, especially as hardly anybody reads this blog of mine any more!
Although I am unable to republish "the Leonid story", neither Broken or Our Mozzer have mentioned me writing
about
it, or indeed republishing the prelude, so here is what was originally written on August 24th 2011, leading up to the piece:
Morrissey-related Art: 4000 words from a rejected novel featuring Morrissey references Aug 24, 2011
Novel title: Make me a Monster, but Don't Kill Me For Being Monstrous
Title of excerpt: Brazil
Novel written in 2008-2009 and kindly submitted anonymously. Please note the writing contains erotic content, though it is not pornographic. If you are likely to be offended, you should not read on.
The piece itself is an unbelievably well written story, that centres around a fictional 21 year old best selling author called Leonid Albrecht, who pays a 24 year old Brazilian waiter named Paulo to rape him. Eventually, Paulo ends up falling in love with Leonid, which horrifies Albrecht, and he ends up stabbing Paulo. Now, what are those lyrics from Smiler With Knife; "sex and love are not the same"?
When I first heard Smiler With Knife, I thought it was Morrissey writing a premonition song, and I really couldn't warm to it; although actually, the lyric "sex and love are not the same" didn't really fit in with my interpretation, but having now re-read 'Brazil' from 'Make me a Monster, but Don't Kill Me For Being Monstrous', it all falls into place. I am now able to listen to 'Smiler' with it having a whole new meaning, and at
last
I am also able to enjoy it.
I
can
understand why Our Mozzer wouldn't want the Leonid story to be republished, as he is probably thinking that the story is too easily recognisable as being a link with 'Smiler', but
NOBODY
outside the BRS is interested. My blog is ignored, and even if the non-believers
were
alerted to the link, they would just put it down as being yet
another
coincidence.
Maybe
there is another reason for OM not wanting 'Brazil' to be republished.
Maybe
it is actually part of the 'real' novel that the 'real' Morrissey is currently writing, although as a number of BRS members have a copy of 'Brazil', I can't imagine for one minute that Morrissey will ever publish it, which is a crying shame.
Our Mozzer hasn't been seen in The Twitterdilly Arms since Saturday morning, when he offered these insightful words:
"Life is duller than rain on concrete and unfortunately goes on for much longer."
"I asked why you told me it came to you while looking through a broken window. Without comfort, peace could only be insanity. Shut up oh shut your fat lying mouth. Because everything you said was a lie and you lied better than you ate, drank or screwed."
"Senile old crow to whom I should bow. Senile old crow to whom I should scrape. You're nothing and nothing can save you form death."
"I'm terrible at poetry. Not that being terrible at writing prevented my autobiography. Hash tag SomeShameIfNotMuch"
In response to @Avirtuousvamp tweeting, "@MorrisseyParody The sheep only pay attention to the blue tic...or a selfie": "The blue tick matters more than genius, or indeed competence. Has anyone gained a solitary insight from @katyperry ? Hash tag twitter"
KATY PERRY - INSIGHTFUL, OR JUST GREAT BANGERS?
There was no more from Our Mozzer on Saturday, but I was able to make a copy of the tweets I had missed from Thursday. Here are the highlights:
"World peace is, I'm afraid, absolutely none of your business @BarackObama"
"Genius is often ignored but never forgotten. Mediocrity is forgotten the moment it passes."
"Cameron doesn't care about British people - only his globalist puppet masters. Terrorism is a minor concern, compared to the imposition of antidemocratic governance via EU. Instead of advocating further stripping rights of British people, why not cancel the Lisbon treaty as promised?"
"@David_Cameron David Cameron is a parody of a 1960s PC Plod. If the man can think at all, he hides it well."
In response to @PapaSonsFilm tweeting, "The writing is on the wall": "The writing says 'World Peace'."
In response to a WPINOYB reviewer writing "probably Morrissey's best solo effort since 1994's Vauxhall And I": "This will be on my epitaph. It will be on my grave stone. It has, in fact, been said about every single album since Vauxhall."
"Morrissey dies today: RIP Mozza. "His best solo effort since 1994's (sic) Vauxhall and I" Hash tag sycophanticslags"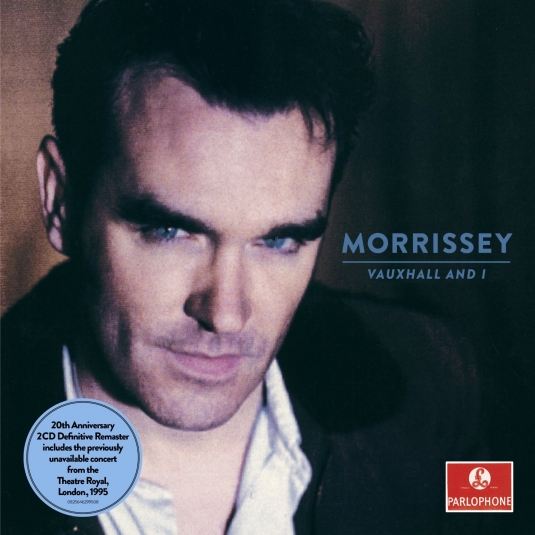 THE 20TH ANNIVERSARY EDITION OF VAUXHALL AND I, WHICH IS PROBABLY MORRISSEY'S BEST SOLO EFFORT SINCE, ER, VAUXHALL AND I! (NB: THE LEONID ALBRECHT STORY
ALSO
FEATURES A REFERENCE TO VAUXHALL AND I)
Thursday Highlight's Continued:
"My twitter account will, in the fullness of time, be considered the modern equivalent of Wilde's after dinner repertoire."
"If you eat meat, you deserve to be eaten. If you eat foie gras then you get what you deserve."
"@Broken1andonly's favourite footballer has been on TV almost daily. Rio in Rio... sounds like a Morrissey lyric."
"RIO IN RIO"
"Jordan is famous for injecting chemicals into her lips to blow them up, and then injecting more to make them go down again. Releasing another album would be a distraction from her lip soap opera."
In response to @stacy1675 tweeting, "@MorrisseyParody my inspiration is back...Welcome!": "You must introduce us."
"Just say 'NO' to Scottish independence."
"Listening to my new album is like eating chocolate in one's tent during a storm on Mount Everest's most unforgiving face."
"Desperation is my best friend."
"Loneliness is my career's one loyal ally."
"Boredom is what drives me. I hate the boredom of life so much I don't ever want to return to living it."
"Sadness chases me like rush hour traffic."
"David Cameron presides over a government which 'lost' 114 files on child abuse but now wants to monitor which sites YOU visit."
"The UK government shuts libraries while using YOUR money to bail out banks and give money to dictators in Africa to spend on Ferraris."
"The only thing MPs care about is a seat in the Lords; and they'll doff their caps to the Windsors and steal YOUR money to get there."
That's it for today. My blog entry of yesterday had the lowest number of hits since September 2012, but the hit numbers have dropped off significantly in recent weeks; in part because of 'Broken Gate', but mainly because I stopped anonymous comments, which drove away all the spammers. I would love to know how many people are still 'Following the Mozziah' with me, so if you are reading this, please leave a comment, even if it's just to say you are still watching events unfold.
And finally Esther, and finally Cyril, according to TTY, World Peace is None of Your Business is currently sitting at Number 2 in the UK chart. The race for the top is ON:
15 July 2014
UK chart position / day one
Morrissey is #2 in the UK with World Peace Is None Of Your Business. He is just over one thousand sales behind Ed Sheeran who is clinging on to the number one position.
Please support Morrissey by purchasing World Peace Is None Of Your Business in the next few days in an effort to oust Ed Sheeran. Thank you.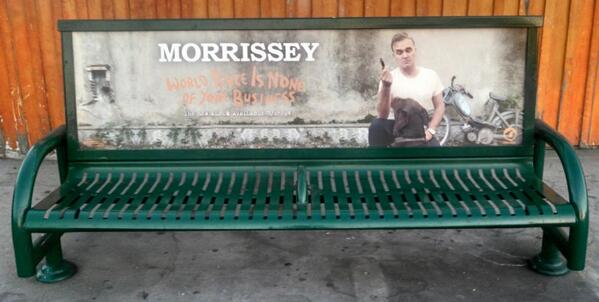 TWITTERDILLY ARMS TOP 10:
1.
OBOE CONCERTO
- MORRISSEY (NEW ENTRY): https://www.youtube.com/watch?v=M0Ej_71ydZs
2.
KISS ME A LOT
- MORRISSEY (NEW ENTRY): https://www.youtube.com/watch?v=TykmkX-IDBo
3.
KICK THE BRIDE DOWN THE AISLE (LIVE IN BOSTON 2014)
- MORRISSEY (UP 1) : https://www.youtube.com/watch?v=OfYLV_mTbls
4.
WORLD PEACE IS NONE OF YOUR BUSINESS
(EXCELLENT NEW VIDEO) - MORRISSEY (DOWN 1): https://www.youtube.com/watch?v=uBCg28Pxc0Q&feature=youtu.be
5.
EARTH IS THE LONELIEST PLANET (LIVE IN SAN JOSE 2014)
- MORRISSEY (NO CHANGE): https://www.youtube.com/watch?v=UHDNICm9MVg
6.
SCANDINAVIA
- MORRISSEY (RE-ENTRY): https://www.youtube.com/watch?v=ipGvMelh3Mg&feature=youtu.be
7.
I'M NOT A MAN
- MORRISSEY (NEW ENTRY): https://www.youtube.com/watch?v=K2oAyMhFheo
8.
THE BULLFIGHTER DIES
- MORRISSEY (DOWN 7): https://www.youtube.com/watch?v=pDwYwxyW9Nk
9.
ISTANBUL
- MORRISSEY (DOWN 7): https://www.youtube.com/watch?v=YWn5iqSdJUs&feature=youtu.be
10.
FORGIVE SOMEONE
- MORRISSEY (NEW ENTRY): https://www.youtube.com/watch?v=vtmIKQFLrtw