I have a very overactive mind. I 'think' too much. Situations frustrate me. People frustrate me. I don't actually like many people. Through choice; I don't have many friends. I am usually right. I have mood swings. I wish I didn't have mood swings. I wish I didn't 'think'
so much... but things could have been a lot lot worse; I could have had Morrissey's troubled mind! I would also
love
to have Morrissey's troubled mind; although I doubt he'd recommend it.
The reason that I have opened today's blog with the above paragraph, is because Our Mozzer has made another couple of visits to the Twitterdilly Arms, and his mood seems to be swinging by the second. The phrase 'tortured genius' is a bit cliché, but Morrissey really
IS
a 'tortured genius', and being able to witness the workings of his mind through this whole MorrisseysWorld experience has been insightful, fascinating, and above all, a privilege.
Quite a few people have fallen away from this whole phenomenal journey, mainly because they haven't liked
all
of what they have seen; whether it be a mocked-up picture of the Moors Murderers, or a broken Morrissey tweeting endless pictures of Justin Bieber. One day, all those who dropped away may kick themselves for not having realised what they were part of, but at least they had a taster; most people have missed it altogether.
If this were 1884 and not 2014, we would all be reading Oscar Wilde's 'WildeWorld' blog, and following his every word on twitter as he tweets using the account name '@WildeParody', but no doubt exactly the same would have happened to Oscar as has happened to Moz, with people falling away from following him because they were unable to accept 'the whole' of what they saw. The likes of GOB would
never
have been able to accept Wilde posting semi-naked pictures of Bosie on twitter.
BOSIE - UNACCEPTABLE
So, to the visits to The Twit Arms of a mood-swinging Moz. I expect this week has been
particularly
turbulent for Morrissey, as the release of the new album would no doubt have brought exceptional highs, which will have been mixed in with gut wrenching lows, as he sees the Number 1 chart position slipping away; and
YES
, it
DOES
matter to Morrissey if he doesn't reach Number 1, it matters A LOT, in fact it matters much more than most people could
possibly
imagine. I believe that Morrissey will be absolutely
gutted
if World Peace doesn't get to Number 1 in the UK, and no words of consolation will help, as Heather found out yesterday. Here are all of Our Mozzers twitter highlights, which actually came between 2.30 and 3.30am this morning:
"Distressed, disinterested and disenfranchised-"
"Cherries, red grape juice, omeprazole and multivitamin. Hash tag RocknRollLife"
In response to @doctorsister tweeting, "@MorrisseyParody I'm glad you're taking your Omeprazole. Am I the only one that worries about your oesophagus?": "My oesophagus and I worry more about how to spell it than about the effects of gastric acid."
"It looks like Dread Sheeran will be number one and I'll have YET another number two album."
In response to @Heathercat222 tweeting, "@MorrisseyParody Considering how much less promotion WPINOYB has received, number 2 is by far the more impressive achievement.": "Number two isn't more impressive than number one. But thanks for the consideration."
In response to @TheRatsBack tweeting, "No interviews. No UK concerts. No promotion. No vinyl. No use of @RustyRockets or other 'celeb' friends. Late push to come?": "I couldn't find a record company who would promote me. Sadly I shall not be the new Alanis Morrisette." (Ed - This is a reference to Morrissey's US label in the 1990s concentrating all their efforts on Alanis Morissette instead of him.)
ALANIS MORISSETTE IN 2014 - NO LONGER SO NEW, AND WITH ABSOLUTELY
SHIT
TATTOOS
In response to @BoyGeorge tweeting, "I'm loving it, 'Earth, Staircase....... classic M!": "@BoyGeorge You forgot ten songs there, old son."
In response to @YahooNews tweeting, "520-million-year-old sea monster with preserved brain unearthed": "@YahooNews When I saw the headline, I half-expected to see a photograph of Ann Widdecombe."
In response to @glitteredup tweeting, "@MorrisseyParody Oh, hello lovely. Late but always welcome.": "@glitteredup You sound like one of my lovers waking up." (Ed - "
One
of my lovers"??? How many has he got?)
"All we need is an MW bar. Stage five of MW entails opening one. I'm not joking."
In response to @Heathercat222 asking, "@MorrisseyParody So MW isn't over yet?": "The blog is over. But one of the authors intends to open an MW bar. Who needs a virtual pub?" (Ed - A
real
MW pub! *slobbers at the thought* A jukebox crammed with Patti, NYD, Françoise, Timi, Morrissey, T Rex, Bowie... oh lordy, lordy, but where would it be? It would
have
to be LA, with semi-naked humasexual waiters.)
THE BAR STAFF AT THE NEW 'MORRISSEY'S WORLD' BAR IN LA - L TO R: LOUGHTON, RAT, MANC LAD AND BROKEN
In response to @Lizzycatmoz snidely asking to be banned from the BRS forever and a day: "Be warned - if you're invited back into MW and you decline with a bitchy aside, you are excommunicated. This isn't the papacy; it's more."
"@katyperry Somehow Katy Perry manages to be more vacuous on twitter than she is in person - SOMEHOW."
"Is it possible to die of tiredness? If so, I am doing. If not, I might be the first."
In response to a tweet from @oxfordsarah saying, "Crazy scary storm. The lightening is just wild tonight.": ""Crazy scary storm" is a good song title."
"@enrique305 How did pop music become so dull?"
"Ziggy, T Rex, The Smiths vs @enrique305 @katyperry @edsheeran hash tag sad"
"This is my finest album. World Peace ranks alongside Queen, Strangeways, Viva, Vauxhall, Southpaw, Quarry and Refusal."
"@AustinMahone Now we have a Justin Bieber copyist. When we all thought even Justin Bieber doesn't want to be Justin Bieber. Who would want to watch a Justin Bieber parody? Ah, over 6 million souls do... hash tag taste"
"I have 10 000 times fewer followers than a Justin Bieber parody with no good songs."
Our Mozzer returned to The Twit Arms again at 7.30am this morning:
"However bad things get, we can all be grateful we're not @ColeenRoo"
"Do you think @ColeenRoo married @WayneRooney for his looks or his charm?"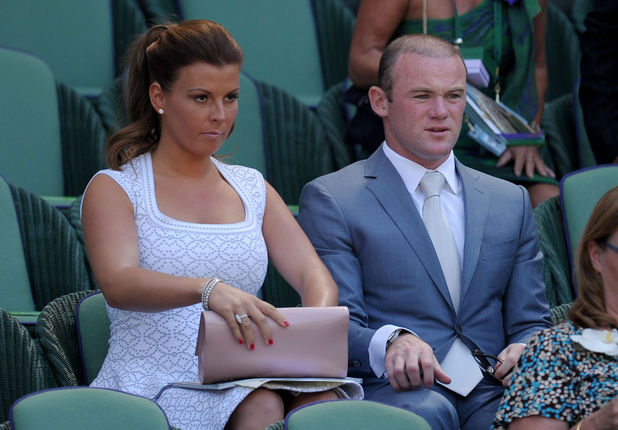 THE PERFECT MODERN 'CELEB' COUPLE
"We're all too busy to be desperate. It's only when the tiredness recedes that one realises quite what a mess one's made of one's life."
"My talent is exhausted and now I paint over the cracks with past glories and half-formed new songs."
And then he was gone, no doubt to swallow those 16 pills. The highs and lows of a genius being rested for another day.
Before signing off from twitter this morning, Our Mozzer retweeted a Stephen Fry tweet that was promoting a festival for Positive Mental Health.
In other news, Morrissey yesterday posted a statement on TTY regarding the death of the actress Elaine Stritch. In the statement, Moz wrote, "Can we appreciate the people who are around us
right
now? The answer, of course, is No, for we are all pathetic human beings." The statement was signed Morrissey Switzerland, 2014.
And finally, despite all that has happened in recent weeks, I would imagine that Morrissey was immensely proud to see Kristeen Young make her television debut this week on The Late Late Show. That girl can sing!
"A tired psyche. A heavy heart. And there is no elixir to soothe or heal. With this, we are always alone. I curl into myself and bleed" - @FadingGoldLeaf July 17 2014
NB. My blog entry of yesterday hit a new low. Just 60 hits. I can also confirm that my blog has had NO hits from Switzerland.