It's been a busy few days in both Morrissey's world and MorrisseysWorld. In Morrissey's world, a former security guard called
Bradley Steyn, would appear to be trying to sue Morrissey for unfair dismissal on the grounds that he (Steyn) refused to kill David Tseng, the owner of So-Low for Morrissey!
You couldn't make this up!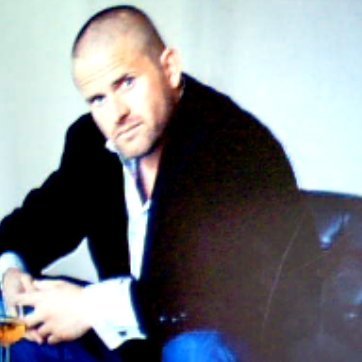 STEYN - REFUSAL
As the news broke of this lawsuit, So-Low's very own Uncle Skinny took to twitter to say, "So Morrissey wants a heavy to do @robot99 in? That is...insane. Totally insane. I smell legal action."
Uncle Skinny's sense of smell was spot on, as Morrissey then issued
a statement on TTY
to say that the story was a "vexatious lie", and that "Bradley Steyn's statement is now in the hands of the Los Angeles Police Department, and is subject to both criminal and civil action."
So-Low owner David Tseng could have perhaps built some bridges with Morrissey over this ridiculous allegation of Steyn's, but instead of agreeing with Uncle Skinny's statement that the story was "insane", Tseng today took to his own website to write:
"Unless you were there and saw and heard everything that happened you are speculating and you can't be sure you are more right than someone else giving their opinion on who's being truthful. Since this certainly does involve life or death, would you risk a situation if there was even a 1% chance it could be true? Also regarding credibility, at this point I would take a complete stranger's words over Morrissey's judging by what he wrote about me and the site in his latest statement and his overall reliability."
And Tseng wonders why he has a life time ban! And on that subject, Tseng yesterday gave an interview to
avclub.com regarding Steyngate
, and in the interview Tseng stated that he only learnt that he was banned for life from Morrissey concerts when Morrissey's tour manager told him at the concert in Santa Ana earlier this year. Tseng's life ban was
actually
issued in 2011, in a MorrisseysWorld blog piece entitled 'Minutes of the Bans and Concert Ejections Committee'. Tseng must
surely
have read that? In the MW piece, Our Mozzer not only issued Tseng with a life time ban from all concerts, but did so with the infamous line, "Just ban the cunt", which was recently chosen by Broken as his favourite MW line of all time. I am laughing out loud as I type this. It was indeed a great, great line.
And on the subject of the Santa Ana concert, could any
sane
person really believe it is was just a 'coincidence' that Morrissey wore a BLUE ROSE at
that
concert? The same concert that he had just had "That Man" barred from? I don't think so.
TSENG - QUARRY.... AND CUNT!
In far more important matters, let me turn my attention to MorrisseysWorld, or as it now seems to be called,
MorrisseysWorldStIll
. Unbelievably, this new MW blog has been up and running since Monday, but NONE of the BRS bothered to tell me! I stumbled upon the new blog yesterday, ironically thanks to a link placed on SoLow by a Solower called 'Fan'. Here are the entries from the new MW:
Monday, 28 July 2014
The Forgotten Man remains.
Today I feel as though I am trapped in Mountjoy. The sun brings many things and unfortunately one of those things is 'sunbathers'. Shock number one is that I am amongst them. Not burning of course and with something between my ears but here none-the-less. Unfathomably still here. Unfashionably still alive. Switzerland relaxes the self and postpones reality for a flinching second. Talking of postponements! The U.S tour cancellations have flattened my spirit more than you could ever know. However, the mental strain of the previous years and due to 'complications' with harvest I was left mentally drained and struggled to complete any of the gigs. To those who I have wronged, I apologise and I will make it up to you soon.
Yes One's mental state has somewhat deteriorated over these last years. I could not even summon the strength to promote my new album. World Peace as a result is limping in the charts worldwide and has broken my spirits even more. I am the forgotten man of music. Thrown on the heap with Rick Astley. My album was of course less well received than the comeback album of the one with
insecure teeth
. Oh well, I'll never learn.
I have spent today lazing, not grazing, on the beach. It is weird how often life imitates art. I have to go now as Boz is bringing me over a drink. Wine for me and a jug of water for himself. He appears to be wearing a dress and holding a lead that has a goat on it. Some things never change.
Do not forget me. Please
Posted by St. ill Morrisseys World at 14:25
Tuesday, 29 July 2014
How can they look into my eyes...
My return tasted like glorious defeat. The naysayer are out in force which is par for the course. In my absence it seems people have largely forgotten about me but that is too be expected. I mean just how can one exist in this music business if one's face is not plastered everywhere?. I saw a poster of Ed Sheeran hanging from Buckingham palace. Oh how I wish something else was hanging from Buckingham Palace. Anyway we move on. Why? Because we must.
Posted by St. ill Morrisseys World at 11:28
LOG LADY - POSTED ON MORRISSEYSWORLDSTILL.BLOGSPOT.COM ON TUESDAY
Thursday, 31 July 2014
.
An update.
Bodyguard issues aside, see you soon.
Take me back to dear old Blighty
Posted by St. ill Morrisseys World at 15:29
There are a number of spelling mistakes and grammatical errors in the postings, which make me wonder if this blog really is the work of Our Mozzer, but I suppose he isn't really feeling great about life at the moment, so perhaps he's just not his usual articulate self..... I wonder if he's unshaven?
Our Mozzer (or St.Ill Morrissey as he is currently calling himself) returned to The Twitterdilly Arms again yesterday evening, and his presence in The Arms attracted in a mixture of people, including excited BRS members, mixed-up
Ex
-BRS members, and those who just want to keep on accusing Moz of being me. Here are his highlights:
"If one can quote oneself.. "I think I've been accused of everything except murder - which is bound to come at some stage, I don't doubt."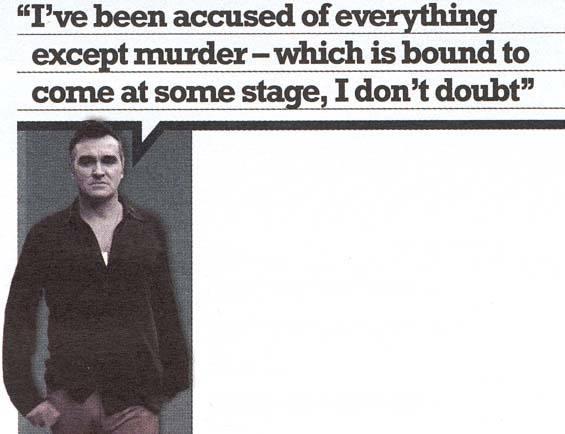 FROM AN NME INTERVIEW IN 2004 - RINGLEADER
"I am incapable of initiating a laugh and I cannot stop crying."
"I am tedious. I've been trying to tell you all for years. Although not as tedious as being Richard Madeley." (Please note, the word "tell" was missing from the actual tweet, so I added it. The 'old' Our Mozzer didn't make these sort of mistakes!
This
Our Mozzer is like a punch-drunk Parody Moz just going through the motions. He is a parody of his former parody self.... Actually, I'm not too sure if I should be joking about this; Morrissey
really
might be laying on the floor of a darkened room with just a laptop and a bottle of gin for company. I'm starting to feel a little awkward as I type. I genuinely hope he's ok, and if he's not, then.... then.... then
what
? I don't know! I expect Morrissey has been in this situation a thousand times before, but each stab in the back must hurt that little bit more. I shall exit these brackets and carry on reporting yesterday's visit to The Arms.)
In response to me stating that I don't know how Moz puts up with all the shit he gets: "I've been stabbed in the back so man.. you know the rest."
Highlights Continued:
"I am a pale replacement for Wilde. But if this is what you have chosen.."
"I should have given this all up years ago and opened up a florist. I'd look good amongst the shrubbery."
In response to @southkirk 's tedious insistence that Our Mozzer is me: "All people are going to remember from this is a rat. Why do I even bother?"
In response to me asking, "@stillMozsworld How do you think it feels being the rat?": "Nobody is welcoming to rats. I should know as I am you. Hello Morrissey."
In response to @southkirk 's further tedious insistence that Morrissey is me: "I don't know how Rat has any time to do anything. He is himself, me, you, Jesus and also Boz."
In response to @southkirk 's further
further
tedious insistence that I am pretending to be Moz, and asking if the whole thing is an experiment: "The only hoax here is life."
In response to @southkirk 's further further
further
insistence that Morrissey is me: "@southkirk For the last time, my epitaph - I am NOT Rat. This is getting irksome."
MORRISSEY - NOT RAT
My advice to @southkirk is this; if after three years you
STILL
believe that I am pretending to be Morrissey, even though you have actually met me, and stood next to me in a hotel in Manchester as Our Mozzer tweeted, then this
really
,
really
isn't the place for you. May I suggest
http://www.edsheeranfans.com
.
Highlight's Continued:
In response to @AmIMoving2Fast asking what one song would M want to hear live: "Let Me Kiss you by Nancy Sinatra. Who else? Of course this changes by the day, if not the hour."
"Health & safety will be the death of us all. Or perhaps it will be attention seeking "bodyguards"
"The novel has gained a new character. Mr. Albrecht.." (Maybe Moz
isn't
lying in a darkened room after all! Perhaps he is spending time writing a bit more of 'Make Me A Monster, But Don't Kill Me For Being Monstrous'.
In response to Heather and EARS both mentioning that they hoped to be able to read it: "Perhaps one day. Edit. Edit. Edit. then Diet. Diet. Diet." followed by, "Hopefully another Penguin Classic. If they have the guts."
In response to Robert Neville (@geniussteals) asking if he could be a character in the book: "I do believe 'Robert Neville' is already a character in a book. Heaven knows I don't want or need another lawsuit." (I think @geniussteals is another new member of the DDD. I don't know where we picked him up, but hopefully he will leave comment to tell us.)
In response to me asking, "Am I safe writing FTM, or might Moz send Boz to silence me?: "@TheRatsBack Boz is otherwise engaged. He's taking out somebody else at this moment. Then I believe he is working with Example. I may not let him back."
In response to me asking if the statement about Boz working with Example was real: "I refuse to believe Example is real."
EXAMPLE - WORKING WITH BOZ BOORER, OR A WIND-UP BY OUR MOZZER?
"Don't dig for a secondary meaning because at worse you might just find a first."
"I've got a split personality. I hate both of them."
In response to @LizzyCatmoz asking, "@stillMozsworld Please would you give a clue to the next single?": "There are a few contenders. Although after the past day I see no worth in anything."
"My lips are sealed. March, April, May."
"Over and stout."
As Moz disappeared through the swinging doors of The Twitterdilly Arms, the @stillMozsworld account disappeared too. At the last count, it had 46 followers.
And finally Esther, and finally Cyril.... I was contacted out of the blue yesterday by ex BRS member, Willow (@smashingblouse7). It would appear that Willow is still receiving emails from Morrissey. I of course took the decision to severe ties with Morrissey, and instead chose to maintain a relationship with Parody Moz..... "And they say he's mental!"
Buena noches.