Since the new MorrisseysWorld twitter account arrived nine days ago, I have been slightly suspicious as to it's authenticity, mainly because this time around Our Mozzer has used words like "gig" and "ETC". He has even used "&" instead of "and", which he has
NEVER
done before. I of all people should know that you should never say "never" with Morrissey, but when it comes to writing, most of us are creatures of habit, and we tend to stick to our own rules.
When Our Mozzer appeared in the Twitterdilly Arms yesterday evening, I decided to take the opportunity to try and find out if the person tweeting was the same person who has always been behind MorrisseysWorld, i.e. Morrissey. Not only did Our Mozzer pass my test with flying colours, but he saw straight through what I was doing. Here are his highlights:
In response to @LizzyCatMoz asking, "@stillMozsworld Is there anything you would like to ask us?": "I am stumped."
In response to me tweeting, "@stillMozsworld Stumped? Have you been playing cricket? Do you remember where you said you wished to play cricket with me?": "It is impossible for me to play cricket. I will break for tea though."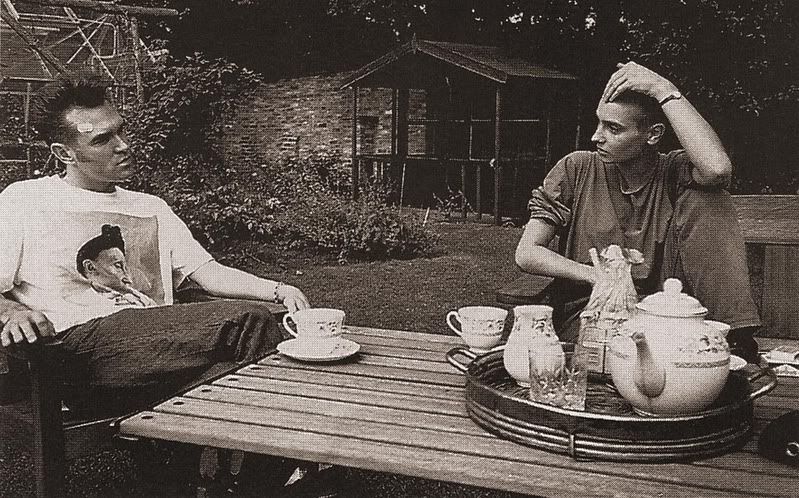 MORRISSEY AND SINEAD O'CONNOR BREAKING FOR TEA
As OM had not responded to my question about remembering where, I tried again with, "@stillMozsworld Tea is one of the civil parts of cricket, but DO you remember the village you said you'd like to play?": "Shanklin village"
I then tweeted, "You have a good memory", to which OM replied, "@TheRatsBack I believed you were testing me. I also said I would wear a blue rose."
When I then admitted that I
was
testing OM because of his use of "gig, ETC and &", he responded, "Oh Rat.... How could you?" and then added, "excuse me, who said never say Morrissey would never?"
"I treat people the way I have been treated by people."
In response to me asking, "@stillMozsworld Have you ANY idea at all why your so called fans constantly kick you? I'd love to know your view": "People always rally against things they do not understand. Those that kick me do not understand me. I just need love."
I had asked the above question because of all the hatred and bile that continues to be aimed at Moz from his 'fans' on Solow, but I also had in mind the MorrisseysWorld fans who recently abandoned Morrissey during his recent illness. Morrissey's answer to my question really hit the nail on the head.... "those that kick me do not understand me". These past couple of months have probably seen Moz as low as he has ever felt in his life, with the word 'depression' not even touching the surface of how he was feeling, and yet rather than try and understand the broken Morrissey, some of his fans simply walked away, with the reason being that a broken Morrissey was no good to them, and wasn't the Morrissey they
WANTED/NEEDED
him to be. As one of the former MorrisseysWorlders put it yesterday in a tweet, "If Morrissey could treat people like that EVEN IF HE IS BROKEN he is not for me. I would have expected better."
In response to @Jazissey asking, "@stillMozsworld does one have to believe in one's own art in order for it to be somewhat successful?": "If you do not believe in your own art then others will not believe in it either."
In response to @GirlOnBike1102 mentioning that LizzyCat's £2.40 lottery win is nearly enough for a Ryan Air flight to Dublin: "landing just outside Dublin. In Portsmouth." Could the mention of Portsmouth be a clue to one of the city's on the next tour? Dublin has already been confirmed.
Astraea has made a welcome return to these parts, leaving the following comment yesterday:
"Let me take you for a game of ping pong," he said to me.
"I want to see how well you handle the balls," he said to me - again.
The eight words' comment made me think about your own ping pong here. And then of course it made me think about all the other kinds of ping pong there are.
I do happen to like a good game myself. Of ping pong, that is.
And my ball control is absolutely out of this world.
Must be my dab hands.
Posted by Astraea to
Following The Mozziah
at 6 August 2014 15:11
Astraea's comment makes me think that I might
actually
have been right about Morrissey's latest TTY statement. Perhaps those
eight bold words
weren't a coincidence after all, perhaps he really
was
playing Ping Pong with me!
Well, that's it for today. I haven't yet managed to see a copy of Hot Press magazine with the new exclusive Morrissey interview, but bits are starting to appear on the internet, including this classic:
Interviewer:
You must have been offered lots of film roles down the years...
Morrissey:
Me? Film roles? Are you serious? I was offered a Rice Krispie's commercial and a Kit-Kat commercial. Thank God I wasn't waiting for Macbeth... I'd be very upset."
Witty as ever.... and no longer broken.