I am having the shittiest day that I have had in months, so I won't linger or I will no doubt end up upsetting somebody or other. It may help my black mood if I have a quick swearing session..... fuck bollocks twat cunt arseholes wanky fuck wank bollocks shit toss fuck shit twat bollocky cunt knob shit..... hmm, a slight help, but not much.
St.Ill Morrissey (@stillMozsworld) made a visit to The Twitterdilly Arms last night, but the b*****d closed his account before I had time to screen shot all of his words, so I am therefore only able to report a snippet of the action here on the Worlds's Number 1 Mozziah Following Blog,
FollowingTheMozziah
. Here is what I did manage to grab:
"The energy has drained from legs. Soon my body will be defunct and all I will have is a head. A head with dire hair." In response to this, @geniussteals replied, "Your hair is quite lovely. Your choice in labels however...", to which SMW replied, "I simply take what I am given. Do I spot a quiff in your picture there? Get your own style. I kid, imitation is flattery."
@MozFiend also responded to St.Ill M's opening tweet, pointing out, "@stillmozsworld All of us will sooner or later be dust and bones. Death makes us all equals in the end", to which Moz replied, "Death is the great equaliser. Rattle my bones all over the stones."
@MadAlix14 was another to respond to Morrissey's "drained legs" tweet, suggesting, "@stillMozsworld have a cup of tea and a digestive", to which he replied, "Can I not have a scone and a Vodka?"
@Bunnygal833 chipped in to the above by saying, "Vodka goes with anything", to which St.Ill Morrissey replied, "Except happiness."
When @MozFiend pointed out that Morrissey had "beautiful hair", he replied, "I find my hairline quite depressing." (Ed - On this subject, His Mozzness will get
no
sympathy from me!)
MORRISSEY - STILL HIRSUTE
In response to @MozFiend saying, "@stillmozsworld You bring happiness and joy to my life": "I never meant to but that is quite lovely." (Ed - I never fail to smile when I hear Moz give somebody the "I never meant to" line. Morrissey's self-deprecation is my favourite trait of his.... for the next 30 seconds at any rate.)
In response to @MozFiend tweeting, "@stillMozsworld I almost missed my stop on the train tweeting you. It would have been worth it": "I am worth missing entire towns for." (Ed - I never fail to smile when I hear Moz singing his own praises. Morrissey's egotism is my favourite trait of his.... for the next 30 seconds at any rate.)
In response to @MozFiend suggesting "alcohol and xanax will make you forget you are you": "I've never really known who I am." (Ed - I never fail to smile when I etc etc)
In response to @Mancladmozfan asking, "@stillmozsworld Ever thought of taking up togger?": "I once used to be quite nifty", but Moz then added, "I can barely walk without dislocating something. Walking and kicking could prove too much for me."
IN THOSE HALCYON "NIFTY" DAYS
In response to me asking, "@stillMozsworld Yo, Moz dude. How's your day been? Tour sorted? Label found? Novel written? Drummer dismissed?: "Dude? Why have you suddenly become twelve? But since you ask... Yes, No, No and how could I?"
MATTHEW WALKER - JOB SECURE
It is good to hear that the tour is sorted, so hopefully we will have an announcement soon. I went on to ask Moz if the tour would be a leisure centre, arena or pub tour, to which he replied, "Car parks", adding something along the lines of it "reflecting recent album sales", but I didn't manage to copy the exact quote.
There was more from Still.Ill Morrissey, but as I wrote at the beginning, I failed to copy it all, so I shall try and grab the best bits on his next appearance.
Whilst I have been writing this, Broken (@Broken1andonly) has turned up in The Arms. I should point out for any new readers of FTM (Ed - yeah, right, there aren't any new readers, in fact, there aren't
any
readers!) that it is
my
belief that Broken is a
pessoa of Morrissey's
, but if you try and engage with him on twitter, you should remember that he is NOT Morrissey, and be warned, he can bit...... oh, and he likes Justin Bieber.... A LOT!
Here are Broken's highlights:
In response to @Jazissey asking if high school reunions happen outside the US: "They happen in England too. But over here, those without accomplishments of note usually denigrate those who have. Hash tag GreatBritain."
"Bored of life, but not bored enough to choose death."
"Is anything sexier than @justinbieber 's back? His front perhaps?"
In response to me asking, "@Broken1andonly Why Bieber? WHY?": "The combination of charisma, beauty and masculinity."
In response to me asking, "@Broken1and only What do you think will become of him?": "Bankruptcy and early death."
"MW parody complete - but who cares? It's a soap with no audience; it's a car with no petrol. Hash tag BrooksideSaab"
"Intelligence is the enemy of good sleep."
"The virtue of the lonely is their dissatisfaction with themselves."
Having Broken back has lifted my spirits, and the possibility of a new MW parody is even more uplifting, although I won't hold my breath as Broken has promised parodies before and then not delivered.
And finally, Phil Collins has announced his first concert in four years..... the crowd went mild!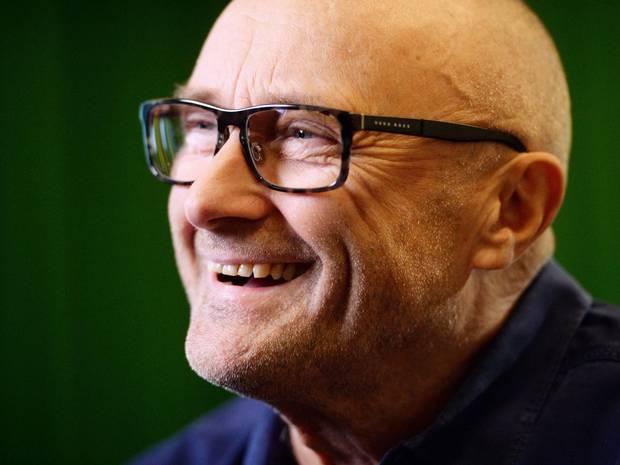 PHIL COLLINS - TAKE A LOOK AT HIM NOW, HE LOOKS LIKE JACKIE WRIGHT